Open Access This article is
freely available
re-usable
Article
The Impact of Productivity, Investment and Real Wages on Employment Absorption Rate in South Africa
1
Faculty of Economic and Management Sciences, TRADE Research Entity, North-West University, Potchefstroom 2351, South Africa
2
Institute of Applied Informatics and Logistics, Faculty of Economics and Business, University of Debrecen, 4032 Debrecen, Hungary
*
Author to whom correspondence should be addressed.
Received: 26 September 2019 / Accepted: 22 November 2019 / Published: 11 December 2019
Abstract
:
Many developing countries are facing high levels of unemployment and most people who are employed are poorly remunerated due to low skills and productivity levels. Although jobs are important, a productive job is even more important, not only for employees, but also for employers. South Africa, being a developing country, is also facing the challenge of dramatically high levels of unemployment. This study's aim was to examine both the short- and long-term impacts of real wages, labour productivity and investment spending on employment absorption rates in South Africa. To establish the existing relationship between variables, the study applied several econometric approaches, such as an autoregressive distributed lag (ARDL) model, error correction model (ECM) and a Toda–Yamamoto causality analysis on quarterly time series data from 1995Q1 to 2019Q1. The results revealed the existence of both short- and long-run relationships among the variables. While a positive relationship was found between employment absorption, investment spending and labour productivity, it was found that real wages negatively impact on long-run employment absorption rates. Additionally, the short-run analysis indicated that the lagged employment absorption rate influences the current rate of employment. Furthermore, the causality tests indicated that a bi-directional causal relationship exists between employment absorption and investment spending; and a uni-directional relationship between employment and both real wages and labour productivity. Based on the findings, the study recommends increments of investment spending and labour productivity that enables the South African economy to carry out more activities that would require more workers, thereby improving the employment absorption rate. The fact that labour productivity positively impacts the employment absorption rate infers the requirement for quality and skilled workers to be absorbed in the South African labour market. Therefore, labour skills improvements appear to be a prerequisite for productivity enhancement and job creation.
Keywords:
employment; investment; productivity; South Africa; wages
JEL Classification:
B22; B23; B2
1. Introduction
Developing countries, with mostly limited resources, have focused development policy mostly on increasing levels of investment (
Porter and Kramer 2019
). Although investment is important for economic growth and employment, it has limitations, and a balance needs to be achieved between ongoing investment versus improvement in productivity for economic growth and development (
Ahluwalia 1991
). South Africa, over the last twenty years, has been affected by extremely high levels of unemployment and low levels of employment absorption. The latest data release by Statistics South Africa indicate still-rising levels of unemployment. Unemployment in South Africa increased from 27.2% in 2018 to 29.0% in 2019, while the employment absorption rate decreased from 43.1% to 42.4% over the same period (
StatsSA 2019
). These employment datasets are shocking compared to most other developing countries.
Table 1
provides a summary of data for a range of countries that have, or are still experiencing, labour market problems where reliable data are available. Of all these countries, South Africa has by far the highest, and growing, unemployment rate, followed by Greece and Turkey. Colombia, Brazil and South Africa have the lowest minimum wages, at below
$
300. Looking at the Human Capital Index, again South Africa has the lowest index, followed by Brazil and Turkey. South Africa and Argentina have the lowest employment rates, of 42.6% and 42.3%, respectively, followed by Turkey. The countries with the highest labour cost indexes are Turkey and South Africa. The results from
Table 1
paint a problematic labour market picture for most of these struggling countries, but especially for South Africa, where the market has been deteriorating.
The South African labour market is one of the worst performing markets in the world and, for this reason, it is important to analyse it from all angles in the quest to find answers to this problem. Other developing and unstable developing economies, such as Turkey, Brazil and Argentina, have similar problems in their labour markets, and the results from this study could be useful for these countries. This study has the aim of analysing the South African labour market from an employment absorption point of view, and its impact on and relationship with productivity, investment and real wages.
2. Review of the Literature
In summary, this specific study field allows for interesting empirical findings with contrasting views, and to find consensus on the impact and relationships between the variables is not possible in a dynamic environment. Herewith are some of the lessons from the literature view. In most countries, including South Africa, economic growth does not always translate to the creation of additional employment. If wages increase faster than productivity, the impact is negative on both employment creation and the economy. Wages and productivity should have a positive correlation. When local demand increases, wage pressure increases, as well as demand for labour, while it is also the case that, when wage moderation occurs, employment creation becomes a possibility. In addition, domestic investment drives economic growth and employment. In studies in developed countries, job security could lead to higher levels of productivity. Productivity increases are dependent on innovation and technology. From a negative perspective, labour and other regulations have a negative impact on employment creation. Foreign investment by foreign firms could have both positive and negative impacts. Foreign firms usually require and appoint mostly skilled labour and such firms usually have higher levels of productivity and wages and could lead to destroying the competitiveness of local firms and local employment. Higher levels of skill lead to improved productivity and higher wages, while an over-supply of labour leads to lower wages.
4. Empirical Estimation and Discussion of Results
4.1. Empirical Estimation
4.2. Discussion of Results
One on the most critical objectives of any macroeconomic policy is to strive to reduce the level of unemployment by dealing with issues of wage flexibility, as argued within descriptions of the Philips Curve and the Keynesian theory of employment (
Gokal and Hanif 2004
), (
Malik et al. 2000
). The identified negative relationship between employment level and wages, as estimated in this study's long-term estimations, implies that, if effective supply of labour is available, employers could decide to reduce wages. On the other hand, if labour supply declines, employees could demand increases in wages. These findings are supported by the study of
Seputiene
(
2011
), whose findings revealed a negative relationship between employment wages within some of the EU countries. This result is also in line with the Phillip's curve theory, suggesting that a low rate of unemployment leads to high real wages. Following this theory, one can conclude that, among other factors, the high rate of unemployment in South Africa might be resulting from high wages demanded by the labour unions through labour regulations. Additionally, this study found that in the short-term, a negative relationship exists between employment and real wages. Thus, a negative relationship always exists between employment and real wages. Besides the result from both long and short-term relationships between real wages and employment level, the causality test infers that real wage can be used in forecasting employment. The findings of
Adudu and Ojonye
(
2015
) suggested that employment changes might be caused by wages fluctuations. Contrary to real wages that negatively influence the South African employment, the study found that both investment spending and labour productivity possess a positive impact on long-term employment. When domestic investment improves, more jobs could be created and the unemployed with specific skills could find work. This implies that firms that have a culture of growing their investment possess the capacity to employ growth and productive labour. This positive relationship was also found in the study of
Baumol
(
1977
),
Birch
(
1979
),
Kerr et al.
(
2014
),
Saks
(
2008
), whose findings support the existence of a long-term relationship between investment spending and employment. Additionaly, the positive relationship between employment growth and labour productivity was supported in studies conducted by
Bjuggren
(
2018
), stipulating that labour product stimulates firms' employment. However, the study of
Junankar
(
2013
) found an inverse relationship between employment and productivity. That is, if employed workers are more productive, employers might decide to increase their wages to boost their productivity, rather than employing new workers.
5. Conclusions and Policy Implications
This study scrutinised relationships between employment absorption, labour productivity, investment spending and real wages in the South African economy. In the study, the Bounds test for cointegration, as developed by
Pesaran et al.
(
2001
), was used, as well as causality tests developed by
Toda and Yamamoto
(
1995
). The study results suggested the presence of long-term relationships among the four analysed variables (employment absorption, labour productivity, investment spending and real wages). The findings portrayed that a rise in investment spending by 1 percent causes employment absorption to increase by only 0.188 percent, and a 1 percent increase in labour productivity leads to 0.722 increase in the employment level, while a 1 percent increase in real wages could cause employment absorption to decline by 0.234 percent. Contrary to the long-term relationship estimation, the dynamic short-term analysis of the model indicated that different lags of the independent variables had different impacts on employment of the dependent variable. This result might infer that it takes time for any changes from explanatory variables to positively affect employment growth and, in terms of specific lags, the impact could be even negative. The Toda and Yamamoto causality results suggested a bi-directional relationship between investment spending and employment absorption, whilst a uni-directional causal relationship was found between labour productivity and employment, and between real wages and employment. Based on the findings, the study recommends increments of labour productivity and investment spending that could enable the South African economy to increase economic activities that would require more labour, thereby improving the employment absorption rate. The fact that labour productivity positively impacts the employment absorption rate infers a requirement for an increase in the quality and skills of workers in the South African labour market. Increased investment and a skilled labour force will lead to economic growth and, subsequently, the creation of employment. A number of additional variables could have been included in the study, but that would have made the study too wide in extent. Thus, future studies should consider including factors such as FDI, economic growth, inflation, and political risk.
Author Contributions
T.H. and D.F.M. conceived and designed the experiments; T.H. and D.F.M. analyzed the data; J.O. contributed reagents/materials/analysis tools; T.H. and D.F.M. and J.O. wrote the paper.
Funding
This research received no external funding.
Conflicts of Interest
The authors declare no conflict of interest.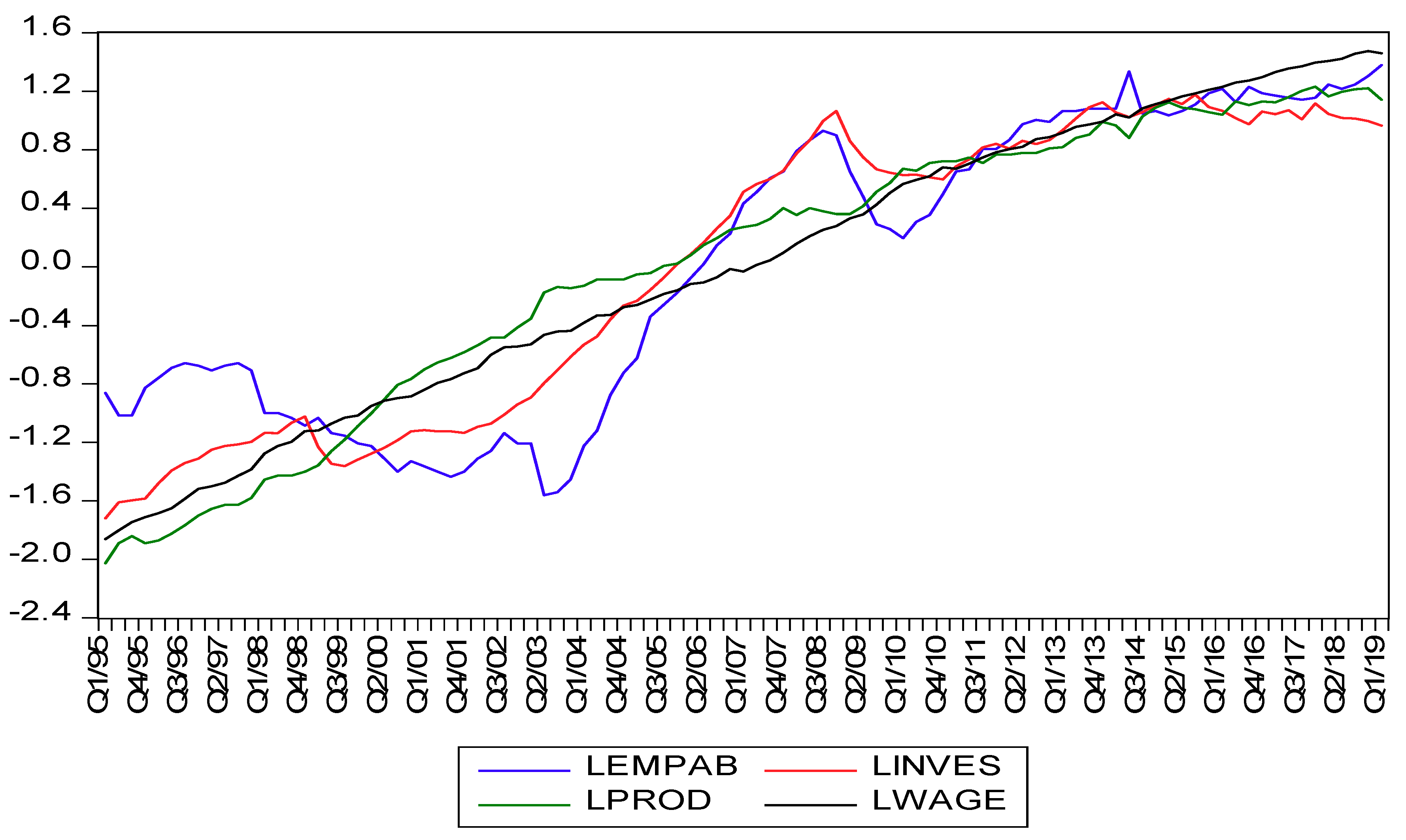 Country
Unemployment Rate in %
Min Wage in US

$

Human Capital Index
Employment Rate in %
Labour Cost Index
Spain
13.6
890
65.6
64.5
100.4
Greece
17.6 *
793
64.7
72.0
93.3
Argentina
8.5
320
64.3
42.3 *
--
Brazil
12.3
288 *
59.7 *
54.3
116.6
Colombia
11.8
263 *
61.8
56.4
--
Turkey
13.7
485
60.3
45.8
188.5 *
South Africa
29.0 *
292
58.1 *
42.6 *
156.2 *
Variables
ADF
P-P
KPSS
Const
Const and Trend
Const
Const and Trend
Const
Const and Trend
Levels I(0)
LEMPAB
0.8481
0.427
0.9143
0.5740
1.147
0.137 *
LINVES
0.545
0.753
0.488
0.657
0.533
0.111 *
LPROD
0.633
0.302
0.322
0.353
0.820
0.159
LWAGE
0.770
0.040 *
0.828
0.041 *
0.844
0.112 *
First difference I(1)
LEMPAB
0.001 *
0.001 *
0.0000 *
0.001 *
0.262 *
0.129 *
LINVES
0.001 *
0.001 *
0.0005 *
0.001 *
0.085 *
0.075 *
LPROD
0.001 *
0.001 *
0.0000 *
0.001 *
0.314 *
0.358
LWAGE
0.001 *
0.001 *
0.0000 *
0.001 *
0.097 *
0.036 *
Note: * denotes that a variable has no unit root and it is stationary. ∆ denotes variable at first difference.
| Lag | LogL | LR | FPE | AIC | SC | HQ |
| --- | --- | --- | --- | --- | --- | --- |
| 0 | −729.9703 | NA | 10,200,000 | 36.6985 | 36.8674 | 36.7595 |
| 1 | −543.5467 | 326.2413 | 20,400,823 | 28.1773 | 29.0217 * | 28.4826 * |
| 2 | −526.1788 | 26.9203 * | 19,555,404 * | 28.1089 | 29.6289 | 28.6585 |
| 3 | −509.7557 | 22.1711 | 20,462,357 | 28.0877 | 30.2833 | 28.8816 |
| 4 | −492.2648 | 20.1146 | 21,681,235 | 28.0132 * | 30.8843 | 29.0513 |
Note: * Denotes the optimal lag selected. LR: sequential modified LR test statistic (each test at 5% level). FPE: Final prediction error. AIC: Akaike information criterion. SC: Schwarz information criterion. HQ: Hannan-Quinn information criterion.
F-Statistic
5.693
3
Pesaran Critical Values
Significance
I0 Bound
I1 Bound
10%
2.37
3.2
5%
2.79
3.67
1%
3.65
4.66
Variable
Coefficient
Std. Error

t

-Statistic
Prob.
LINVES
0.1880
0.1286
1.4615
0.1477
LPROD
0.7222
0.4203
1.7182
0.0895
LWAGE
−0.2335
0.0553
−4.2223
0.0001
Variable
Coefficient
Std. Error

t

−Statistic
Prob.
D(LEMPAB(−1))
0.3556
0.0983
3.6156
0.0005 *
D(LEMPAB(−2))
0.1608
0.0652
2.4638
0.0158 *
D(LINVES)
0.0456
0.0216
2.1079
0.0381 *
D(LINVES(−1))
−0.0267
0.0226
−1.1849
0.2394
D(LINVES(−2))
−0.0269
0.0217
−1.2415
0.2179
D(LPROD)
−0.6182
0.0658
−9.3852
0.0000 *
D(LPROD(−1))
0.2677
0.0962
2.7810
0.0067 *
D(LWAGE)
−0.0980
0.0314
−3.1213
0.0025 *
CointEq(−1) *
−0.0400
0.0082
−4.8586
0.0000 *
Note: * denote significant at 5 percent.
Test Statistics
Probability (

p

-Value)
Decision
Normality
0.285
Residuals are normally distributed
Serial correlation
0.733
Residuals are serially uncorrelated
Heteroscedasticity
0.620
Residuals are homoscedastic
Stability
0.200
The model is stable
| Variables | Lag(k) | Lag (k+dmax) | Chi-sq | Prob. | Direction of Causality |
| --- | --- | --- | --- | --- | --- |
| LINVES vs. LEMPAB | 1 | 1+1 | 4.36792 | 0.0155 * | LINVES → LEMPAB |
| LEMPAB vs. LINVES | 1 | 1+1 | 3.50471 | 0.0342 | LEMPAB ← LINVES |
| LPROD vs. LEMPAB | 1 | 1+1 | 6.5769 | 0.0022 * | LPROD →LEMPAB |
| LEMPAB vs. LPROD | 1 | 1+1 | 0.52023 | 0.5962 | LEMPAB # LPROD |
| LWAGE vs. LEMPAB | 1 | 1+1 | 4.66989 | 0.0118 * | LWAGE→LEMPAB |
| LEMPAB vs. LWAGE | 1 | 1+1 | 1.24991 | 0.2915 | LEMPAB # LWAGE |
Note: * rejection of null hypothesis at 5 percent level. The (k+dmax) denotes VAR order. →Denotes a unidirectional (one–way) causality and, # represents no causality between variables.

© 2019 by the authors. Licensee MDPI, Basel, Switzerland. This article is an open access article distributed under the terms and conditions of the Creative Commons Attribution (CC BY) license (http://creativecommons.org/licenses/by/4.0/).