Open Access This article is
freely available
re-usable
Article
Effect of Hot Mill Scale on Hydrogen Embrittlement of High Strength Steels for Pre-Stressed Concrete Structures
1
Department of Engineering and Applied Sciences, University of Bergamo, Dalmine (BG) 24044, Italy
2
Consorzio Superfici Grandi Interfase (CSGI), Unit of Research of Bergamo, Dalmine (BG) 24044, Italy
3
Consorzio Interuniversitario Nazionale per la Scienze e Tecnologia dei Materiali (INSTM), Unity of Research of Bergamo, Dalmine (BG) 24044, Italy
*
Author to whom correspondence should be addressed.
Received: 2 February 2018 / Accepted: 23 February 2018 / Published: 3 March 2018
Abstract
:
The presence of a conductive layers of hot-formed oxide on the surface of bars for pre or post-compressing structures can promote localized attacks as a function of pH. The aggressive local environment in the occluded cells inside localized attacks has as consequence the possibility of initiation of stress corrosion cracking. In this paper, the stress corrosion cracking behavior of high strength steels proposed for tendons was studied by means of Constant Load (CL) tests and Slow Strain Rate (SSR) tests. Critical ranges of pH for cracking were verified. The promoting role of localized attack was confirmed. Further, electrochemical tests were performed on bars in as received surface conditions, in order to evaluate pitting initiation. The adverse effect of mill scale was recognized.
Keywords:
stress corrosion cracking; localized corrosion; pre-stressed concrete; hydrogen embrittlement
1. Introduction
Due to the high stress involved, bars made of high strength alloys are preferentially used as short tendons for post-tensioning. In fact, they are very susceptible to small damages, such as surface scratches, corrosion cracks and pits, which usually do not affect the performance of bars for concrete reinforcement [
1
]. Stress corrosion cracking is one the most probable causes of failure of high strength tendons in pre-stressed or post-stressed concrete structures [
2
,
3
,
4
,
5
]. These corrosion phenomena occur in the form of cracks, which nucleate and propagate due to combined action of tensile stresses and aggressive environment. Failures can take place at stress lower than yield strength of the steel, with catastrophic consequences on the structures stability and for people safety [
1
,
6
,
7
].
Susceptibility to stress corrosion cracking increases with tensile strength of materials and occurs above a threshold stress value. The more load increases above this critical limit, the more time to rupture decreases [
8
,
9
]. Since high strength steels, stressed to very high load (up to 80% of tensile yield strength), are utilized for tendons, critical conditions for stress corrosion cracking can be reached.
Susceptibility depends on composition, microstructures, and mechanical properties of the steels [
10
,
11
,
12
].
The older pre-stressed concrete structures were realized using quenched and tempered steels with high susceptibility to EAC [
13
,
14
]. Later, cold drawn eutectoid steels were widely used in pre-stressed concrete structures [
15
,
16
]. Moreover, it depends on environmental parameters, such as dissolved salt in water, pH and potential. The presence of conductive layers on the surface can promote localized attacks, with formation of local environment in the occluded cells [
17
], critic for the initiation of stress corrosion cracking [
3
,
18
].
In concrete structures, bars can be exposed to different environments, because these are used as external or internal unbonded tendons or bonded tendons embedded in concrete. The pH of solutions is usually alkaline (concrete pore solutions and bleeding waters), but neutral or acid values can be found, due to humidity condensation and atmospheric water penetration in ungrouted ducts. The composition depends on rainwater, atmospheric pollution (SO2), distance from the sea (Cl−) and soluble salts that can be washed away by water percolation on structure.
Literature data explain the SCC of high strength steels through a mechanism based on hydrogen embrittlement. Nürberger [
19
] reported on a statistical study of failures due to SCC and pointed out the effect of the localized corrosion for achieving critical ranges of potential and pH. However, there is lack of experimental data about the effects of environmental parameters. Furthermore, the SCC susceptibility of steels is normally evaluated by means of standard tests, as FIP thiocyanate test, which is quite different from field conditions.
Aim of the research is to evaluate the behaviour to SCC of commercial bars for pre-stressed concrete structures. The paper reports the results of the tests performed in order to study the critical ranges of pH for the initiation of stress corrosion cracking and the effect on localized attack of surface conditions of the bars.
2. Materials and Methods
The chemical composition and mechanical properties of the steels are reported in
Table 1
. The bars were produced through an in-line heat treatment by water quenching with self-tempering. Thus, a different microstructure between core and surface layers is observed. The external layer is characterized by tempered martensite, with hardness in the ranges 390–410 HV
200,15
and 360–380 HV
200,15
for the two steels respectively (
Figure 1
). The bars are covered by a mill scale.
Constant Load tests and Slow Strain Rate (SSR) tests were performed on 3 mm diameter cylindrical tensile specimens. Since the different microstructures between core and surface of the bars, the specimens were machined from a high strength martensitic steel with microstructure and hardness (400 HV200,15) similar to that of the surface layer. The tests were performed in aerated hydrochloric acid solutions with pH from 3 to 6.4, at the free corrosion potential. Some tests were also executed in de-aerated solutions. Constant Load tests were carried out at 90% of yield strength.
SSR tests were performed according to ISO 7539-7 at 10−6 s−1 strain rate. SCC was evaluated through the reduction in area ratio (i.e., ratio between the value of area reduction after test in solution and the value of area reduction after the test in air) and the presence of brittle areas on fracture surface and secondary cracks.
The electrochemical tests were performed on specimens cut from bars of steel A and steel B, with as received surfaces—covered by the mill scale—and after pickling by inhibited hydrochloric acid. Monitoring of free corrosion potential and polarization resistance of bars during 1 month immersion test, Cathodic and Anodic Polarization Potentiodynamic (PD) and Cyclic Voltammetry tests (CV) were carried out.
Solutions of Portland cement, calcium and sodium hydroxide were used as test environments at pH between 9 and 14. Dilute hydrochloric acid solutions were utilized for more acid solutions (5.5 to 7 pH). The specimens were covered by epoxy resin in order to leave only the lateral surface exposed at the aggressive environments. Corrosion potential was monitored by means of a data recording. Linear Polarization Resistance (LPR) was measured through a potentiodynamic method, in the range of ±10 mV vs
E
corr
at 10 mV/min scan rate.
Potentiodynamic tests were carried out with a scan rate of 0.166 mV/s on rotating electrode at 2500 rpm; cathodic potentiodynamic curves were started from the corrosion potential and finished at −1.5 V vs SCE; anodic cyclic potentiodynamic tests were started from −0.2 V vs
E
corr
with a vertex potential of +1.5 V vs SCE.
Cyclic voltammetry tests were performed after 15 s of equilibration at open circuit potential (OCP) for two consecutive voltammetry cycles, from −1.7 to +0.7 V vs. SCE at 50 mV/s scan rate.
All the tests were twice conducted and a good reproducibility was detected.
3. Results and Discussion
Stress Corrosion Tests
From these tests, it is possible to hypothesize that the film present on the bars with as received surface is not stable in solution, but tends to dissolve with pH greater than 12.5–13, it has a good electrical and ionic conductivity and allows the oxidation of the underlying metal and, finally, it has a low overvoltage for oxygen.
4. Conclusions
The paper studies the condition for initiation of localized attacks on high strength steel for post-tensioning structures as a function of superficial conditions. SCC tests were performed on a martensitic steel with the same hardness compared to that obtained in peripheral zones of hot worked and quenched bars. Stress corrosion can occur in solutions with pH below 5 due to hydrogen embrittlement. The pH inside the localized attacks reaches values lower than 5 owing to the well knows mechanism of the occluded cell. In the absence of chlorides, the initiation of localized attacks occurs due to the presence of oxide scale produced by hot-working and the pH of the environment. Localized attacks initiate in a critical range of pH between 10 and 12. At pH higher than 12.5, the bar is passive independently upon the surface conditions. pH values lower than 10 promote the occurrence of general corrosion. At pH values lower than 12, the presence of calamine increases the corrosion potential of the bar and localized attacks can occur in the zones not protected by the oxide layer.
Hydrogen embrittlement can produce very small defects, which can promote brittle fracture in high strength steels characterized by low fracture toughness. The results pointed out the negative effect played by the mill scale for applications in which the reinforcements are protected by mortars characterized by low alkalinity, mainly below pH values of 12.
Author Contributions
Pastore and Cabrini conceived and designed the experiments; Pesenti Bucella performed the experiments, photographed the specimens, reviewed the English form; Lorenzi analyzed the data. All the authors contributed to write the paper.
Conflicts of Interest
The authors declare no conflict of interest.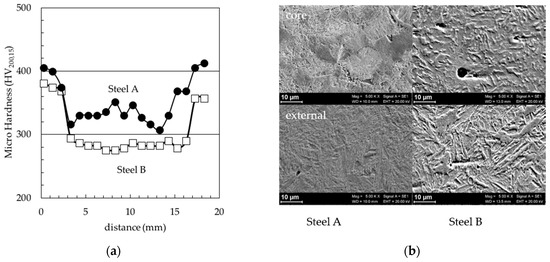 Figure 1. (a) Vickers 200g micro-hardness profile (HV200,15) and (b) microstructure (5000×) of the considered steels.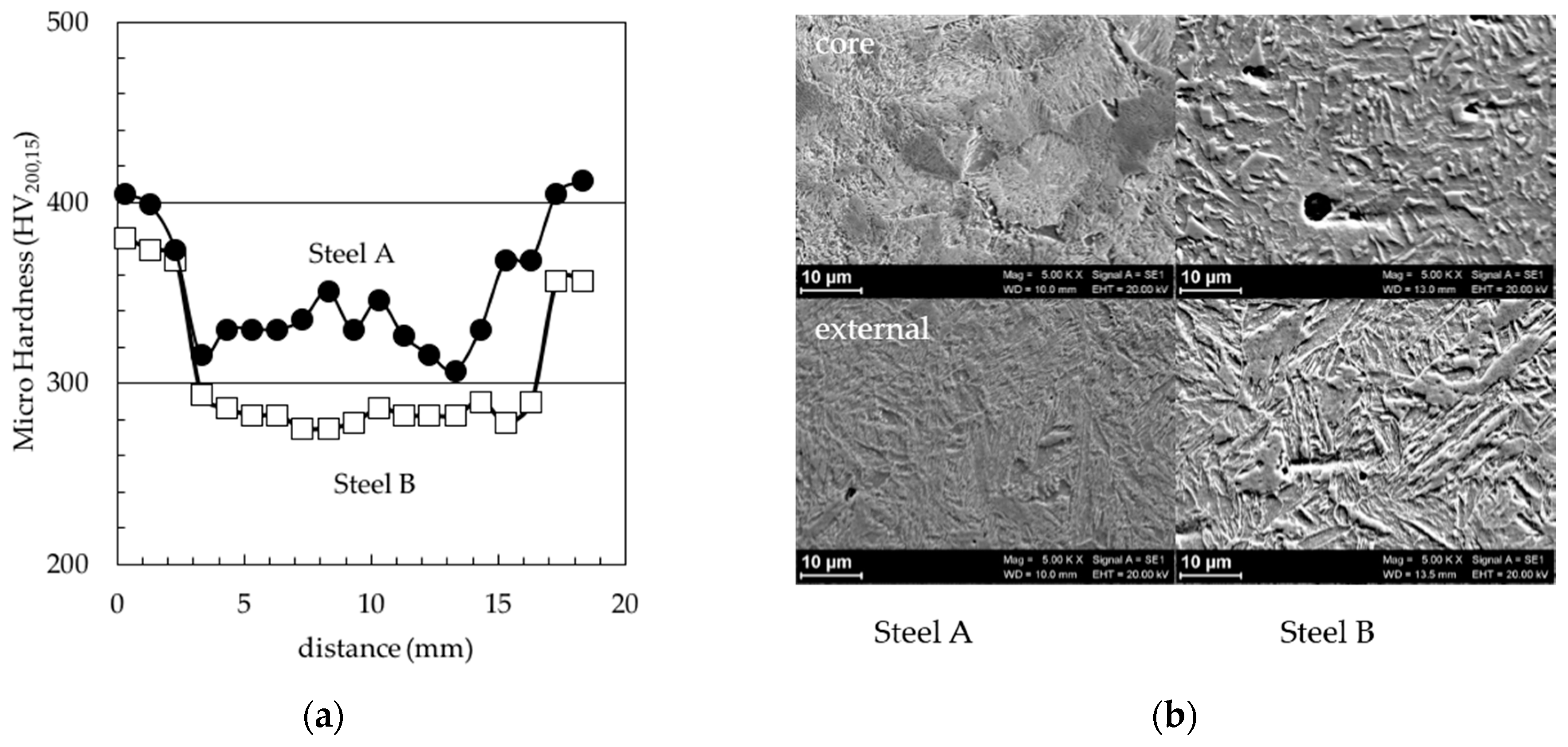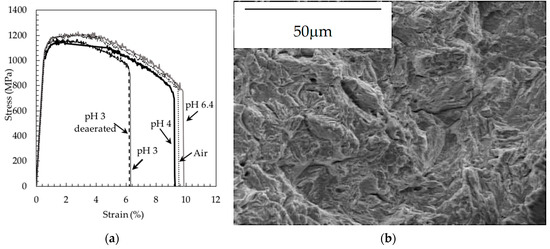 Figure 2. (a) Effect of pH solution on the tensile loading curve during SSR tests; (b) Fracture surface of the specimen after the SSR test at pH 3 in de-aerated solution (1000×).

Figure 3. (a) Fracture surface of the specimen after the SSR test at pH 3 in aerated solution (50×); (b) Growth along slip plane of secondary cracks on the specimens after the SSR test at pH 4.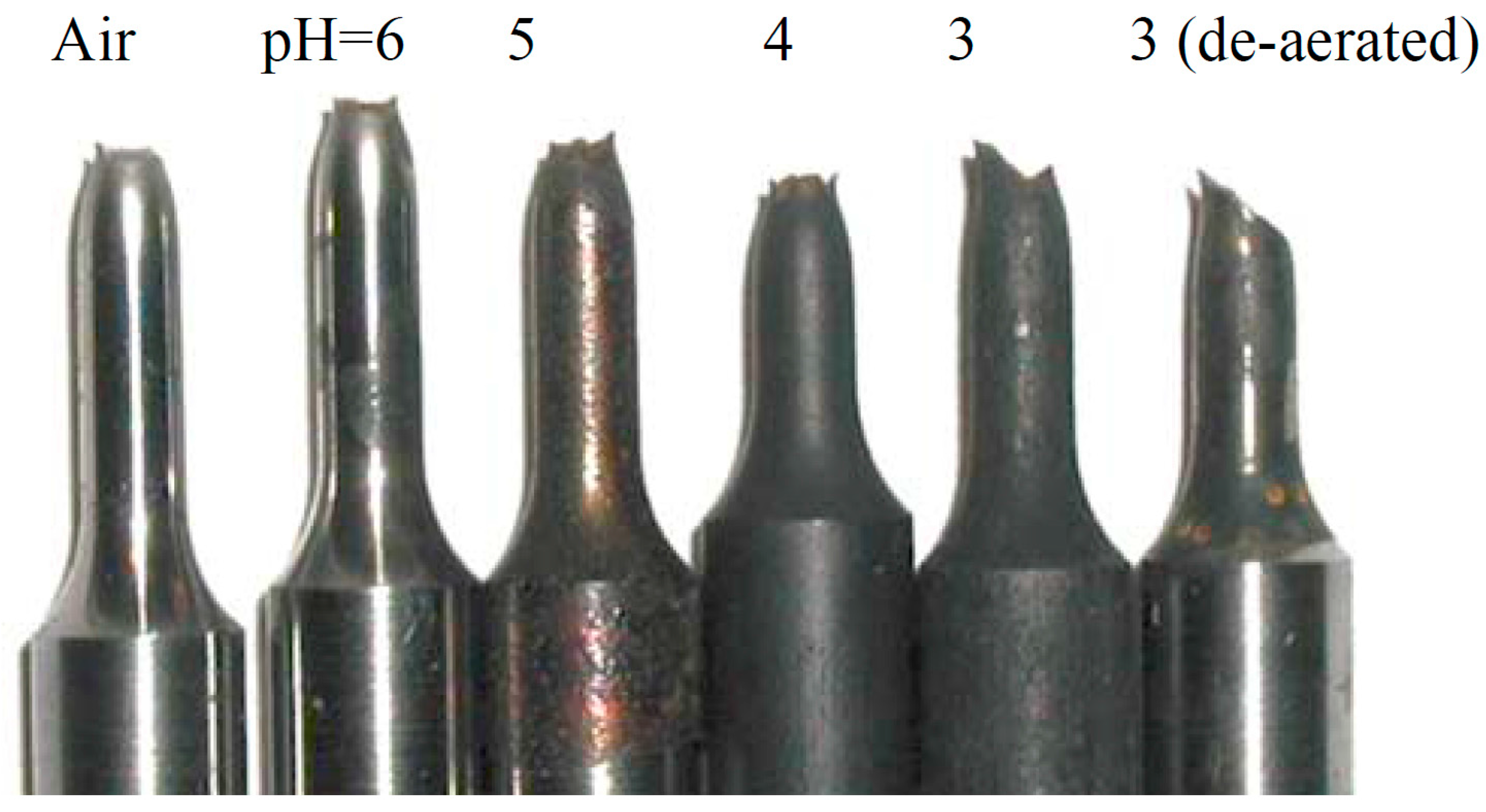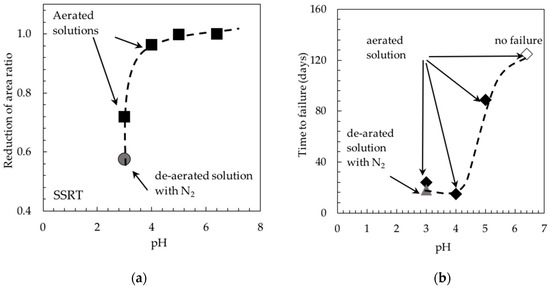 Figure 5. Effect of pH on (a) the area ratio (R.A.%environment/R.A.%air); (b) the time to failure of the Constant Load test specimens.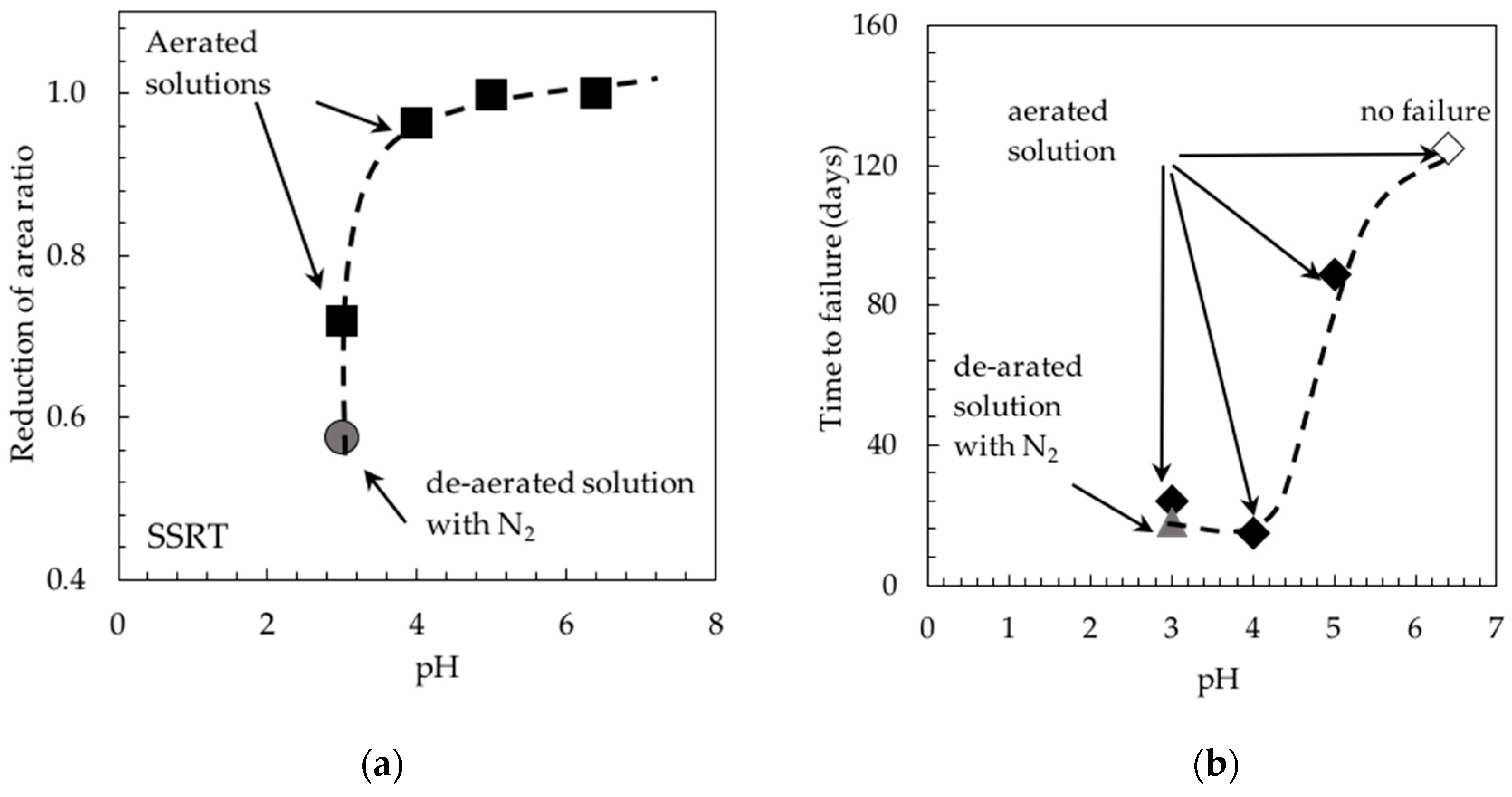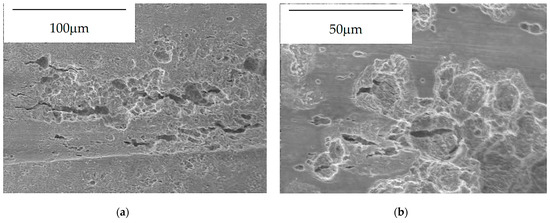 Figure 6. (a) Secondary cracks initiated from pit after Constant Load test in solution with pH 4. (b) close-up of (a) at higher magnification.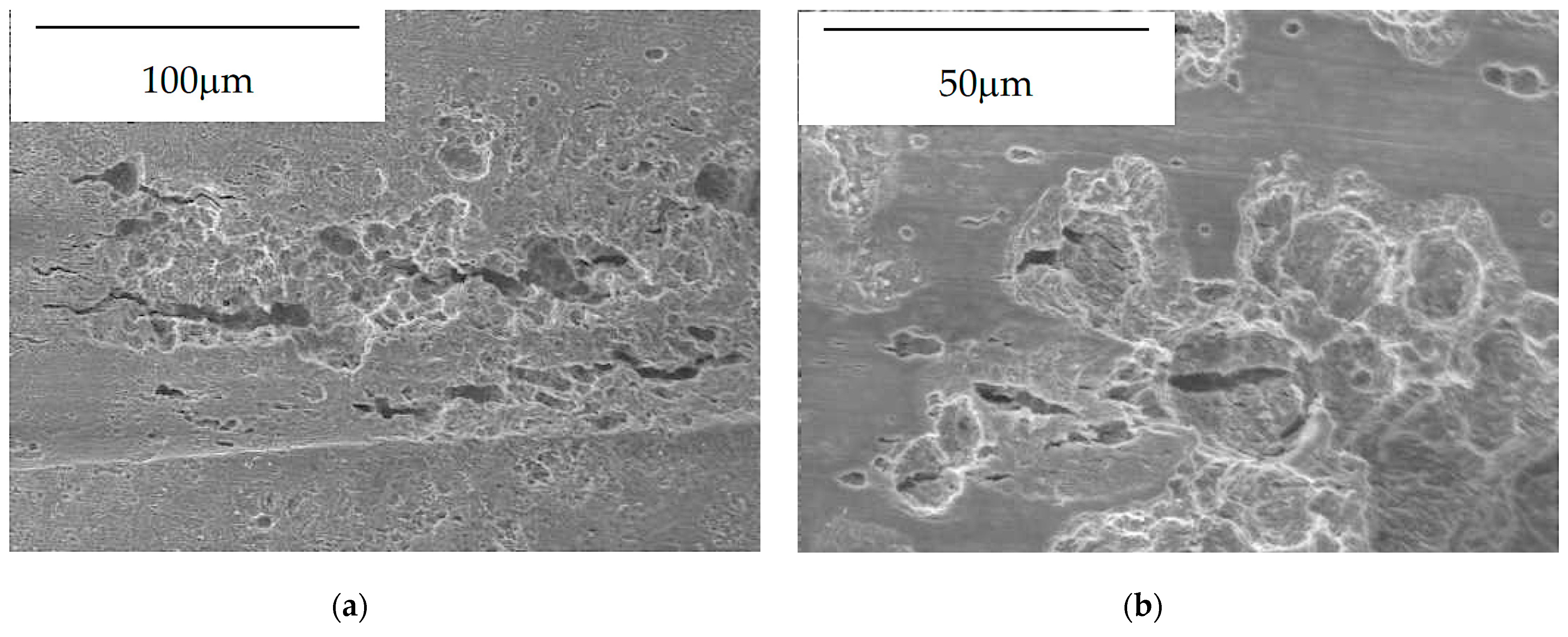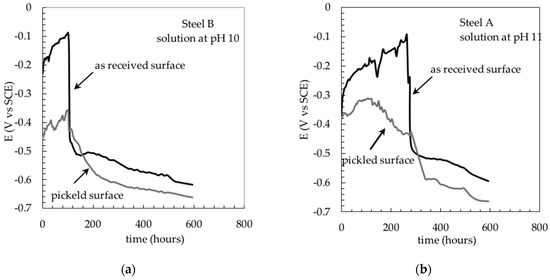 Figure 7. Corrosion potential vs time curves for the tested steels in solution at (a) pH 10 and (b) pH 11.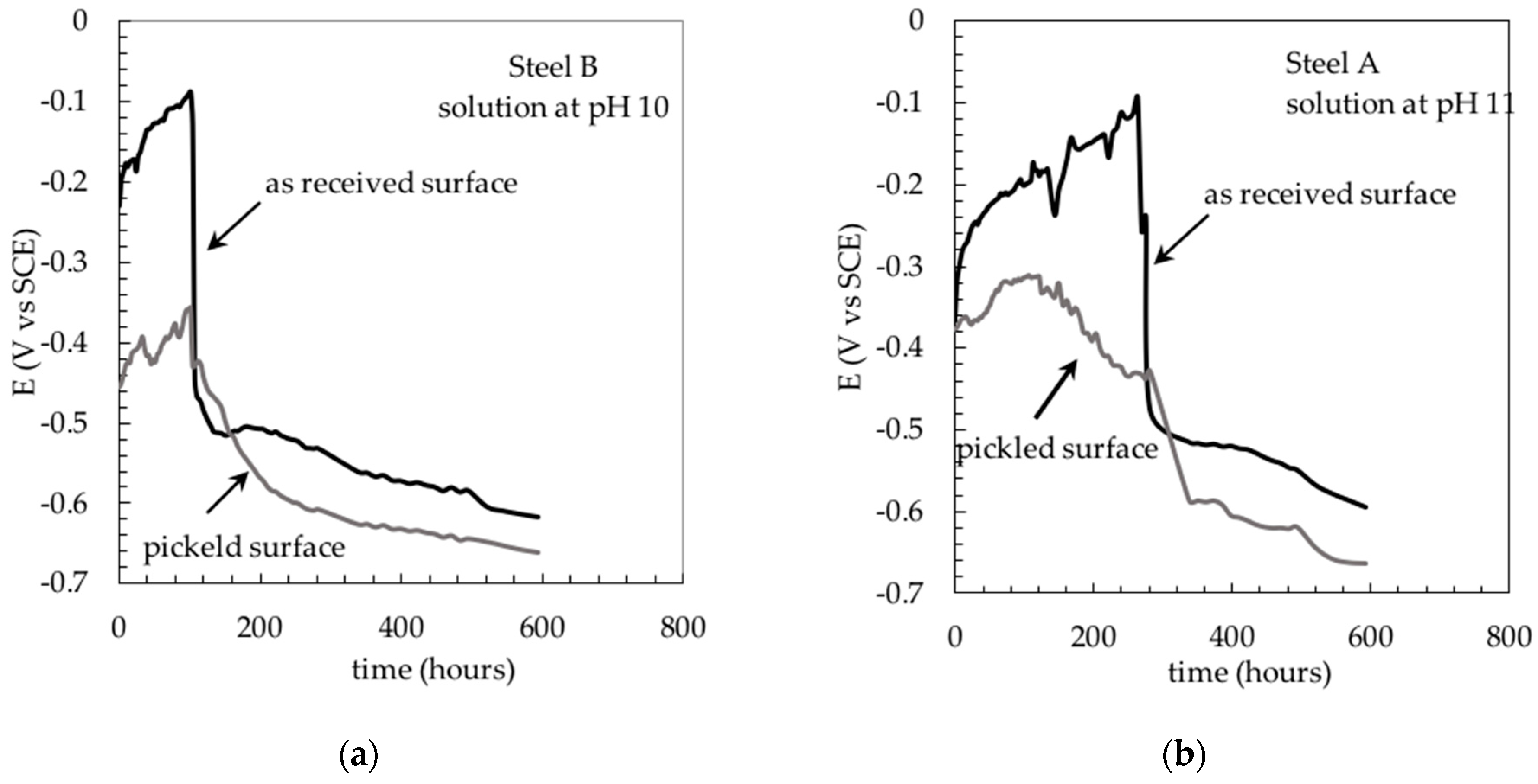 Figure 8. Polarization resistance vs time curves for steel A, as a function of different pH, with (a) as received surface and (b) pickled surface.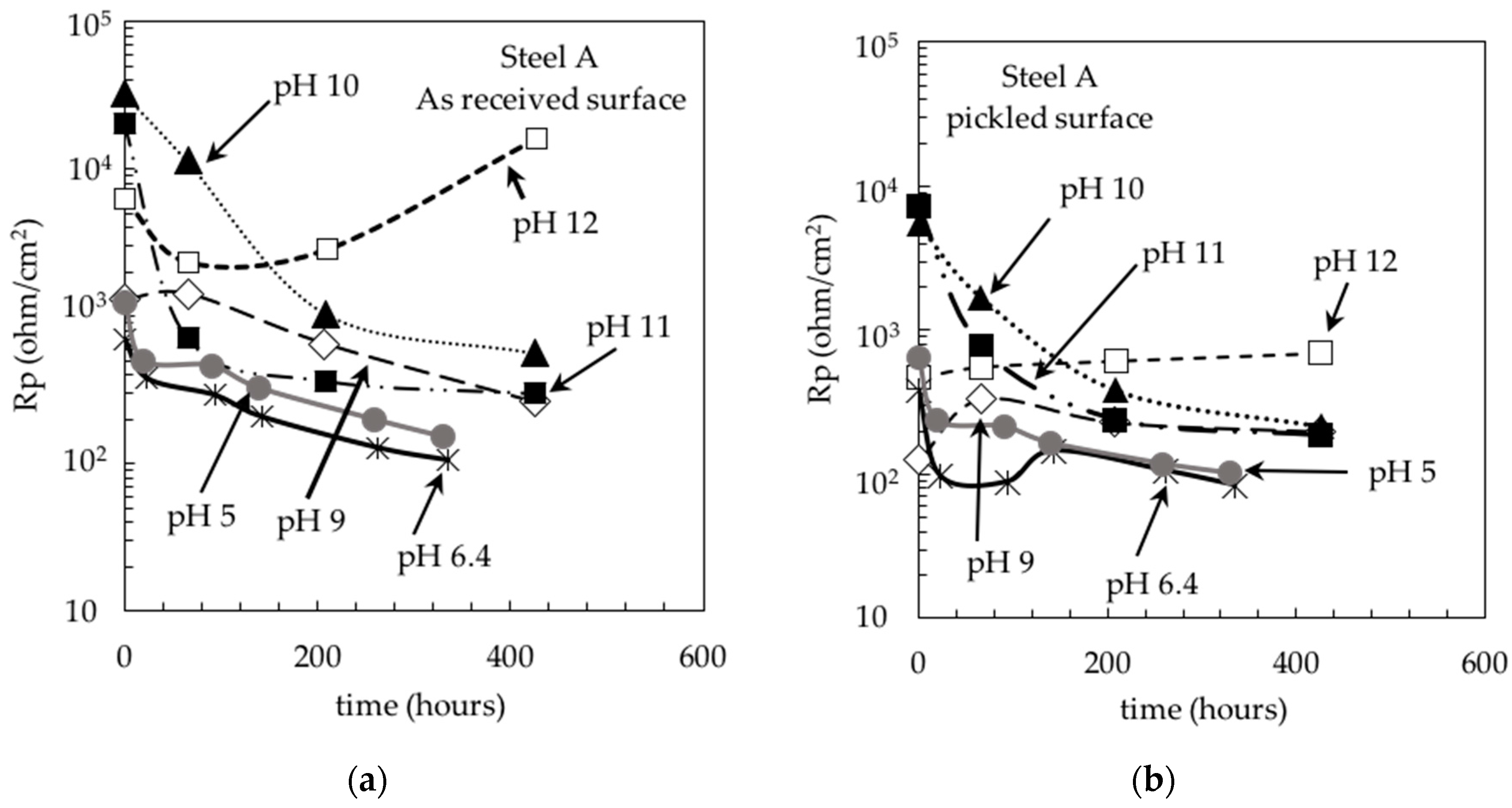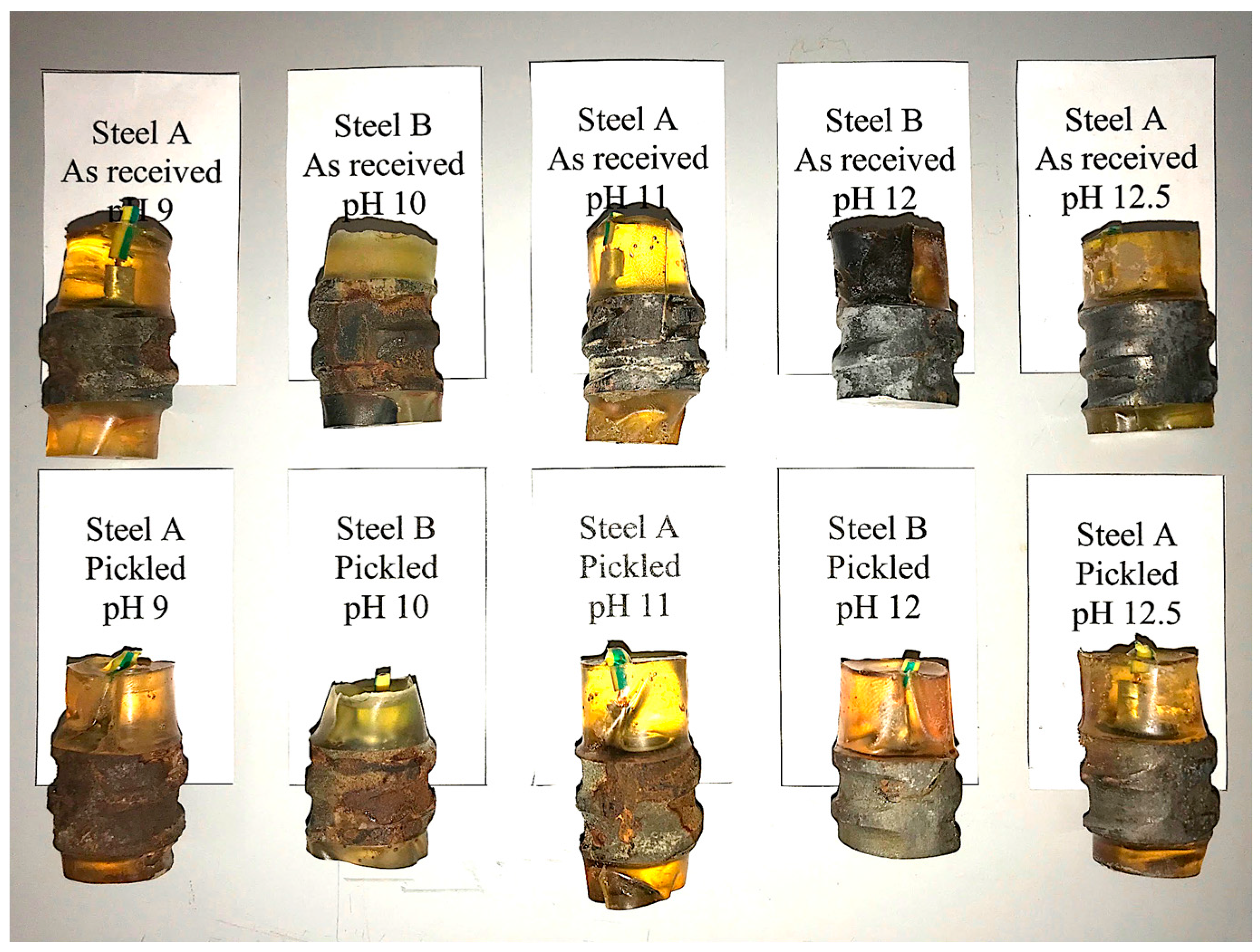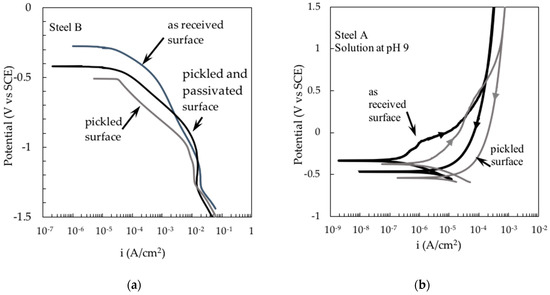 Figure 10. Effect of surface conditions on (a) cathodic potentiodynamic curves of the steel B in alkaline solution (pH 14) and (b) anodic cyclic potentiodynamic curves of the steel A in pH 9 solution.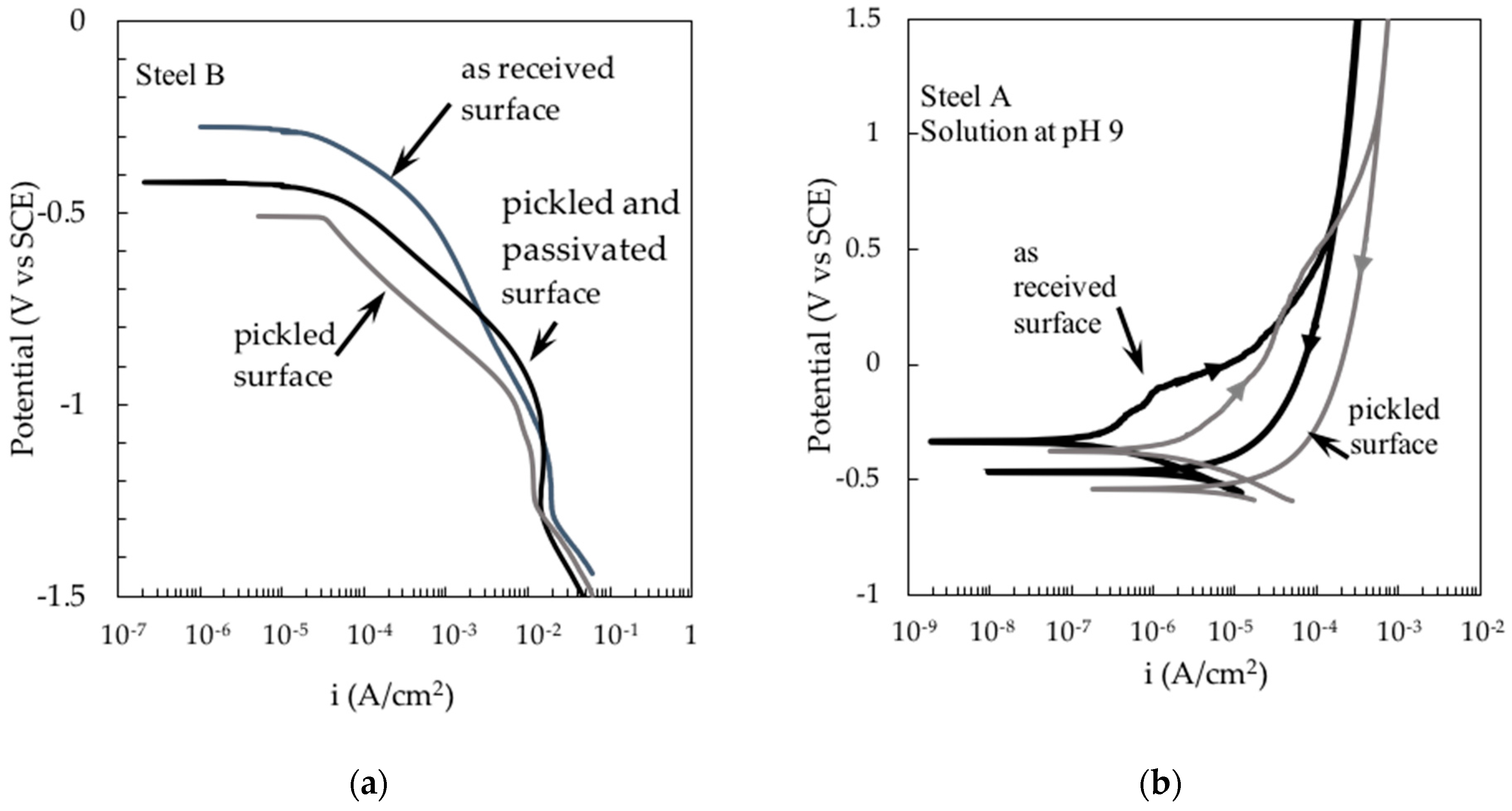 Figure 11. (a) Effect of pH on anodic cyclic potentiodynamic curves of the steel A in as received conditions, covered by a mill scale; (b) Effect of surface conditions on anodic cyclic potentiodynamic curves of the steel A in pH 12 solution.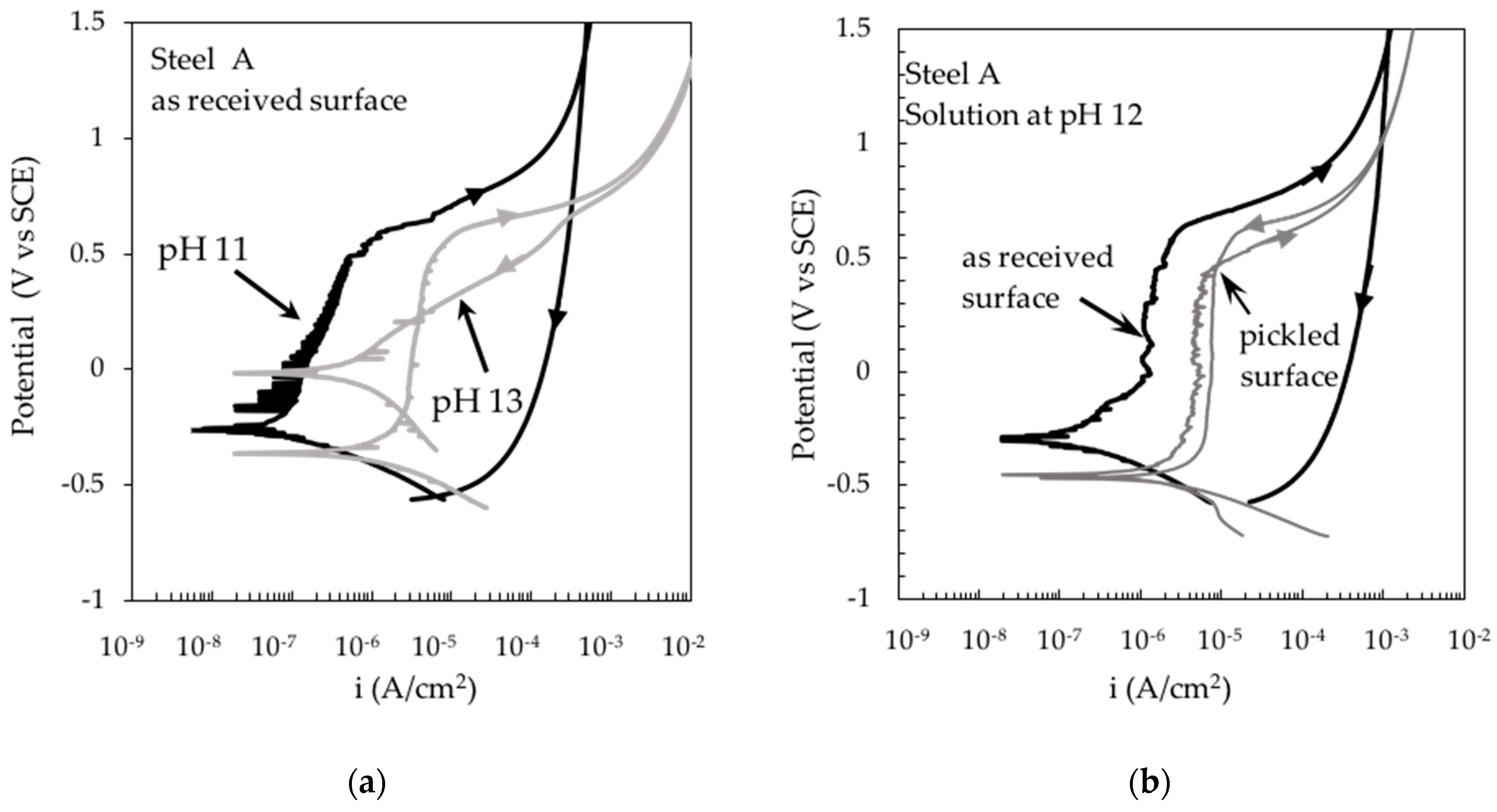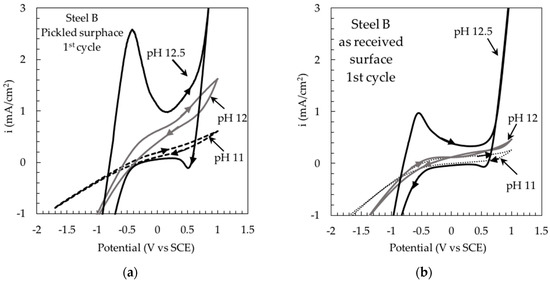 Figure 12. Cyclic voltammetry tests of steel B in solution at different pH; (a) specimens with pickled surface; (b) specimens with as received surface.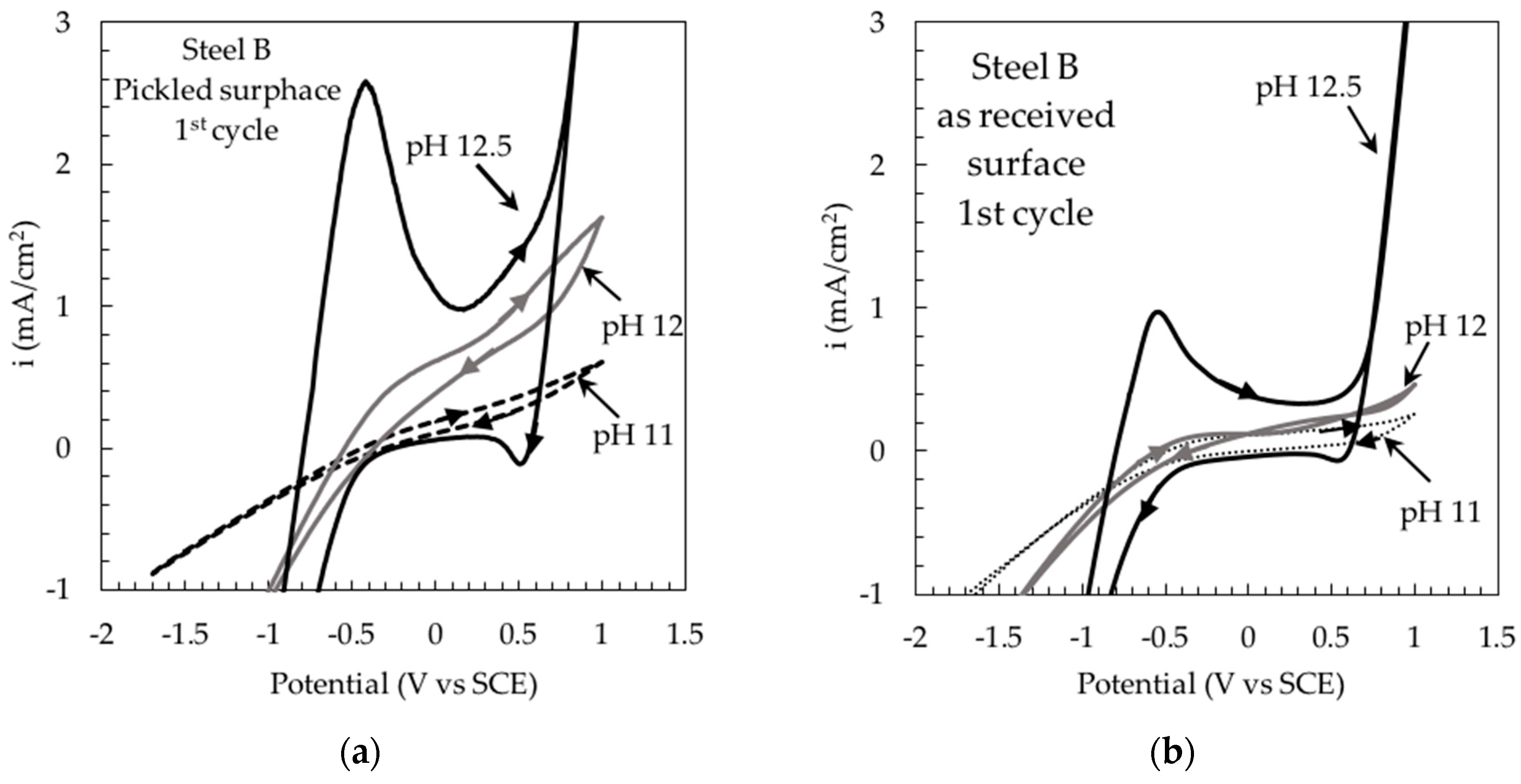 Figure 13. Role of calamine on insurgence of favorable conditions for hydrogen embrittlement in neutral or slight alkaline environment.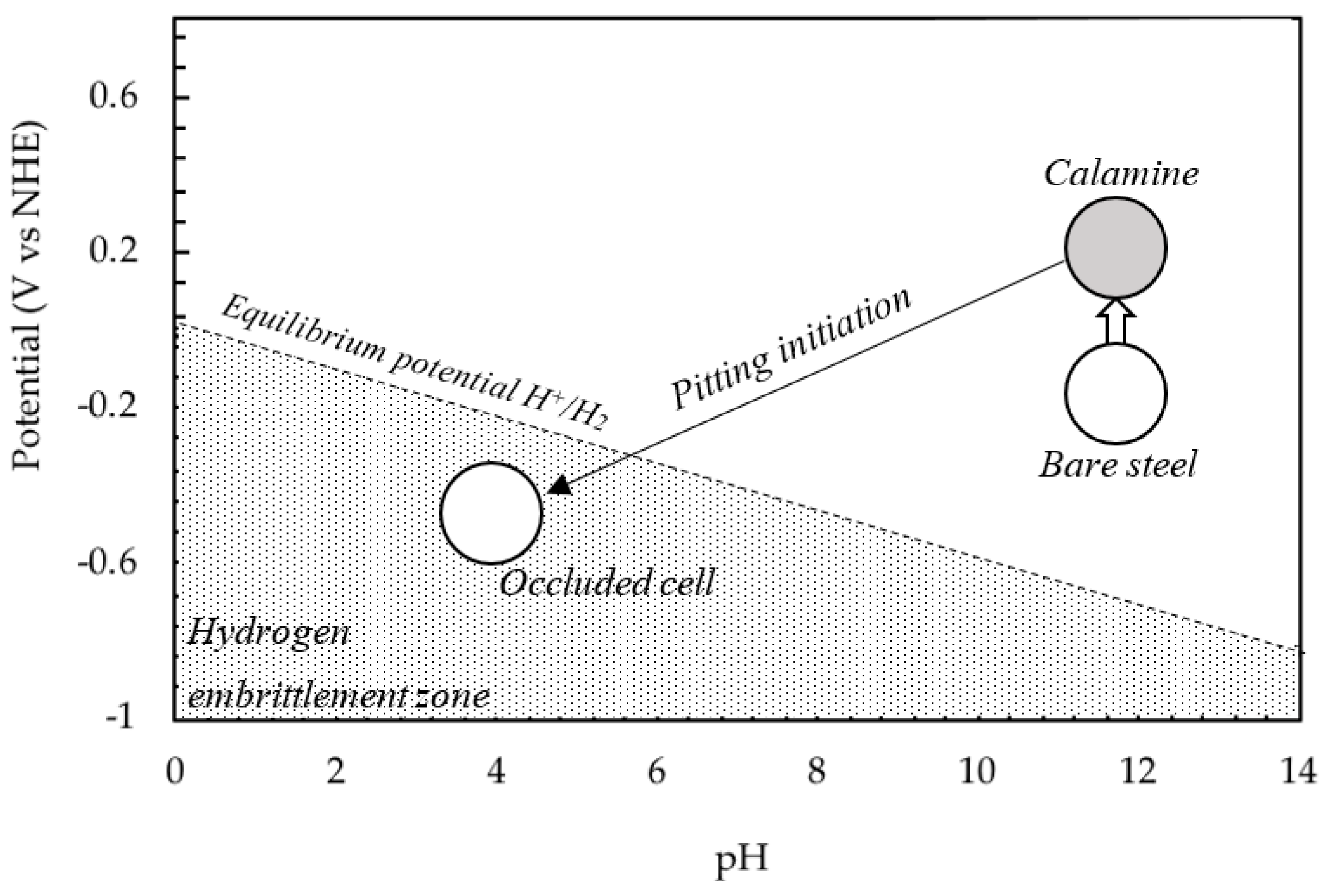 Steel
Chemical Composition (% Weight)
Mechanical Properties
C
Mn
Si
P
S

R

S (MPa)

R

(MPa)
A
0.71
0.63
0.22
0.016
0.016
996
1103
B
0.2
1.45
0.45
0.022
0.017
713
818

© 2018 by the authors. Licensee MDPI, Basel, Switzerland. This article is an open access article distributed under the terms and conditions of the Creative Commons Attribution (CC BY) license (http://creativecommons.org/licenses/by/4.0/).