Open Access This article is
freely available
re-usable
Article
Influence of Alkali Treatment on Anodized Titanium Alloys in Wollastonite Suspension
1
Faculty of Chemistry, Silesian University of Technology, B. Krzywoustego Street 6, 44-100 Gliwice, Poland
2
Institute of Physics and Technology, Ural Federal University, Mira Street 19, Yekaterinburg 620002, Russia
3
M.N. Mikheev Institute of Metal Physics, RAS-Ural Division, Kovalevskoj Street 18, Yekaterinburg 620990, Russia
4
Faculty of Metals Engineering and Industrial Computer Science, AGH University of Science and Technology, Mickiewicza Avenue 30, 30-059 Krakow, Poland
5
The Henryk Niewodniczanski Institute of Nuclear Physics, Polish Academy of Sciences, Radzikowskiego Street 152, 31-342 Krakow, Poland
*
Authors to whom correspondence should be addressed.
Received: 12 July 2017 / Accepted: 17 August 2017 / Published: 23 August 2017
Abstract
:
The surface modification of titanium alloys is an effective method to improve their biocompatibility and tailor the material to the desired profile of implant functionality. In this work, technologically-advanced titanium alloys—Ti-15Mo, Ti-13Nb-13Zr and Ti-6Al-7Nb—were anodized in suspensions, followed by treatment in alkali solutions, with wollastonite deposition from the powder phase suspended in solution. The anodized samples were immersed in NaOH or KOH solution with various concentrations with a different set of temperatures and exposure times. Based on their morphologies (observed by scanning electron microscope), the selected samples were investigated by Raman and X-ray photoelectron spectroscopy (XPS). Titaniate compounds were formed on the previously anodized titanium surfaces. The surface wettability significantly decreased, mainly on the modified Ti-15Mo alloy surface. Titanium alloy compounds had an influence on the results of the titanium alloys' surface modification, which caused the surfaces to exhibit differential physical properties. In this paper, we present the influence of the anodization procedure on alkali treatment effects and the properties of obtained hybrid coatings.
Keywords:
titanium alloys; plasma electrolytic oxidation; coatings; alkali treatment
1. Introduction
In recent years, emerging new metallic alloys have been extensively tested for potential use in implantation and regenerative medicine, with surface modification tailoring to match the biocompatibility and spectrum of desired bio-functionalities [
1
,
2
,
3
]. The surface of the metallic materials, aimed at bone implantation, is expected to comply with the ossification process. Towards satisfying these demands, various physical, chemical, and electrochemical techniques have been developed to obtain ceramic-type coatings on the metal surface. A plethora of ceramic layer variations with different surface roughness, wettability, chemical and phase composition, number and size of pores have been examined to indicate the surfaces with the most beneficial bioactivities [
4
,
5
]. The bioactivity of the ideal surface should promote the adhesion and well-being of desired human cells (which are biocompatibile) while inhibiting microbe population at the same time (bacteriostatic).
Porous oxide layers formed on the metallic biomaterials via plasma electrolytic oxidation (PEO) exhibit beneficial biological properties towards bone tissue formation. Among other applications, the PEO-layer is often applied on the titanium used in the modification of the bone plate for othopaedic or orthodontic application, part of endoprosthesis or dental implants which are used as long-bearing implants [
6
]. The porosity and surface roughness can be precisely controlled for these functionalizations by regulating electrochemical parameters during the PEO process [
7
,
8
]. The chemical composition of the coatings depends on both the chemical solutions and the substrate to be coated (elements of the substrate forming oxides). Consequently, the PEO process is widely used for the formation of the bioactive and bacteriostatic surface of bone implants. On top of PEO, an additional treatment of the oxide layer by heat or alkali treatment may be carried out to change the physicochemical properties of the layer, such as its phase composition or wettability. Thus, it is possible to design a titanium alloy surface that exhibits desirable physico-chemical and biological properties [
9
,
10
,
11
].
Selected titanium alloys, such as Ti-
x
Mo, Ti-
x
Ta-
x
Nb-
x
Zr, Ti-
x
Zr-
x
Nb, are considered as promising metallic implants to bone. The novel titanium alloys are characterized by low Young's modulus and biocompatible alloy elements, compared to Ti-6Al-4V alloy, which is routinely used in medicine [
12
,
13
]. The titanium alloy surface is often modified by the PEO process in solution with solved compounds, rather than in suspensions. However, bioactive powders, such as hydroxyapatite or wollastonite, are easy to incorporate into the porous oxide layer [
14
]. Calcium silicate (CaSiO
3
) is a potential material for bone tissue regeneration, since it has been proven to be bioactive and degradable [
15
]. The apatite formation rate on the surface of CaSiO
3
is found to be even faster than that of the other bio-glasses and glass-ceramics in simulated body fluid (SBF) [
16
,
17
].
The aim of the present work is the alkali treatment of anodized vanadium-free titanium alloy surface as a potential method for enhancing metal surface bioactivity, cytocompatibility and antibacterial properties. The porous oxide layers were formed on the Ti-15Mo, Ti-13Nb-13Zr, Ti-6Al-7Nb by plasma electrolytic oxidation in wollastonite suspensions. Anodized samples were immersed in NaOH or KOH solution at various concentrations and various times of treatment to determine the most appropriate conditions for the oxide layers' alkali treatment.
2. Materials and Methods
2.1. Materials and Procedures of Surface Treatment
Three vanadium-free titanium alloys were chosen for their surface treatment: Ti-15Mo, Ti-13Nb-13Zr, Ti-6Al-7Nb alloys (BIMO Metals, Wroclaw, Poland). The chemical composition of the titanium alloys is presented in
Table 1
. The metal surface was grinded and etched in solution composed of 1 M HF and 4 M H
2
SO
4
. Then, the titanium alloys were anodized according to the parameters determined based on our previous results presented in papers [
18
,
19
]. A plasma electrolytic oxidation process was carried out in suspensions composed of 0.1 M Ca(H
2
PO
2
)
2
(Alfa Aesar, Karlsruhe, Germany) and 150 g/dm
3
of wollastonite (CaSiO
3
) powder (Carl Jäger, Hilgert, Germany). The voltage limits were 300 V for the Ti-15Mo alloy and 350 V for the Ti-13Nb-13Zr and Ti-6Al-7Nb alloys. The applied voltage and current density were chosen based on our previous investigations, to obtain the best surface morphology after anodization. All of the samples were immersed in various alkali solutions. For each sample, the additional alkali treatment of the anodized surface was carried out. The titanium alloy samples were immersed in 1 M or 5 M of NaOH or KOH solution at 40 °C, 60 °C and 80 °C for 8 h. The titanium alloy surface modification was carried out according to the scheme presented in
Figure 1
.
2.2. Characterization of the Anodized Surfaces
2.2.1. Microstructure, Surface Wettability and Roughness
The microstructure of all of the modified titanium alloys was investigated using a scanning electron microscope (SEM, Hitachi S-3400N, Tokyo, Japan; accelerating voltage = 25 kV). The contact angles were determined using a drop shape analysis system (DSA 10 Mk2, KRÜSS, Hamburg, Germany). Ten drops of 0.20 μL ultra-high-purity water at room temperature were used of the measurements for each sample. The surface roughness was measured using a non-contact optical profilometer (Wyko NT9300, Veeco, New York, NY, USA). The surface parametres were determined according to appropriate standard [
20
].
2.2.2. Chemical Composition
XPS measurements and Raman spectroscopy were performed using a high spatial and energy-resolution PHI XPS Versaprobe 5000 spectrometer (ULVAC Physical Electronics, Chanhassen, MN, USA) and a high-resolution Nicolet Almega XR Thermo Electron Corp. (Waltham, MA, USA) system equipped with a 50 mW, 532 nm, frequency-doubled neodymium-yttrium-aluminium-garnet (NdYAG) laser, respectively. The parameters used for investigations were similar to those used in our previous investigations, and details of the measurements are presented in reference [
18
].
3. Results and Discussion
4. Conclusions
In our study, the porous oxide layer formed on the titanium was achieved using the alkali solutions. In this case, the optimal condition for the oxide layers' treatment was a solution containing 1 M NaOH at temperature of 60 °C for 8 h. On the oxides, characteristic flakes were formed, due to the formation of the titanate compounds. The highest concentration of sodium was determined for the treated Ti-15Mo surface. The alkali treatment of anodized Ti-13Nb-13Zr and Ti-6Al-7Nb alloy caused the formation of Na-based compounds to be similar. Surface treatment strongly decreased the water contact angle of Ti alloys, and most hydrophilic properties exhibited coated Ti-15Mo. However, the highest influence of alkali treatment on physical properties was determined for the anodized Ti-13Nb-13Zr alloy. The surface morphology and chemical composition of the alkali-treated oxide layer may exhibit high bioactivity. The proposed techniques for the titanium alloy surface modification present a simple way to obtain a functional surface for biomedical applications.
Acknowledgments
This work was supported by the Polish Ministry of Science and Education under research project No. IP 2012 0459 72 and by the Silesian University of Technology, Gliwice, Poland, as a Rector's grant. XPS measurements were supported by the Russian Foundation for Basic Research (Project 17-02-00005 and 16-32-00006), Government of Russian Federation (Act 211, agreement No. 02.A03.21.0006) and President of Russia Grant No. MK-1145.2017.2.
Author Contributions
A.K.-K. and W.S. conceived and designed the experiments; A.K.-K. performed the experiments; A.K.-K. and I.S.Z. and D.M.K and A.I.K and S.O.C. and E.Z.K. analyzed the data; K.L. and I.K.-R. and K.S. contributed reagents/materials/analysis tools; A.K.-K. and E.Z.K. and W.S. wrote the paper.
Conflicts of Interest
The authors declare no conflict of interest.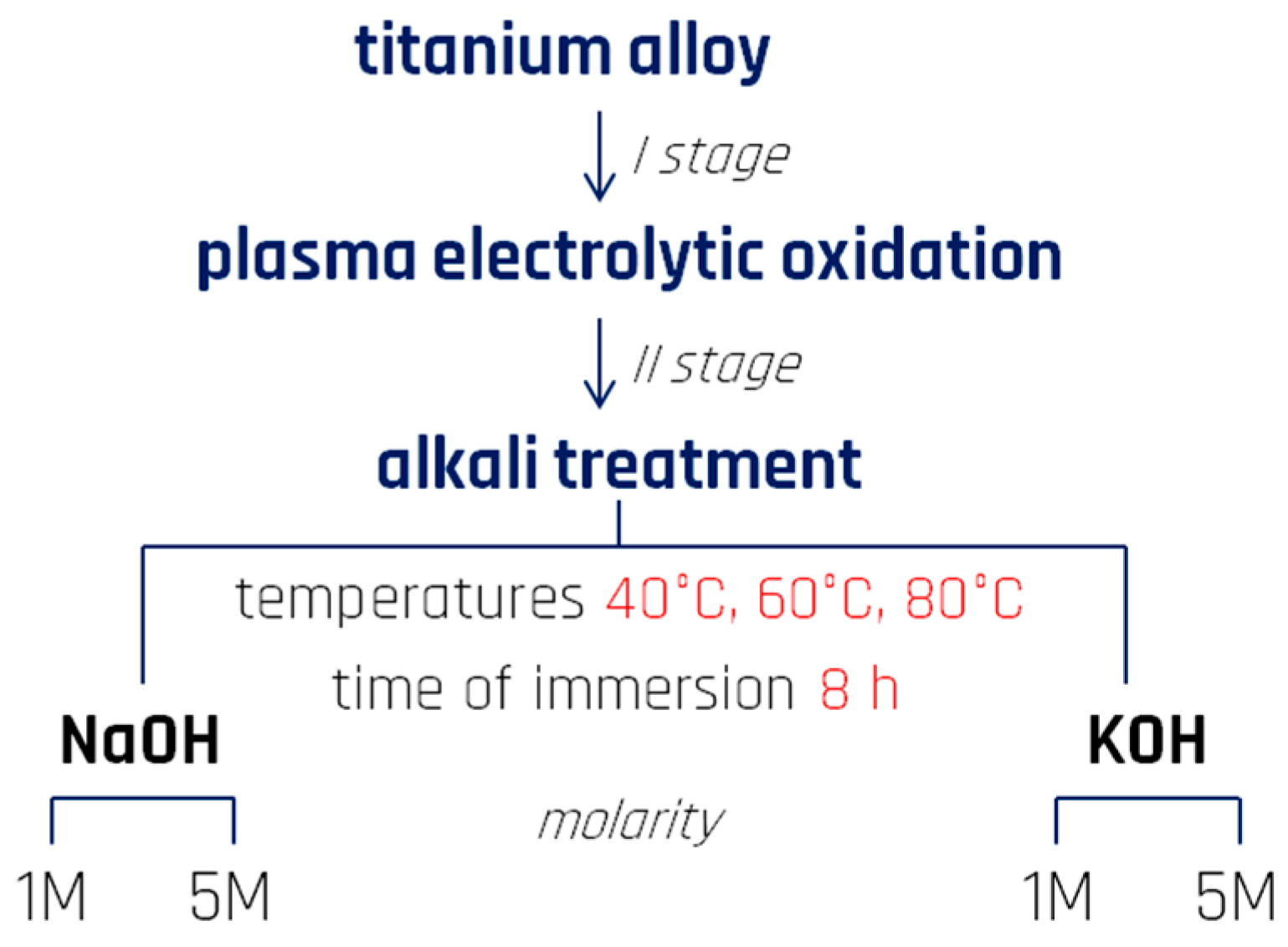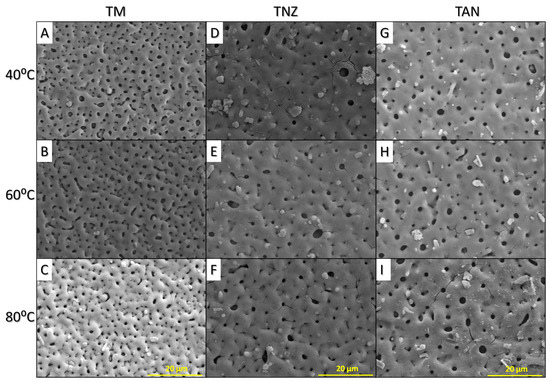 Figure 2. SEM images of the titanium TM (A–C), TNZ (D–F), TAN (G–I) alloy samples after anodization and immersion in 1 M NaOH at various temperatures, for 8 h. (TM: T-15Mo; TNZ: Ti-13Nb-13Zr; TAN: Ti-6Al-7Nb.)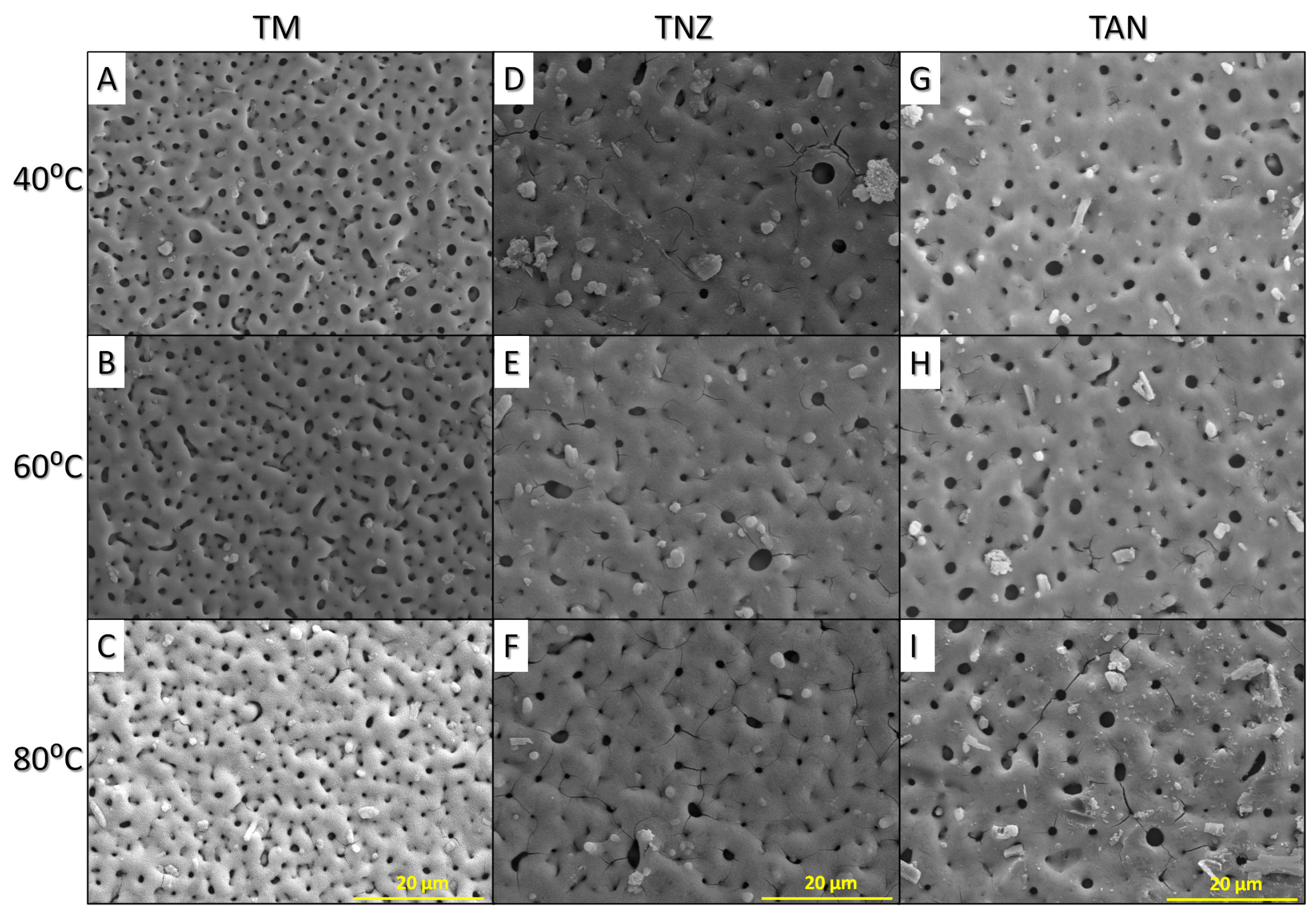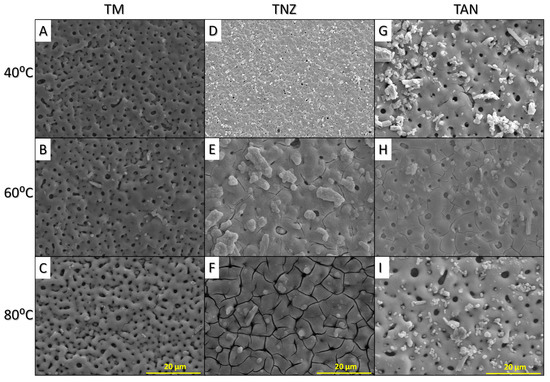 Figure 3. SEM images of the titanium TM (A–C), TNZ (D–F), TAN (G–I) alloy samples after anodization and immersion in 1 M KOH at various temperatures, for 8 h.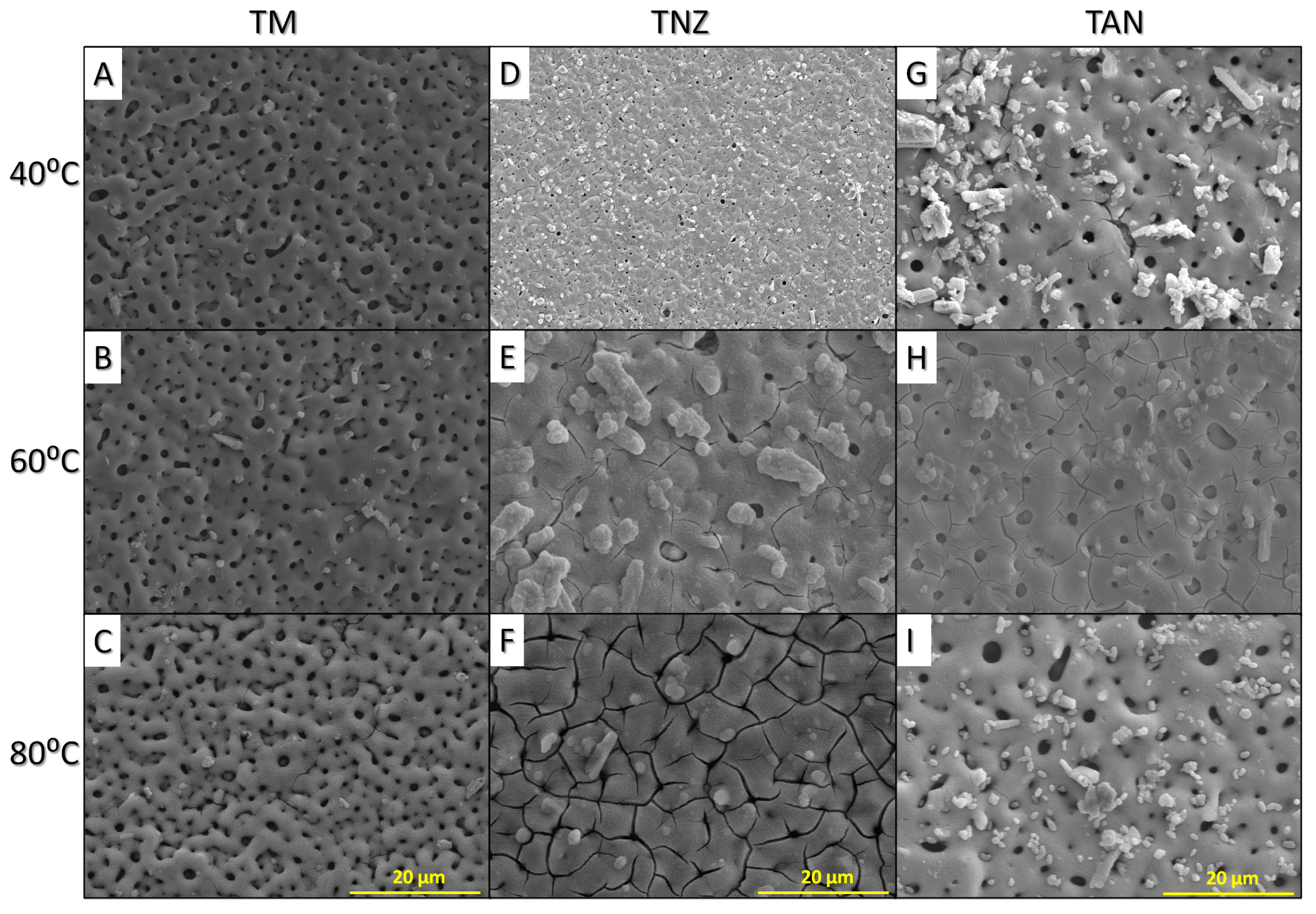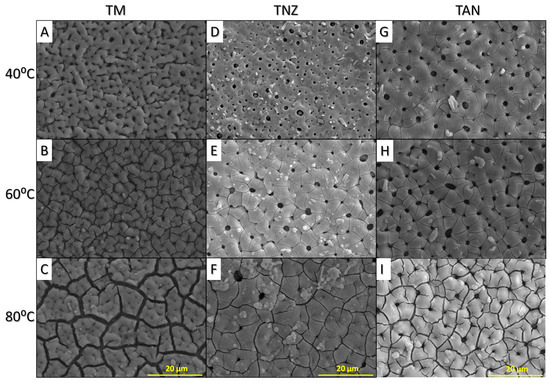 Figure 4. SEM images of the titanium TM (A–C), TNZ (D–F), TAN (G–I) alloy samples after anodization and immersion in 5 M NaOH at various temperatures, for 8 h.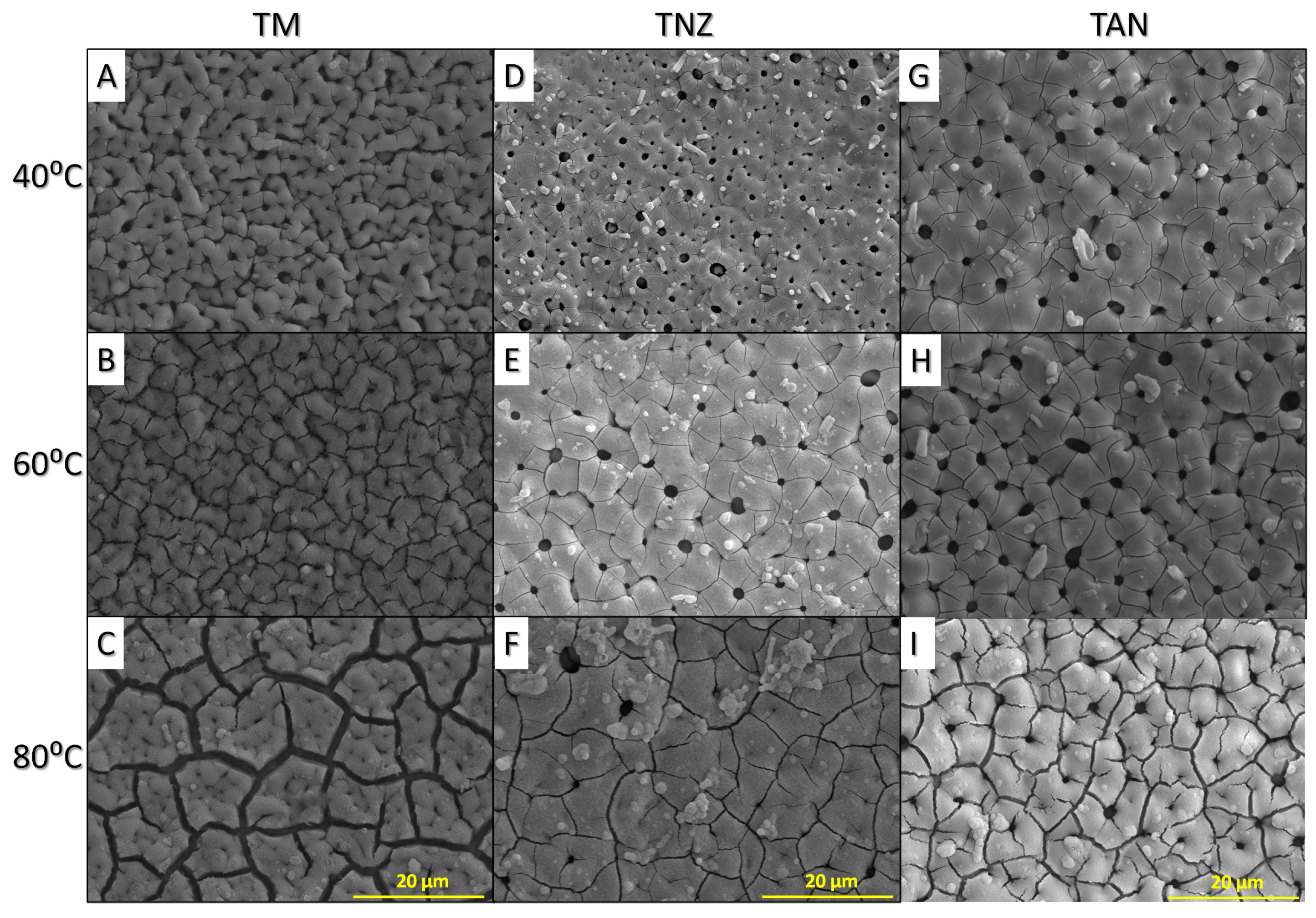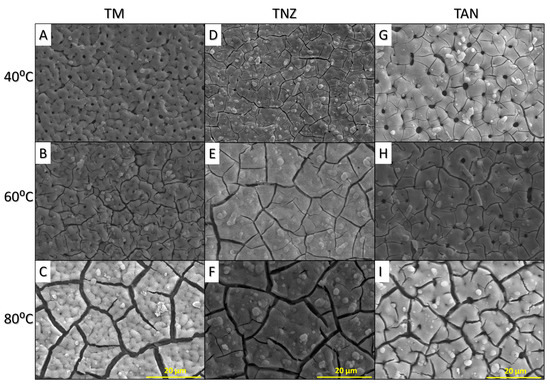 Figure 5. SEM images of the titanium TM (A–C), TNZ (D–F), TAN (G–I) alloy samples after anodization and immersion in 5 M KOH at various temperatures, for 8 h.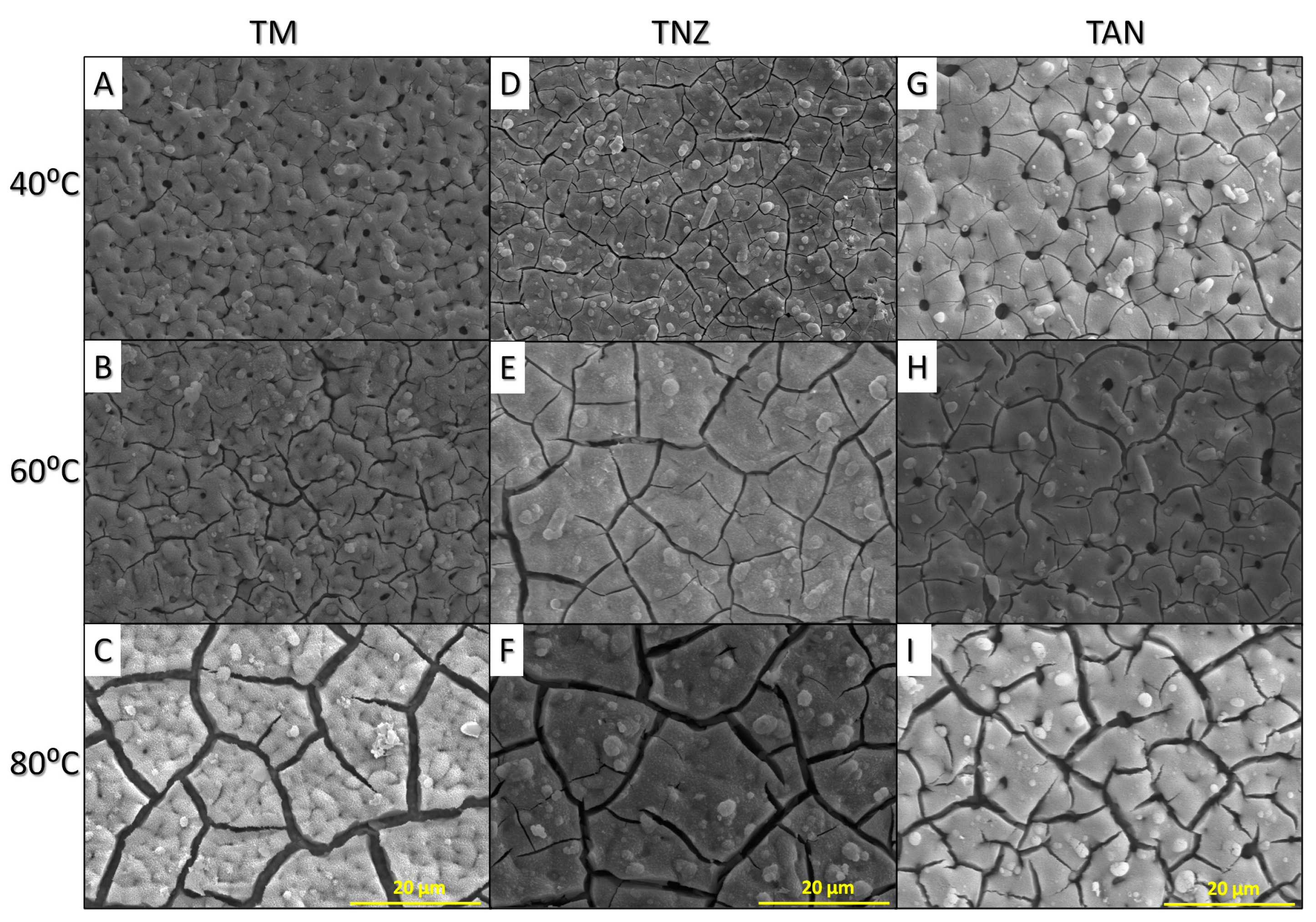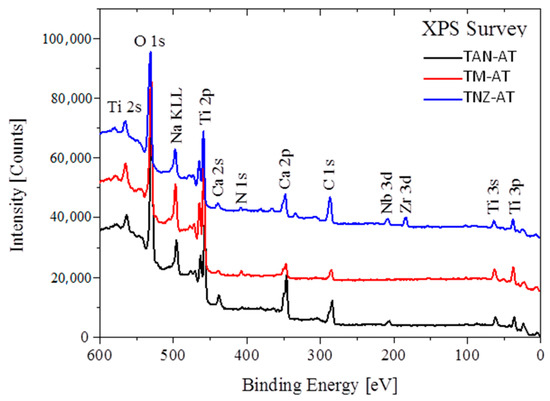 Figure 6. XPS (X-ray photoelectron spectroscopy) survey spectra of plasma electrolytic oxidation (PEO)-treated Ti-6Al-7Nb (TAN), Ti-15Mo (TM) and Ti-13Nb-13Zr (TNZ) alloys.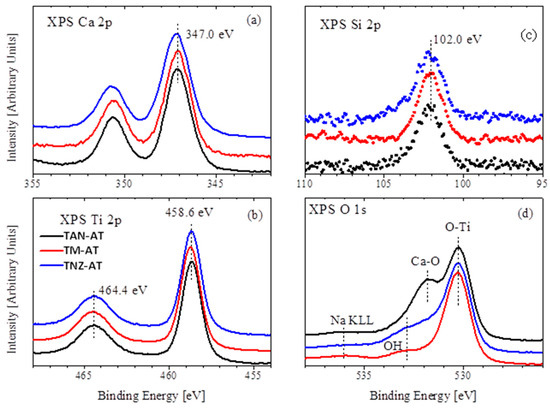 Figure 7. XPS (X-ray photoelectron spectroscopy) Ca 2p (a), Ti 2p (b), Si 2p (c) and O 1s (d) of treated Ti-alloys.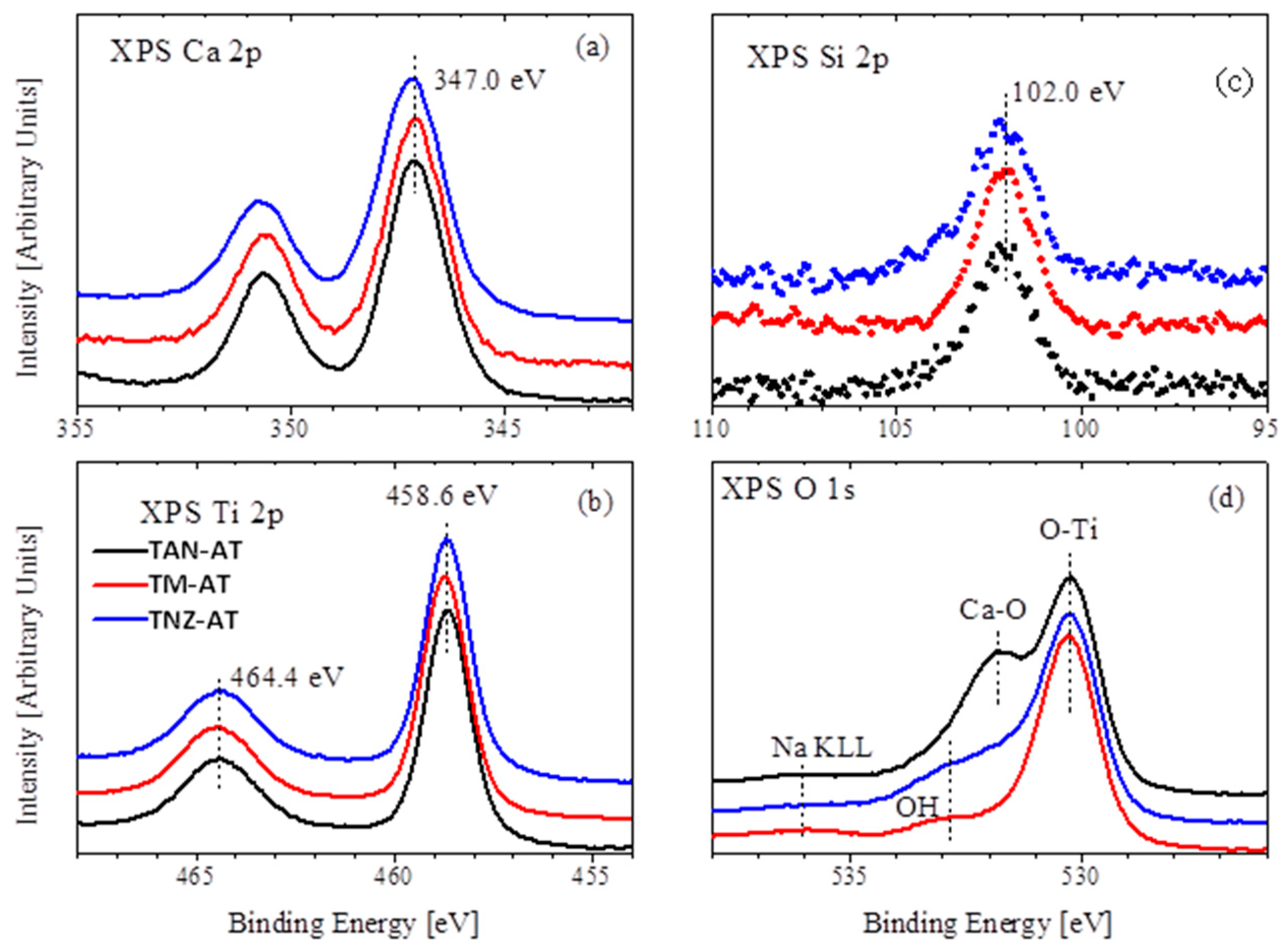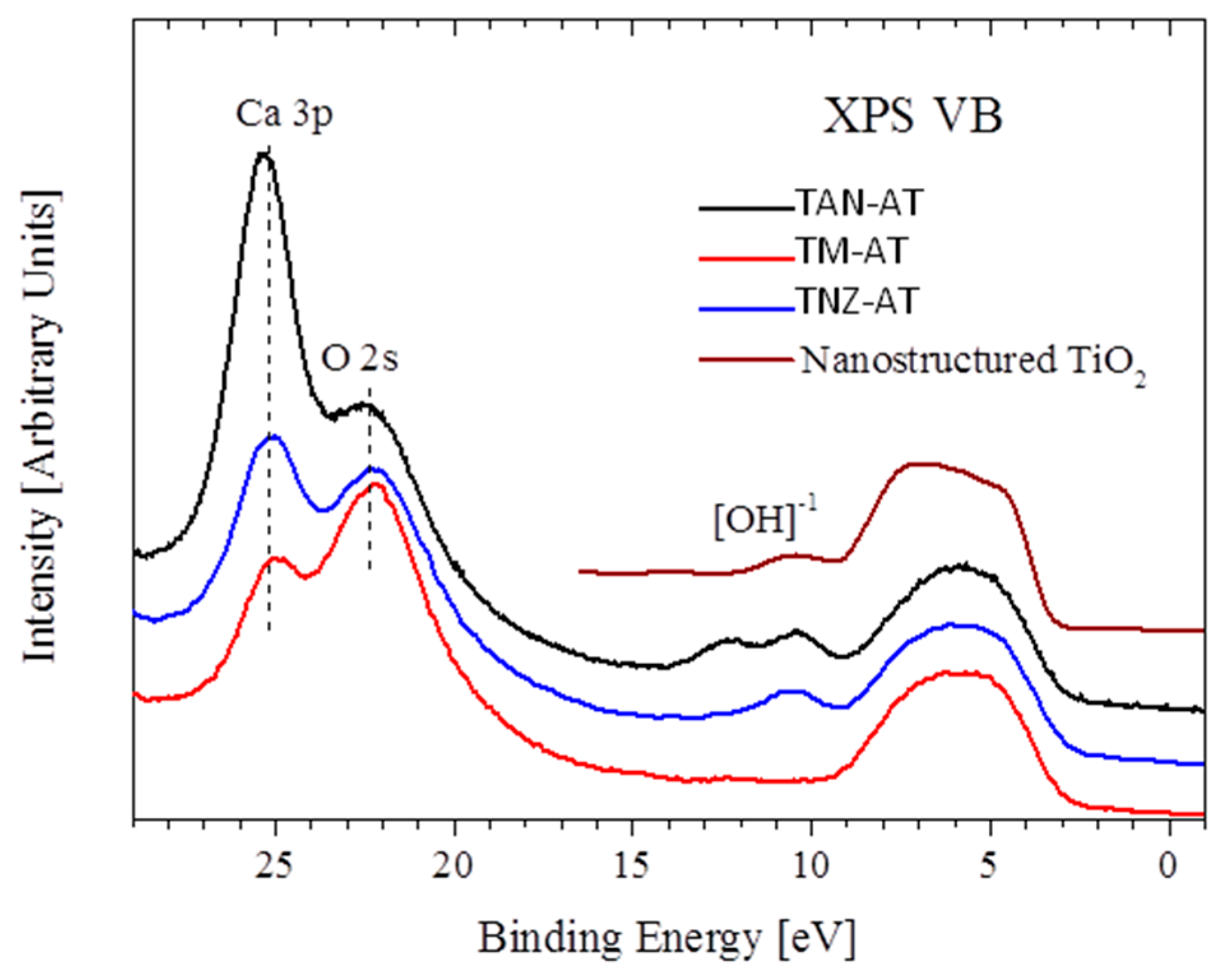 Figure 9. Raman spectra of (A) TM-alkali treatments (AT); (B) TNZ-AT; (C) TAN-AT samples. (Red line: Anodized titanium alloy samples; Black line: Immersed in NaOH solution.)

Titanium Alloy
Al
Nb
Zr
Ta
Mo
Fe
C
N
H
O
Ti
Ti-6Al-7Nb (TAN)
6.05
6.80
-
0.35
-
0.08
0.04
0.01
0.003
0.11
balance
Ti-13Nb-13Zr (TNZ)
-
13.30
13.00
-
-
0.08
0.05
0.0009
0.005
0.10
Ti-15Mo (TM)
-
-
-
-
14.73
0.06
0.08
0.016
0.01
0.15

Table 2. The sample labels, wettability, surface roughness and 3D image of the investigated samples determined by an optical profilometer. (TM: Ti-15Mo; TNZ: Ti-13Nb-13Zr; TAN: Ti-6Al-7Nb; AT: Alkali treatments.)
Sample
Contact Angle/°
Surface Roughness, μm

R

a

R

q

R

z
TM
47.6 ± 5.7
0.28
0.36
0.30
TM-AT
2.3 ± 0.7
1.08
2.19
309.06
TNZ
120 ± 5.0
0.51
0.63
9.77
TNZ-AT
21.8 ± 4.6
2.74
3.39
168.09
TAN
51.2 ± 4.7
0.30
0.48
1.48
TAN-AT
11.7 ± 2.7
2.37
2.91
92.40
Sample
Concentration, at %
Ti
Al
Nb/Mo
Ca
Na
Zr
C
O
Si
TM-AT
17.1
-
0.1
2.4
13.4
-
11.1
55.3
0.6
TNZ-AT
9.5
-
0.5
3.4
6.3
0.9
27.7
50.9
0.8
TAN-AT
9.8
0.3
0.3
5.6
7.5
-
24.6
51.4
0.5

© 2017 by the authors. Licensee MDPI, Basel, Switzerland. This article is an open access article distributed under the terms and conditions of the Creative Commons Attribution (CC BY) license (http://creativecommons.org/licenses/by/4.0/).