Significant Corrosion Resistance in an Ultrafine-Grained Al6063 Alloy with a Bimodal Grain-Size Distribution through a Self-Anodic Protection Mechanism
1
Faculty of Engineering and Natural Sciences, Nanotechnology Research and Application Center, Sabanci University, Orhanli-Tuzla, 34956 Istanbul, Turkey
2
Department of Materials Engineering, University of Tabriz, 51666-16471 Tabriz, Iran
3
Soft Condensed Matter, Debye Institute for Nanomaterials Science, Utrecht University, Princetonplein 1, 3584 CC Utrecht, The Netherlands
4
Department of Materials Engineering, Sahand University of Technology, 51335/1996 Tabriz, Iran
*
Author to whom correspondence should be addressed.
Academic Editor: Hugo F. Lopez
Received: 20 September 2016 / Revised: 27 October 2016 / Accepted: 3 November 2016 / Published: 5 December 2016
Abstract
The bimodal microstructures of Al6063 consisting of 15, 30, and 45 vol. % coarse-grained (CG) bands within the ultrafine-grained (UFG) matrix were synthesized via blending of high-energy mechanically milled powders with unmilled powders followed by hot powder extrusion. The corrosion behavior of the bimodal specimens was assessed by means of polarization, steady-state cyclic polarization and impedance tests, whereas their microstructural features and corrosion products were examined using optical microscopy (OM), scanning transmission electron microscopy (STEM), field emission scanning electron microscopy (FE-SEM), electron backscattered diffraction (EBSD), energy dispersive spectroscopy (EDS), and X-ray diffraction (XRD) techniques. The bimodal Al6063 containing 15 vol. % CG phase exhibits the highest corrosion resistance among the bimodal microstructures and even superior electrochemical behavior compared with the plain UFG and CG materials in the 3.5% NaCl solution. The enhanced corrosion resistance is attributed to the optimum cathode to anode surface area ratio that gives rise to the formation of an effective galvanic couple between CG areas and the UFG matrix. The operational galvanic coupling leads to the domination of a "self-anodic protection system" on bimodal microstructure and consequently forms a uniform thick protective passive layer over it. In contrast, the 45 vol. % CG bimodal specimen shows the least corrosion resistance due to the catastrophic galvanic corrosion in UFG regions. The observed results for UFG Al6063 suggest that metallurgical tailoring of the grain structure in terms of bimodal microstructures leads to simultaneous enhancement in the electrochemical behavior and mechanical properties of passivable alloys that are usually inversely correlated. The mechanism of self-anodic protection for passivable metals with bimodal microstructures is discussed here for the first time.
View Full-Text
►

▼

Figures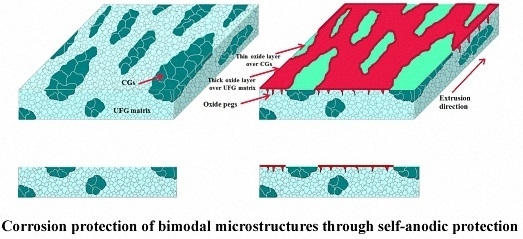 Graphical abstract
This is an open access article distributed under the
Creative Commons Attribution License
which permits unrestricted use, distribution, and reproduction in any medium, provided the original work is properly cited (CC BY 4.0).

Share & Cite This Article
MDPI and ACS Style
Shakoori Oskooie, M.; Asgharzadeh, H.; Sadighikia, S.; Salehi, M. Significant Corrosion Resistance in an Ultrafine-Grained Al6063 Alloy with a Bimodal Grain-Size Distribution through a Self-Anodic Protection Mechanism. Metals 2016, 6, 307.
Note that from the first issue of 2016, MDPI journals use article numbers instead of page numbers. See further details here.
Related Articles
Comments
[Return to top]