Magnesium Matrix Composite Foams—Density, Mechanical Properties, and Applications
1
Composite Materials and Mechanics Laboratory, Department of Mechanical and Aerospace Engineering, Polytechnic Institute of New York University, Brooklyn, NY 11201, USA
2
USA Army Research Laboratory, Weapons and Materials Research Directorate, Aberdeen Proving Ground, MD 21005, USA
*
Author to whom correspondence should be addressed.
Received: 1 June 2012 / Revised: 29 June 2012 / Accepted: 3 July 2012 / Published: 24 July 2012
Abstract
Potential of widespread industrial applications of magnesium has been realized in recent years. A variety of magnesium alloy matrix composites are now being studied for mechanical properties. Since magnesium is the lightest structural metal, it can replace aluminum in existing applications for further weight savings. This review presents an overview of hollow particle filled magnesium matrix syntactic composite foams. Fly ash cenospheres are the most commonly used hollow particles for such applications. Fly ash cenospheres primarily have alumino-silicate composition and contain a large number of trace elements, which makes it challenging to study the interfacial reactions and microstructure in these composites. Microstructures of commonly studied AZ and ZC series magnesium alloys and their syntactic foams are discussed. Although only a few studies are available on these materials because of the nascent stage of this field, a comparison with similar aluminum matrix syntactic foams has provided insight into the properties and weight saving potential of magnesium matrix composites. Analysis shows that the magnesium matrix syntactic foams have higher yield strength at the same level of density compared to most other metal matrix syntactic foams. The comparison can guide future work and set goals that need to be achieved through materials selection and processing method development.
View Full-Text
►

▼

Figures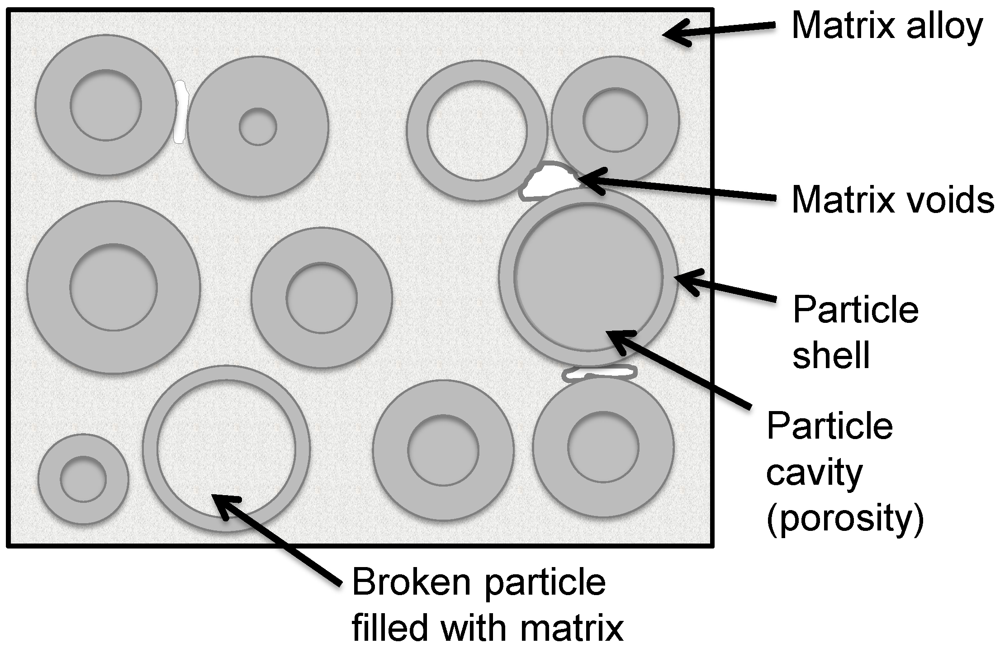 Figure 1

Share & Cite This Article
MDPI and ACS Style
Gupta, N.; Luong, D.D.; Cho, K. Magnesium Matrix Composite Foams—Density, Mechanical Properties, and Applications. Metals 2012, 2, 238-252.
Related Articles
Comments
[Return to top]