Cherry Gel Supplementation Does Not Attenuate Subjective Muscle Soreness or Alter Wellbeing Following a Match in a Team of Professional Rugby Union players: A Pilot Study
1
Institute of Cellular Medicine, Newcastle University, Newcastle, NE2 4HH, UK
2
Newcastle Falcons R.F.C., Kingston Park, Newcastle NE13 8AF, UK
*
Author to whom correspondence should be addressed.
Received: 7 March 2019 / Revised: 2 April 2019 / Accepted: 3 April 2019 / Published: 5 April 2019
Abstract
This study examined the effects of sour tart cherry juice (TC) on muscle soreness (MS) and wellbeing following a rugby union match in professional players. In a crossover design, 10 players from a senior squad in the top tier of England consumed either 2 × 30 mL servings of TC or an isocaloric cherry-flavoured control gel (CON) two days before, the day of, and two days following an 80 min match. Subjective wellbeing and MS were measured before the match (Pre), and for three days following the match (M+1, M+2, and M+3, respectively). MS was elevated from Pre at M+1 (CON, 111 ± 37 mm vs. TC 94 ± 41 mm) and M+2 (CON, 81 ± 35 mm vs. TC 72 ± 36 mm) (time effect;
p
= 0.0001; ηp
2
= 0.821) but there were no differences between TC and CON at either time point post-exercise (
p
= 0.807; ηp
2
= 0.035). Wellness scores were ~15% lower at M+1 (
p
= 0.023; ηp
2
= 0.638) but there were no differences between the two conditions at any time point (
p
= 0.647; ηp
2
= 0.160). In conclusion, tart cherry juice did not attenuate soreness or alter wellbeing in a team of professional rugby union players following a competitive match.
View Full-Text
►

▼

Figures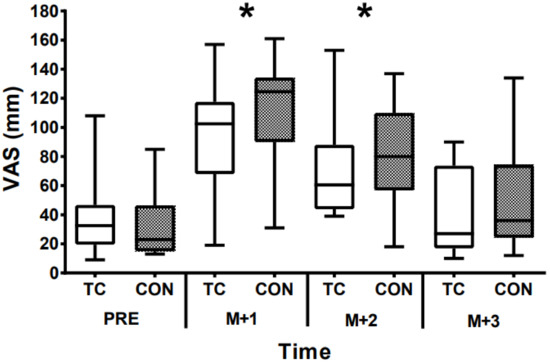 Figure 1
This is an open access article distributed under the
Creative Commons Attribution License
which permits unrestricted use, distribution, and reproduction in any medium, provided the original work is properly cited (CC BY 4.0).

Share & Cite This Article
MDPI and ACS Style
Kupusarevic, J.; McShane, K.; Clifford, T. Cherry Gel Supplementation Does Not Attenuate Subjective Muscle Soreness or Alter Wellbeing Following a Match in a Team of Professional Rugby Union players: A Pilot Study. Sports 2019, 7, 84.
Note that from the first issue of 2016, MDPI journals use article numbers instead of page numbers. See further details here.
Related Articles
Comments
[Return to top]