Vertical Jumping Tests
versus

Wingate Anaerobic Test in Female Volleyball Players: The Role of Age

1

Department of Physical and Cultural Education, Hellenic Army Academy, Athens 16673, Greece

2

Exercise Physiology Laboratory, Nikaia 18450, Greece

3

Faculty of Sport, University of Porto, Porto 4200-450, Portugal

4

Department of Sport Science, European University of Madrid, Madrid 28670, Spain

5

Department of Physical Education, Universidad de Los Llanos Occedentales Ezequiel Zamora, Barinitas 7001, Venezuela

6

UFR STAPS, CeRSM (EA 2931), Université Paris Ouest Nanterre La Défense, Nanterre 92000, France

7

Instutute of Primary Care, University of Zurich, Zurich CH-8006, Switzerland

8

Area of Corporal Express, Faculty of Humanities and Science Education, University of Jaen, Jaen 3109, Spain

*

Author to whom correspondence should be addressed.

†

These authors contributed equally to this work.

Academic Editor: Eling Douwe de Bruin

Received: 10 December 2015 / Revised: 19 January 2016 / Accepted: 3 February 2016 / Published: 5 February 2016
Abstract
Single and continuous vertical jumping tests, as well as the Wingate anaerobic test (WAnT), are commonly used to assess the short-term muscle power of female volleyball players; however, the relationship among these tests has not been studied adequately. Thus, the aim of the present study was to examine the relationship of single and continuous vertical jumps with the WAnT in female volleyball players. Seventy adolescent (age 16.0 ± 1.0 years, body mass 62.5 ± 7.1 kg, height 170.4 ± 6.1 cm, body fat 24.2% ± 4.3%) and 108 adult female volleyball players (age 24.8 ± 5.2 years, body mass 66.5 ± 8.7 kg, height 173.2 ± 7.4 cm, body fat 22.0% ± 5.1%) performed the squat jump (SJ), countermovement jump (CMJ), Abalakov jump (AJ), 30 s Bosco test and WAnT (peak power, P
peak
; mean power, P
mean
). Mean power in the Bosco test was correlated (low to large magnitude) with P
mean
of the WAnT (
r
= 0.27,
p
= 0.030 in adolescents
versus
r
= 0.56,
p
< 0.001 in adults). SJ, CMJ and AJ also correlated with P
peak
(0.28 ≤
r
≤ 0.46 in adolescents
versus
0.58 ≤
r
≤ 0.61 in adults) and with P
mean
(0.43 ≤
r
≤ 0.51
versus
0.67 ≤
r
≤ 0.71, respectively) of the WAnT (
p
< 0.05). In summary, the impact of the Bosco test and WAnT on muscle power varied, especially in the younger age group. Single jumping tests had larger correlations with WAnT in adults than in adolescent volleyball players. These findings should be taken into account by volleyball coaches and fitness trainers during the assessment of short-term muscle power of their athletes.
View Full-Text
►

▼

Figures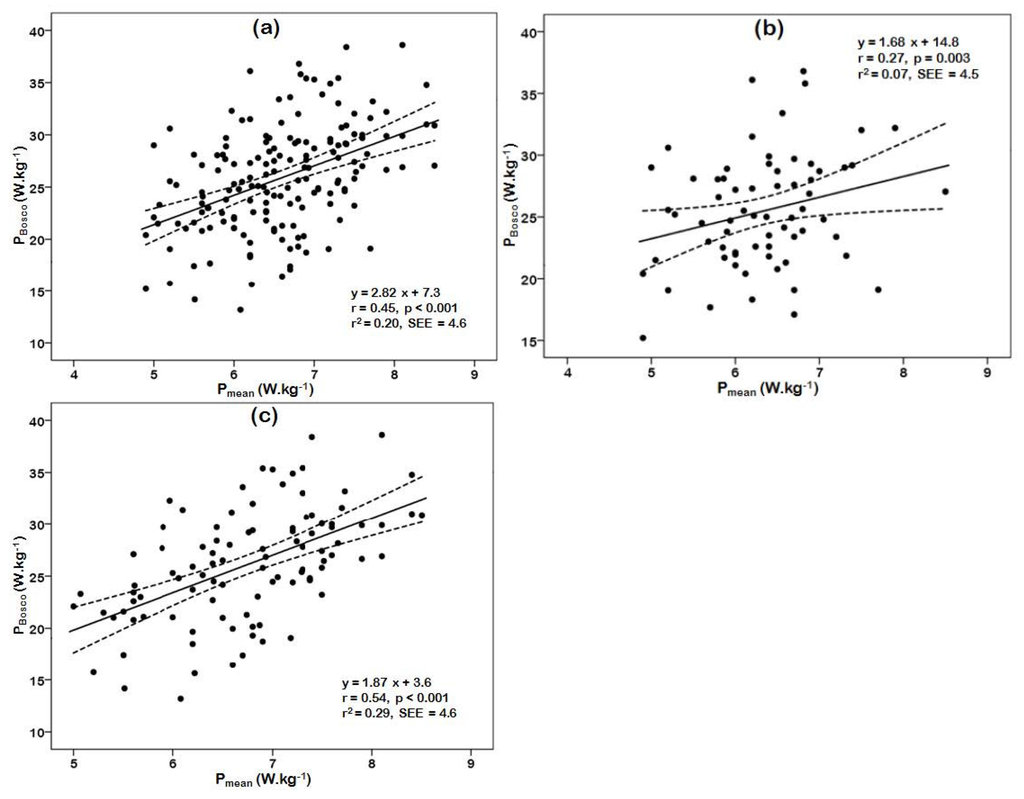 Figure 1
This is an open access article distributed under the
Creative Commons Attribution License
which permits unrestricted use, distribution, and reproduction in any medium, provided the original work is properly cited (CC BY 4.0).

Share & Cite This Article
MDPI and ACS Style
Nikolaidis, P.T.; Afonso, J.; Clemente-Suarez, V.J.; Alvarado, J.R.P.; Driss, T.; Knechtle, B.; Torres-Luque, G. Vertical Jumping Tests versus Wingate Anaerobic Test in Female Volleyball Players: The Role of Age. Sports 2016, 4, 9.
Note that from the first issue of 2016, MDPI journals use article numbers instead of page numbers. See further details here.
Related Articles
Comments
[Return to top]