Cryptic Diversity in Colombian Edible Leaf-Cutting Ants (Hymenoptera: Formicidae)
1
Comparative Fungal Biology, Department of Comparative Plant and Fungal Biology, Royal Botanic Gardens, Kew, Richmond TW9 3DS, UK
2
Natural History Museum of Utah, University of Utah, 301 Wakara Way, Salt Lake City, UT 84108, USA
3
Department of Biology, University of Utah, 201 Presidents Circle, Salt Lake City, UT 84112, USA
4
Departamento de Biología, Escuela Politécnica Nacional, Av. Ladrón de Guevara E11-253, Quito 17-01-2759, Ecuador
5
Centre for Social Evolution, Department of Biology, University of Copenhagen, Universitetsparken 15, DK-2100 Copenhagen, Denmark
*
Author to whom correspondence should be addressed.
Received: 30 October 2018 / Revised: 5 December 2018 / Accepted: 7 December 2018 / Published: 12 December 2018
Abstract
Leaf-cutting ants are often considered agricultural pests, but they can also benefit local people and serve important roles in ecosystems. Throughout their distribution, winged reproductive queens of leaf-cutting ants in the genus
Atta
Fabricius, 1804 are consumed as a protein-rich food source and sometimes used for medical purposes. Little is known, however, about the species identity of collected ants and the accuracy of identification when ants are sold, ambiguities that may impact the conservation status of
Atta
species as well as the nutritional value that they provide to consumers. Here, 21 samples of fried ants bought in San Gil, Colombia, were identified to species level using Cytochrome Oxidase I (COI) barcoding sequences. DNA was extracted from these fried samples using standard Chelex extraction methods, followed by phylogenetic analyses with an additional 52 new sequences from wild ant colonies collected in Panama and 251 publicly available sequences. Most analysed samples corresponded to
Atta laevigata
(Smith, 1858), even though one sample was identified as
Atta colombica
Guérin-Méneville, 1844 and another one formed a distinct branch on its own, more closely related to
Atta texana
(Buckley, 1860) and
Atta mexicana
(Smith, 1858). Analyses further confirm paraphyly within
Atta sexdens
(Linnaeus, 1758) and
A. laevigata
clades. Further research is needed to assess the nutritional value of the different species.
View Full-Text
►

▼

Figures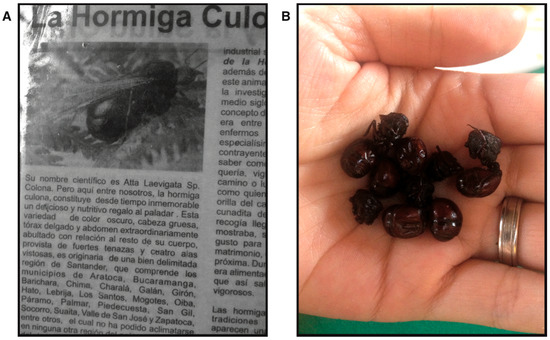 Figure 1
This is an open access article distributed under the
Creative Commons Attribution License
which permits unrestricted use, distribution, and reproduction in any medium, provided the original work is properly cited (CC BY 4.0).

Share & Cite This Article
MDPI and ACS Style
Kooij, P.W.; Dentinger, B.M.; Donoso, D.A.; Shik, J.Z.; Gaya, E. Cryptic Diversity in Colombian Edible Leaf-Cutting Ants (Hymenoptera: Formicidae). Insects 2018, 9, 191.
Note that from the first issue of 2016, MDPI journals use article numbers instead of page numbers. See further details here.
Related Articles
Comments
[Return to top]