Open Access This article is
freely available
re-usable
Perspective
A Better Understanding of Bee Nutritional Ecology Is Needed to Optimize Conservation Strategies for Wild Bees—The Application of Ecological Stoichiometry
Institute of Environmental Sciences, Jagiellonian University, ul. Gronostajowa 7, 30-387 Kraków, Poland
Received: 23 April 2018 / Accepted: 14 July 2018 / Published: 18 July 2018
Abstract
:
The observed decline in wild bees may be connected to the decreasing diversity of flowering plants. Changes in floral composition shape nutrient availability in inhabited areas, and bee larvae need food rich in body-building nutrients to develop into adults. Adult food, mainly composed of energy-rich nectar, differs from larval food, mainly composed of pollen, and adult bees forage on different plant species for nectar and pollen. Defining bee-friendly plants based on the quantities of food produced, and on the visitation rates of adult pollinating insects leads to the planting of bee habitats with poor-quality food for larvae, which limits their growth and development, and negatively affects the population. Consequently, failing to understand the nutritional needs of wild bees may lead to unintended negative effects of conservation efforts. Ecological stoichiometry was developed to elucidate the nutritional constraints of organisms and their colonies, populations, and communities. Here, I discuss how applying ecological stoichiometry to the study of the nutritional ecology of wild bees would help fill the gaps in our understanding of bee biology. I present questions that should be answered in future studies to improve our knowledge of the nutritional ecology of wild bees, which could result in better conservation strategies.
Keywords:
bee; pollen; ecology; nutrition; conservation; pollinator; decline; health; stressor; constraint
Funding
The presented study was supported by the Polish Ministry of Science and Higher Education (Grant No.: DS/WBiNoZ/INoŚ/DS 761) and the National Science Centre, Poland (Grant No.: 2016/21/B/NZ8/00318; contract no. for this grant: UMO-2016/21/B/NZ8/00318).
Acknowledgments
I am indebted to the anonymous reviewers for highlighting the strengths and weaknesses of the previous version of this perspective paper, and for their constructive critical comments.
Conflicts of Interest
The author declares no conflict of interest.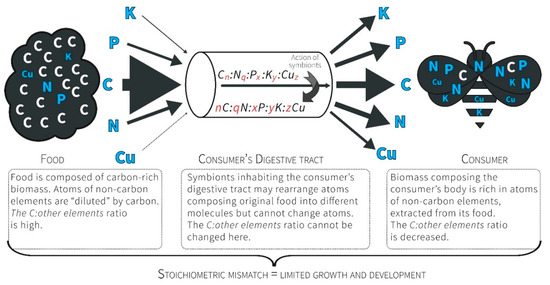 Figure 1.
Consumers ingest a prepackaged ratio of atoms. For herbivores, the food contains more C relative to other atoms, so they must manage a diet that presents a stoichiometric mismatch through excess C, which is further exacerbated by the unbalanced relationships between non-C elements (due to the exceptional scarcity of some of them). Consumer graphic source: Vecteezy.com (
https://www.vecteezy.com/vector-art/169213-flat-six-bees-vectors
).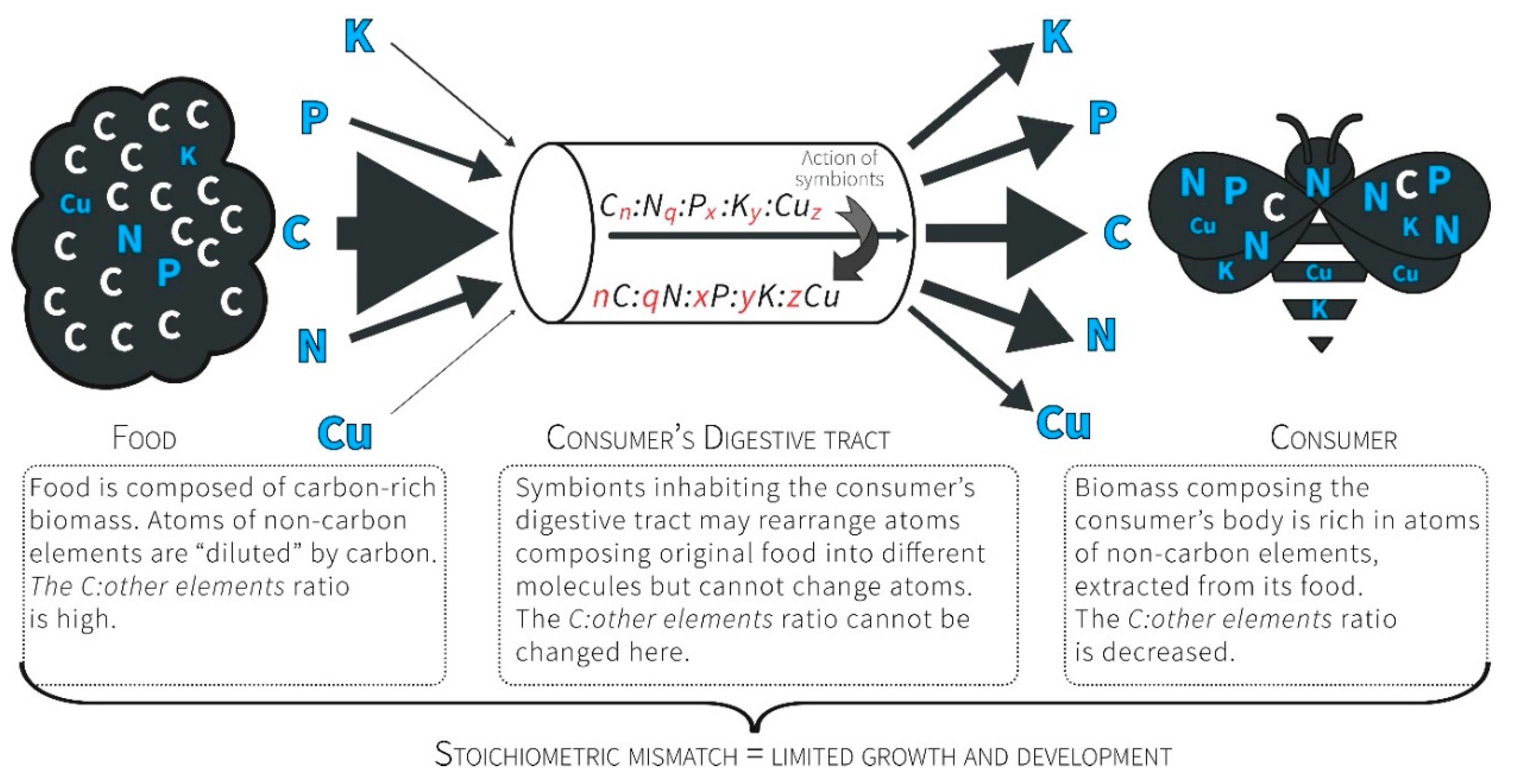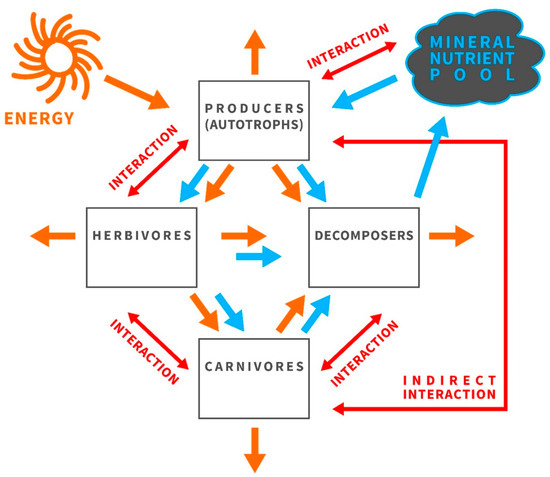 Figure 2. Organisms in an ecosystem interact with each other and with the abiotic world to grow, develop, produce progeny, and maximize fitness. Energy, shown in orange, is flowing through the ecosystem while the mineral pool (in blue) is cycling, and consumers are drivers of this cycle. Only a given pool of nutritional supply is available, and interactions between components of this food web (in red) are shaped by food quality, which is crucial for consumer growth and population dynamics. The study of the balance of energy and matter in ecological interactions is called ecological stoichiometry. This research framework capitalizes on the fact that organisms are composed of identical building blocks—atoms of chemical elements—even though they build remarkably diverse organic molecules. Within this context, it is possible to focus on a single interaction within this web.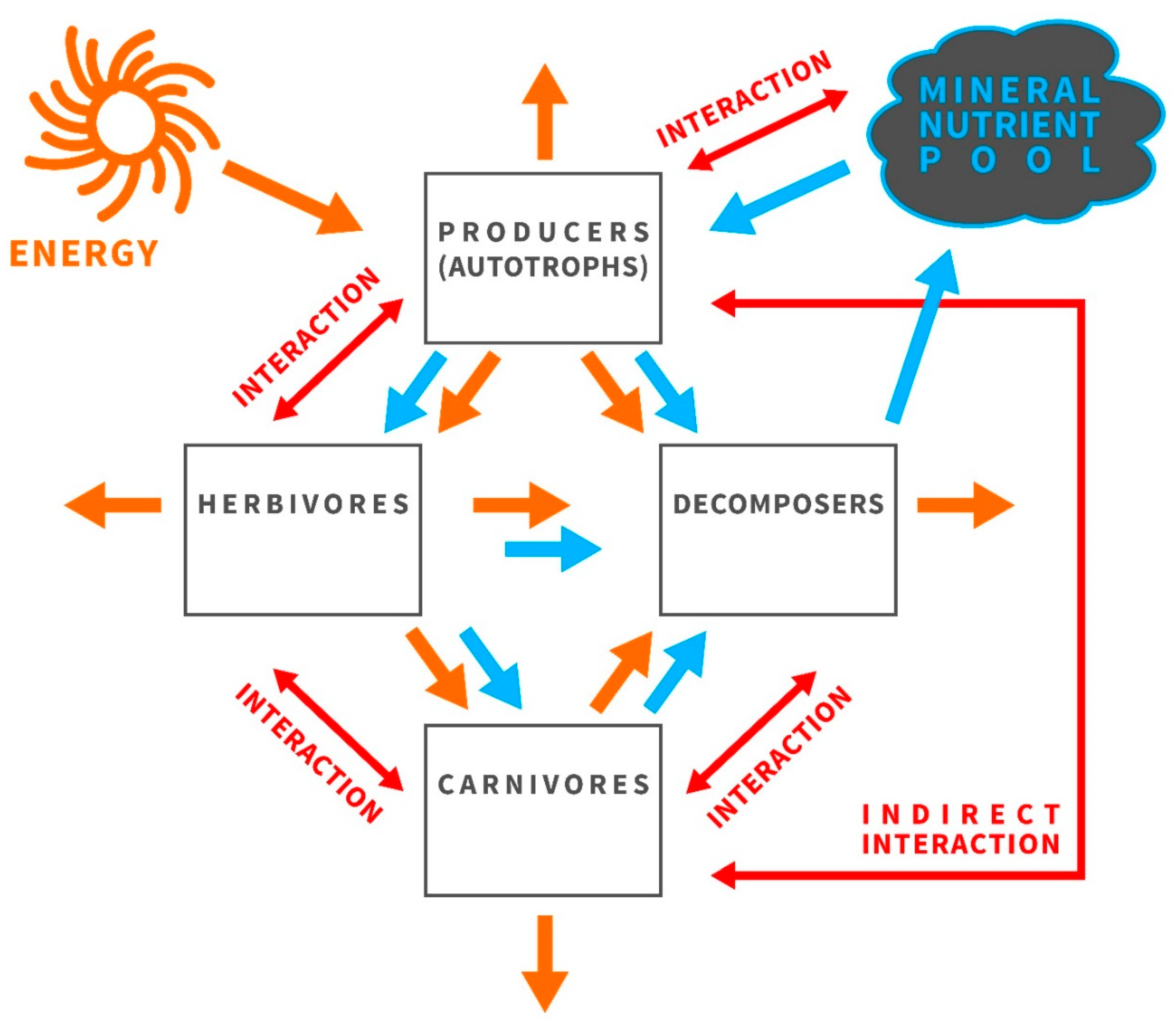 © 2018 by the author. Licensee MDPI, Basel, Switzerland. This article is an open access article distributed under the terms and conditions of the Creative Commons Attribution (CC BY) license (http://creativecommons.org/licenses/by/4.0/).