Open Access This article is
freely available
re-usable
Article
Morphometric Modifications in
Canthon quinquemaculatus
Castelnau 1840 (Coleoptera: Scarabaeinae): Sublethal Effects of Transgenic Maize?
Programa de Pós Graduação em Ecologia, Departamento de Ecologia e Zoologia, Universidade Federal de Santa Catarina, Florianópolis 88040-900, Brasil
*
Author to whom correspondence should be addressed.
Academic Editor: Walter J. Tabachnick
Received: 21 August 2017 / Accepted: 18 October 2017 / Published: 21 October 2017
Abstract
:
The effects of transgenic compounds on non-target organisms remain poorly understood, especially in native insect species. Morphological changes (e.g., changes in body size and shape) may reflect possible responses to environmental stressors, like transgenic toxins. The dung beetle
Canthon quinquemaculatus
(Coleoptera: Scarabaeinae) is a non-target species found in transgenic crops. We evaluated whether
C. quinquemaculatus
individuals inhabiting corn fields cultivated with different seed types (conventional, creole and transgenic) present modifications in body shape compared to individuals inhabiting adjacent native forest fragments. We collected
C
.
quinquemaculatus
specimens across an agricultural landscape in southern Brazil, during the summer of 2015. Six populations were sampled: three maize crop populations each under a different seed type, and three populations of adjacent forests. After sampling, specimens were subjected to morphometric analyses to discover differences in body shape. We chose fifteen landmarks to describe body shape, and morphometric data were tested with Procrustes ANOVA and Discriminant Analysis. We found that body shape did not differ between individuals collected in conventional and creole crops with their respective adjacent forests (
p
> 0.05); however, transgenic crop populations differed significantly from those collected in adjacent forests (
p
< 0.05). Insects in transgenic maize are more oval and have a retraction in the abdominal region, compared with the respective adjacent forest, this result shows the possible effect of transgenic crops on non-target species. This may have implications for the ecosystem service of organic matter removal, carried out by these organisms.
Keywords:
agriculture; body shape; dung beetle; ecology; morphology
2. Materials and Methods
Population sampling occurred in the region of São Miguel do Oeste, Santa Catarina State, Brazil (26°43′31″ S, 53°31′05″ W). The region is composed of a mosaic of Atlantic forest fragments and maize crops. Local climate is humid subtropical (Cfa) according to the Köppen classification, with an annual average temperature between 16.3 °C and 17.9 °C, and rainfall between 1790 mm and 2280 mm [
37
]. Samples were collected during the summer of 2015 in maize crops with different profiles: five areas of conventional maize, five areas of creole maize, and five areas of transgenic maize. Furthermore, 15 adjacent forest remnants, one for each crop area, were sampled in order to have an independently replicated control population for each type of crop. The insects were collected using ten pitfall traps per area, five baited with human feces (10 g) and five with pig carrion (10 g) during 48 h. The traps were spaced 10 m apart within the same area, and a minimum distance of 50 m was established between crop traps and forest fragments to avoid interference (
Appendix A
Figure A1
). Captured insects were fixed in 70% alcohol and deposited in the entomological collection of the Federal University of Santa Catarina (UFSC).
From a total of 231 specimens of
C
.
quinquemaculatus
collected, we used 157 individuals for morphometric analyses. We tried to balance the proportion between males and females in the most equitable way possible. Thus, we measured 12 specimens from conventional maize crops (6♀, 6♂); 17 from creole crops (11♀, 6♂); 28 from transgenic crops (14♀, 14♂); 36 from forest fragments adjacent to conventional crops (18♀, 18♂); 30 from forest fragments adjacent to creole crops (10♀, 20♂); and 34 from forests adjacent to transgenic crops (17♀, 17♂).
We defined the body shape through the placement of 15 anatomical landmarks. These 15 landmarks were chosen because they capture all morphological variations describing body shape in both anteroposterior and ventral dorsal axis, and these landmarks have already been successfully used to describe dung beetle body shape [
8
]. Each landmark corresponded to a point in space defined by three-dimensional cartesian coordinates (x, y, z) [
38
] as follows: (1) anterior margin of the head; (2) eye position; (3) division between the pronotum and the elytra; (4) division between the thorax and the abdomen; (5) posterior margin of the abdomen; (9) point of insertion of the anterior legs; (10 and 11) points of insertion of the central legs; (12) point of insertion of the posterior legs; (13) anterior point of convergence between elytra; (14) central point (mid-line) of convergence between elytra; and 15) posterior margin (along the mid-line) of the elytra. Points 6, 7 and 8 corresponded to points 4, 3 and 2 for the other side of the body, respectively [
8
]. Insects were photographed using Canon T3i camera in dorsal, ventral and lateral view; therefore, body shape was captured in three dimensions (
Figure 1
). A standard protocol for photographing specimens was established: insects were photographed on millimeter paper on a fixed surface to minimize the position effects. The camera was attached to a tripod and kept at a distance of 10 cm from each specimen at a perpendicular angle. Each individual had a tag, and for digitalization of the landmarks the individuals were mixed, so the marking was blind.
Coordinates from each landmark underwent Generalized Procrustes Analysis (GPA). The GPA is a three-step multivariate technique that assesses body shape eliminating the effects of size, position and orientation. The first step of the GPA is to center each landmark at the cartesian origin, eliminating the position effect. Afterwards, the landmark coordinates are scaled, eliminating the effect of size. Lastly, the landmark coordinates are rotated around the origin, which removes the orientation effect. Through these three steps, size and orientation data are removed leaving only body shape information [
39
]. We performed a canonical variable analysis (CVA) to view each individual's position in the multivariate space. The overall shape difference was primarily tested with a Procrustes ANOVA, and to test the differences between maize crop populations and adjacent forest populations we performed a discriminant analysis (DA) based on the Mahalanobis distance. The reliability of a population's individuals was determined by cross-validation to calculate the correct percentage of classification of the individuals in the original population, based only on the morphometric variation. Anatomical landmarks were inserted into specimens with the softwares TpsDig 2.16 [
40
] and tpsUtil1.53 [
41
]. The GPA, CVA and DA were performed in Morpho J 1.05d software [
42
].
5. Conclusions
We have shown that the transgenic maize populations of
C
.
quinquemaculatus
are associated with changes in body shape, which may be a possible sub-lethal effect of the transgenic crop in this non-target species. These effects may have repercussions on the ecosystem functions performed by these insects, such as organic matter removal and regulation of soil physico-chemical properties.
Acknowledgments
We are grateful to Paulo Emilio Lovato (Department of Rural Engineering/UFSC) for coordinating the project "Fortalecimento das condições de produção e oferta de sementes de milho para a produção orgânica e agroecológica do Sul do Brasil" (CNPq Call 048/13). VMA would like to thank CAPES (Ministry of Education of Brazil) for a PhD Grant and MIMH would like to thank CNPq (Proc. 309030/2013-7) for a Research Productivity Grant.
Author Contributions
Both authors contributed equally in this work.
Conflicts of Interest
The authors declare no conflict of interest.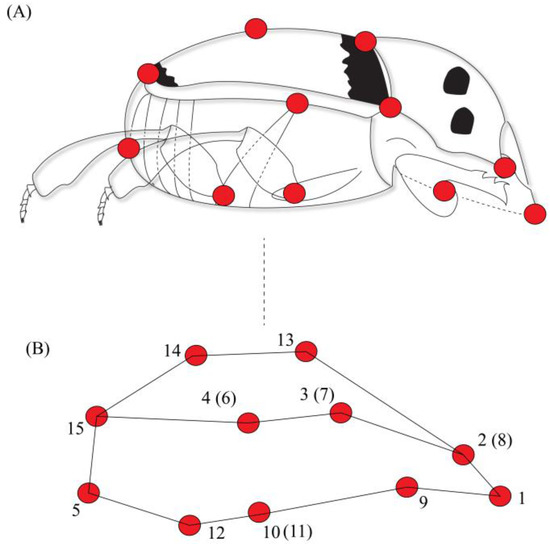 Figure 1.
Landmarks (red dots) used in shape analysis of
C
.
quinquemaculatus
. (
A
) Lateral view; (
B
) Graphical representation of body shape based on 15 landmarks, adapted from Hernández et al. [
8
]. Landmarks in parentheses correspond to the same region on the other side of the body.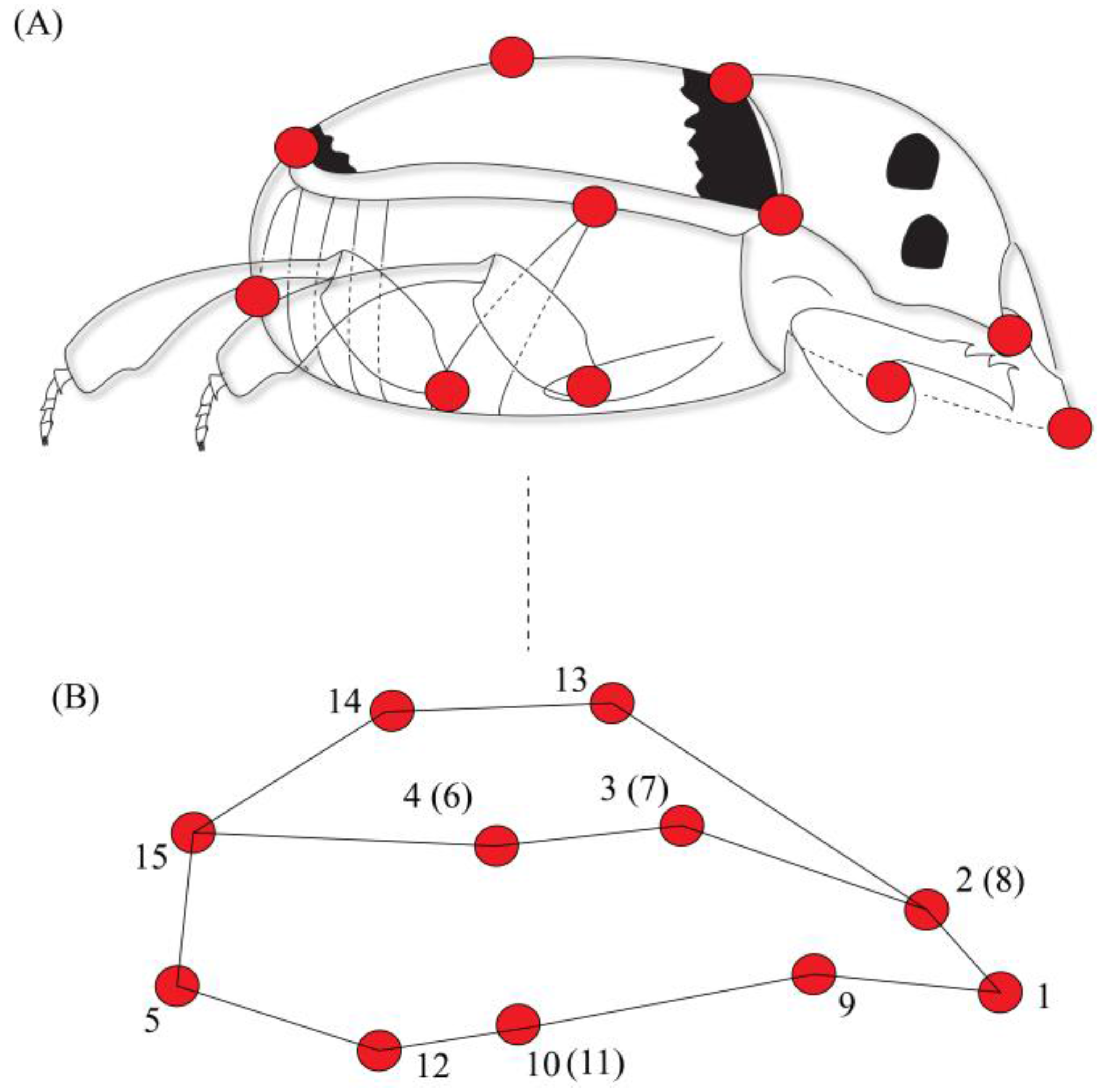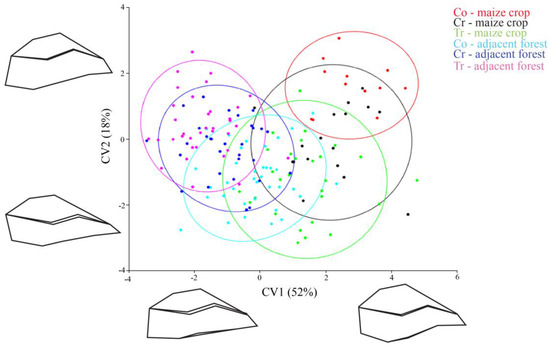 Figure 2.
Position of
C
.
quinquemaculatus
populations in morphometric space formed by two main axes of Canonical Variable Analysis, collected in the region of São Miguel do Oeste, SC, Brazil. Conventional (Co), Creole (Cr) and Transgenic (Tr); ellipses indicate a 95% confidence interval.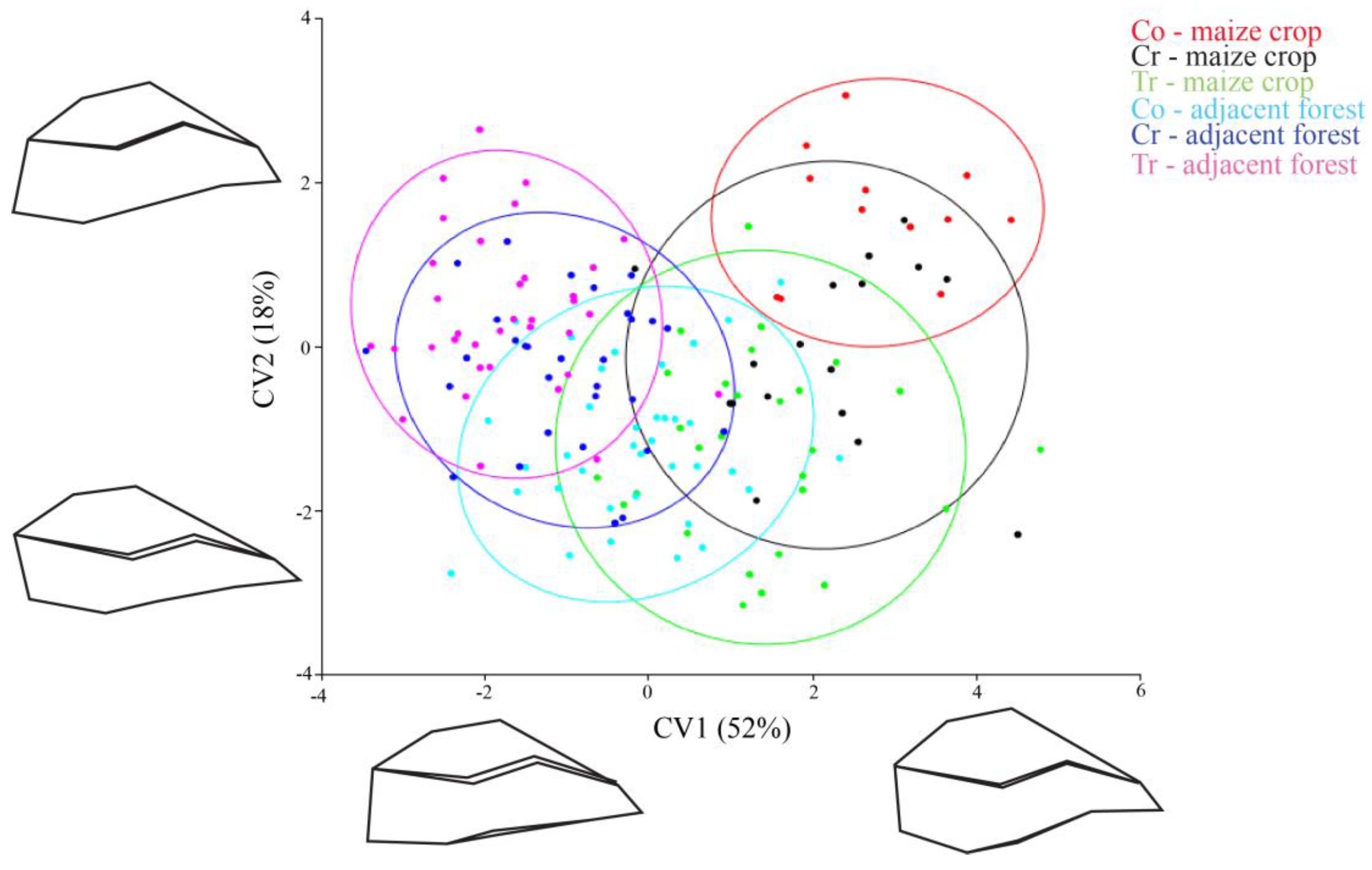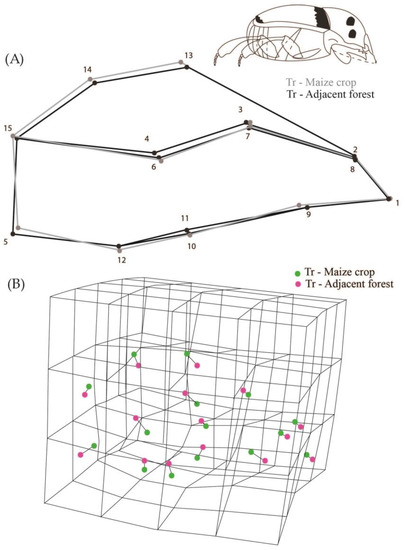 Figure 3.
(
A
) 2D Graphical reconstruction of
C
.
quinquemaculatus
body shape. Gray lines show body shape of transgenic maize crop populations, and black lines show adjacent forest populations; (
B
) 3D Graphical reconstruction of
C
.
quinquemaculatus
body shape. Green dots: transgenic maize populations. Pink dots: adjacent forest populations.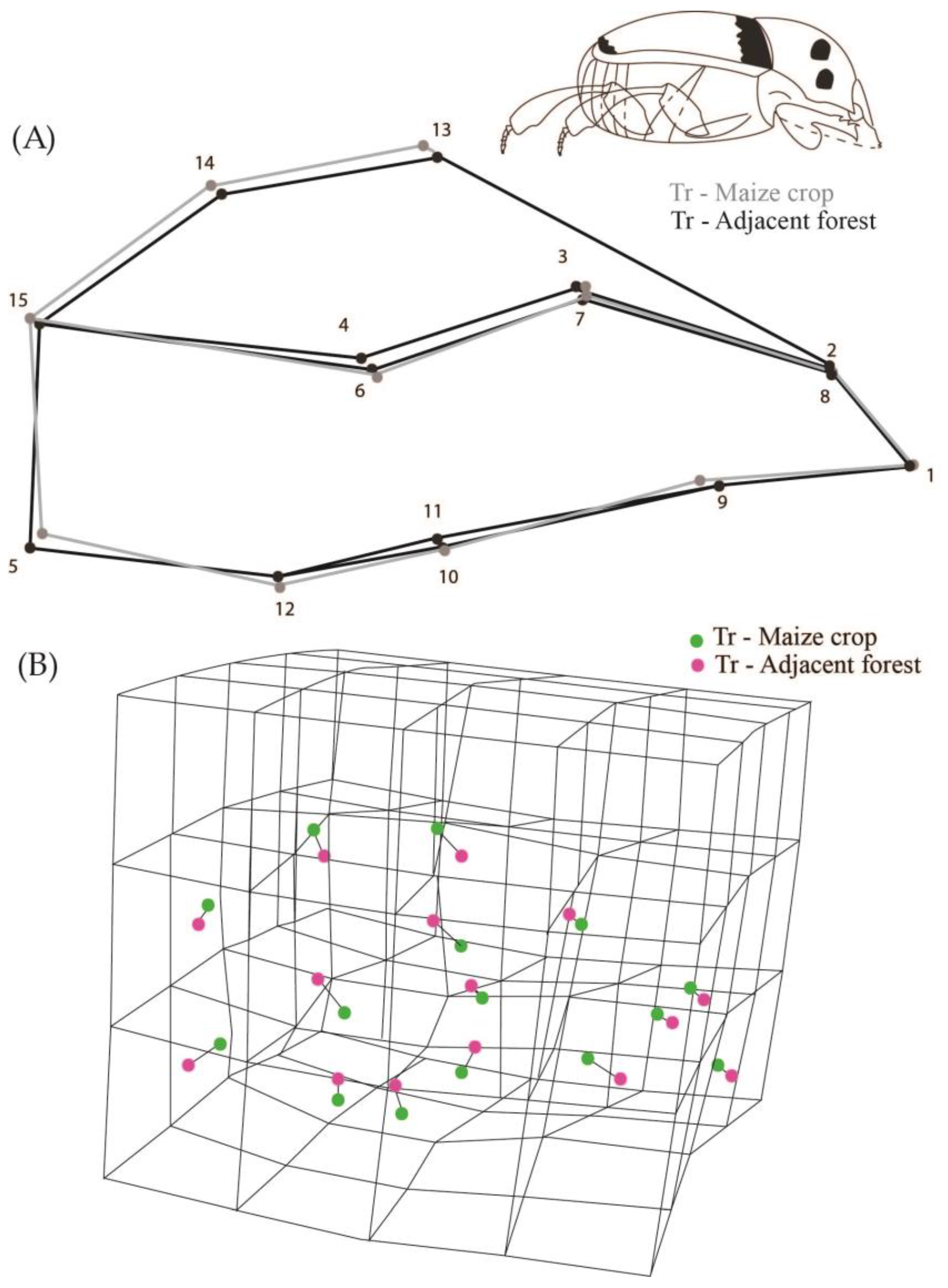 Table 1.
Percentage of correct classification of
C
.
quinquemaculatus
populations based on body morphology and discriminant analysis (DA).
| Population | Allocation Value (%) |
| --- | --- |
| Conventional—Maize crop | 90.66 |
| Creole—Maize crop | 64.70 |
| Transgenic—Maize crop | 82.14 |
| Conventional—Adjacent forest | 58.33 |
| Creole—Adjacent forest | 73.33 |
| Transgenic—Adjacent forest | 82.85 |
| Overall classification accuracy | 75.33 |

© 2017 by the authors. Licensee MDPI, Basel, Switzerland. This article is an open access article distributed under the terms and conditions of the Creative Commons Attribution (CC BY) license (http://creativecommons.org/licenses/by/4.0/).