Male Psyllids Differentially Learn in the Context of Copulation
1
Citrus Research and Education Center, Department of Entomology and Nematology, University of Florida, Lake Alfred, FL 33850, USA
2
North Florida Research and Education Center, Department of Entomology and Nematology, University of Florida, Quincy, FL 32351, USA
*
Author to whom correspondence should be addressed.
Academic Editor: Brian T. Forschler
Received: 1 December 2016 / Revised: 12 January 2017 / Accepted: 22 January 2017 / Published: 7 February 2017
Abstract
In the Asian citrus psyllid,
Diaphorina citri
Kuwayama, stimulatory cuticular hydrocarbons act as sex pheromone attractants. Male psyllids locate aggregations of females using those olfactory cues, as well as vibrational communication on the plant surface. Although previous research has indicated that learning plays a role in modulating female reproductive behaviors in psyllids, it is unknown whether males similarly use learning to increase the likelihood of copulatory success. We used an olfactometer-based bio-assay to study the effects of experience on male response to female odor. First, we compared male attraction to female odor in virgin and previously mated males. Second, we tested the effect of several modes of experience with a novel odor, vanillin, to determine whether mating, feeding, or general environmental exposure elicited a learned response. We found that male attraction to female odor significantly increased after mating experience. In addition, we found that males learn about odor specifically in the context of mating, rather than feeding or general exposure. Electrophysiological measurements of antennal response to odorants confirmed that mating status did not affect the sensitivity of the peripheral nervous system to volatile stimuli implicating learning at the level of the central nervous system. These results suggest that male response to female odor is not an entirely innate behavior. Males may require mating experience with female conspecifics to develop attraction to those olfactory cues produced by the female and in association with the female's habitat. This adaptive plasticity may allow males to detect females in an ever-changing environment and promote diversification and further specialization on different host genotypes.
View Full-Text
►

▼

Figures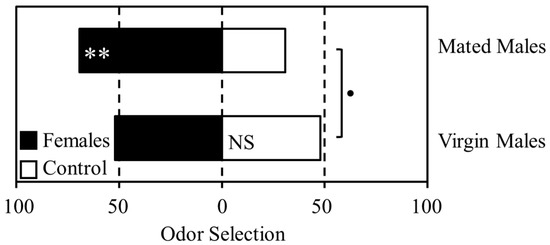 Figure 1
This is an open access article distributed under the
Creative Commons Attribution License
which permits unrestricted use, distribution, and reproduction in any medium, provided the original work is properly cited (CC BY 4.0).

Share & Cite This Article
MDPI and ACS Style
Stockton, D.G.; Martini, X.; Stelinski, L.L. Male Psyllids Differentially Learn in the Context of Copulation. Insects 2017, 8, 16.
Note that from the first issue of 2016, MDPI journals use article numbers instead of page numbers. See further details here.
Related Articles
Comments
[Return to top]