Biological Control Outcomes Using the Generalist Aphid Predator
Aphidoletes aphidimyza

under Multi-Prey Conditions

1

Ontario Ministry of Agriculture, Food and Rural Affairs, Vineland Station, ON L0R 2E0, Canada

2

Robert W. Holly Center for Agriculture and Health, Agricultural Research Service, USDA, Ithaca, NY 14853, USA

3

Pacific Agri-Food Research Centre, Agriculture and Agri-Food Canada, Agassiz, BC V0M 1A0, Canada

4

Department of Entomology, Cornell University, Ithaca, NY 14850, USA

*

Author to whom correspondence should be addressed.

Academic Editors: Andrew G. S. Cuthbertson and Eric W. Riddick

Received: 16 September 2016 / Revised: 22 November 2016 / Accepted: 23 November 2016 / Published: 14 December 2016
Abstract
The aphidophagous midge
Aphidoletes aphidimyza
(Diptera: Cecidomyiidae) is used in biological control programs against aphids in many crops. Short-term trials with this natural enemy demonstrated that that females prefer to oviposit among aphids colonizing the new growth of plants, leading to differential attack rates for aphid species that differ in their within-plant distributions. Thus, we hypothesized that biological control efficacy could be compromised when more than one aphid species is present. We further hypothesized that control outcomes may be different at different crop stages if aphid species shift their preferred feeding locations. Here, we used greenhouse trials to determine biological control outcomes using
A. aphidimyza
under multi-prey conditions and at different crop stages. At all plant stages, aphid species had a significant effect on the number of predator eggs laid. More eggs were found on
M. persicae
versus
A. solani
-infested plants, since
M. persicae
consistently colonized plant meristems across plant growth stages. This translated to higher numbers of predatory larvae on
M. periscae
-infested plants in two out of our three experiments, and more consistent control of this pest (78%–95% control across all stages of plant growth). In contrast, control of
A. solani
was inconsistent in the presence of
M. persicae
, with 36%–80% control achieved. An additional experiment demonstrated control of
A. solani
by
A. aphidimyza
was significantly greater in the absence of
M. persicae
than in its presence. Our study illustrates that suitability of a natural enemy for pest control may change over a crop cycle as the position of prey on the plant changes, and that prey preference based on within-plant prey location can negatively influence biological control programs in systems with pest complexes. Careful monitoring of the less-preferred pest and its relative position on the plant is suggested.
View Full-Text
►

▼

Figures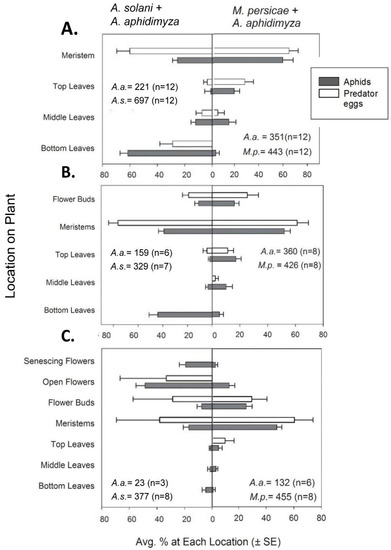 Figure 1
This is an open access article distributed under the
Creative Commons Attribution License
which permits unrestricted use, distribution, and reproduction in any medium, provided the original work is properly cited (CC BY 4.0).

Share & Cite This Article
MDPI and ACS Style
Jandricic, S.E.; Wraight, S.P.; Gillespie, D.R.; Sanderson, J.P. Biological Control Outcomes Using the Generalist Aphid Predator Aphidoletes aphidimyza under Multi-Prey Conditions. Insects 2016, 7, 75.
Note that from the first issue of 2016, MDPI journals use article numbers instead of page numbers. See further details here.
Related Articles
Comments
[Return to top]