Open Access This article is
freely available
re-usable
Review
Fighting Arbovirus Transmission: Natural and Engineered Control of Vector Competence in
Aedes
Mosquitoes
MRC-University of Glasgow Centre for Virus Research, Glasgow, G61 1QH, Scotland, UK
*
Author to whom correspondence should be addressed.
Academic Editor: C. Roxanne Connelly
Received: 17 December 2014 / Accepted: 10 March 2015 / Published: 23 March 2015
Abstract
: Control of aedine mosquito vectors, either by mosquito population reduction or replacement with refractory mosquitoes, may play an essential role in the fight against arboviral diseases. In this review, we will focus on the development and application of biological approaches, both natural or engineered, to limit mosquito vector competence for arboviruses. The study of mosquito antiviral immunity has led to the identification of a number of host response mechanisms and proteins that are required to control arbovirus replication in mosquitoes, though more factors influencing vector competence are likely to be discovered. We will discuss key aspects of these pathways as targets either for selection of naturally resistant mosquito populations or for mosquito genetic manipulation. Moreover, we will consider the use of endosymbiotic bacteria such as

Wolbachia

, which in some cases have proven to be remarkably efficient in disrupting arbovirus transmission by mosquitoes, but also the use of naturally occurring insect-specific viruses that may interfere with arboviruses in mosquito vectors. Finally, we will discuss the use of paratransgenesis as well as entomopathogenic fungi, which are also proposed strategies to control vector competence.
Keywords:
arbovirus;
Aedes
; vector control; vector competence; antiviral defences; mosquito engineering; bacteria; insect-specific viruses; paratransgenesis
1. Introduction
Female anautogenous mosquitoes need a blood meal from a vertebrate host to reproduce. Therefore, they can act as vectors for numerous pathogens, e.g., arthropod-borne viruses (arboviruses) or parasites, responsible for both human and animal diseases. The most important mosquito-borne viruses include flaviviruses (Flaviviridae) such as dengue virus (DENV), yellow fever virus (YFV), West Nile virus (WNV); alphaviruses (Togaviridae) such as chikungunya virus (CHIKV), o'nyong-nyong virus (ONNV), Semliki Forest virus (SFV), Sindbis virus (SINV); and bunyaviruses (Bunyaviridae) such as Rift Valley fever virus (RVFV). All of these arboviruses are mainly transmitted by aedine species including Aedes aegypti and Ae. albopictus as well as Culex species, with the exception of ONNV which is the only known arbovirus to be transmitted by Anopheles, and more specifically the African malaria vector An. gambiae. In recent decades, the incidence of mosquito-borne viral infections has grown dramatically. For example, according to the World Health Organization (WHO), more than 2.5 billion people—over 40% of the world's population—are estimated to be at risk from DENV alone. A recent study has evaluated the incidence of dengue infections to be around 390 million worldwide every year, of which 96 million manifest [1]. Moreover, mosquito-borne virus infections are continuously expanding their geographical range into new areas. The spread of infections from Africa and Asia to other continents is thought to be due to extensive travelling, trade, population growth in high-risk areas, globalization of vectors, urbanization, climatic change, as well as virus genome evolution [2,3,4]. The threat of a possible outbreak of dengue fever now exists in Europe. Local transmission of DENV by Ae. albopictus was reported for the first time in France and Croatia in 2010, and imported cases were detected in three other European countries. Moreover, an epidemic was reported in Madeira (Portugal) in 2012–2013 in which 2200 patients tested positive for DENV, 78 of whom were known to have travelled away from the island. This spread of DENV was aided by the establishment of Ae. aegypti in the region. Moreover, imported cases have been detected in a further 10 European countries in addition to mainland Portugal [5,6,7,8]. In 2005–2006, an outbreak of CHIKV, normally transmitted by Ae. aegypti, occurred in the Indian Ocean. This epidemic has been associated with a single nucleotide mutation in the viral E1 glycoprotein conferring more efficient dissemination and transmission by the secondary vector, Ae. albopictus, which is more prevalent in this region [9,10,11]. Given the worldwide distribution of Ae. albopictus, this CHIKV variant has spread into many countries [12]. Currently, there is a large CHIKV outbreak occurring in the Americas, which started in 2013 with the first reported cases of autochthonous transmission on this continent. According to the Pan America Health Organization (PAHO)/WHO, as of February 2015, local transmission has been identified in 50 countries or territories in the Caribbean, Central America, South America, and North America. From the beginning of the epidemic in 2013 up to February 2015, a total of 1,176,216 suspected and 27,136 laboratory-confirmed chikungunya cases have been reported from these areas. CHIKV will likely continue to spread to new areas in the Americas through the movement of infected people and mosquitoes to naïve regions [4,12,13].
There are currently no vaccines for a number of important human-infecting arboviruses including DENV and CHIKV. Therefore, the control of mosquito vectors is still the main tool to eradicate, or at least reduce, the incidence of arboviral diseases [14]. Insecticides, nets and the reduction of breeding sites are currently the main tools for mosquito vector control. However, growing insecticide resistance in mosquito vectors has increasingly limited the utility of chemical insecticides [15,16,17,18]. Moreover, biting patterns of Ae. aegypti and Ae. albopictus, mainly during the day, makes the use of bed nets rather ineffective. On the other hand, larval habitats may be small, widely dispersed, and transient and it is difficult, if not impossible, to predict when and where the breeding sites will form, to find and treat them before the adults emerge. Thus, alternative methods of mosquito control are urgently needed.
The efficiency of mosquito-borne disease transmission under natural conditions is referred to as the vectorial capacity, which is modelled by the following equation, first developed for modeling malaria transmission by Ross in 1910 and later refined by others [19]:
This mathematical model, which can be applied to arbovirus transmission, shows that vectorial capacity (C) depends on many factors including: the abundance of vector mosquitoes per vertebrate host (m); the probability of a bite occurring (a); the probability of vector survival (p); the duration of the incubation period after which the vector can transmit the virus (n); the probability of vector survival after the incubation period is completed (1/−ln(p)); and the vector competence (b). Mosquito vector competence for arboviruses is an evaluation of the mosquito's ability to become infected following an infectious blood meal and to subsequently transmit the virus. After the ingestion of an arbovirus by the female mosquito, it must overcome different barriers in order to be transmitted. The first is the midgut infection barrier (MIB) before the virus can invade the midgut epithelium where it undergoes replication in order to pass through the midgut escape barrier (MEB) and then disseminate to other tissues, finally reaching and infecting the salivary glands. The salivary gland infection barrier (SIB) and salivary gland escape barrier (SEB) are the final hurdles for arboviruses to overcome before they can be transmitted during a subsequent mosquito blood meal [20,21,22]. Mosquito vector competence for arboviruses has been shown to be determined by the genetic components of both the mosquito and arbovirus and their interactions, a phenomenon called genotype–genotype (GXG) interactions. Therefore, mosquito vector competence can vary among mosquito vector/arbovirus species and strains as well as between individual mosquitoes within one strain [20,23,24]. As arboviruses often exist as a collection of variable genomes within and among hosts, referred to as a mutant swarm [25], vector competence can also vary depending on the genome population of an arbovirus strain. Moreover, mosquito vector competence is dependent on environmental parameters such as temperature or symbiotic microbiota, as previously reviewed [24,26]. Thus, a considerable number of factors can influence competence, even in a same mosquito/arbovirus spp. combination.
A change in any of the parameters of vectorial capacity for a specific pathogen can affect the spread of a disease. Therefore, control of Aedes mosquito vectors either by mosquito population reduction or replacement with refractory mosquitoes can play an important role in the fight against arboviral infectious diseases. The reduction of populations is aimed at decreasing the probability of vector survival (p) and the abundance of vector mosquitoes per vertebrate host (m) leading to a decrease in disease transmission. Proof-of-principle experiments and field trials of such strategies in Ae. aegypti have already been carried out using endosymbiotic Wolbachia bacteria [27,28] or genetically modified (GM) mosquitoes with the RIDL ("Release of Insects carrying a Dominant Lethal") genetic system [29]. Replacing competent mosquito populations with refractory mosquitoes aims to reduce vector competence (b). Although vector competence is not the most important determinant of vectorial capacity, vectorial capacity fluctuates directly with it as competence is a linear term in expressions of vectorial capacity. Therefore, reducing vector competence should lead to a decrease in the spread of a disease. Recently, significant advances in knowledge about the mechanisms of interactions between mosquitoes and arboviruses have been made, especially regarding the influence of mosquito antiviral responses on arbovirus propagation, genetic and phenotypic variation affecting these interactions, the impact of these interactions on mosquito fitness, and how environmental factors affect arbovirus transmission [23,26,30,31]. This opens the way for the development of novel disease control strategies by altering mosquito vector competence.
In this review, we will focus on the development and application of biological approaches, either natural or engineered, to limit mosquito vector competence for arboviruses in Aedes spp. vectors. For overall relevance, some results obtained with other mosquito species, such as Culex or Anopheles, will also be reviewed. We discuss key aspects of mosquito antiviral pathways as targets, either for the selection of naturally resistant mosquito populations or for engineering transgenic mosquitoes resistant to viral infections. We will also consider the use of endosymbiotic bacteria such as Wolbachia, which in some cases have proven to be remarkably efficient in disrupting arbovirus transmission by mosquitoes. Further to this, we will discuss the use of naturally occurring insect-specific viruses that may interfere with arboviruses in mosquito vectors as well as paratransgenesis of endosymbionts to control mosquito vector competence.
2. Natural Control of Arbovirus Transmission
2.1. Mosquitoes Naturally Resistant to Arbovirus Transmission
Although genetic engineering strategies to reduce Aedes mosquito populations [29] and the use of Wolbachia bacteria [32] have generated new opportunities in vector control, investigations into natural mosquito competence can serve to identify new targets for mosquito transgenic engineering or select resistant mosquitoes by breeding for population replacement strategies. As defined in the introduction, natural competence for pathogens can be due to a number of factors [24,26,30]. If environmental factors and viral properties are excluded, mosquito cellular factors such as receptors or proteins, extracellular factors and tissue-related properties (accessibility, cell types) can all potentially influence arbovirus midgut infection, replication and dissemination to the saliva. Many experimental studies have compared competence for arboviruses between regional strains of mosquito species or between species of mosquitoes and this section shall only address work where differences at genetic/molecular/physiological levels were observed that may inform vector control strategies.
One of the first observations made was that a laboratory strain of Culex pipiens pipiens (Cx. pipiens pipiens), a natural vector of WNV, was refractory to this virus. Studies on the midgut of these mosquitoes revealed an induction of apoptosis in this tissue, which the authors linked to a failure to disseminate virus from the midgut [33].
Analysis of quantitative trait loci in Ae. aegypti has identified targets and given further insights into the genetics of DENV competence related to midgut infection and escape barriers [34,35,36,37]. However, while these loci can be pinpointed to individual chromosomes, the host genes remain to be identified. Advances in sequencing technologies over the last three to five years may now allow these data and mosquito strains to be analyzed further and candidate regions to be assessed in vivo. Nonetheless, some progress on identifying the role of individual host molecules and their role in competence has been made. A putative DENV receptor present in mosquitoes that can be infected with dengue was identified [38], though more detailed descriptions and assays such as knock down studies are required to confirm this finding. More recently, Lambrechts and colleagues [39] suggested that polymorphisms in the Ae. aegypti Dicer2 (Dcr2, a key exogenous siRNAi pathway protein) are associated with resistance to DENV. While the exact mechanism of virus resistance due to Dcr2 polymorphisms is not known, these findings directly link mosquito innate immunity to resistance. Indeed, Dcr2 initiates the exogenous siRNA pathway by detecting and cleaving viral double-stranded RNA (induced by replication or potentially secondary structures) into 21 nucleotide virus-derived small interfering RNAs, a critical step in this antiviral response.
The establishment of new techniques for genomics and for the analysis of differential gene expression, such as microarrays and more recently high-throughput sequencing, has allowed comparative studies between refractory and susceptible mosquitoes to be performed, and are novel opportunities for in-depth genetic studies. In the case of DENV2/Ae. aegypti interactions, comparative studies between susceptible D2S3 and refractory Moyo-D mosquitoes have shown that common factors up-regulated in response to infection include endocytosis, autophagy regulation and a number of other physiological processes; however, some genes linked to immunity were only up-regulated in the refractory strain suggesting a further role in competence [40]. Interestingly, genes linked to one of the insect's immune signaling pathways, the JAK/STAT pathway, previously linked to the control of DENV in this mosquito [41] were also up-regulated in both strains in response to infection. This leads to the question of potential differences in the JAK/STAT pathway between these strains (for example in expression of antiviral effectors) and whether it is really a defining contributor to competence. To analyze this question, more detailed comparative studies on this pathway between strains would be required. The same authors also compared sub-strains of the Moyo Ae. aegypti mosquitoes that were either resistant (MOYO-R) or susceptible (MOYO-S) to DENV2 [42]. While again confirming the important role of the JAK/STAT pathway in both strains, a number of particularly intriguing responses or genes stand out. This includes a potential role for cell death in determining the refractory state, but also up-regulation of furin-like genes which could influence the maturation of viral structural proteins in the susceptible mosquito. A transcriptome study on Cx. pipiens quinquefasciatus mosquitoes with different competence for WNV recently identified genes involved in ovary development as being differentially transcribed [43]. Although no further investigations were carried out, comparisons can be complicated due to differences between technical approaches, arbovirus-vector combinations as well by the microbiota environment which can affect vector competence [26,30]. Moreover, mosquito genes identified in such analyses may have potentially unknown functions. Nevertheless, all these comparative studies show that arbovirus infections can induce a strong vector response, at least by a change in the transcriptome, and this response can be different between refractory and susceptible mosquitoes. Interestingly, it has recently been shown that DENV-refractory Ae. aegypti mosquito strains also present higher basal levels of numerous immunity-related gene transcripts compared to susceptible strains [44]. However, silencing antiviral defence pathways does not lead to a similar increase in viral load between refractory strains. This suggests that strain-specific restriction factors could operate independently of these pathways to limit viral replication in refractory strains. Conversely, silencing negative regulators of these defence pathways in susceptible strains does not always lead to a decrease in viral titers depending on the susceptible strain and the activated defence pathway. Therefore, basal levels of the defence pathways' transcriptome could tip the outcome of viral infection in mosquitoes. In addition, different degrees of the immune pathway activities, as well as strain-specific non-immune host factors and gene polymorphisms, contribute to control virus infection in refractory or susceptible strains [44]. Indeed, not all genes of interest may be up- or down-regulated and the identification of such candidates in the future may require other approaches, for example siRNA screens.
All these studies link differences in the vector competence phenotype to molecular and genetic factors. Naturally resistant mosquitoes could thus be selected in the laboratory for replacement strategies. However, potentially many genome loci and gene products can affect mosquito competence for arboviruses. Thus, more studies will be required not only to understand the effect of genotypic variation and their interactions on controlling vector competence but also the influence of the environment on specific vector competence genotypes [24]. Moreover, mass rearing of naturally resistant populations from a few selected individuals to obtain refractory populations still needs to be carefully assessed. Indeed, the causes of variation resulting in different competence phenotypes between individual mosquitoes within one population is a challenge that has barely been explored [24]. A reduced genetic background in the founder population could also lead to an inbreeding depression after many generations [45]. With the exception of the selection of mosquitoes that are naturally resistant to arboviruses, these studies could provide important information for genetically engineering refractory mosquitoes. However, many of the potential targets identified in these screens will have to be assessed for their function and role in competence by knock down studies or other genetic approaches. This is becoming increasingly feasible as interest in vector biology is growing and more facilities for this work are being built or upgraded. Moreover, advances in engineering mosquitoes, as outlined elsewhere in this review, are hoped to be powerful enough in the coming years to implement the information gained from these interactions and host response studies in practice. Similar studies with alphaviruses and bunyaviruses remain to be carried out but the examples of DENV and WNV show that these are potentially very informative routes of investigation.
2.2. Insect-Specific Endosymbionts to Decrease Mosquito Competence for Arboviruses
2.2.1. Bacteria and Their Influence on Arbovirus Transmission: The Case of
Wolbachia
According to meta-analyses, an estimated 66% of arthropod species are thought to be infected with the intracellular α-proteobacterium Wolbachia [46,47]. Wolbachia spp. have been extensively studied due to their symbiotic relationship with the host, often leading to significant biological changes [48]. Critical to Wolbachia's successful invasion of an arthropod species is their ability to manipulate host reproduction. In populations of mosquitoes and other arthropods, Wolbachia are spread and maintained through a phenomenon known as cytoplasmic incompatibility (CI) [48], which can be either unidirectional or bidirectional (Figure 1) [49]. Bidirectional CI results when males and females in a given population are infected with different strains of Wolbachia and viable offspring can only result from the mating of males and females infected with the same strain of Wolbachia. Unidirectional CI occurs when only one strain of Wolbachia is present in a population. In this situation, uninfected females only produce viable offspring with uninfected males, in contrast to infected females that are able to produce viable offspring with both infected and uninfected males; thus, giving these infected females a fitness advantage over uninfected females. This phenomenon offers an intriguing possibility for the control of vector populations. As early as the 1960s, release experiments with mosquitoes infected with Wolbachia were carried out in order to eliminate wild Cx. pipiens populations [50]. In recent times, male Aedes polynesiensis mosquitoes transinfected with Wolbachia were also released into wild populations in order to limit the population number through CI [51].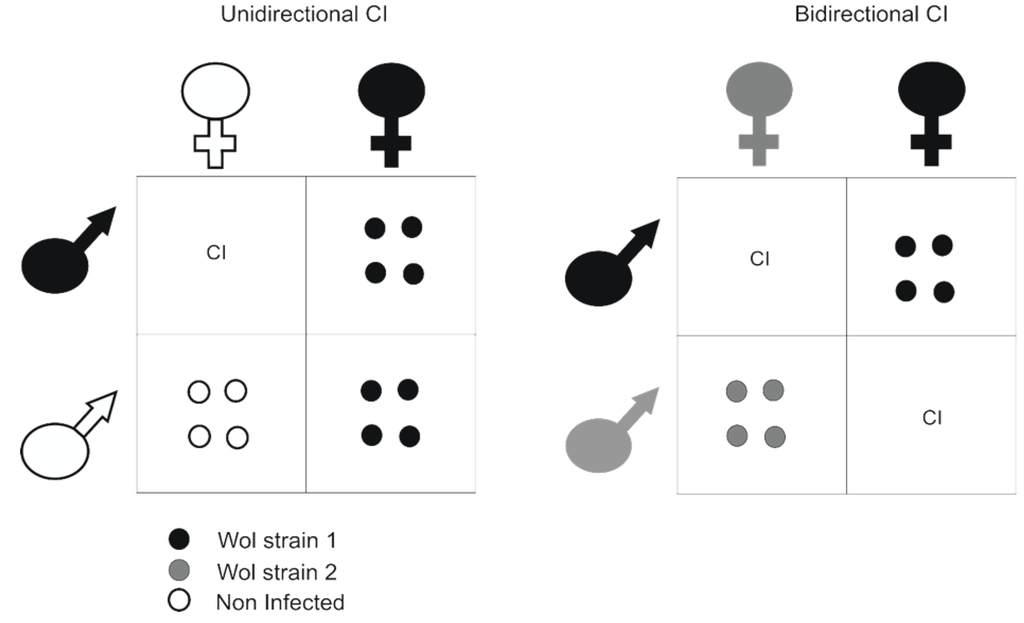 Figure 1.
Wolbachia
induced cytoplasmic incompatibility (CI) by infection.
Wolbachia
are spread and maintained in
Aedes
populations through a process known as CI which can be present in two distinct forms. Unidirectional CI involves infected females being able to successfully mate with both uninfected males in addition to those infected with the same or similar strains of
Wolbachia
. Bidirectional CI occurs in males and females infected with two different strains of
Wolbachia
which are unable to produce viable offspring. Both forms of CI result in females infected with
Wolbachia
having a fitness advantage. Circles indicate viable offspring and are color coded to demonstrate infection status. CI indicates where no viable offspring are produced.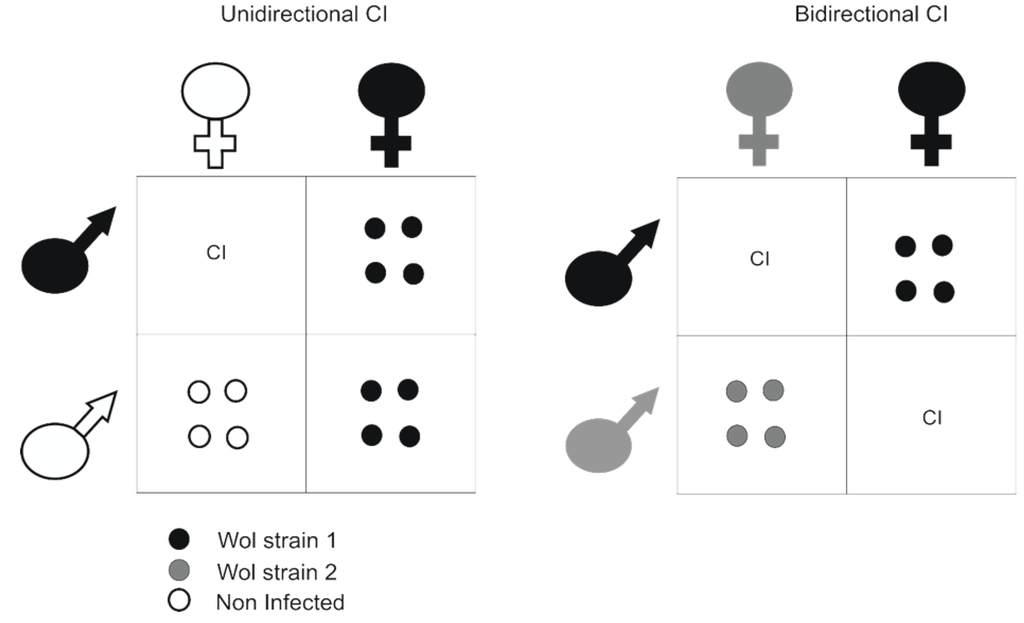 Despite the wide occurrence of Wolbachia within insect species, there are no accounts of natural infections occurring in the important arbovirus vector Ae. aegypti. However, Ae. albopictus is known to be infected with at least two strains of Wolbachia [52,53,54]. Other mosquitoes, such as Cx. quinquefasciatus and An. gambiae, have been shown to be naturally infected with Wolbachia [55,56]. Before a recent study in Anopheles, it was assumed that like Ae. aegypti, An. gambiae were not naturally infected with Wolbachia [56]. This poses the question of whether we have simply not found wild populations of Ae. aegypti infected with Wolbachia. Indeed, if these populations do exist, they may have interesting characteristics with regards to arbovirus transmission that could be exploited. Apart from natural Wolbachia infections, studies have indicated that Ae. aegypti and Ae. albopictus can be stably transinfected with Drosophila-derived strains of Wolbachia [27,57,58]. A virulent laboratory strain of Wolbachia originally isolated from Drosophila, called wMelPop, was found to be life shortening when transinfected into Aedes populations; although, it was stably maintained [57,59,60]. The life shortening phenotype of wMelPop was considered to be a viable mechanism for limiting transmission of arboviruses. Indeed, female mosquitoes can take several blood meals throughout adulthood, and shortening this period would potentially result in less arbovirus transmission.
The full potential for Wolbachia as a tool to limit arbovirus transmission by mosquitoes became clear in 2008 when two independent studies showed that a Wolbachia infection in D. melanogaster led to a decrease in the replication and titers of several RNA viruses [61,62]. Subsequent studies have since indicated that Wolbachia transinfection can inhibit arbovirus transmission depending on the Wolbachia-mosquito-arbovirus combinations [55,61,63,64,65,66,67,68].
In Ae. albopictus infected with natural strains of Wolbachia, the presence of the endosymbiont does not lead to viral resistance in these mosquitoes and at best gives limited protection. For example, Bian et al. showed that the presence in Ae. albopictus of the native Wolbachia strains wAlbB and wAlbA did not significantly inhibit DENV replication [63]. However, further studies indicated that dissemination to the salivary glands was reduced, suggesting that this Wolbachia-host combination may limit DENV transmission [69]. Further to this, one study has indicated that wAlbB and wAlbA infected Ae. albopictus may, to some extent, be able to control the amount of CHIKV replication; however, not to a level that would allow the control of viral dissemination through the mosquito [70].
The mechanism(s) underlying the inhibitory phenotype are not well understood. Several key studies have indicated the importance of Wolbachia density in order to elicit an antiviral response or effect. For example, native Wolbachia are often present in high densities in Drosophila infections and as such offer natural viral protection [71]. Similarly, the transinfection of non-native Wolbachia often leads to a high density of the bacteria which has been linked to an antiviral effect [72]. A possible mechanism for the inability of native Ae. albopictus Wolbachia to efficiently control arbovirus infection in this species is that bacteria are present at very low densities [71,72]. This could suggest that a shared evolution history between Aedes mosquitoes/arboviruses and Wolbachia may have led to a reduced density of Wolbachia. Nonetheless, even in absence of a complete understanding of the inhibitory mechanisms, this strategy is being pursued. Artificial transinfections of Drosophila-derived Wolbachia strains into Aedes populations, most often Ae. aegypti can produce viable mosquitoes. Stable wMelPop transinfected Ae. aegypti were initially generated by firstly adapting wMelPop to an Ae. albopictus-derived cell line [73] prior to being transferred into an Ae. aegypti cell line for several passages before transinfection into Ae. aegypti mosquitoes [57]. Not only does this induce a life shortening phenotype and CI in this mosquito species, but several studies have also shown reduced proliferation of arboviruses, including DENV, CHIKV, YFV and WNV [66,67,68]. In addition, the introduction of another D. melanogaster derived strain, wMel, into Ae. aegypti does not limit the vector's lifespan but does induce CI and is able to inhibit DENV [58,63], CHIKV and YFV [67] but interestingly not WNV [66]. Transinfection of wAlbB into Ae. aegypti is also able to inhibit DENV [63]. Similarly, Ae. albopictus has been transinfected with wMel again resulting in lower viral titers upon CHIKV infection [65].
Although the possibilities associated with Wolbachia are becoming increasingly recognized, the underlying mechanisms that block arbovirus infections are not as it is still unclear exactly how Wolbachia control arbovirus replication or transmission, with the exception of the density-based hypothesis described above [26,32,74,75]. It is known that upon transinfection of Wolbachia, there is an up-regulation of some innate immune pathways in Ae. aegypti [76,77]. It has therefore been suggested that Wolbachia may offer antiviral protection by "priming" the immune system against incoming arboviral infections. In contrast, immune priming is not seen in naturally occurring Wolbachia infections, at least in Drosophila where viral protection is still seen [61,62,78,79]. Therefore, immune priming may not, or at least not always, be required for Wolbachia's antiviral activity, even if it could enhance the bacteria's viral interference [76]. Other hypotheses to explain the antiviral effect conferred by Wolbachia have been proposed, including tissue tropism and competition for host cell resources [26,32].
Nonetheless, the real test of Wolbachia-mediated strategies lies in release experiments. Several of these experiments have been carried out in order to assess the success of the introduction of Wolbachia into wild populations. Initial studies are encouraging and show that transinfected Ae. aegypti are able to effectively invade a small area/population of wild mosquitoes and produce a high infection rate [27,80]. Interestingly, a recent study in Australia indicated that Wolbachia infection was sustained a year following field release [81]. Upon experimental infection of mosquitoes collected from the transinfected population, DENV dissemination was shown to be reduced indicating that there is a persistent antiviral effect [81]. However, it is important to note that the release area did not have an ongoing DENV outbreak and any possible effect of a shared history between Wolbachia and DENV on antiviral protection could not be determined. The release of Wolbachia into wild populations requires extensive knowledge of the local and regional mosquito population, if fixation (i.e., stable introduction of Wolbachia into a previously naïve population) is to be successfully obtained [82,83]. Calculations of parameters such as the strength of CI, maternal inheritance rate and fitness cost of Wolbachia infection/transinfection must be performed [84]. Modelling experiments are then carried out to determine the minimum number of Wolbachia infected mosquitoes to be released [58,80,85,86,87]. These parameters are influenced by the presence of an existing Wolbachia infection in wild populations. Thus, local wild populations should be tested for the presence of Wolbachia prior to release; although, this may not be required for Ae. aegypti. Additionally, a recent study in Anopheles indicates that the natural gut flora of mosquitoes is able to inhibit the vertical transmission of Wolbachia [88]. Given that populations of mosquitoes in the wild are likely to vary in the composition of their gut flora, the spread of Wolbachia in these populations may be affected. Finally, it is also conceivable that the introduction of Wolbachia into wild populations may have an effect on the endogenous viruses present in these populations (see Section 2.2.2 on insect-specific viruses below) and it is unclear how this may impact on the ability to transmit arboviruses in the long term.
2.2.2. Insect-Specific Viruses (ISVs) and Their Influence on Arbovirus Transmission
In recent years, an increase in the systematic virus discovery in mosquitoes and other arthropods around the world has resulted in the documentation of insect-specific viruses (ISVs). These viruses are often characterized by their specificity to replicate in certain insects—for example mosquitoes—and inability to replicate in vertebrate (cells). The first viruses discovered in this group belong to the Flavivirus genus (family Flaviviridae), with cell fusing agent virus, Kamiti River virus and Culex flavivirus (CxFV) as well-known members of these insect-specific flaviviruses (ISFs) [89]. In recent times, mosquito-specific viruses belonging to other families/genera (Togaviridae, Bunyaviridae, Densovirinae and Mesoniviridae), or as yet unclassified, have also been identified [90]. These data highlight the fact that a great number of mosquito strains in the wild are infected with mosquito-specific viruses. Although little is known about the transmission of these viruses, experimental data present for some of the ISVs as well as other supporting evidence, including the widespread nature of ISVs in wild mosquitoes, suggests that vertical transmission is the main factor for propagation [91,92,93,94]. Moreover, several well established mosquito cell cultures made from embryonic or larval mosquitoes have been reported to be persistently infected with ISVs [92,95,96]. Artificial ISV infections in naïve mosquitoes and cell lines often result in pathogenicity; however, the survivors show non-pathogenic persistent infection; although they still actively produce virus which can be transmitted to the offspring in a non-pathogenic matter [92,96,97,98]. Therefore, it can be expected that a wide number of mosquitoes are already persistently infected with ISVs at the time they encounter arboviral infections, resulting in mosquitoes infected with at least two different viruses (ISV and arbovirus) [99].
Little is known about the influence of these ISVs on arboviral infections in mosquitoes (Table 1). For several viruses (at least those belonging to Flaviviridae and Togaviridae), it has been reported that sequential infections (i.e., superinfection) by the same virus, or phylogenetically closely related viruses, in the same cells are inhibited, known as superinfection exclusion [97,100,101]; however, the mechanisms underlying this process are often not known. Some ISVs—for example, insect-specific flaviviruses—are phylogenetically classified in the same genus as several arboviruses that can be transmitted from mosquitoes to vertebrates. This is in contrast to others that do not have a counterpart that is able to be transmitted from invertebrates to vertebrates—for example, densoviruses (DNVs, small non-enveloped single stranded DNA viruses; Parvoviridae family, ambidensovirus genus). Therefore, it could be expected that superinfection exclusion happens regularly in nature and could possibly be used as a self-sustaining control measure. It is currently not known if ISVs and arboviruses share enough phylogenetic similarity for superinfection exclusion to occur; and even if theoretically possible, if this really happens in nature. However, ISVs could also trigger immune pathways in the female mosquito and thereby potentially prime the mosquito in a superinfection exclusion unspecific way, thus still limiting further infection by arboviruses not phylogenetically closely related to ISVs.
Most current research has focused on dual infections of ISFs and mosquito-borne flaviviruses, more specifically CxFv and WNV either in Ae. albopictus-derived C6/36 cells or Culex mosquitoes [91,98]. Some reported an inhibitory effect, either by decreased viral titers or delayed disseminations, while others observed no effect. Recently, interference of a mosquito-borne flavivirus by two additional ISFs has been reported in vitro, resulting in lower titers of the mosquito-borne flavivirus [97,102]. Moreover, one of them showed that the inhibitory effect of the insect-specific flavivirus, Palm Creek virus, was specific to sequential infection by mosquito-borne flaviviruses (WNV and Murray Valley encephalitis) and could not be observed during the sequential infection of a mosquito-borne alphavirus (Ross River virus) [97]; this would support the superinfection exclusion theory. On the other hand, the inhibitory effect or increased pathogenicity of the mosquito-borne flavivirus DENV in mosquito cells or mosquitoes persistently infected with the ambidensovirus DNVs [96,103], supports the ability of ISVs to interfere with arboviral infections even if they belong to different virus families within some combinations.

Table 1. Mosquito dual infections with insect-specific viruses (ISVs) and mosquito-borne viruses and their consequence on viral infection.
Table 1. Mosquito dual infections with insect-specific viruses (ISVs) and mosquito-borne viruses and their consequence on viral infection.
Arbovirus
ISV
Experimental Host
Experimental Outline
Effect on ISV
Effect on Arbovirus
Reference
DENV2 (flavivirus)
DNV (ambi-densovirus)

Ae. albopictus

(adults & larvae)
DNV persistent infected mosquitoes, followed by DENV2 infection
Titer increase 2–3 log
100× lower titer
[103]
WNV (flavivirus) MVEV (flavivirus), RRV (alphavirus)
PCV (flavivirus)

Ae. albopictus

C6/36
Arbovirus 6–7 dp PCV infection
Lower titer for WNV and MVEV No effect on RRV
[97]
WNV (flavivirus)
CxFv (flavivirus)

Ae. albopictus

C6/36
Arbovirus 48 hp CxFV infection
1 log lower titer at 108 hp infection. Other time points no effect
[91]
WNV (flavivirus)
CxFv (flavivirus)

Cx. quinquefasciatus

CxFv persistent infected mosquitoes, followed by WNV infection
Delay in dissemination
[91]
DENV2 (flavivirus)

Aal

DNV (ambi-densovirus)

Ae. albopictus

C6/36
Acute

Aal

DNV infection, followed by DENV2 infection Persistent

Aal

DNV infection, followed by DENV2 infection
Increased CPE Decreased CPE
[96]
WNV (flavivirus)
CxFv-Izabal (flavivirus)

Ae. albopictus

C6/36
WNV 48 hp CxFV infection
Lower WNV titer from 4 dp infection (not significant)
[98]
WNV (flavivirus)
CxFv-Izabal (flavivirus)

Cx. quinquefasciatus

Honduras/Sebring
Co-infected by injection
CxFv in salivary glands (Honduras

Cx.quinquefasciatus

) if co-infected with WNV only
Increased WNV transmission
[98]
WNV (flavivirus) JEV (flavivirus) SLEV (flavivirus)
NHUV (flavivirus)

Ae. albopictus

C6/36
Arbovirus post or co-infected with NHUV
Lower titers
[102]
DENV, dengue virus (Flaviviridae, flavivirus); DNV, densovirus (Parvoviridae, ambidensovirus); WNV, West Nile virus (Flaviviridae, flavivirus); MVEV, Murray Valley encephalitis virus (Flaviviridae, flavivirus); RRV, Ross River virus (Togaviridae, alphavirus); PCV, Palm Creek virus (Flaviviridae, flavivirus); CxFv, Culex Flavivirus (Flaviviridae, flavivirus); AalDNV, Aedes albopictus densovirus (Parvoviridae, ambidensovirus); JEV, Japanese encephalitis virus (Flaviviridae, flavivirus); SLEV, Saint Louis encephalitis virus (Flaviviridae, flavivirus); NHUV, Nhumirim virus (Flaviviridae, flavivirus); hp, hours post; dp, days post; CPE, cytopathic effect.
Even if most experimental set ups to date have focused on the inhibitory effects on the arbovirus infection in the case of persistent ISV infections, representing the natural infection order, some experimental results suggest that the order and timing of the infections can affect the interaction and therefore the effect on the arbovirus infection outcome [96,98,102]. For example, after sequential infection with DENV, Ae. albopictus (Aal)DNV acutely infected C6/36 cells show increased cytopathic effects (CPE), while AalDNV persistently infected C6/36 cells show decreased CPE [96].
The large genetic diversity between ISVs, mosquito-borne viruses and mosquitoes suggest that the influence of ISVs on arboviral vector competence may indeed vary depending on the mosquito-ISV-arbovirus combination [89,90]. This is supported by Kent et al. who reported an effect on WNV transmission in a colony of Cx. quinquefasciatus from Honduras if co-injected with an ISF from Guatemala (CxFV-Izabal) which was not found in a different Cx. quinquefasciatus colony (Sebring). Interestingly, in contrast to the inhibitory effects other studies show, they report an increase in WNV transmission [98]. This is in line with a reported ecological association between CxFV and WNV in field collected mosquitoes whereby Cx. pipiens positive for WNV were more likely to be positive for CxFV [99]. However, the increase in WNV transmission reported by Kent et al., in contrast to the other studies, could also be due to differences of virus administration (blood feeding or injection). On the other hand, Bolling et al. have reported an early suppression of WNV in CxFv persistently infected Cx. pipiens, resulting in delayed transmission of WNV [91].
These examples highlight the fact that although ISVs have a potential to be used to control arbovirus infections, more research is required to understand these interactions in detail before they could potentially be used as biological control measures.
2.3. Entomopathogenic Fungi and Their Effect on Competence for Arboviruses
To control adult mosquito vectors, a further alternative biological approach is the use of entomopathogenic fungi such as Metarhizium anisopliae (M. anisopliae) and Beauveria bassiana (B. bassiana). For a decade, these entomopathogenic fungi have been considered to be good candidates for decreasing pathogen transmission by mosquitoes mainly because of their ability to shorten the mosquitoes' life span or reduce the blood feeding success of female mosquitoes, both in Anopheles species malaria vectors [104,105,106,107] (further reviewed in [108]), and in arbovirus vectors such as Ae. aegypti and Ae. albopictus [109,110,111].
In addition, when Anopheles or Aedes adult mosquitoes treated with fungi take an infected blood meal, they are less competent for transmitting the pathogen to a suitable vertebrate host [104,112,113]. In Ae. aegypti, both B. bassiana and M. anisopliae reduce vector competence for DENV2 [112,113]. Interestingly, it has been shown that the Toll pathway, an insect immune signaling pathway, is activated in response to fungal infections in Ae. aegypti. This results in the transcriptional activation of several antimicrobial peptides (i.e., Cecropin, Defensin, Attacin, Diptericin and Serpin) and other immune genes [112,114]. Similarly, another immune pathway, the JAK/STAT pathway, responds to fungal infections in Ae. aegypti by up-regulating the transcription factor of JAK/STAT, Dome, and the dengue virus restriction factor, DVRF [112]. Studies have indicated that when Rel1 (Toll pathway controller), Dome or DVRF-1 (JAK/STAT pathway) are knocked down, Ae. aegypti adult females are more susceptible to fungal infections showing that Toll and JAK/STAT immune pathways exert an anti-fungal immune defence in the mosquito [112,114]. As the Toll and JAK/STAT pathways have been identified as being antiviral against DENV infection in female Ae. aegypti mosquitoes [41,112,115], the fungi are suspected to inhibit DENV infection at least through the activation of the Toll and JAK/STAT pathways [112].
As entomopathogenic fungi decrease mosquito vector longevity, blood feeding success and viral infection in females (therefore reducing the number of mosquitoes that can bite and get infected), entomopathogenic fungi could be used as a biological tool to control arboviral transmission by mosquito vectors and therefore limit mosquito-borne diseases [108]. Both M. anisopliae and B. bassiana have been shown to decrease Aedes vectors' survival and feeding success in semi-field conditions [110,111]. However, before the wider use and application of fungi in the field, the way different fungal strains interact with arboviruses in mosquitoes needs to be addressed to demonstrate their potential for reducing disease transmission. In addition, it should be determined whether an eventual selection of genetic resistance to fungi could have collateral consequences for mosquito competence [116]. Besides, long-lasting formulations and optimization of delivery methods will be required to achieve efficient vector control. To date, few trials have evaluated the use and delivery methods of fungi and their impact on mosquito vectors and disease transmission in the field. So far, results indicate that the delivery methods should exploit natural behavior of mosquitoes and be used as part of an integrated vector management strategy to be an efficient control tool [117,118,119]. Finally, if entomopathogenic fungi have a large host-range of target insects, then selected fungi, as well as delivery methods, should be evaluated with caution to minimise the risk of contaminating non-target insects further to assessing their safety regarding vertebrates and environment [108,120].
4. Conclusions
Here, we summarized the control strategies that are being developed to limit mosquito vector competence (Figure 3). The identification of antiviral pathways in mosquitoes has opened new intervention possibilities; but other factors, such as receptors or any pro-viral protein, are also of interest as targets for modification. Clearly, more information about natural resistance of vectors to arboviruses and the underlying genetic factors is also required. This can inform strategies based on the selection of traits or genetic modification strategies and a number of difficulties are likely to arise. It is not known at present, and it is also difficult to predict, how such genetically modified mosquitoes may fare against their wild type counterparts but this needs to be assessed for each population individually, in particular with regards to the key arboviruses in the study or release area. Paratransgenesis approaches combine several ideas but this field is still novel and the ideal targets still need to be identified. Nonetheless, the use of Wolbachia and RIDL technology suggests that vector-based control strategies and our increasing understanding of vector biology are ready to move the field further and improve current measures in vector control. Whatever the strategy to reduce vector competence of Aedes spp. vectors, a greater understanding of the interactions between arbovirus, mosquito and endosymbionts (such as gut bacteria and ISVs) is needed to avoid any negative impacts, such as the increase in transmission of a non-targeted arbovirus. For the same reason, every strategy will have to be assessed for mosquito vector competence to different mosquito-borne pathogens. In addition, as different mosquito species in a same geographic area can be responsible for arbovirus transmissions, it may be necessary to target more than one mosquito species to efficiently decrease disease transmission. Last but not least, engagement with the public is a critical point in taking such approaches forward and the experience and processes currently being built up will help future efforts.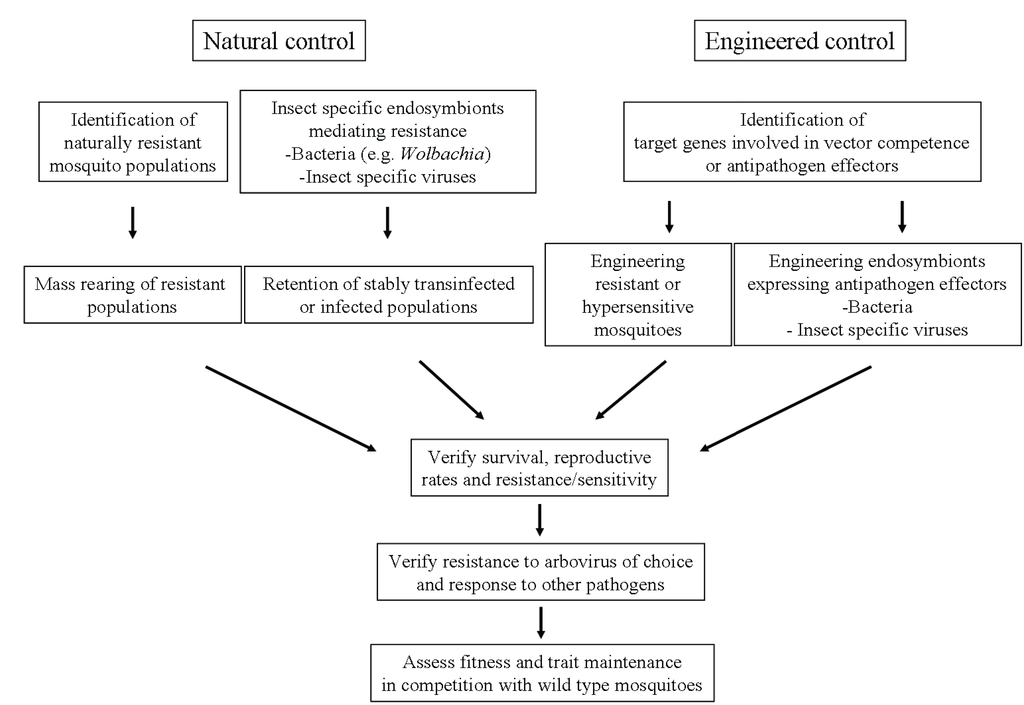 Figure 3. Summary of the currently proposed natural and engineered strategies to decrease mosquito competence for arboviruses.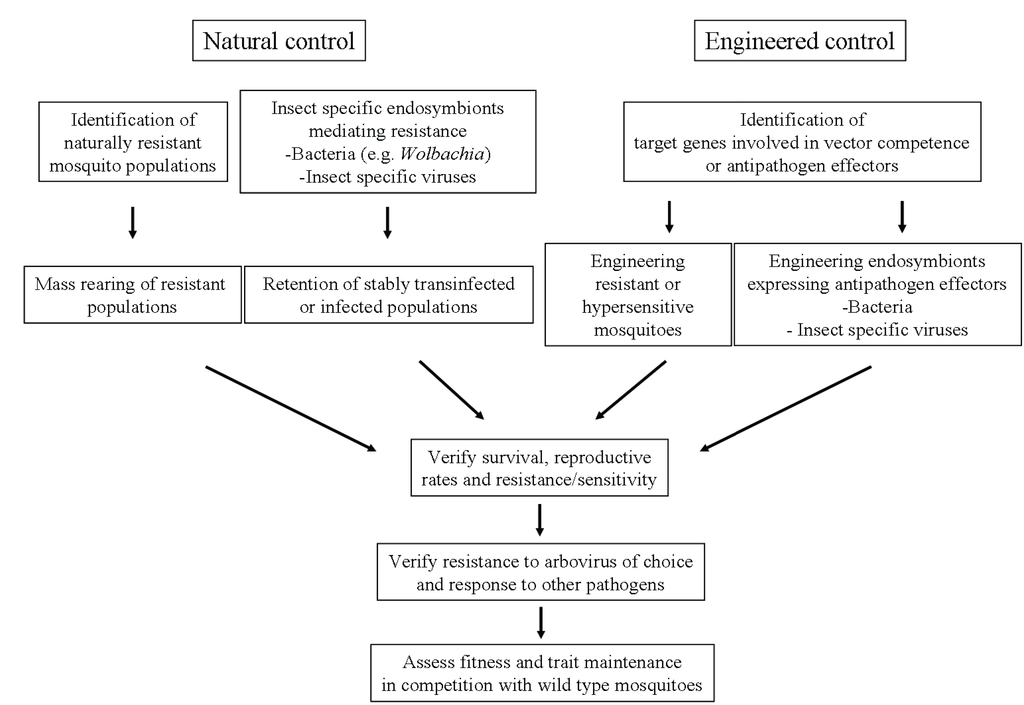 Acknowledgments
Work in the authors' laboratory is funded by UK Medical Research Council and Wellcome Trust (094664/Z/10/Z).
Author Contributions
Joy Kean, Stephanie M. Rainey, Melanie McFarlane, Claire L. Donald, Esther Schnettler, Alain Kohl and Emilie Pondeville wrote the manuscript.
Conflicts of Interest
The authors declare no conflict of interest.
© 2015 by the authors; licensee MDPI, Basel, Switzerland. This article is an open access article distributed under the terms and conditions of the Creative Commons Attribution license (http://creativecommons.org/licenses/by/4.0/).