Hygiene Defense Behaviors Used by a Fungus-Growing Ant Depend on the Fungal Pathogen Stages
1
Centro de Biodiversidad y Descubrimiento de Drogas, Instituto de Investigaciones Científicas y Servicios de Alta Tecnología (INDICASAT AIP), Apartado 0843-01103, Panamá, República de Panamá
2
Programa de Maestría en Entomología, Vicerrectoría de Investigación y Postgrado, Estafeta Universitaria 0824, Universidad de Panamá, República de Panamá
3
Smithsonian Tropical Research Institute, Apartado Postal 0843-03092, Panamá, República de Panamá
4
School of Life Sciences, University of Sussex, Brighton BN1 9QG, UK
*
Author to whom correspondence should be addressed.
Received: 12 March 2019 / Revised: 9 April 2019 / Accepted: 11 April 2019 / Published: 5 May 2019
Abstract
Parasites and their hosts use different strategies to overcome the defenses of the other, often resulting in an evolutionary arms race. Limited animal studies have explored the differential responses of hosts when challenged by differential parasite loads and different developmental stages of a parasite. The fungus-growing ant
Trachymyrmex
sp. 10 employs three different hygienic strategies to control fungal pathogens: Grooming the antibiotic-producing metapleural glands (MGs) and planting or weeding their mutualistic fungal crop. By inoculating
Trachymyrmex
colonies with different parasite concentrations (
Metarhizium
) or stages (germinated conidia or ungermianted conidia of
Metarhizium
and
Escovopsis
), we tested whether ants modulate and change hygienic strategies depending on the nature of the parasite challenge. There was no effect of the concentration of parasite on the frequencies of the defensive behaviors, indicating that the ants did not change defensive strategy according to the level of threat. However, when challenged with conidia of
Escovopsis
sp. and
Metarhizium brunneum
that were germinated or not-germinated, the ants adjusted their thygienic behavior to fungal planting and MG grooming behaviors using strategies depending on the conidia germination status. Our study suggests that fungus-growing ants can adjust the use of hygienic strategies based on the nature of the parasites.
View Full-Text
►

▼

Figures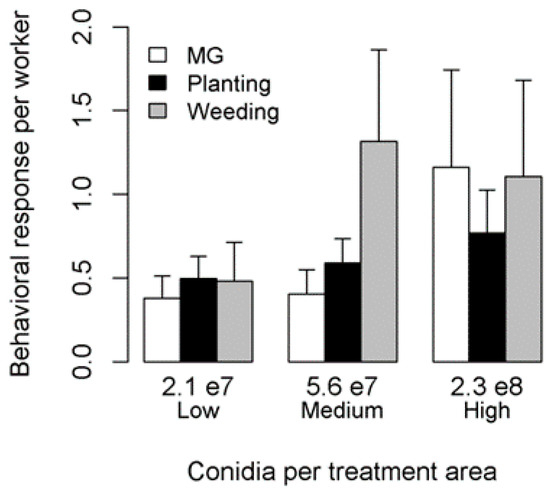 Figure 1
This is an open access article distributed under the
Creative Commons Attribution License
which permits unrestricted use, distribution, and reproduction in any medium, provided the original work is properly cited (CC BY 4.0).

Share & Cite This Article
MDPI and ACS Style
Bonadies, E.; Wcislo, W.T.; Gálvez, D.; Hughes, W.O.; Fernández-Marín, H. Hygiene Defense Behaviors Used by a Fungus-Growing Ant Depend on the Fungal Pathogen Stages. Insects 2019, 10, 130.
Note that from the first issue of 2016, MDPI journals use article numbers instead of page numbers. See further details here.
Related Articles
Comments
[Return to top]