Open Access This article is
freely available
re-usable
Communication
Insecticide Exposure Triggers a Modulated Expression of ABC Transporter Genes in Larvae of
Anopheles gambiae
s.s.
1
Department of Environmental Biology, Sapienza University of Rome, 00185 Rome, Italy
2
Department of Biosciences and Pediatric Clinical Research Center, University of Milan, 20133 Milan, Italy
3
Texas Biomedical Research Institute, San Antonio, TX 78227, USA
4
School of Bioscience and Veterinary Medicine, University of Camerino, 62032 Macerata, Italy
†
These authors contributed equally to this work.

Received: 22 January 2019 / Accepted: 28 February 2019 / Published: 5 March 2019
Abstract
:
Insecticides remain a main tool for the control of arthropod vectors. The urgency to prevent the insurgence of insecticide resistance and the perspective to find new target sites, for the development of novel molecules, are fuelling the study of the molecular mechanisms involved in insect defence against xenobiotic compounds. In this study, we have investigated if ATP-binding cassette (ABC) transporters, a major component of the defensome machinery, are involved in defence against the insecticide permethrin, in susceptible larvae of the malaria vector
Anopheles gambiae
sensu stricto. Bioassays were performed with permethrin alone, or in combination with an ABC transporter inhibitor. Then we have investigated the expression profiles of five ABC transporter genes at different time points following permethrin exposure, to assess their expression patterns across time. The inhibition of ABC transporters increased the larval mortality by about 15-fold. Likewise, three genes were up-regulated after exposure to permethrin, showing different patterns of expression across the 48 h. Our results provide the first evidences of ABC transporters involvement in defence against a toxic in larvae of
An. gambiae
s.s. and show that the gene expression response is modulated across time, being continuous, but stronger at the earliest and latest times after exposure.
Keywords:
insecticide stress; mosquitoes; vector-control; chemical defensome; ABC transporters; pyrethroids
Supplementary Materials
The following are available online at
https://www.mdpi.com/2075-4450/10/3/66/s1
, Figure S1: Mortality rate of
Anopheles gambiae
s.s. larvae treated with verapamil, Table S1: Relative expression of
Anopheles gambiae
s.s. ABC genes measured by quantitative PCR after permethrin exposure at different times, Table S2: Univariate two-way ANOVA analysis on relative gene expression in relation to insecticide treatment and time of exposure for each ABC transporter gene analysed.
Author Contributions
Conceptualization, V.M., D.P. and S.E.; Methodology, V.M. and D.P.; Formal Analysis V.M., M.F., T.S. and A.N.; Resources, S.E. and G.F.; Writing—Original Draft Preparation, M.F., V.M., S.U. and S.E.
Funding
This study was supported by the MIUR (Italian Minister of University and Research) and by the Progetto Ateneo (Bando Ricerca Uniroma1, RM116154C9CFDE3B).
Acknowledgments
We would like to thank the Editor and three anonymous reviewers for their comments, Veronica Rovazzani and Giulia Scuccimarra for their help in experiments, Mark Eltenton for the linguistic revision.
Conflicts of Interest
The authors declare no conflict of interest.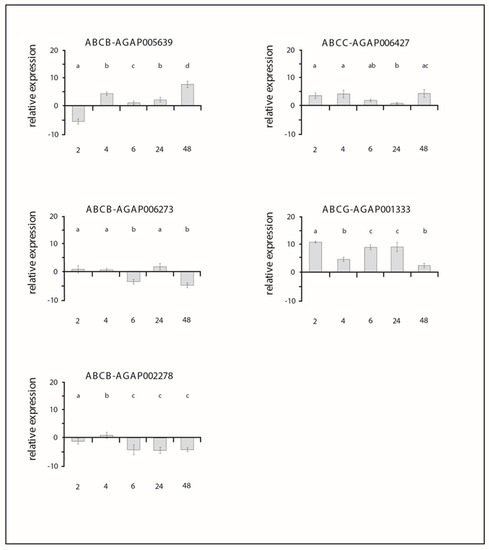 Figure 1.
Relative expression of
Anopheles gambiae
s.s. ABC genes measured by quantitative PCR after different times of permethrin exposure. The expression level in non-treated larvae was considered to be the basal level. The internal reference genes
rps7
and
act5C
for
An. gambiae
s.s. were used to normalize the expression levels. The values are expressed as means ± standard deviations. In x-axes: time of permethrin exposure: 2, 4, 6, 24 and 48 h. For each gene, equal letter means post-hoc Tukey tests
p
> 0.05; different letter means post-hoc Tukey tests
p
< 0.05.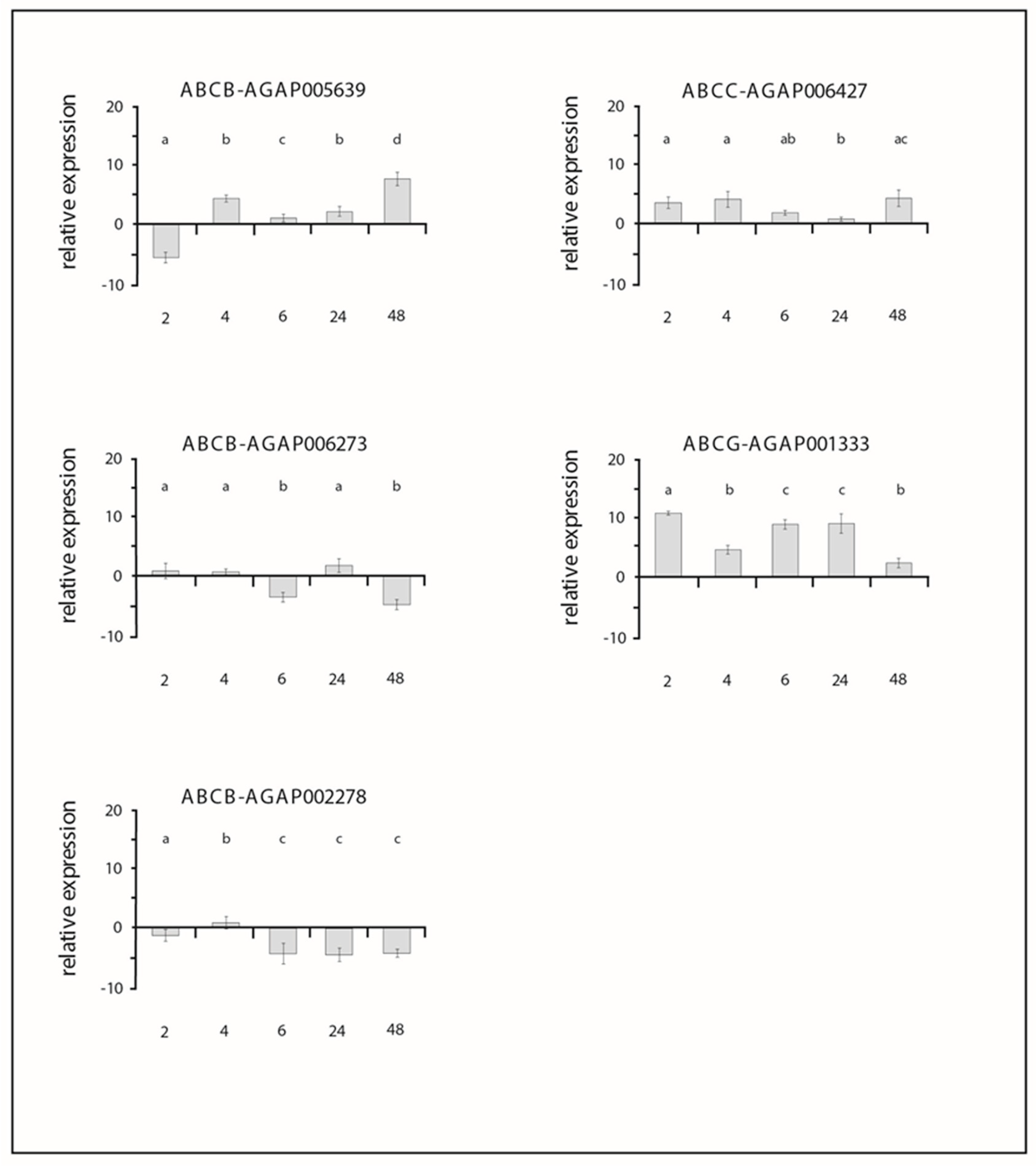 Table 1.
Primer sequences used to amplify fragments of ATP-binding cassette (ABC) transporters genes in
Anopheles gambiae
s.s.
| Vector Base Sequence ID | ABC Sub-Family | Forward 3'-5' | Reverse 3'-5' | PCR Product Size (bp) |
| --- | --- | --- | --- | --- |
| AGAP005639 | ABCB | TTCATCACGAAACTACCGAAC | GTCCCTTACTTGCTCGCT | 204 |
| AGAP006273 | ABCB | CACGCTGGGCTATCAGTA | AAAACTTCCACCAATCGAAACG | 118 |
| AGAP002278 | ABCB | AAAGGTGACAGAGAGGTGTAGGAAA | ACGCCATGCACTAAACTATCACATT | 104 |
| AGAP006427 | ABCC | AAAGTGTTCTACGGCATGGTGAAG | CAGCCTCCTTAATCGGTTTCAGTTT | 108 |
| AGAP001333 | ABCG | GTCTCCTGTCGTTGTAGTTTT | CGTAACAGAAACATCGTCCATT | 174 |
| AGAP010592 | rps7 | GGCGATCATCATCTACGTGC | GTAGCTGCTGCAAACTTCGG | 459 |
| AGAP000651 | act 5C | TCTGGCACCACACGTTCTAC | CAGGTAGTCGGTGAGATCGC | 313 |

Table 2. Toxicity of insecticide and insecticide + ABC transporters inhibitor. LD50, 95% Confidence Intervals (95% CI) and slopes estimated from mortality data by probit analysis are shown. SR, synergistic ratio.
Insecticide
Slope (±SE)
LD50 (95% CI)
SR (95% CI)
χ2 (df)
Goodness-of-Fit
Equality
Parallelism
permethrin
1.514 (0.131)
297.84 ppb
(248.5–368.18)
2.467 (4)
317 (2) *
11.40 (1) *
permethrin + verapamil
2.259 (0.181)
18.69 ppb
(15.89–21.81)
15.94
(12.37–20.53)
13.37 (5)
* Chi-Square probability

p

< 0.05.

© 2019 by the authors. Licensee MDPI, Basel, Switzerland. This article is an open access article distributed under the terms and conditions of the Creative Commons Attribution (CC BY) license (http://creativecommons.org/licenses/by/4.0/).