Open Access This article is
freely available
re-usable
Article
The Formation of Fullerenes in Planetary Nebulae
1
Department of Physics and Astronomy and Centre for Planetary Science and Exploration (CPSX), The University of Western Ontario, London, ON N6A 3K7, Canada
2
SETI Institute, 189 Bernardo Ave, Suite 100, Mountain View, CA 94043, USA
3
Robert Hooke Building, Department of Physical Sciences, The Open University, Milton Keynes MK7 6AA, UK
4
ACRI-ST, 260 Route du Pin Montard, 06904 Sophia-Antipolis, France
5
W. M. Keck Observatory, 65-1120 Mamalahoa Highway, Kamuela, HI 96743, USA
6
Stratospheric Observatory for Infrared Astronomy-USRA, NASA Ames Research Center, MS N232-12, Moffett Field, CA 94035, USA
*
Author to whom correspondence should be addressed.
Received: 31 July 2018 / Accepted: 18 September 2018 / Published: 21 September 2018
Abstract
:
In the last decade, fullerenes have been detected in a variety of astrophysical environments, with the majority being found in planetary nebulae. Laboratory experiments have provided us with insights into the conditions and pathways that can lead to fullerene formation, but it is not clear precisely what led to the formation of astrophysical fullerenes in planetary nebulae. We review some of the available evidence, and propose a mechanism where fullerene formation in planetary nebulae is the result of a two-step process where carbonaceous dust is first formed under unusual conditions; then, the fullerenes form when this dust is being destroyed.
Keywords:
planetary nebulae; fullerenes
Author Contributions
Conceptualization, J.C., E.P. and J.B.-S.; Data curation, J.D.B.; Formal analysis, J.C.; Funding acquisition, J.C., E.P. and G.D.; Methodology, J.C.; Software, J.C.; Visualization, J.C.; Writing—original draft, J.C.; Writing—review & editing, J.C., E.P., J.B.-S. and G.D.
Funding
Natural Sciences and Engineering Research Council of Canada: RGPIN-2016-06047.
Acknowledgments
J.C. and E.P. acknowledge support from an NSERC DG.
Conflicts of Interest
The authors declare no conflict of interest.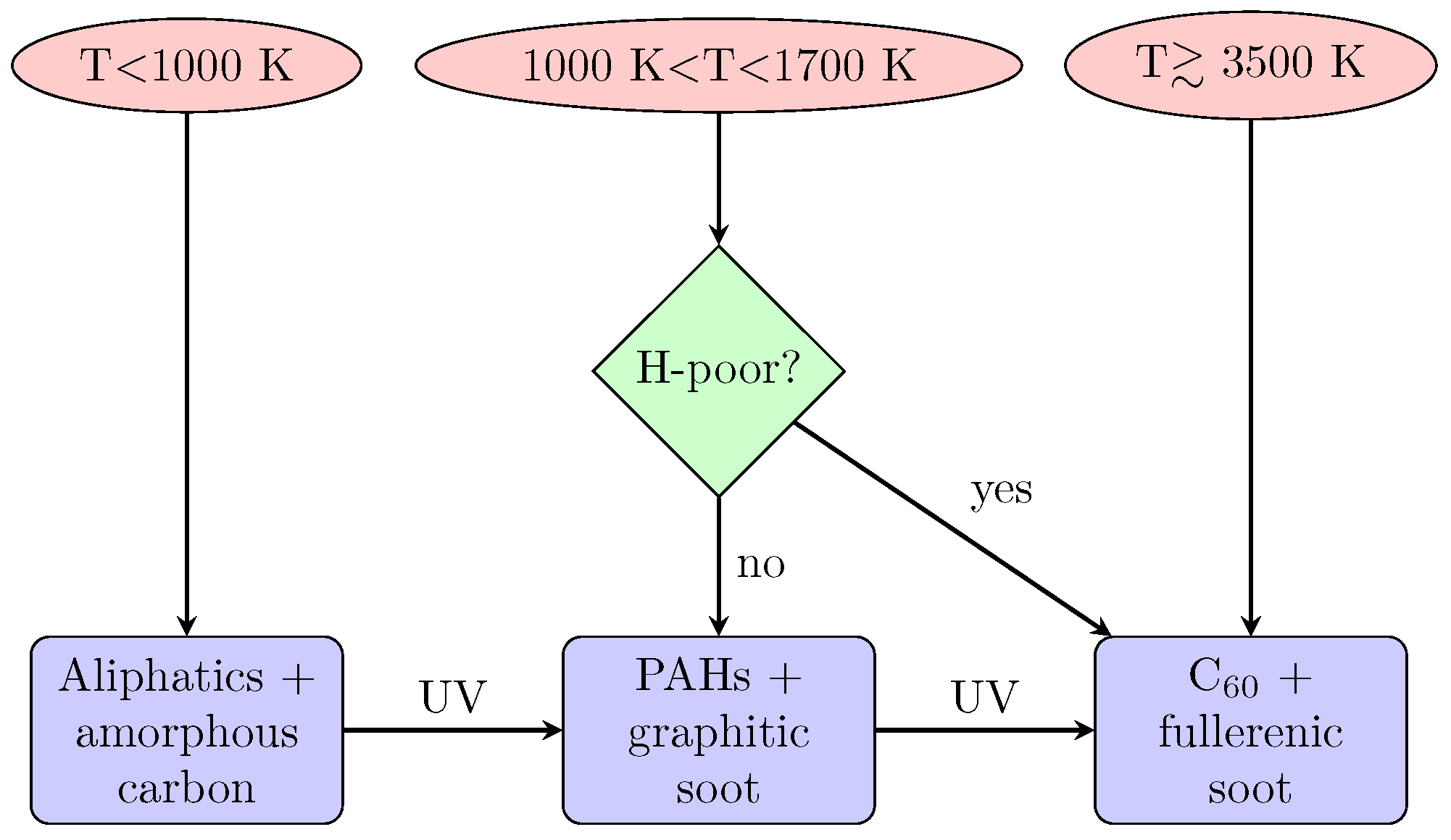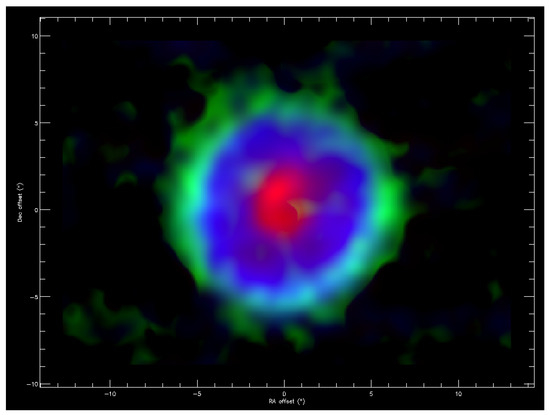 Figure 2. Decomposition of Gemini/T-ReCS narrow-band infrared images of Tc 1 into the different components (Cami et al., in prep): the continuum dust emission (red), the ionized gas (blue), and the fullerene emission (green).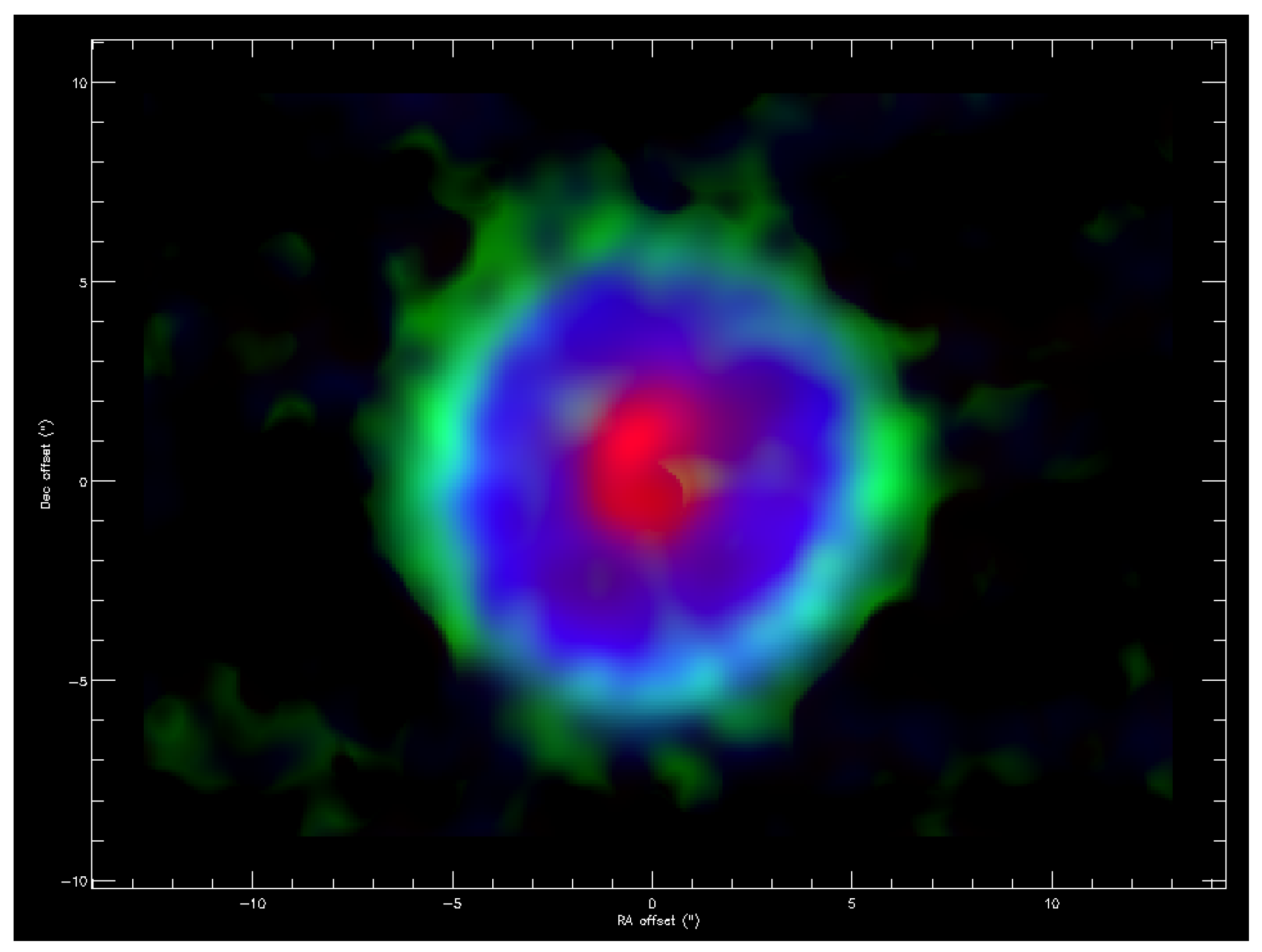 © 2018 by the authors. Licensee MDPI, Basel, Switzerland. This article is an open access article distributed under the terms and conditions of the Creative Commons Attribution (CC BY) license (http://creativecommons.org/licenses/by/4.0/).