Open Access This article is
freely available
re-usable
Conference Report
Challenges and Techniques for Simulating Line Emission
1
School of Earth and Space Exploration, Arizona State University, 781 South Terrace Road, Tempe, AZ 85287, USA
2
Centro Fermi, Museo Storico della Fisica e Centro Studi e Ricerche "Enrico Fermi", Piazza del Viminale 1, 00184 Roma, Italy
3
Scuola Normale Superiore, Piazza dei Cavalieri 7, 56126 Pisa, Italy
4
Instituto de Astronomía, Universidad Nacional Autónoma de México, Unidad Académica en Ensenada, Km 103 Carr. Tijuana-Ensenada, Ensenada 22860, Mexico
5
Department of Physics & Astronomy, University of Kentucky, Lexington, KY 40506, USA
6
Department of Physics and Astronomy, Georgia State University, 25 Park Place, Suite 605, Atlanta, GA 30303, USA
7
Max-Planck-Institut für Astronomie, Königstuhl 17, D-69117 Heidelberg, Germany
8
Instituto de Radioastronomía y Astrofísica, UNAM, Morelia, Michoacán 58089, Mexico
9
Cosmic DAWN Centre, Niels Bohr Institute, University of Copenhagen, Juliane Maries Vej 30, 2100 Copenhagen, Denmark
10
Department of Astrophysics, American Museum of Natural History, 79th Street at Central Park West, New York, NY 10024, USA
11
Sorbonne Universités, UPMC-CNRS, UMR7095, Institut d'Astrophysique de Paris, F-75014 Paris, France
12
CLASP, College of Engineering, University of Michigan, Ann Arbor, MI 48109, USA
*
Author to whom correspondence should be addressed.
Received: 3 July 2018 / Accepted: 1 September 2018 / Published: 20 September 2018
Abstract
:
Modeling emission lines from the millimeter to the UV and producing synthetic spectra is crucial for a good understanding of observations, yet it is an art filled with hazards. This is the proceedings of "Walking the Line", a 3-day conference held in 2018 that brought together scientists working on different aspects of emission line simulations, in order to share knowledge and discuss the methodology. Emission lines across the spectrum from the millimeter to the UV were discussed, with most of the focus on the interstellar medium, but also some topics on the circumgalactic medium. The most important quality of a useful model is a good synergy with observations and experiments. Challenges in simulating line emission are identified, some of which are already being worked upon, and others that must be addressed in the future for models to agree with observations. Recent advances in several areas aiming at achieving that synergy are summarized here, from micro-physical to galactic and circum-galactic scale.
Keywords:
simulation; line emission; galaxies; ISM; radiative transfer; hydrodynamic simulations; CGM; AGN
Funding
The workshop of which the results are presented was in part sponsored by professor Rogier Windhorst and the School of Earth and Space Exploration at Arizona State University. M.R. gratefully acknowledges support from the National Science Foundation through the Graduate Research Fellowship Program (DGE-1550139). M.C. was supported by NASA through a grant (HST-AR-14556.001-A) from the Space Telescope Science Institute. F.G. acknowledges support by NSF (1412155). GEM acknowledges support from a research grant (13160) from Villum Fonden.
Acknowledgments
The authors thank the two anonymous referees for their thoughtful comments and suggestions. The authors thank all participants at the Walking the Line 2018 conference for presenting their work and stimulating discussions. The authors also thank Mark Krumholz, Livia Vallini, Christian Brinch, Robert Loughnane, Peter van Hoof, Moupiya Maji, William Gray, and Sthabile Kolwa for providing additional info and comments to this paper.
Conflicts of Interest
The authors declare no conflict of interest.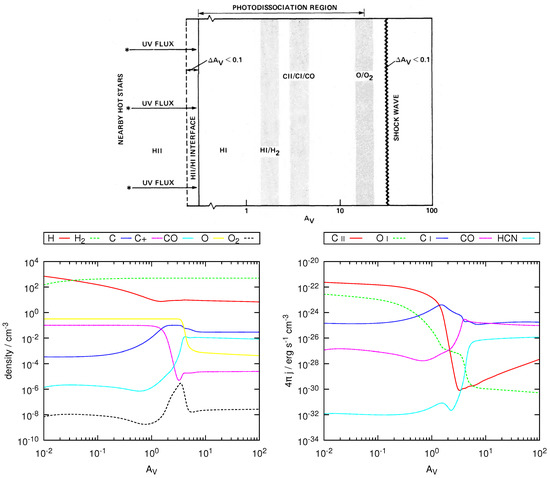 Figure 1.
(
Top
) Sketch of standard PDR structure, from innovative work in the 80's [
4
] [©AAS. Reproduced with permission]. (
Bottom
) For comparison, an example of PDR structure computed this year with version C17 of C
loudy
[
13
] for model V1 of [
14
], adapted to extend to . (
Left panel
) Densities of important atoms and molecules in the PDR. (
Right panel
) Local emissivities for some of the most important coolants.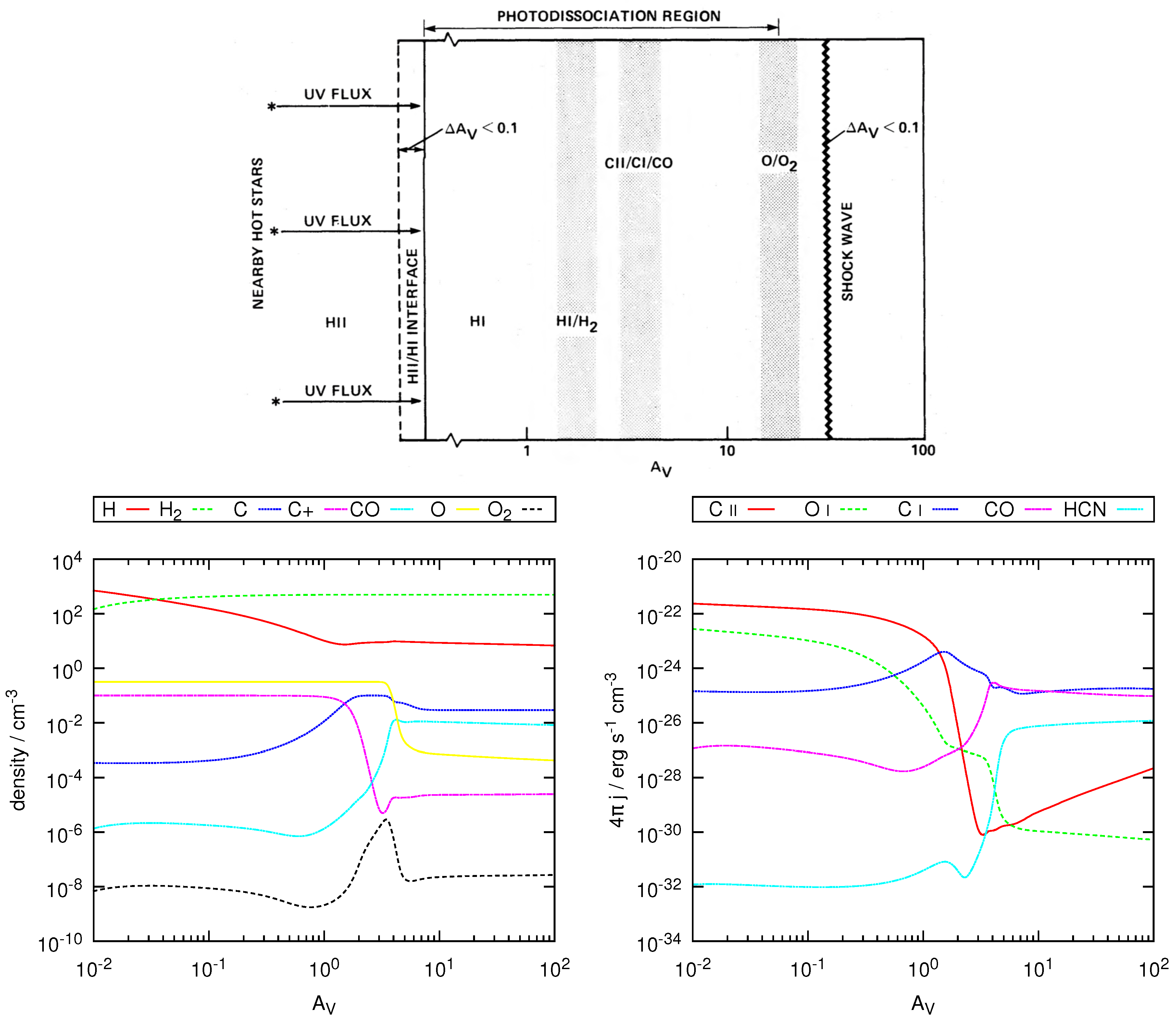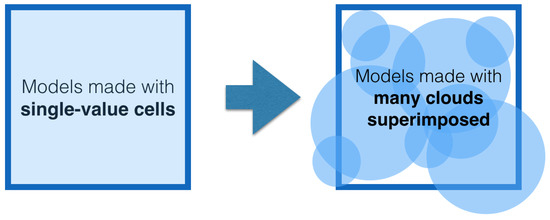 Figure 2. Illustration of the difference between simulating line emission from a cell of constant density, temperature, metallicity etc., and using an ensemble of clouds superimposed to create a more realistic synthetic observation of a patch of the sky.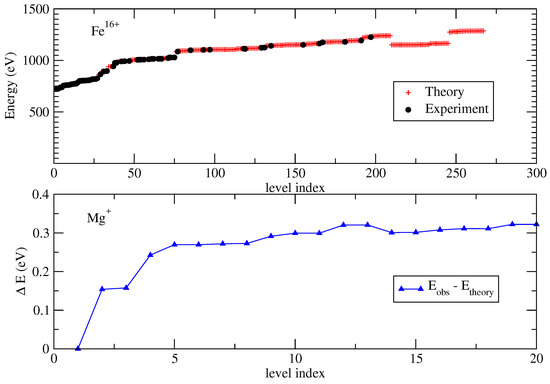 Figure 3.
Theoretical and experimental energies for levels obtained from the CHIANTI (v7, [
88
]) database. (
Top
) Fe: Observed energy levels (up to n = 5): [
89
]; observed energy levels (n = 6,7) from the wavelength measurements of [
90
]. (
Bottom
) Mg: theoretical energies: [
78
]; observed energies from NIST: [
91
].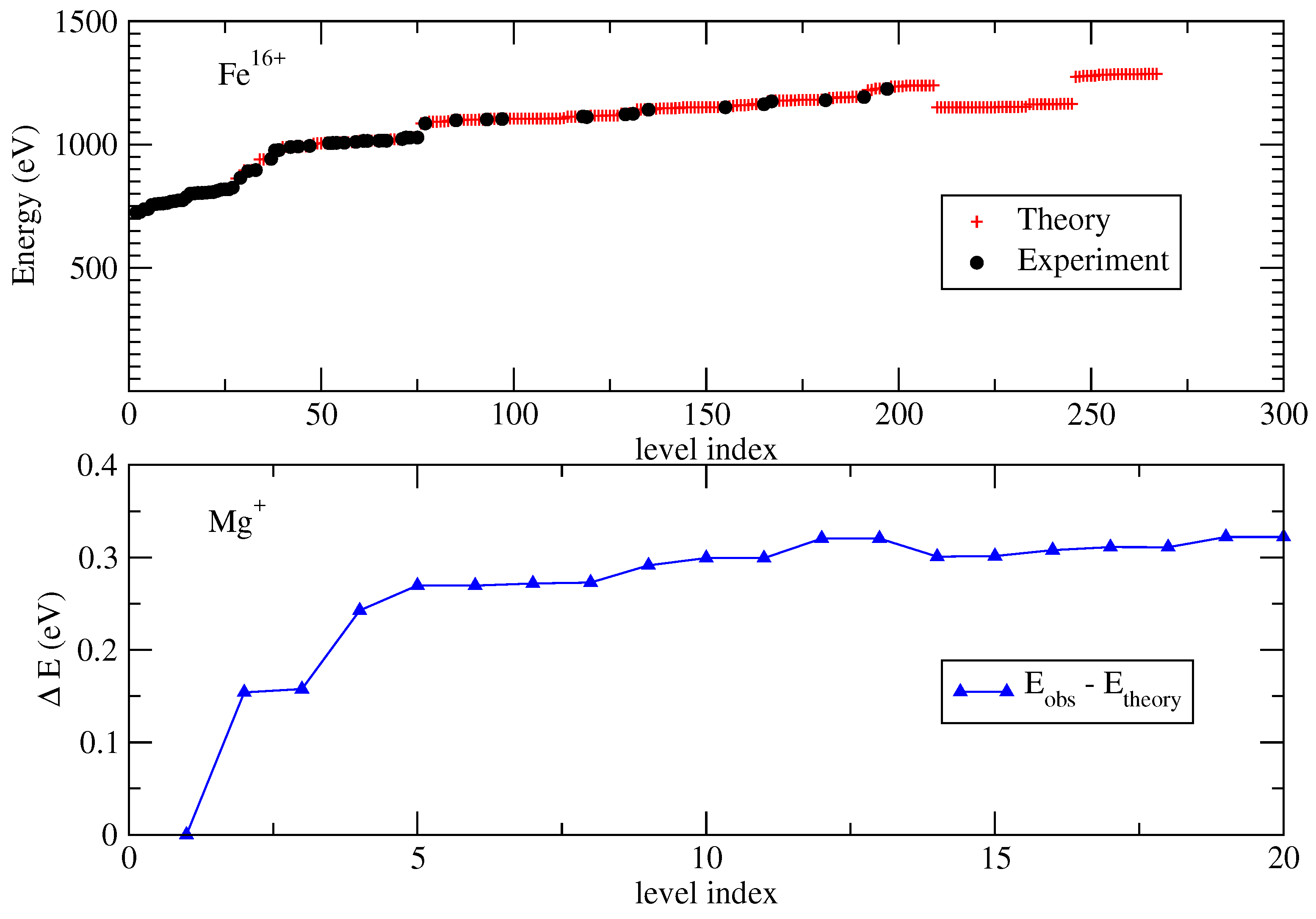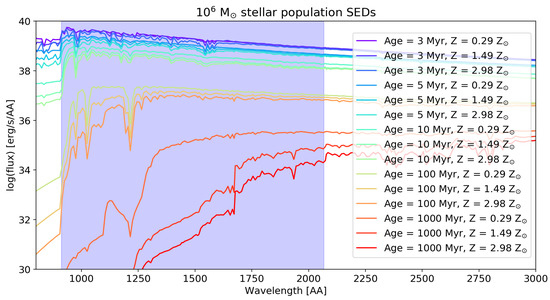 Figure 4.
Example of SEDs for stellar populations of increasing age and metallicity, calculated with the
starburst99
tool (see the text). A Kroupa IMF [
112
] at masses –100 was used together with an instantaneous burst of star formation which happened at age = 0 Myr. The Geneva high-mass loss tracks [
113
] were used. The shaded area indicates the region in wavelength used to integrate the SED for obtaining the FUV flux in e.g., Habing units [
114
], setting the chemical state of the gas. We note that comparing these models of different metallicities at the same age can be misleading, because stars of different metallicities have different lifetimes, i.e., a star of 3 Myr with solar metallicity will not be in the same evolutionary stage as a star of 3 Myr with 0.1 times solar metallicity.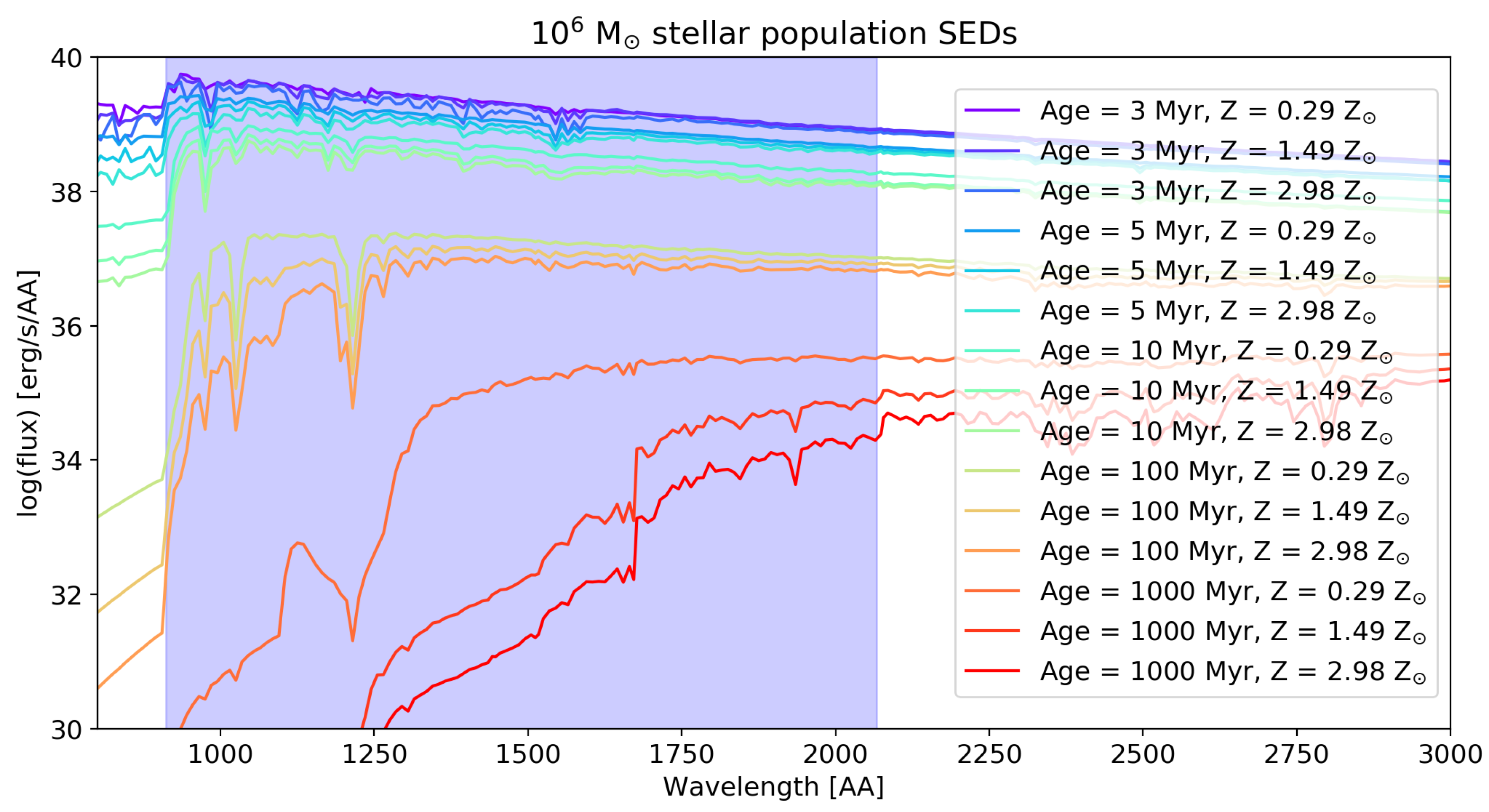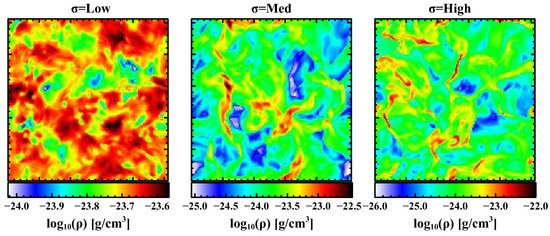 Figure 5. An illustration of how the gas density structure changes with increasing levels of turbulence, , made with MAIHEM and presented in the talk by William Gray. At low the turbulence is subsonic and no shocks are formed creating a nearly uniform density distribution. At intermediate and high , shocks form and create regions of very high and low density.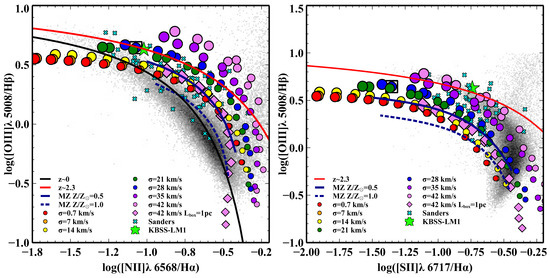 Figure 6.
The effects of turbulence on the classic [N II] and [S II] BPT diagrams. These figures are as presented at the workshop, see [
68
] for more details.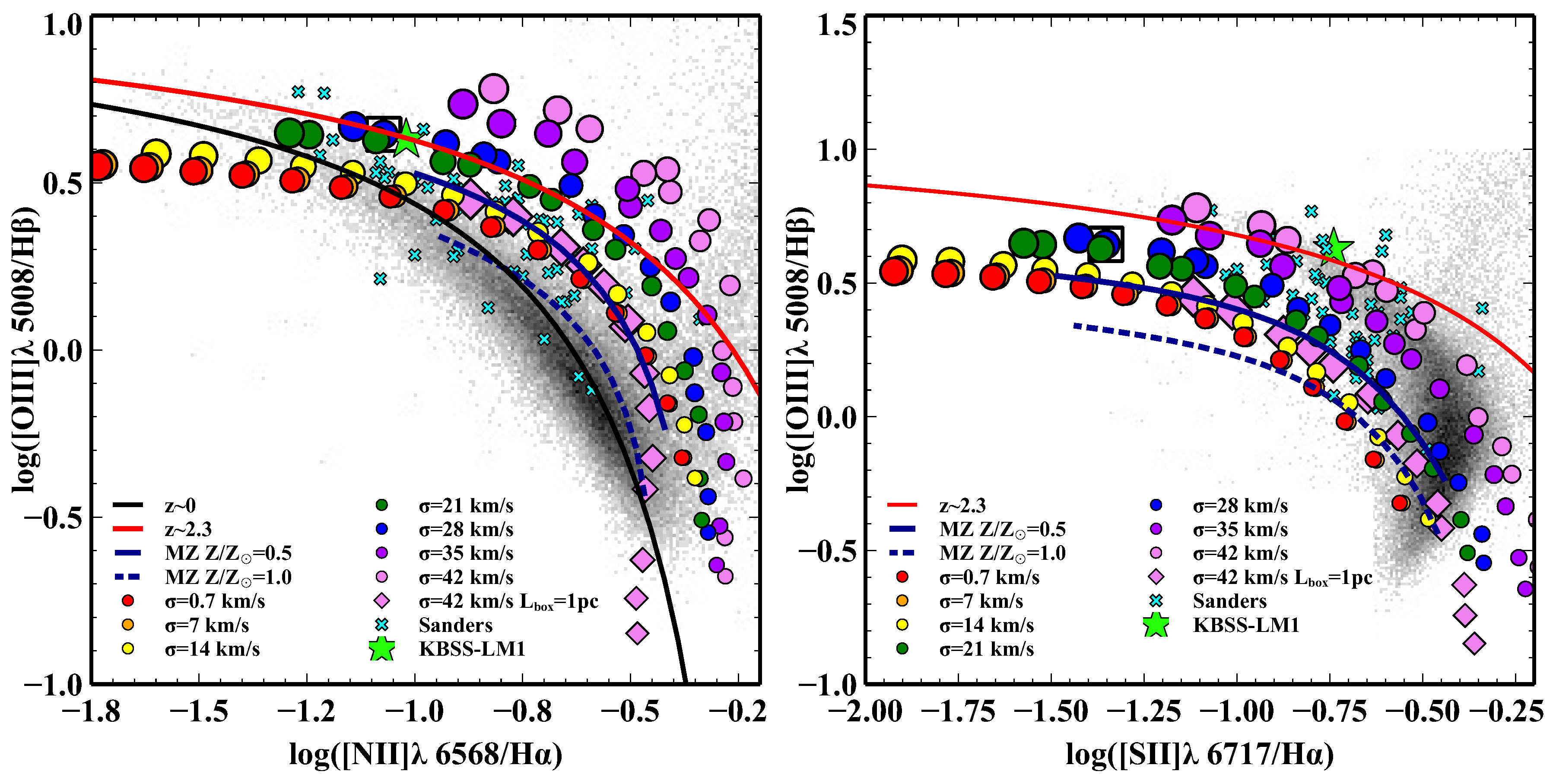 Figure 7.
Average [OIII]/H emission-line ratio in bins of [NII]/H for the star-forming subset (i.e., with log (BHAR/SFR) ) of the massive galaxies simulated with (right panel) and without AGN feedback (left panel) in different redshift ranges (connected stars of different colors). To guide the eye, SDSS data are shown in grey (adapted from [
36
]).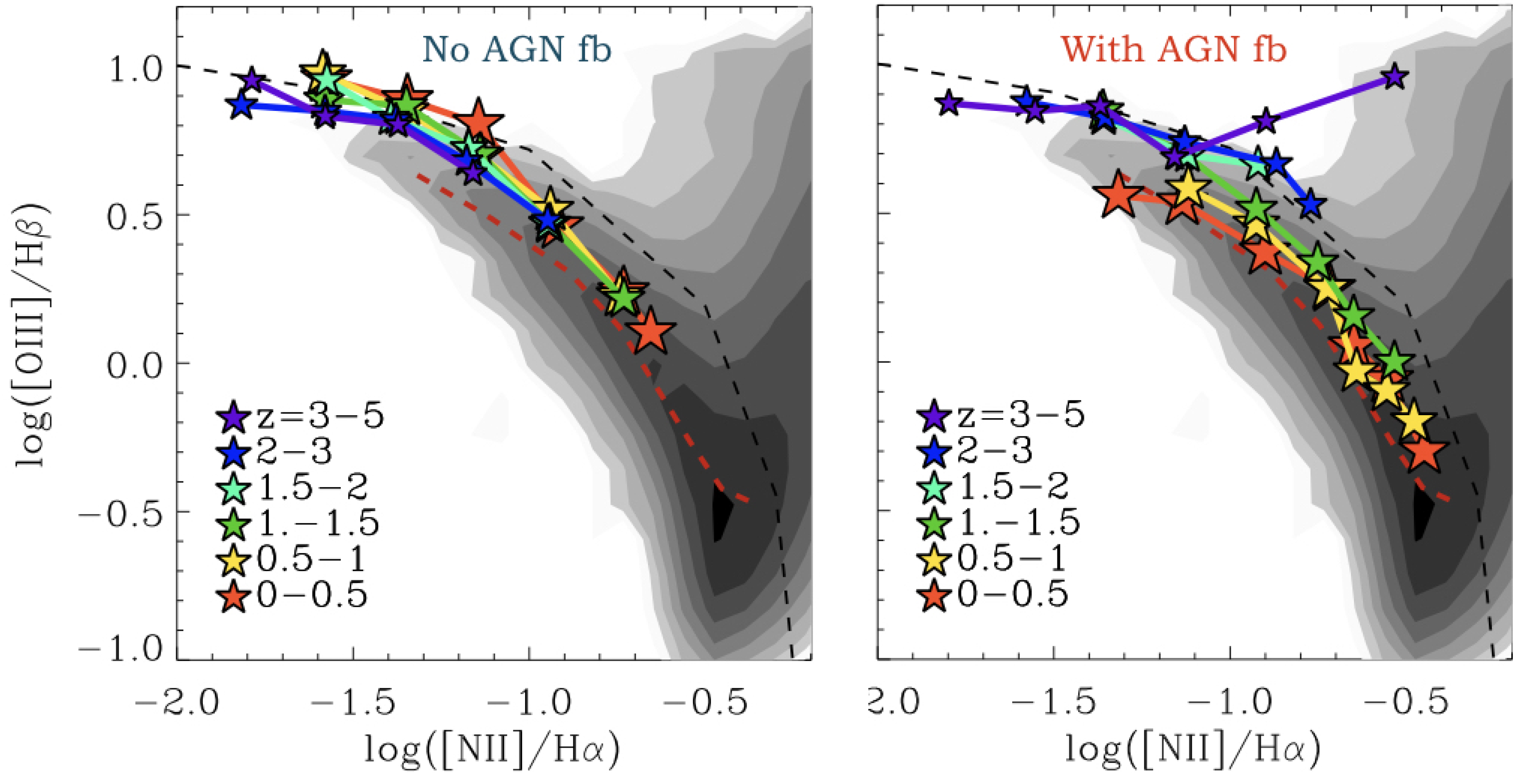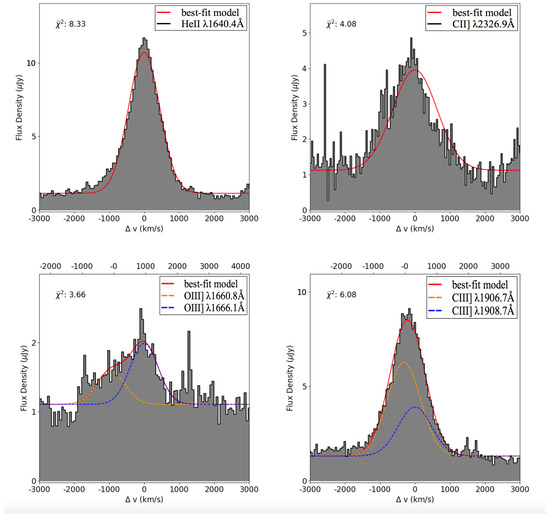 Figure 8. From Kolwa et al. in prep. Line emission from gas in the central 0.6 arcsec (4.75 kpc) of MRC 0943-242. This gas is ionized by the local AGN radiation field. Line widths larger than 1000 km s suggest a turbulent medium. For the top two figures the red profiles are best-fit single Gaussians. For the bottom two figures the doublets are fit with identical redshift. For the bottom two figures, the velocity scale of the bottom (top) horizontal axis is set to zero at the blue (orange) Gaussian centroid.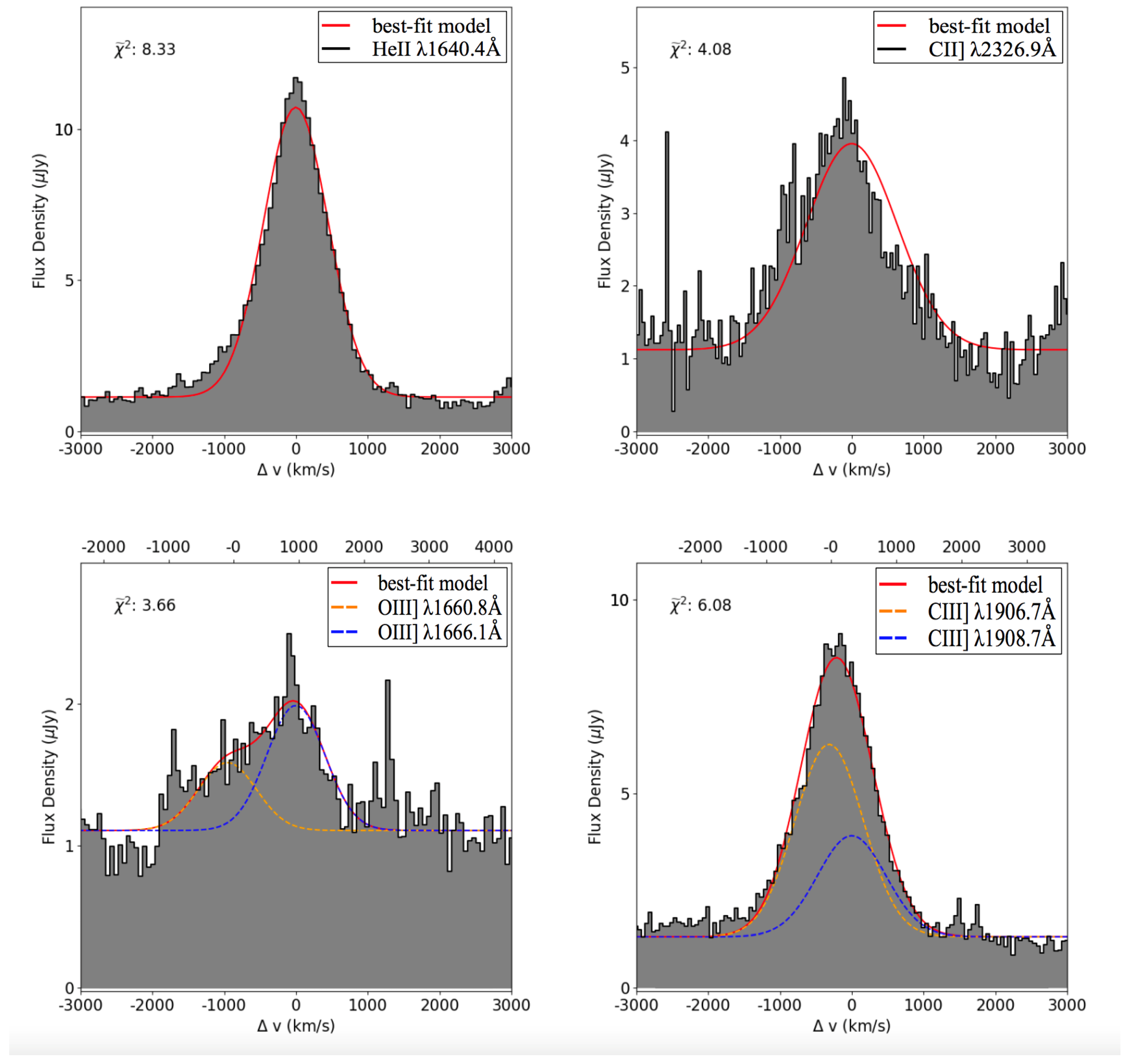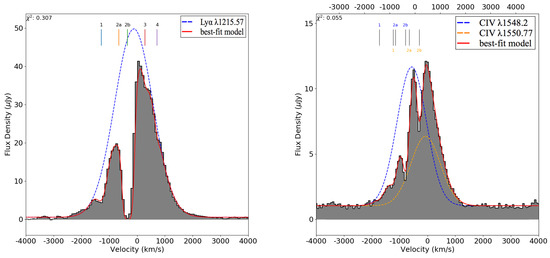 Figure 9.
From Kolwa et al. in prep. Line emission in the same spectra as
Figure 8
, however with clear components of absorption as well. The absorbing components' centroids are marked with vertical lines. Absorbing components 1, 2a, and 2b are seen in both the Ly (
left
) and CIV (
right
) emission. The best fit models (red line) result from the Gaussian emission with multiple Gaussian absorption profiles. For the right figure, the velocity scale of the bottom (
top
) horizontal axis is set to zero at the blue (orange) Gaussian centroid, and each centroid has its absorption component centroids marked with corresponding font color.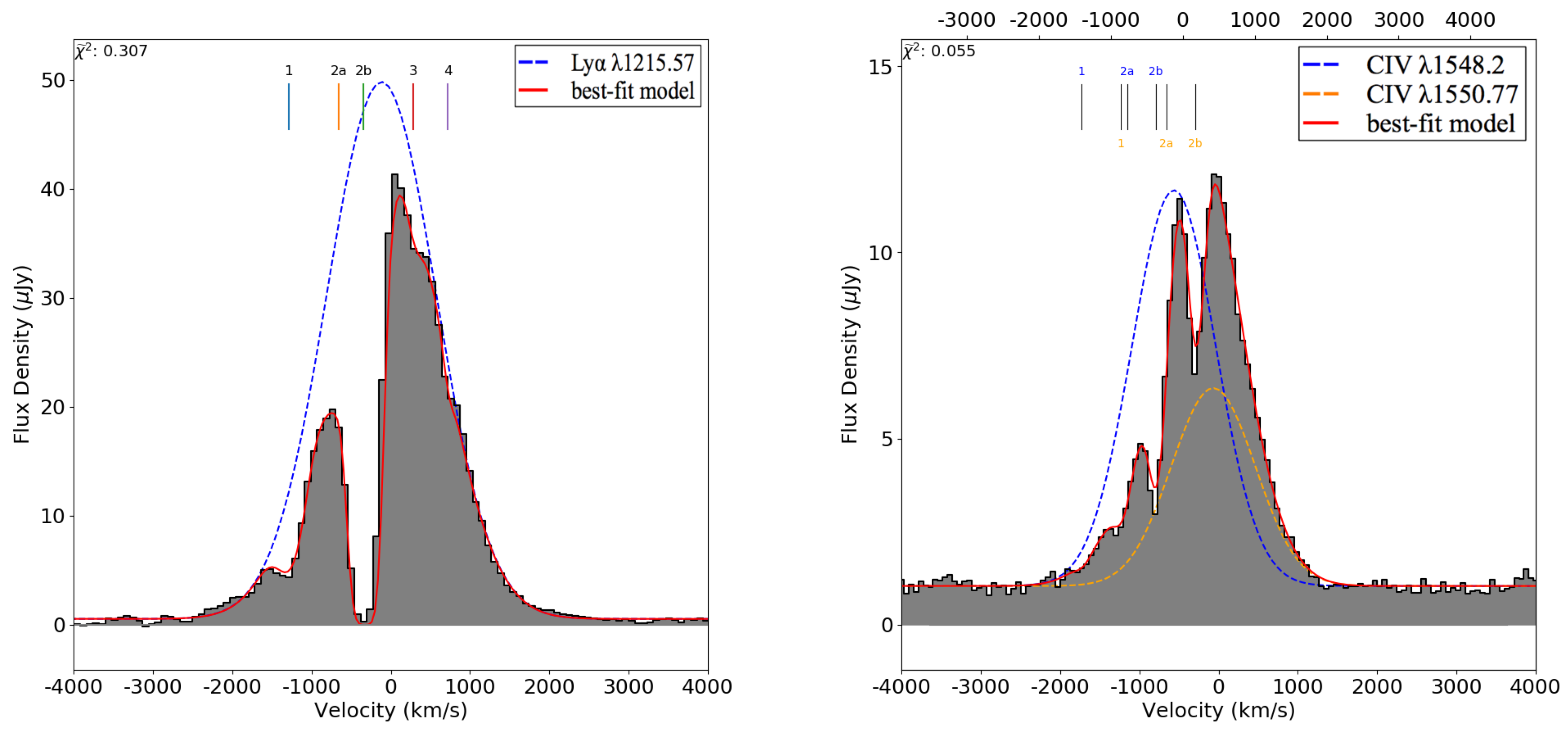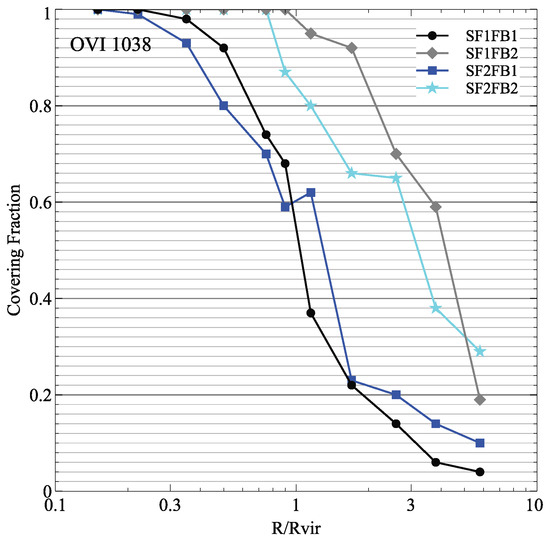 Figure 10.
CGM OVI covering fractions in a sub-L* simulated galaxy at z = 3 for different subgrid models.
SF#FB#
corresponds to whether the simulations uses star formation model 1 or 2 (
SF1
and
SF2
), and stellar feedback model 1 or 2 (
FB1
and
FB2
).
SF1
uses a density threshold for triggering star formation.
FB1
corresponds to feedback from a stellar population with a Salpeter IMF and the massive stars exploding with 10 erg per 10 M and the energy injected in the simulation matching the Sedov solution [
155
]. Both of these subgrid models depend on the resolution of the simulations (here 10 pc).
SF2
uses a variable star formation efficiency for gas that is not supported against collapse by turbulence, following [
156
,
157
].
FB2
is consistent with a Chabrier IMF, and either the energy or momentum solution is injected depending on which is resolved by the simulations [
158
].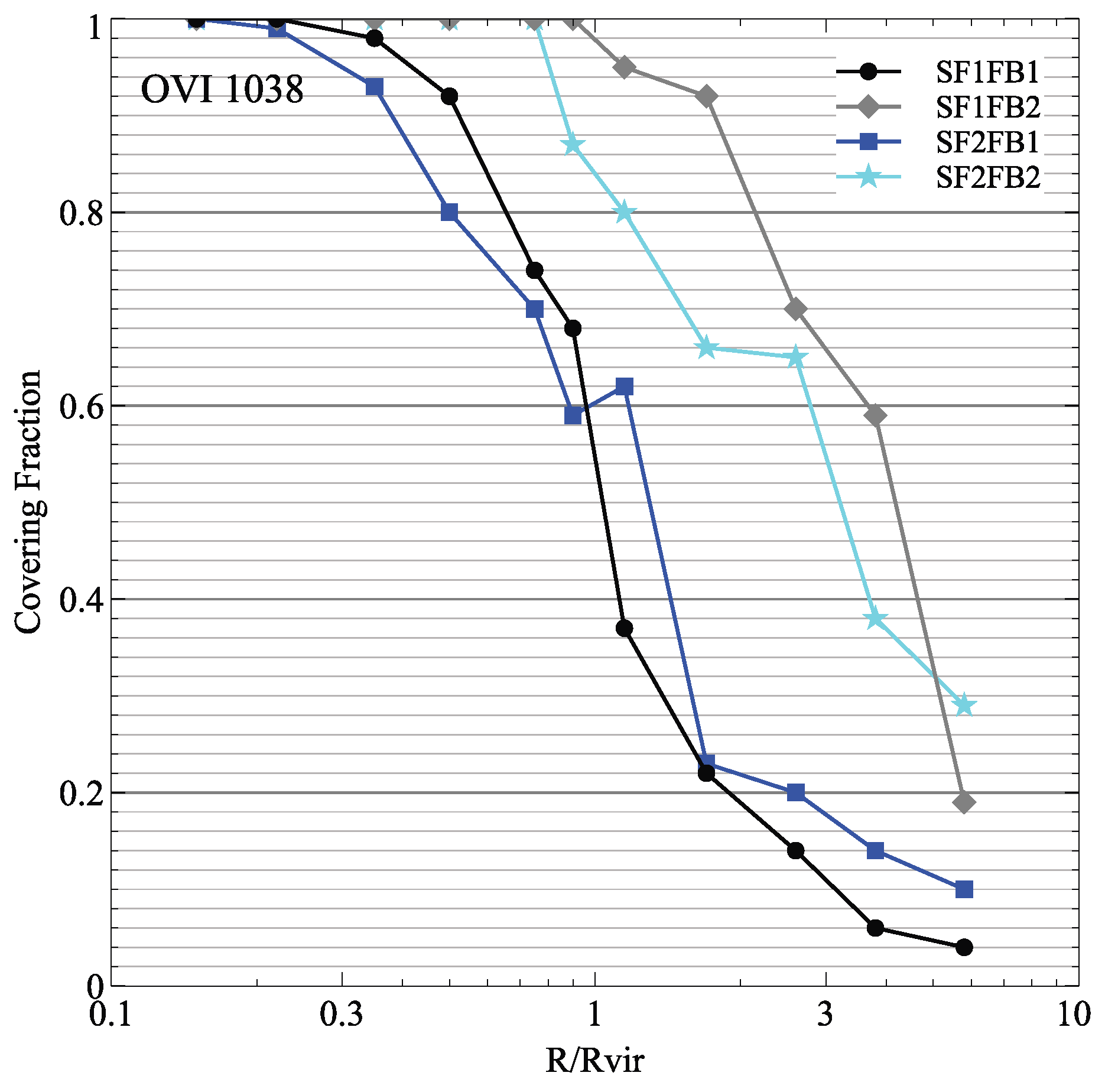 Table 1. Overview of the lines discussed at the workshop and referred to in the remainder of this paper.
Name
Type
Wavelength (s) (1)
Tracer of
Reference for Wavelength (s)
Ly
Recombination
Å
Ionized ISM
[56]
C

iv

CE (2)
, Å
Stellar wind, ionized ISM
[57]
O

iii

]
CE (2)
, Å
Ionized ISM
[57]
He

ii

Recombination
Å
Stellar wind, ionized ISM
[57]
[C

iii

]
CE (2)
Å
ISM
[57]
C

iii

]
CE (2)
Å
Ionized ISM
[57]
H
Recombination
Å
Ionized ISM
NIST (3)
[O

iii

]
CE (2)
Å
Ionized ISM
NIST (3)
[O

i

]
Recombination
Å
Ionized ISM
NIST (3)
H
Recombination
Å
Ionized ISM
NIST (3)
[N

ii

]
CE (2)
Å
Ionized ISM
NIST (3)
[S

ii

]
CE (2)
Å
Ionized ISM
NIST (3)
C

i

Fine-structure
, m
Atomic and molecular gas
LAMDA (4)
[C

ii

]
Fine-structure
m
All ISM
LAMDA (4)
[O

i

]
Fine-structure
, m
Atomic and molecular gas
LAMDA (4)
CO
Rotational
, , mm …
Molecular gas
LAMDA (4)
Name
Reference
Density Regime
1D or 3D
Species in Chemical Network for Calculating Ionization States
Exact Radiative Transfer Included?
ART2
[29], Li 2018 (in prep)
–cm−3
3D
Atomic database of C

loudy

, molecular database of LAMDA
yes
C

loudy

(1)
[13]
–cm−3
1D
625 species (including atomic ions); CHIANTI, Stout, LAMDA databases
no (9)
DESPOTIC (2)
[31]
Cool atomic and molecular ISM
1D
C, O, H, and He, plus a super-species M that represents a composite of metallic elements
no (9)
LIME (3)
[26]
–cm−3
3D
LAMDA database
yes
MAIHEM (4)
[32,67,68]
Has been tested at –cm−3
3D
63 species (including atomic ions) (5)
no
MOLLIE (6)
[25,27]
–cm−3
3D
18 molecular species (7)
yes
RADMC-3D (8)
[28]
No limits
3D
LAMDA database, but abundances can also be supplied by the user
yes
https://www.nublado.org/; https://bitbucket.org/krumholz/despotic/; http://www.nbi.dk/~brinch/index.php?page=lime; http://maihem.asu.edu/; H, H, He, He, He, C-C, N-N, O-O, Ne-Ne, Na-Na, Mg-Mg, Si-Si, S-S, Ca-Ca, Fe-Fe, and electrons; https://www.cfa.harvard.edu/~eketo/mollie; CHCN, NH, NH, HO (para + ortho), CO, CS, CO, HCO, HCO, CO, CO, HCN, HCN, HCN, ND, SiO, HD; http://www.ita.uni-heidelberg.de/~dullemond/software/radmc-3d/; Escape probability formalism.

© 2018 by the authors. Licensee MDPI, Basel, Switzerland. This article is an open access article distributed under the terms and conditions of the Creative Commons Attribution (CC BY) license (http://creativecommons.org/licenses/by/4.0/).