Open Access This article is
freely available
re-usable
Article
Post-AGB Discs from Common-Envelope Evolution
1
Department of Physics, University of Surrey, Guildford, Surrey GU2 7XH, UK
2
Institute of Astronomy, University of Cambridge, Madingley Road, Cambridge CB3 0HA, UK
*
Author to whom correspondence should be addressed.
Received: 26 July 2018 / Accepted: 4 September 2018 / Published: 11 September 2018
Abstract
:
Post-asymptotic giant branch (post-AGB) stars with discs are all binaries. Many of these binaries have orbital periods between 100 and so cannot have avoided mass transfer between the AGB star and its companion, likely through a common-envelope type interaction. We report on preliminary results of our project to model circumbinary discs around post-AGB stars using our binary population synthesis code
binary_c
. We combine a simple analytic thin-disc model with binary stellar evolution to estimate the impact of the disc on the binary, and vice versa, fast enough that we can model stellar population and hence explore the rather uncertain parameter space involved with disc formation. We find that, provided the discs form with sufficient mass and angular momentum, and have an inner edge that is relatively close to the binary, they can both prolong the life of their parent post-AGB star and pump the eccentricity of orbits of their inner binaries.
Keywords:
binary stars; post-AGB; discs
1. Introduction
In this work we combine a fast, analytic model of circumbinary discs with a synthetic binary stellar-evolution code to estimate the number of post-(A)GB discs and their properties. We include mass loss from the disc caused by illumination from the central star, ram-stripping by the interstellar medium, and include a viscous-timescale flow onto the central binary. The disc extracts angular momentum from its central binary star system. Resonances excited in the disc pump the central binary's eccentricity. While our results are preliminary, they show that eccentricity pumping is efficient in some systems, and the discs may live a considerable time.
2. Circumbinary Disc Model
At the inner edges of our discs so is a factor of several smaller than the typical 1000 temperatures we find. The outer edges, at , have which both cooler than the disc and the Cosmic Microwave background so this term can be safely ignored.
3. Example System
As an example binary star system we choose an initial primary mass , initial secondary mass , initial separation and metallicity . The separation is chosen such that Roche-lobe overflow is initiated just after the primary starts thermally pulsing on the AGB. Common envelope evolution follows with so the orbit shrinks to . The primary is then a post-AGB star, with an envelope mass of and a main-sequence dwarf companion. The accreted on to the secondary is from the wind of the AGB star prior to common envelope evolution. The orbital period is then about , typical of post-AGB binaries with circumbinary discs. We model circular orbits but our model is equally applicable to initially mildly eccentric binaries. Tides are expected to be efficient as the primary ascends the AGB and will quickly circularize the system. In the following discussion, and the figures, times are measured from the moment the common envelope is ejected.
A circumbinary disc is formed with and , giving and . Both and are chosen to give us a disc with mass and angular momentum similar that of IRAS 08544-4431 [
7
] and other post-AGB systems with circumbinary discs (e.g., the Red Rectangle). As the disc evolves, it feeds off the angular momentum of the inner binary, but the total angular momentum gained during its lifetime is small. Mass flows through the inner edge onto the binary at between (initially) and , although this does not significantly alter the evolution of the disc. Rather, X-ray driven mass loss, caused by the post-AGB star increasing in temperature at approximately constant luminosity, leads to sudden termination of the disc at , as shown in
Figure 1
.
The inner edge of the disc is at , well outside the inner binary orbit, while the outer edge is at . The former is set by the applied torque, while the latter is set by the disc angular momentum. Until the disc is evaporated, neither the inner nor outer radius changes significantly.
Figure 2
shows the evolution of said radii.
The eccentricity of the inner binary system is pumped to about by the time the disc is evaporated. This is similar to the eccentricity observed in post-AGB systems, and it is certainly non-zero.
Mass accreted onto the post-AGB star from the inner edge of the disc replenishes its hydrogen-rich envelope, thus cooling the star and prolonging its lifetime. Because our post-AGB star has a core mass of only , its nuclear burning rate is similar to the disc's viscous accretion rate. The stellar wind mass loss rate is less than because we apply the rate of [
23
] in our ignorance of the mechanism of post-AGB wind loss. To test how long accretion extends the post-AGB, we evolved an identical example system but with the inner-edge viscous inflow disabled.
Figure 3
shows that the post-AGB star in the system with accretion lives for an extra , an approximate doubling of the its post-AGB lifetime. The extra lifetime of such systems may explain why they do not show residual nebulosity from envelope ejection. Observed planetary nebulae, which may be ejected common envelopes, have dynamical timescales of about . By the time the post-AGB star is hot enough to ionize such envelopes they are likely too diffuse to be observed as planetary nebulae [
24
].
4. Stellar Populations and Improved Physics
Our model is simple yet it contains the essential physics of circumbinary discs around post-(A)GB stars. It is also fast enough that we can evolve a typical binary system containing a circumbinary disc in just a few seconds of CPU time. Speed is a an essential requirement of binary population synthesis studies because the parameter space is large. We can explore the consequence of the initial mass and angular momentum of our discs through the input parameters and , and we can estimate the effect of changing uncertain input physics, e.g., a stronger or weaker X-ray wind or binary torque.
We can also model post-first giant branch (helium core) systems and post-early-AGB systems. From an observational point of view, these differ in that their stellar evolution is truncated at an earlier stage than in post-thermally-pulsing-AGB, hence they are dimmer. These systems also overflow their Roche lobes at shorter periods and have more bound envelopes, so their orbits and resultant discs are more compact. Our assumption of constant opacity likely breaks at this point, although our assumed instantaneous viscous spreading of the disc is certainly valid. We are working on improving the model to take this into account.
Our discs are low in mass relative to their stars and we never put more than 10% of the common envelope mass in the disc. The example system we report in
Section 3
has a Toomre
Q
parameter of about [
25
] so is not gravitationally unstable. However, this does not preclude the formation of rocks in the disc, after all we know the discs contain small grains which emit in the infra red. In our models we expect a small number of discs to form in systems that exit the red giant branch just before helium ignition. These systems will contain sdB stars rather than white dwarfs, thus stay relatively cool. The relatively low X-ray flux from sdB stars means their discs are not evaporated quickly, at least not by means modelled here, so long-lived discs and the formation of so-called debris, i.e., rocks, in them discs seems quite likely.
The formation of second-generation planets in our discs seems not to be favoured. Our discs live for less than , too short for planet formation in the canonical sense, and our discs are quite warm, hotter than , near the inner edge where they are densest. That said, circumbinary discs have material concentrated in their orbital plane of the system for some time, so if even minor planets survive the common-envelope phase, they could accrete material from the disc. The consequences for the disc may be that it does not survive but this is currently beyond the scope of our model.
Our discs do succeed in pumping the eccentricity of their inner binary, in the case of our example system up to 0.25. In part this is because our discs are, by design, quite massive (about ), but this is to match observed discs such as IRAS 08544-4431, so is reasonable. Circumbinary discs seem to be good candidates to explain the eccentricities of at least some post-mass-transfer objects such as barium stars. We have not yet tested wind mass transfer as a mechanism for disc formation, but this is an obvious extension to our work and likely contributes to the observed population of post-(A)GB binaries.
Author Contributions
Conceptualization, data curation, funding acquisition, project administration, resources, software, supervision and writing—original draft; R.G.I. Formal analysis, investigation, methodology, validation, visualization and writing—review and editing; R.G.I. and A.S.J.
Funding
This research was funded by the Science and Technology Facilities Council under grant number ST/L003910/1.
Acknowledgments
RGI thanks the STFC for funding his Rutherford fellowship under grant ST/L003910/1, Churchill College, Cambridge for his fellowship and access to their library. Hello to Jason Isaacs. ASJ thanks the UK Marshall Commission for financial support.
Conflicts of Interest
The authors declare no conflict of interest.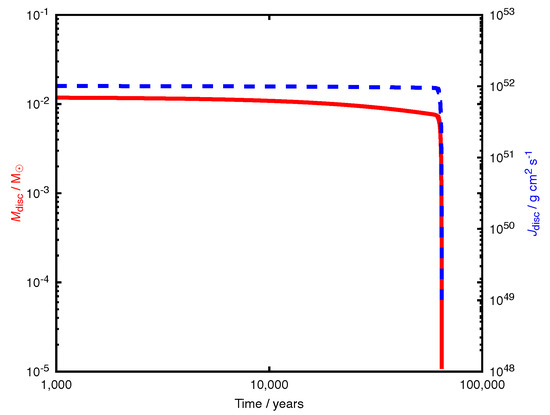 Figure 1. Mass (left axis, red solid line) and angular momentum (right axis, blue dashed line) evolution in our example circumbinary disc system. During most of the evolution of the disc, its mass changes slowly (∼) because of viscous flow through its inner edge onto the inner binary system. As the post-AGB star in the binary heats up, its X-ray flux increases until it drives sufficient wind that the disc is quickly evaporated after about where a time of is when the common envelope is ejected.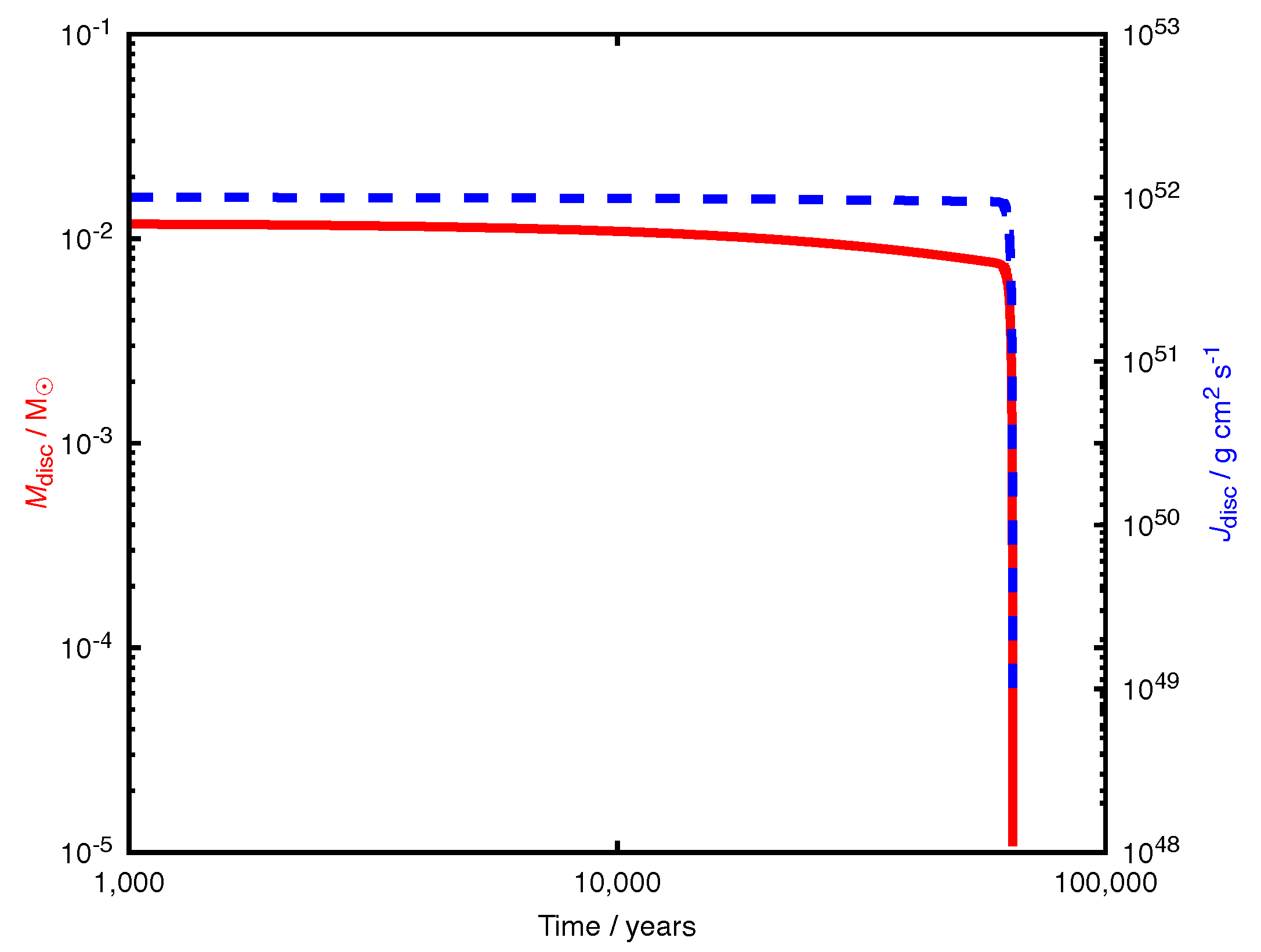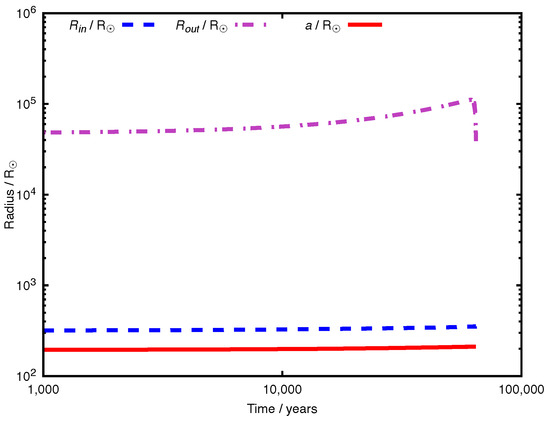 Figure 2.
Evolution of the inner and outer radii, and respectively, and the binary orbital separation
a
, in our example circumbinary disc system. Time is measured from the moment of common envelope ejection.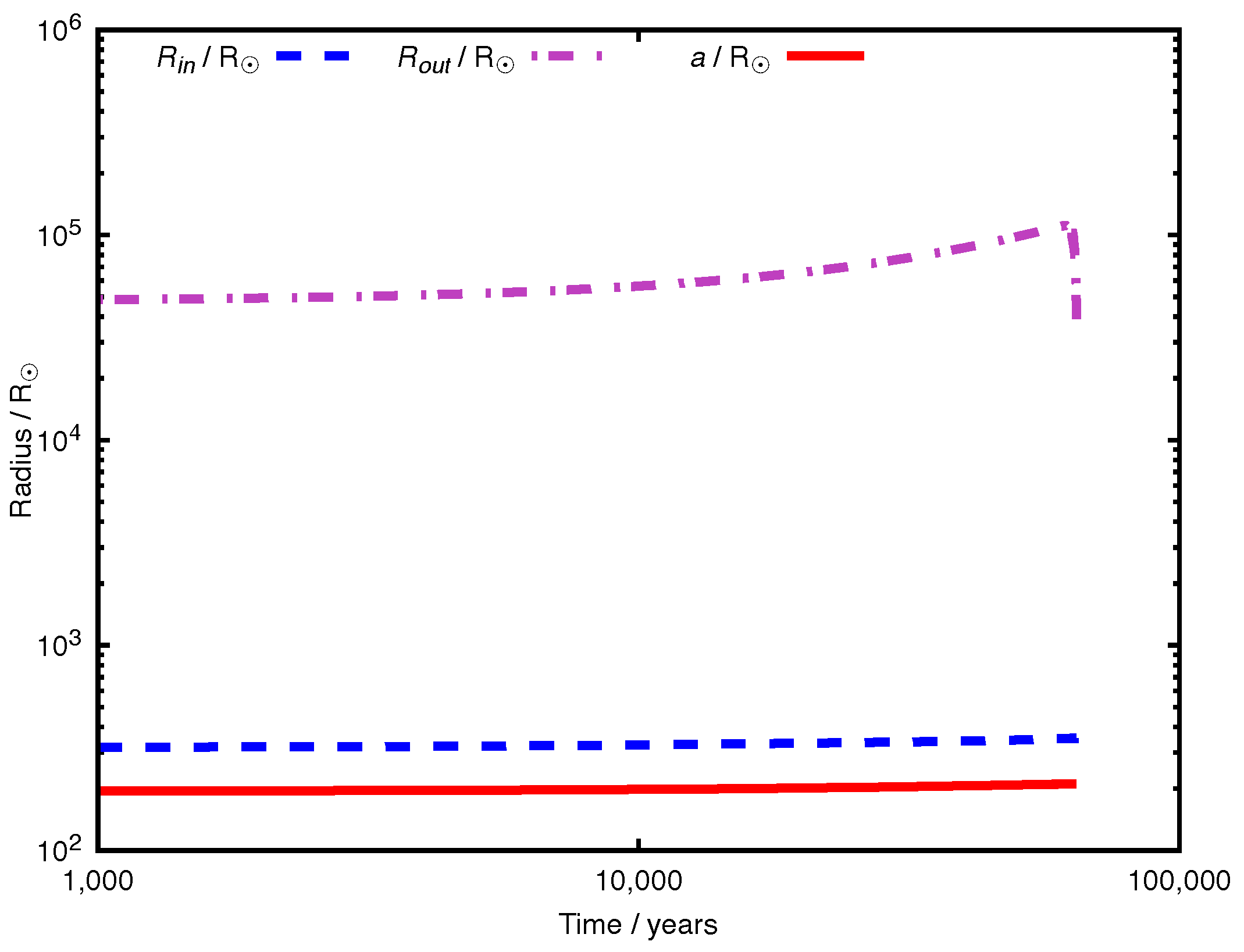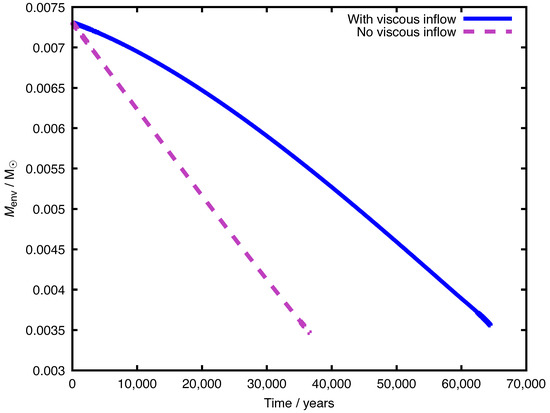 Figure 3. Post-AGB envelope mass vs. time since common envelope ejection. The blue, solid line is our example system with mass inflow from the inner edge onto the inner binary, while the magenta, dashed line is without. Mass flowing onto the post-AGB star replenishes its hydrogen envelope thus, for a while, keeps it relatively cool, limits its X-ray flux and prevents it from evaporating the disc. In this case, its lifetime is extended from about 35,000 to 65,000 . In our example system, post-AGB wind mass loss is negligible.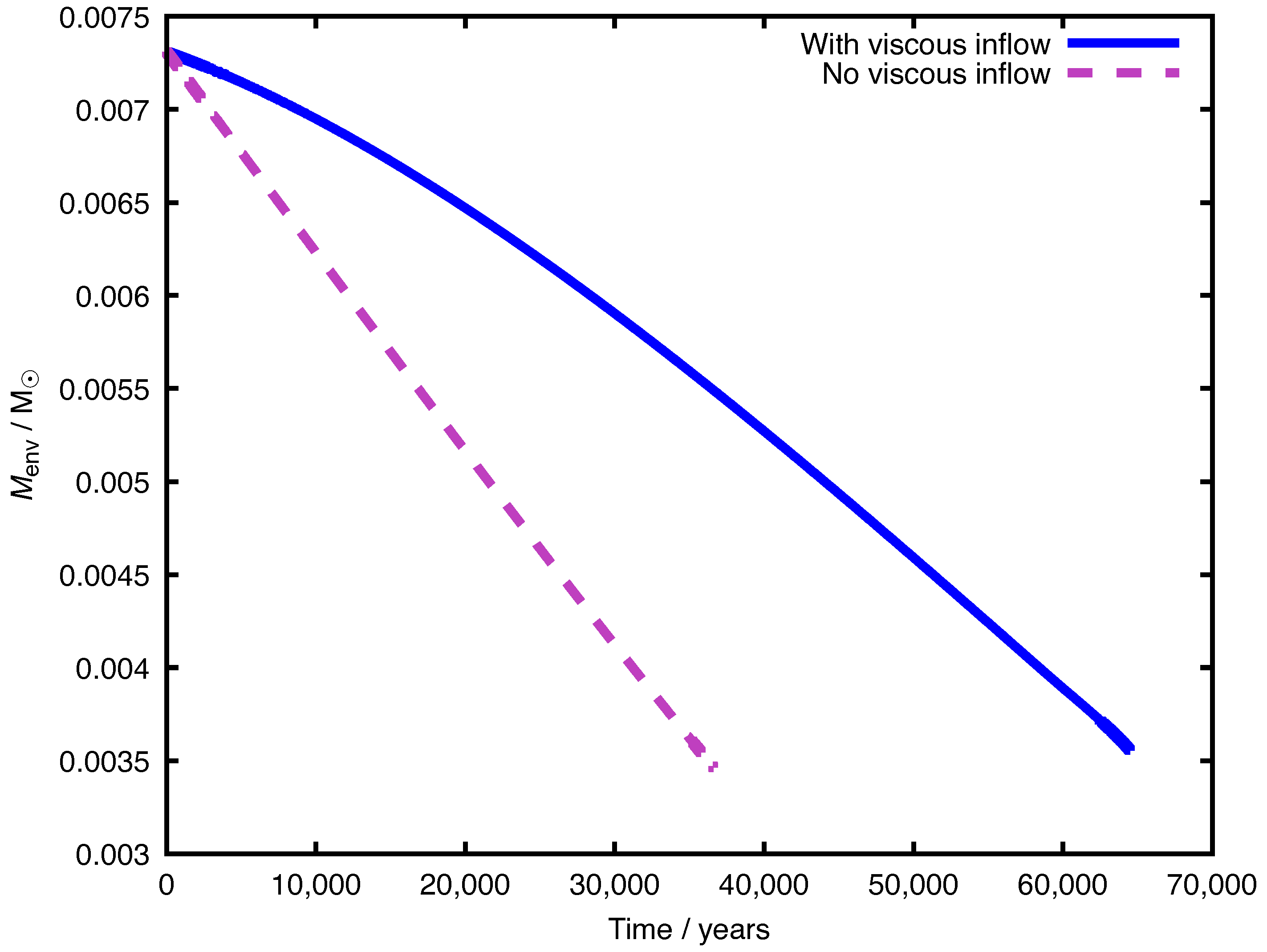 © 2018 by the authors. Licensee MDPI, Basel, Switzerland. This article is an open access article distributed under the terms and conditions of the Creative Commons Attribution (CC BY) license (http://creativecommons.org/licenses/by/4.0/).