Open Access This article is
freely available
re-usable
Article
Planets, Planetary Nebulae, and Intermediate Luminosity Optical Transients (ILOTs)
1
Department of Physics, Technion, Israel Institute of Technology, Haifa 32000, Israel
2
Guangdong Technion Israel Institute of Technology, Shantou 515069, China
Received: 16 April 2018 / Accepted: 24 May 2018 / Published: 28 May 2018
Abstract
:
I review some aspects related to the influence of planets on the evolution of stars before and beyond the main sequence. Some processes include the tidal destruction of a planet on to a very young main sequence star, on to a low-mass main sequence star, and on to a brown dwarf. This process releases gravitational energy that might be observed as a faint intermediate luminosity optical transient (ILOT) event. I then summarize the view that some elliptical planetary nebulae are shaped by planets. When the planet interacts with a low-mass, upper asymptotic giant branch (AGB) star, it both enhances the mass-loss rate and shapes the wind to form an elliptical planetary nebula, mainly by spinning up the envelope and by exciting waves in the envelope. If no interaction with a companion, stellar or substellar, takes place beyond the main sequence, the star is termed a
Jsolated star
, and its mass-loss rates on the giant branches are likely to be much lower than what is traditionally assumed.
Keywords:
planetary systems; planetary nebulae; stars: binaries; stars: AGB and post-AGB; stars: variables: general
Acknowledgments
I thank the referees for useful comments.
Conflicts of Interest
The authors declare no conflict of interest.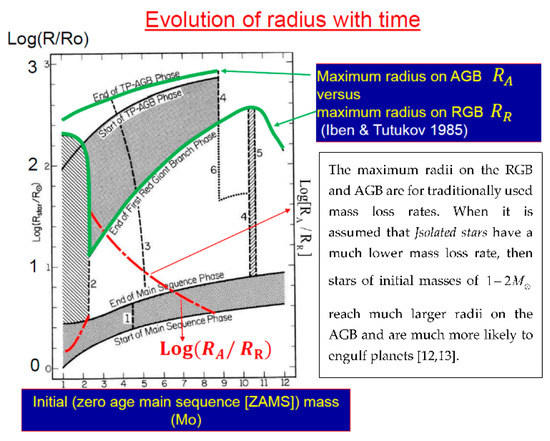 Figure 1.
Maximum radii stars reach on their RGB and AGB as function of their initial mass for traditional mass-loss rates (from [
11
]).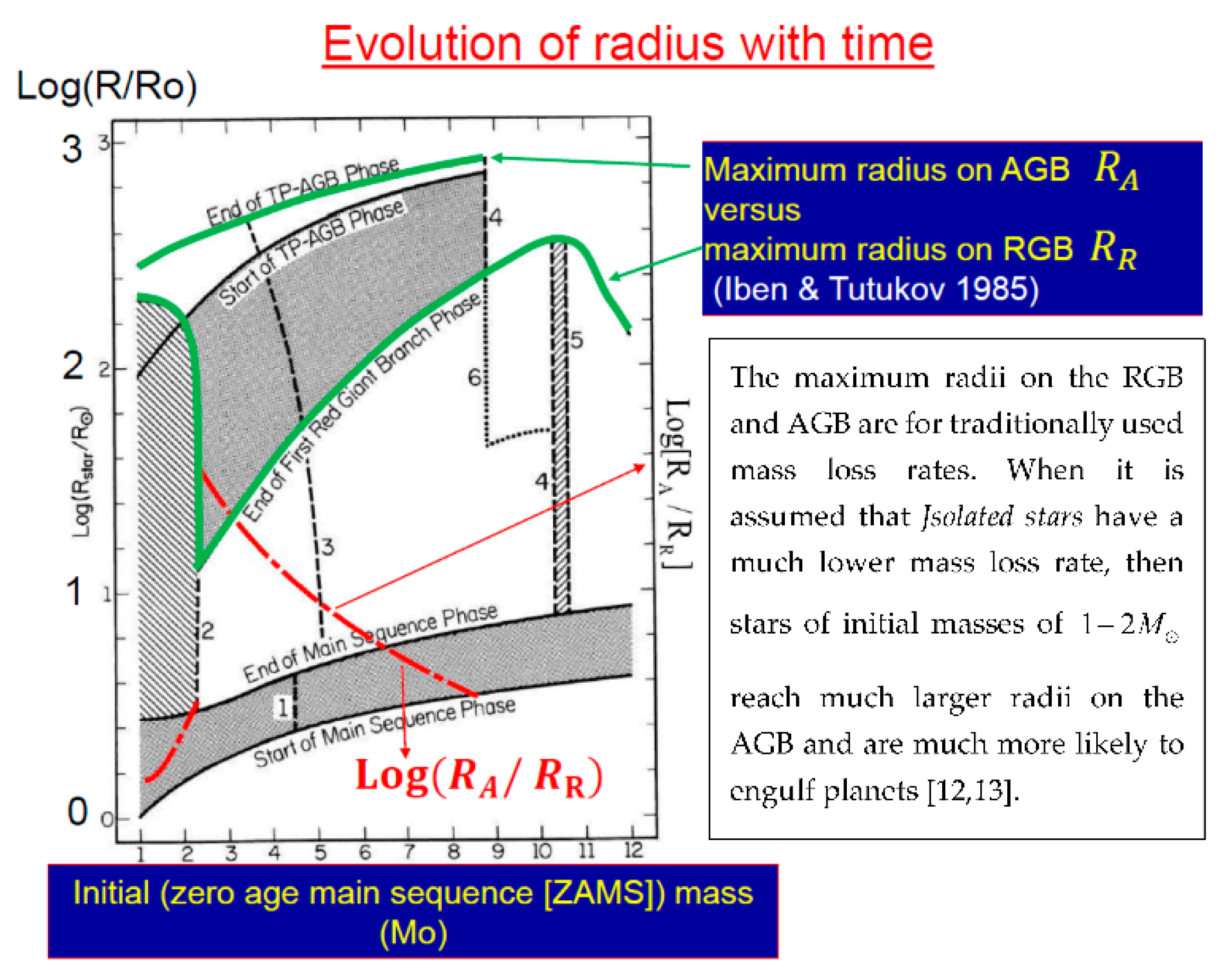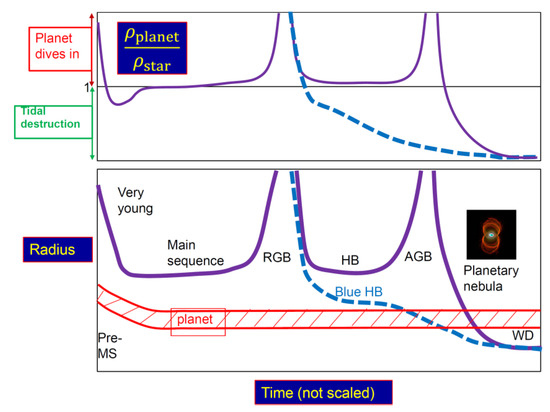 Figure 2. A schematic evolution of the radii and densities of planets and stars from the pre-main-sequence phase to the WD phase. Upper panel: the ratio of the planet density to the stellar density. If the ratio is above 1, the planet dives in to the envelope as one entity. If the density ratio is below 1, the planet is tidally destroyed and forms an accretion belt/disk around the star. Lower panel: The planet and stellar radii as function of time.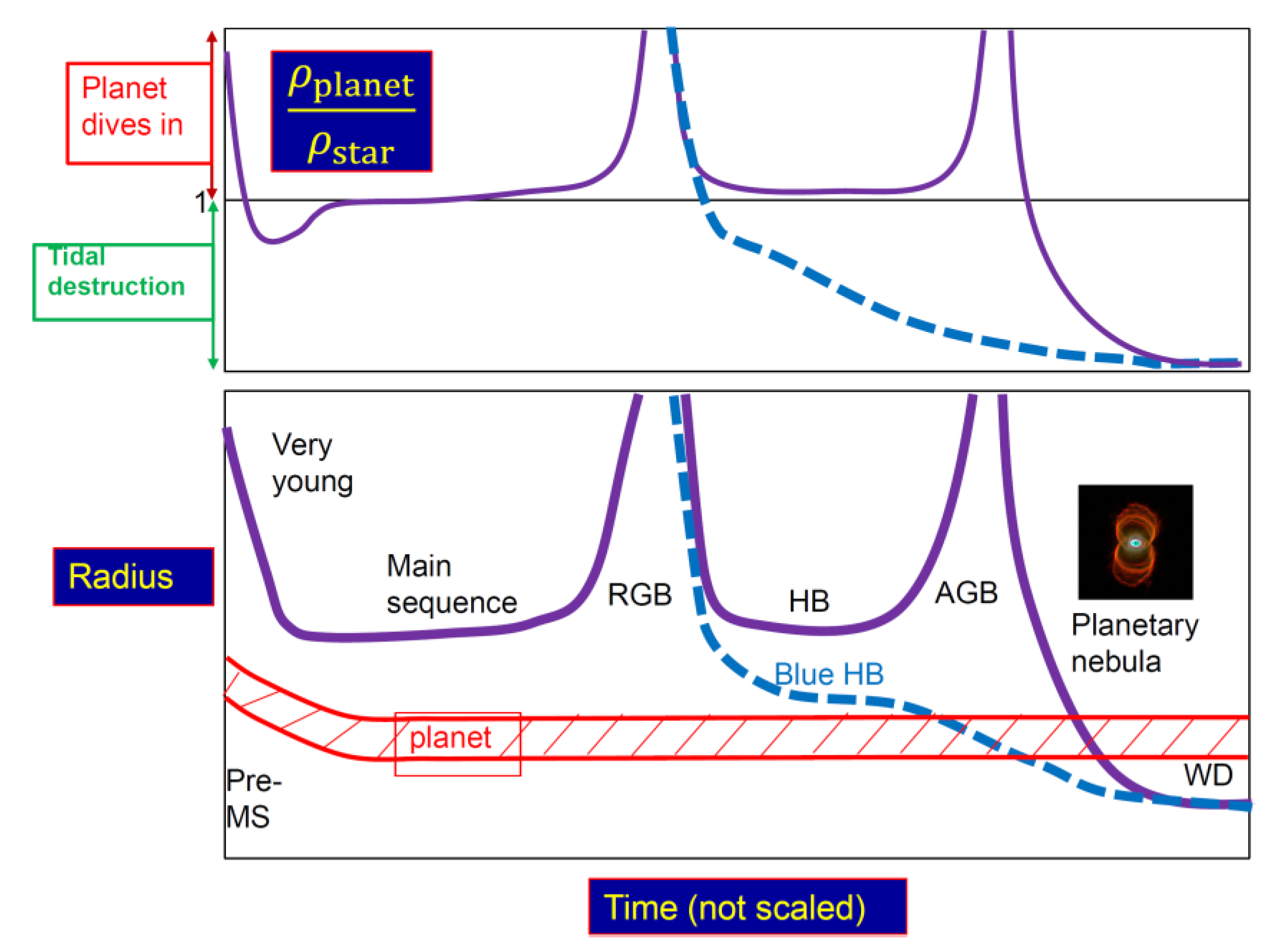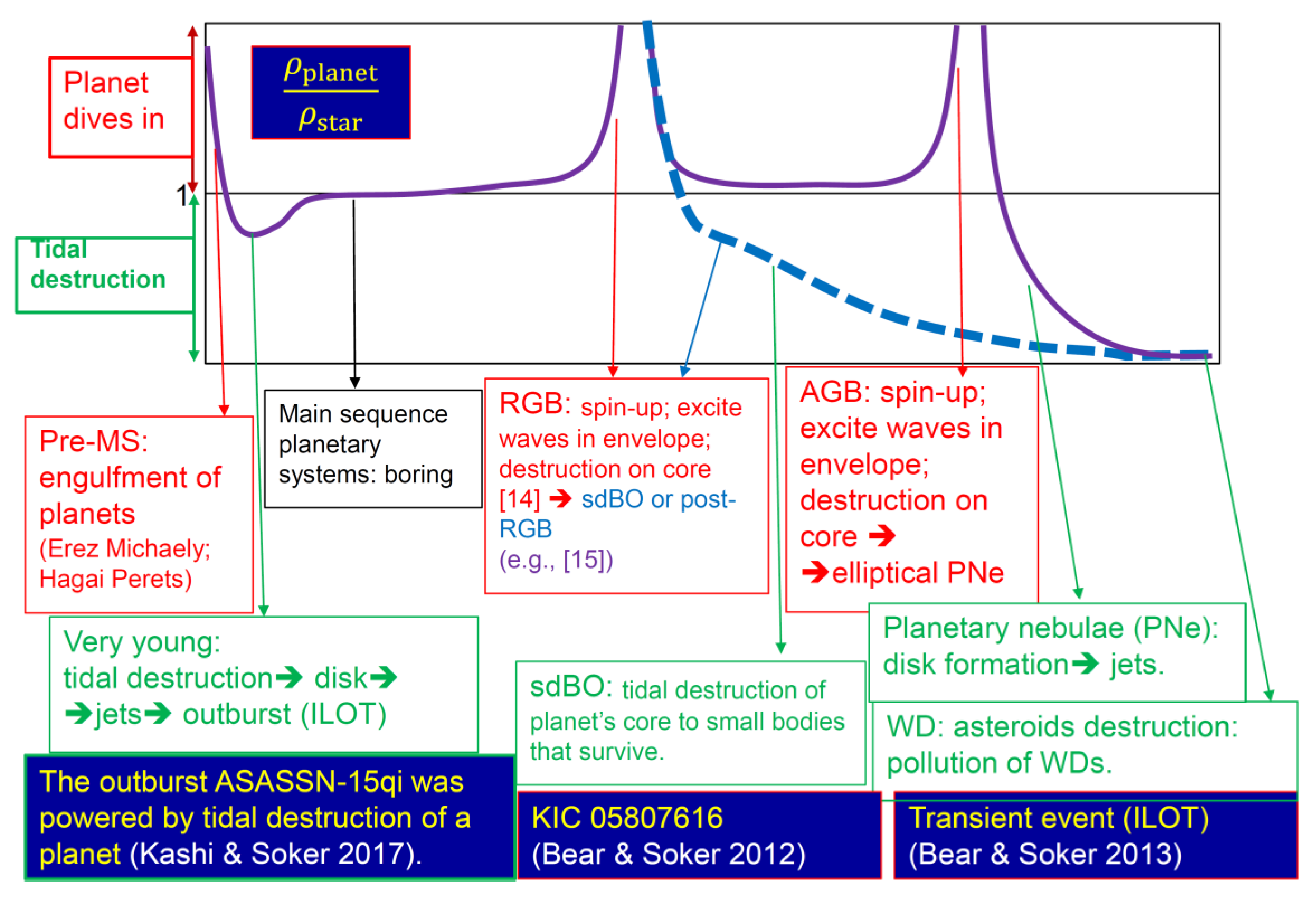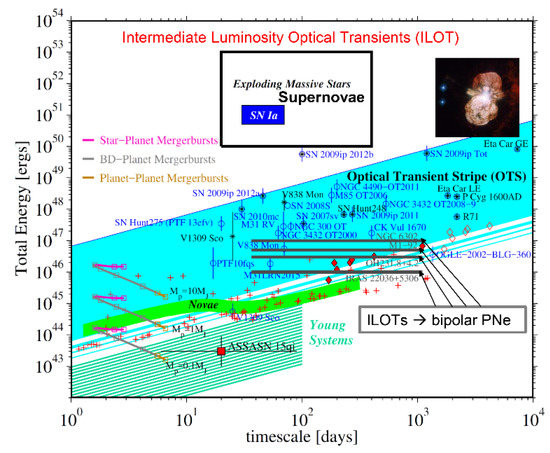 Figure 4.
Observed transient events on the energy–time diagram. Blue empty circles represent the total (radiated plus kinetic) energy of the observed transients as a function of the duration of their eruptions, i.e., usually the time for the visible luminosity to decrease by 3 magnitudes. The Optical Transient Stripe is populated by ILOT events that we [
18
] suggest are powered by gravitational energy of complete merger events or vigorous mass-transfer events. For details of this figure, see
http://phsites.technion.ac.il/soker/ilot-club/
.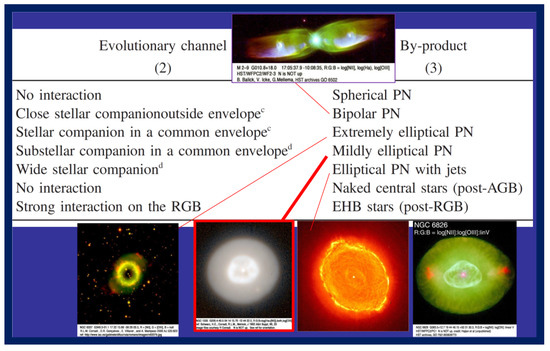 Figure 5.
The evolutionary channels and the PN types that result from them (based on De Marco & Soker 2011 [
4
]).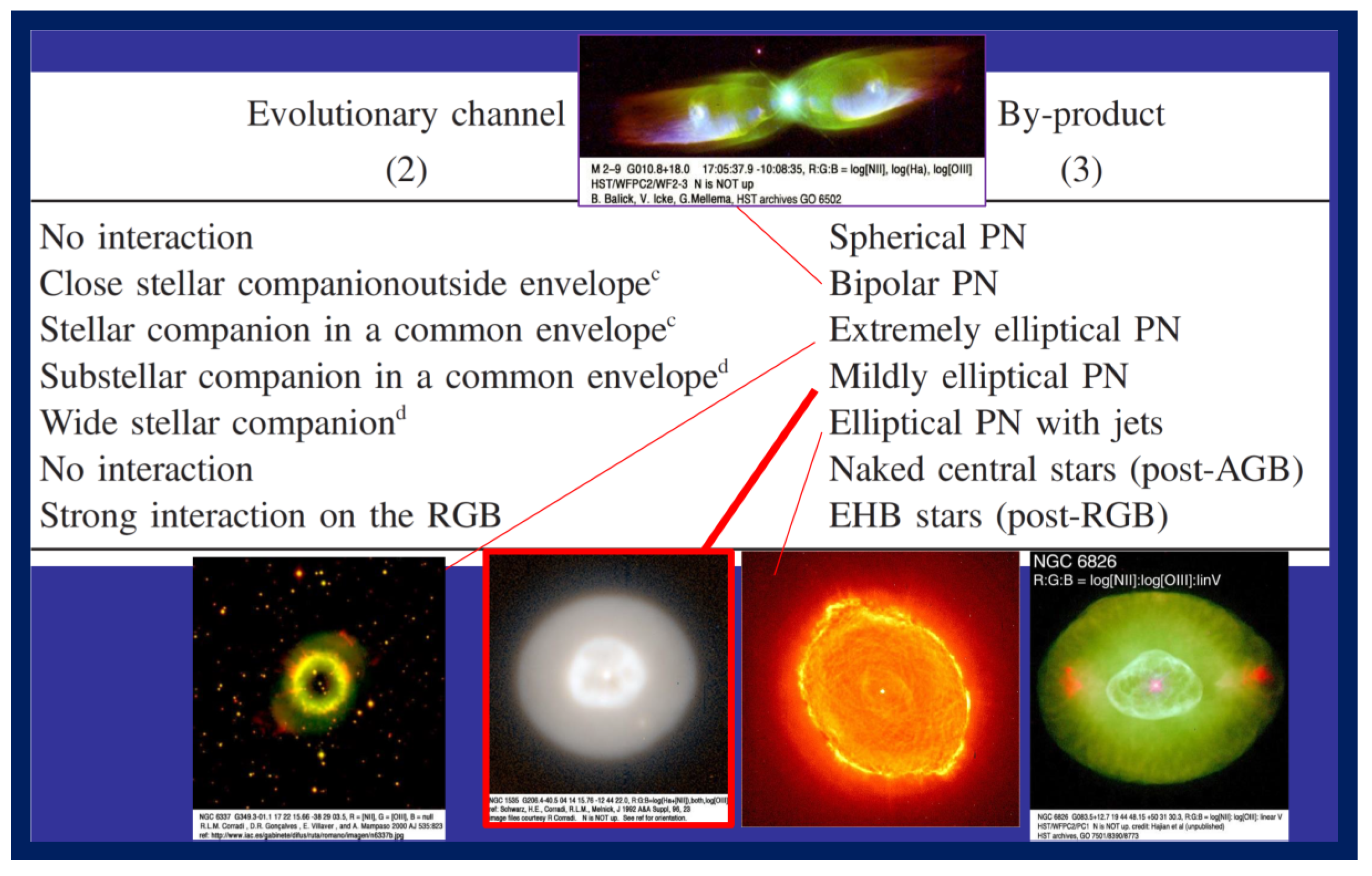 © 2018 by the author. Licensee MDPI, Basel, Switzerland. This article is an open access article distributed under the terms and conditions of the Creative Commons Attribution (CC BY) license (http://creativecommons.org/licenses/by/4.0/).