Open Access This article is
freely available
re-usable
Article
Future X-ray Polarimetry of Relativistic Accelerators: Pulsar Wind Nebulae and Supernova Remnants
1
INAF—Osservatorio Astrofisico di Arcetri, Largo E. Fermi 5, I-50125 Firenze, Italy
2
Dipartimento di Fisica e Astronomia, Università degli Studi di Firenze, Via G. Sansone 1, Sesto F. no, I-50019 Firenze, Italy
3
INFN—Sezione di Firenze, Via G. Sansone 1, Sesto F. no, I-50019 Firenze, Italy
Received: 29 January 2018 / Accepted: 20 March 2018 / Published: 27 March 2018
Abstract
:
Supernova remnants (SNRs) and pulsar wind nebulae (PWNs) are among the most significant sources of non-thermal X-rays in the sky, and the best means by which relativistic plasma dynamics and particle acceleration can be investigated. Being strong synchrotron emitters, they are ideal candidates for X-ray polarimetry, and indeed the Crab nebula is up to present the only object where X-ray polarization has been detected with a high level of significance. Future polarimetric measures will likely provide us with crucial information on the level of turbulence that is expected at particle acceleration sites, together with the spatial and temporal coherence of magnetic field geometry, enabling us to set stronger constraints on our acceleration models. PWNs will also allow us to estimate the level of internal dissipation. I will briefly review the current knowledge on the polarization signatures in SNRs and PWNs, and I will illustrate what we can hope to achieve with future missions such as IXPE/XIPE.
Keywords:
MHD; radiation mechanisms: non-thermal; polarization; relativistic processes; ISM: supernova remnants; ISM: individual objects: Crab nebula
2. Radio & Optical Polarization
4. Prospects for Future Observations
Another primary target among SNRs will be Cas A, where thermal line emission associated with the interior filaments is present. A good energy resolution is pivotal to select those parts of the emitted X-ray radiation that are of non-thermal origin (far from the lines). In Cas A, X-ray emission is detected also from the putative reverse shock. Simulated observations suggest that, with XIPE, it is possible to disentangle the polarization signature of the reverse shock from that of the forward shock, as long as typical values are ~10% (see the contribution by J. Vink in these same proceedings). Among other possible targets, there are SN 1006, RX J1713.7-394, Kepler's SNR, and RCW 86.
Conflicts of Interest
The author declares no conflicts of interest.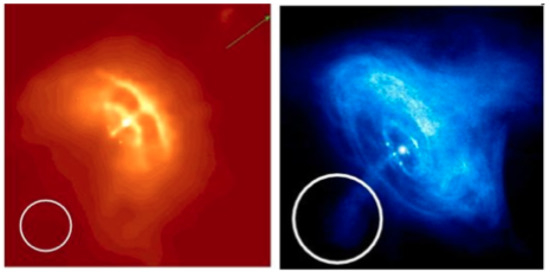 Figure 1. Chandra images of the Vela (left) and Crab (right) PWNs. The IXPE 30" resolution (half power diameter) is shown in the lower left corners of the images. From the IXPE Science-Investigation Document.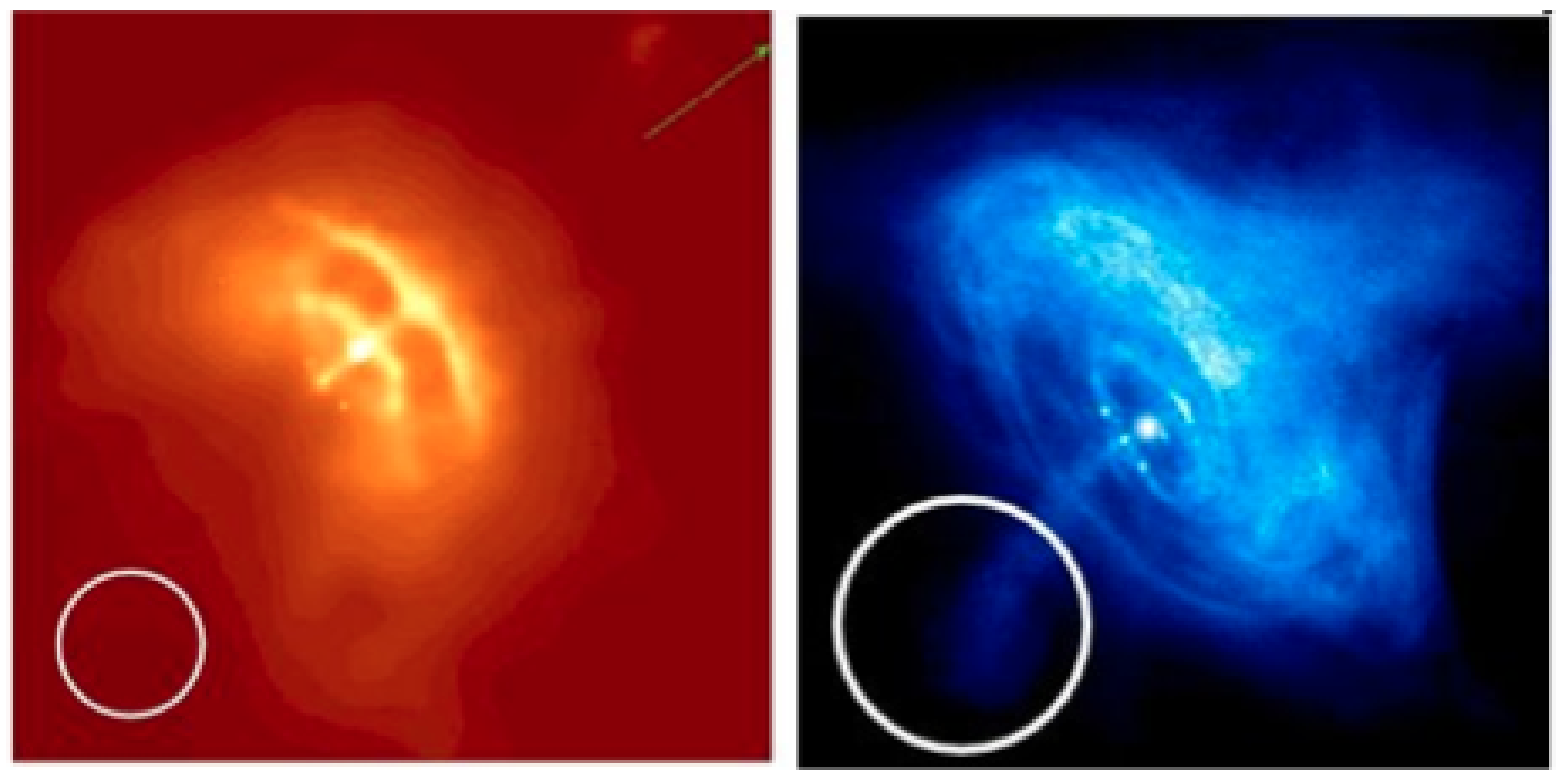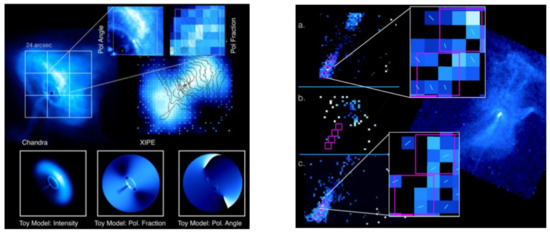 Figure 2.
Left panel:
Simulation of the Crab Nebula as seen by XIPE in 0.2 Msec. The toy model mimics the Chandra image for a given polarization angle and fraction.
Right panel:
Simulations of the PWN MSH 15-52 as seen by XIPE in 2 Msec. The images a, b, and c show the expected intensity map when three different polarization models are applied to the Chandra intensity map: (
a
) a fully ordered radial B-field, (
b
) a fully disordered B-field, and (
c
) a fully ordered perpendicular B-field. From the XIPE Yellow Book, see also [
67
].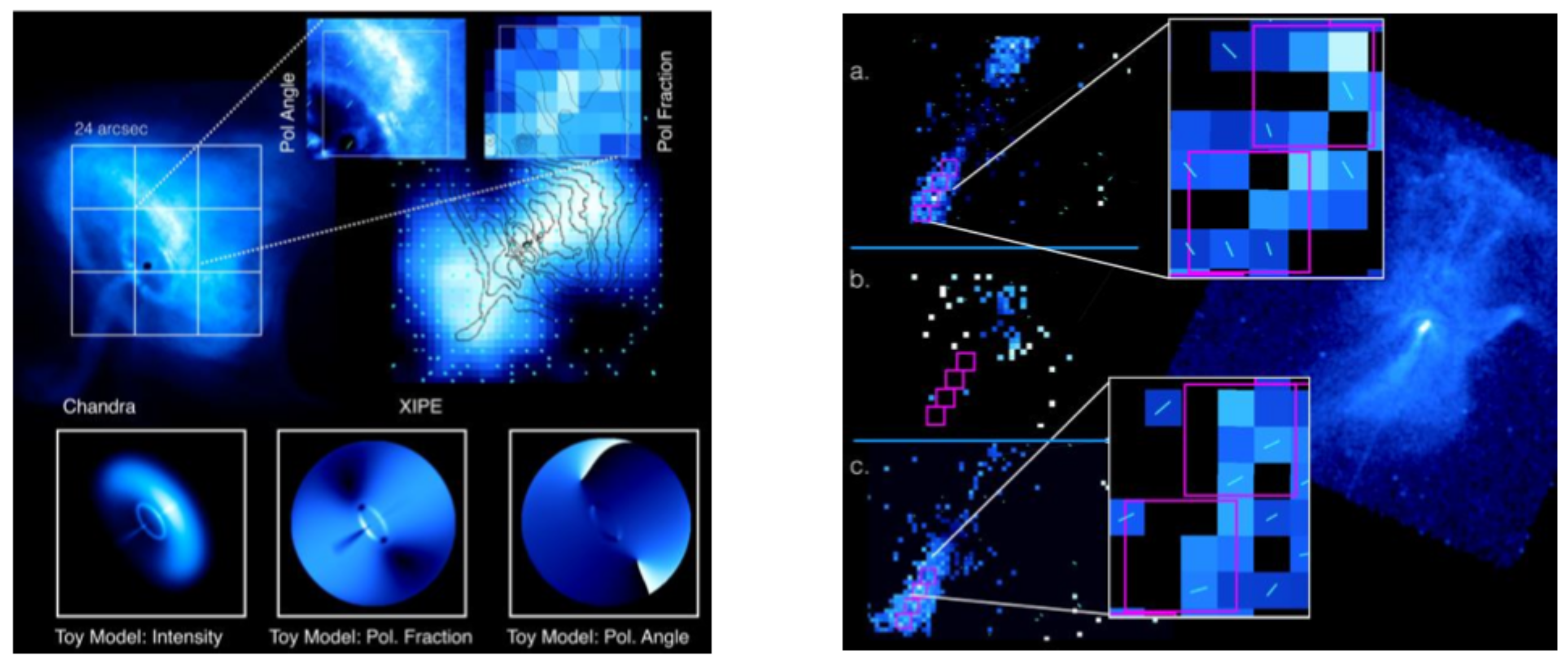 © 2018 by the author. Licensee MDPI, Basel, Switzerland. This article is an open access article distributed under the terms and conditions of the Creative Commons Attribution (CC BY) license (http://creativecommons.org/licenses/by/4.0/).