Open Access This article is
freely available
re-usable
Article
The Jets of Microquasars during Giant Flares and Quiet State
1
SAO RAS, Niznij Arkhyz 369167, Russia
2
Institute of Physics, Kazan Federal University, Kazan 420008, Russia
†
These authors contributed equally to this work.

Received: 2 October 2017 / Accepted: 13 November 2017 / Published: 21 November 2017
Abstract
:
We report on the radio properties of jets of the following microquasars, as determined from daily multi-frequency monitoring observations with the RATAN-600 radio telescope during 2010–2017: V404 Cyg, SS433, Cyg X-1, GRS1915+105 and LSI+61303. We have detected many giant flares from SS433, a powerful flare from V404 Cyg in June 2015, an active state of Cyg X-1 in 2017 and fifty periodic flares from LSI+61303. We describe the properties of massive ejections based on multi-band (radio, X-ray and -ray) studies. The general properties of the light curves are closely connected with the processes of jet formation in microquasars.
Keywords:
stars; X-ray binary; black hole; microquasars; radio emission; X-ray emission; relativistic jets; synchrotron radiation
1. Microquasars Studies with the RATAN-600 Telescope
The bright microquasars GRS1915+105, SS433, Cyg X-1, Cyg X-3, LSI+61303 and LS5039 are well-known X-ray binaries (XRBs) with relativistic jets, detected directly in the VLBI mapping. The radio emission of XRBs is mostly a variable synchrotron radiation from these jets, formed as a mass of ejections from central regions of an accretion disk within an intensive wind of the optical star. The inner shock waves in relativistic jets are the main generator of the relativistic electrons [
1
]. We have carried out a long-term monitoring of XRBs in almost daily measurements with RATAN-600 at 1.3–30 GHz during the last seven years [
2
,
3
]. During 52 orbital periods ( d) we studied the super-orbital modulation ( d) of the flaring radio emission from LSI+61303. The mean orbital light curves (usually for ten orbits) depend strongly on a phase . We detected two giant flares from Cyg X-3 in September 2016 and in April 2017 at 1.3–30 GHz. We discuss the properties of these flares in the paper of the Proceedings of [
4
].
3. Discussion
We have conducted an intensive monitoring of the bright microquasars during the last 4–7 years and have obtained an unprecedented spectral and temporal set of data. It serves as a good tracer of the jet activity and could be used for comparison with the optical, X-ray and -ray data. A search for the correlations or associations of processes in the accretion disks and jets (the so-called 'disk-jets coupling') is the key task in the building of the physical picture for microquasars [
20
].
Acknowledgments
S.A.T. acknowledges support through the Russian Government Program of Competitive Growth of Kazan Federal University.
Author Contributions
S.T. has carried out all radio observations and their data reduction. N.N. and P.T. prepared the total radiometric complexes and calibration. G.Z. prepared the antenna adjustment and control.
Conflicts of Interest
The authors declare no conflict of interest.
Abbreviations
The following abbreviations are used in this manuscript:
| | |
| --- | --- |
| GRS | International Astrophysical Observatory 'GRANAT' source |
| LSI | Luminous Stars in the Northern Milk Way 1 (1959) |
| MAXI | The Monitor of All-sky X-ray Image aboard the International Space Station |
| RATAN-600 | Radio Astronomical Telescope Academy of Science, Russia |
| SAO RAS | Special Astrophysical observatory, Russia |
| SS | Stephenson & Sanduleak calalog (1977) |
| Swift/BAT | Burst Alert Telescope aboard the Swift Cosmic Observatory |
| VLBA | Very Large Baseline Array of NRAO (USA) |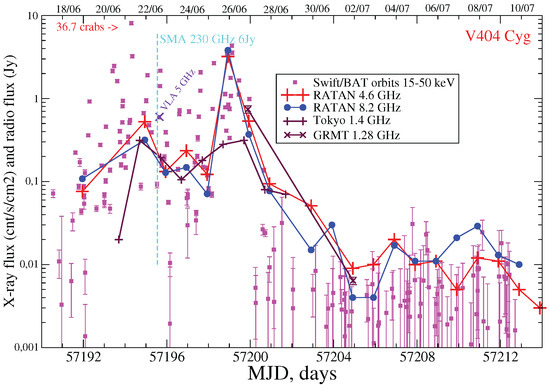 Figure 1.
The light curves of V 404 Cyg at 4.7, 8.2, 11.2 (RATAN-600), 1.3 GHz with GMRT [
10
] and at 15–50 keV (Swift/BAT) during the giant flaring events in June 2015.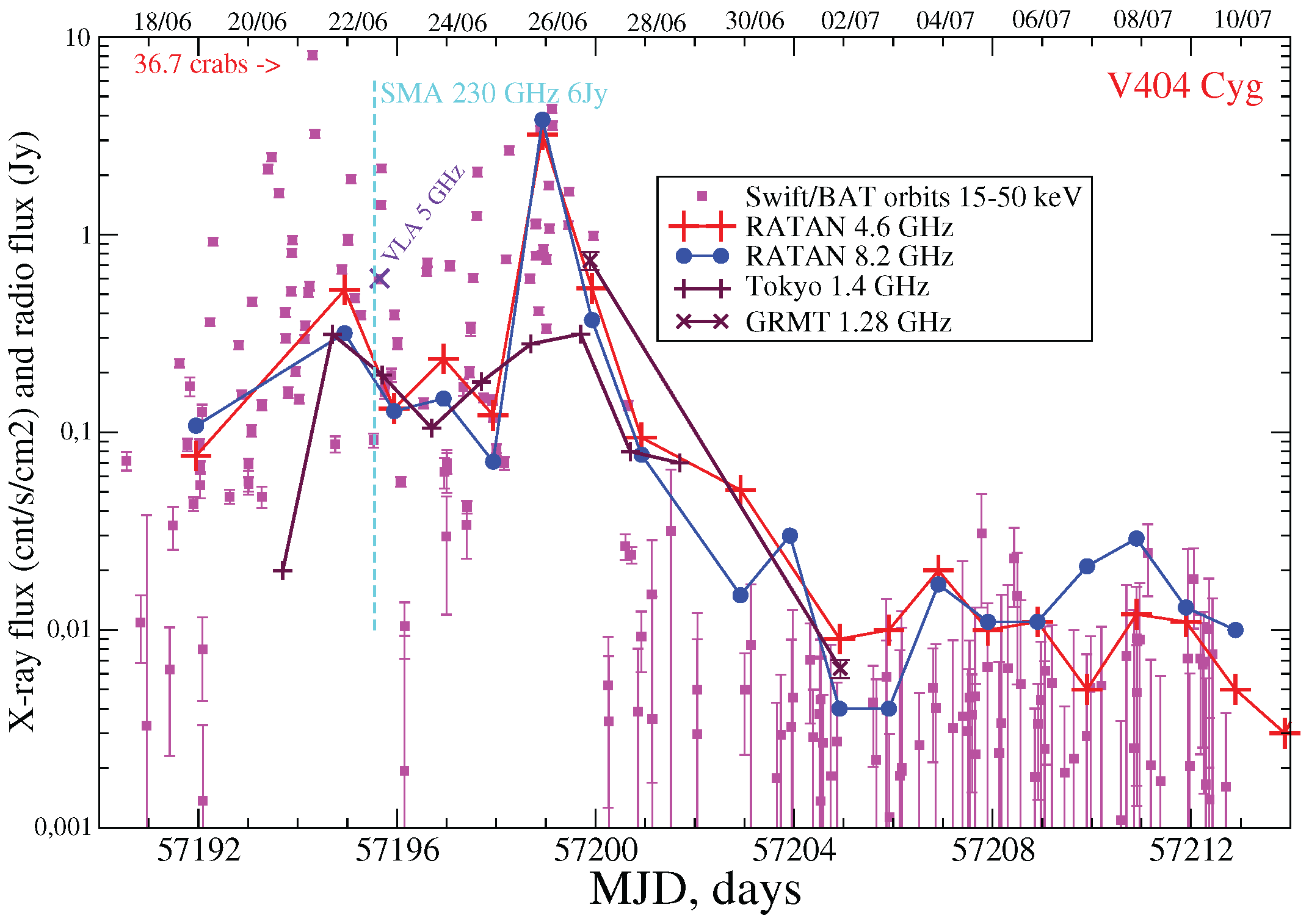 Figure 2. The light curves of SS433 at 4.7, 8.2, 11.2 and 21.7 GHz with RATAN-600 during 2011–2017. We did not plot the measured data at 1.3 and 2.3 GHz.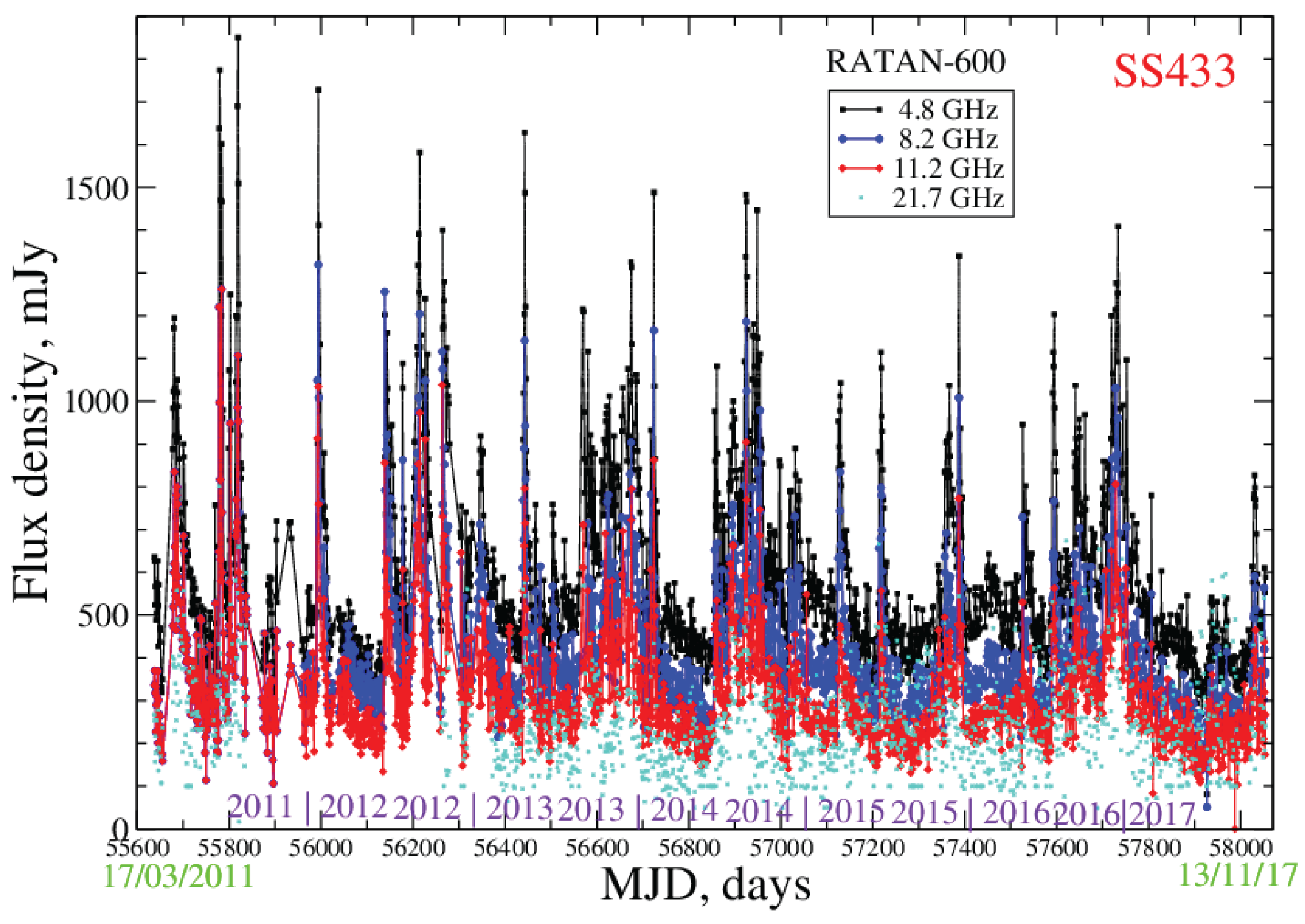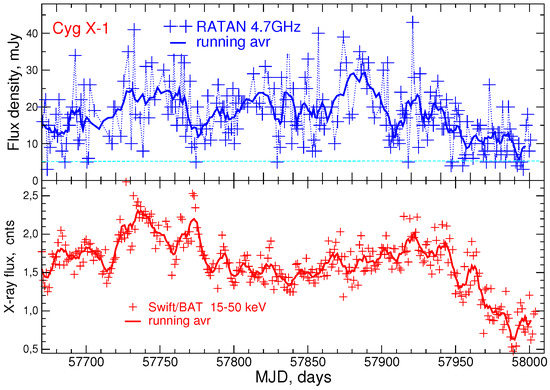 Figure 3. The light curves of Cyg X-1 at 4.7 GHz (top) and Swift/BAT 15–50 keV (bottom) in 2016–2017. The positive correlation is significant.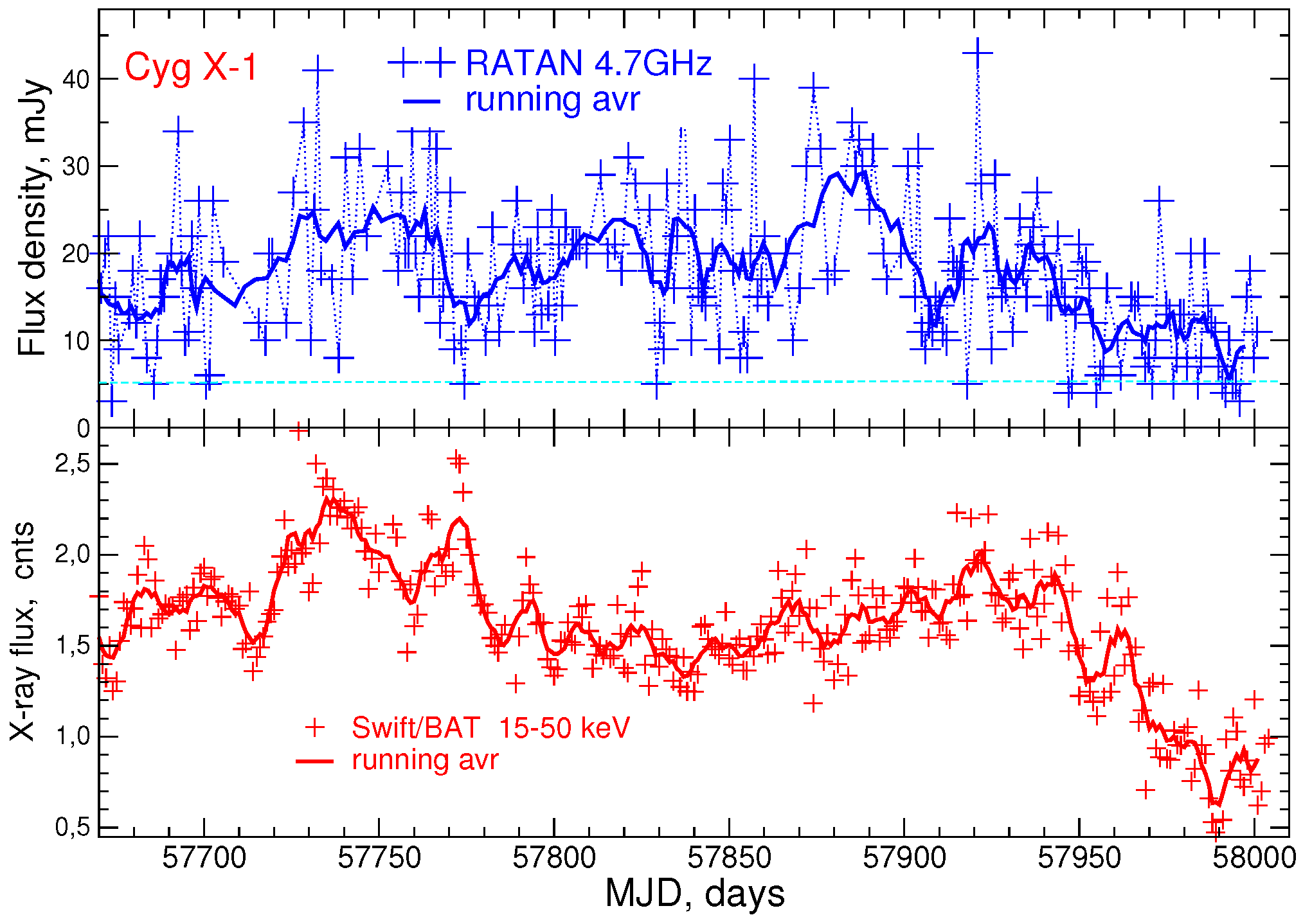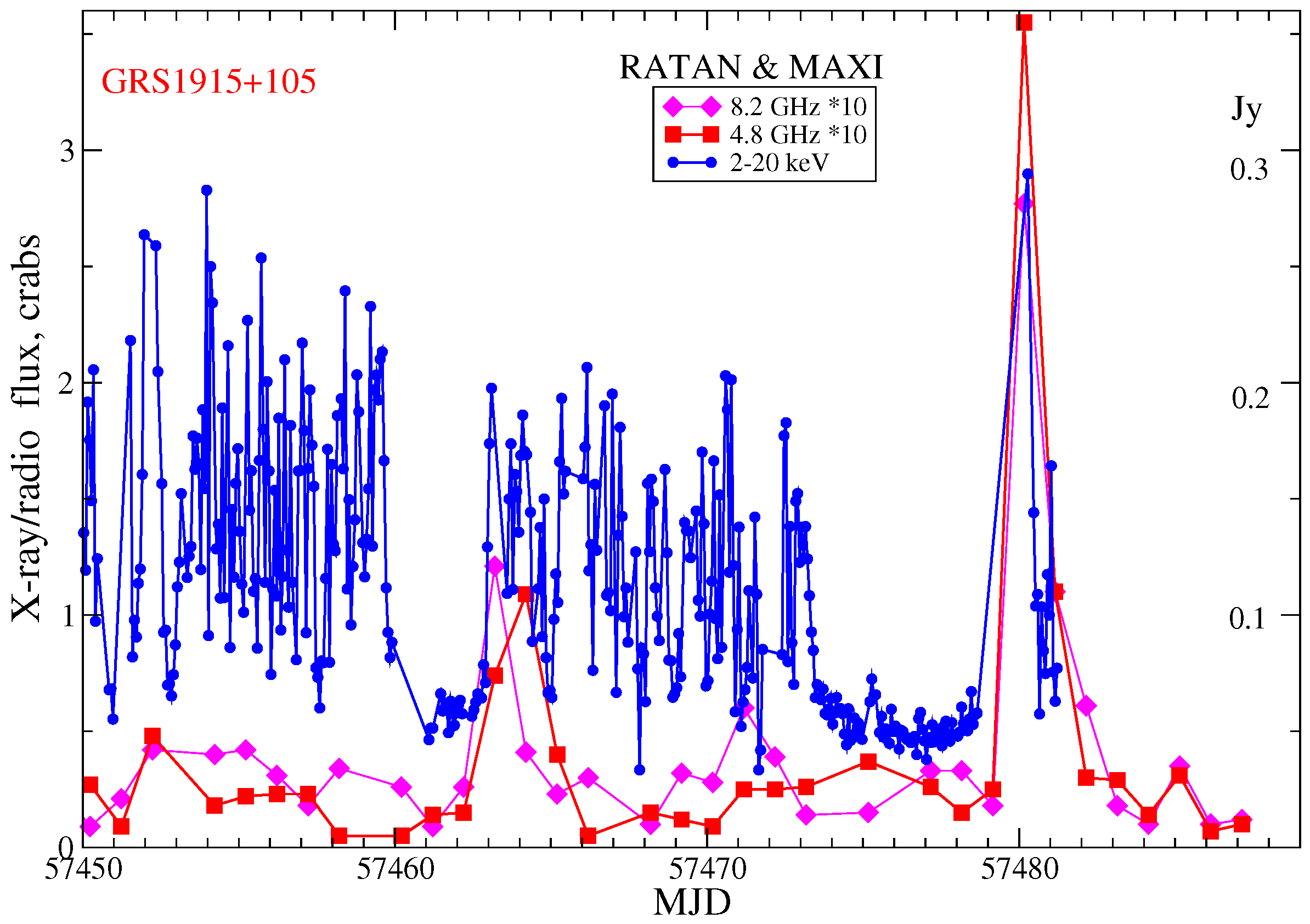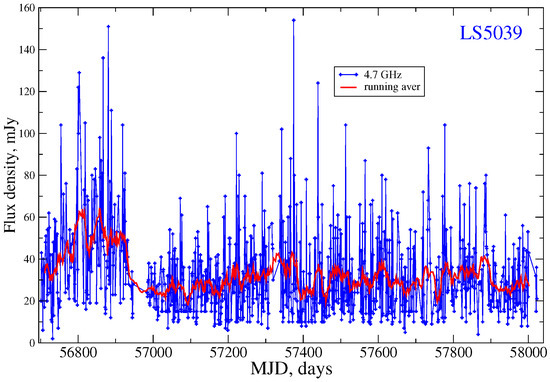 Figure 5. The light curves of LS5039 at 4.7 GHz from February 2014–September 2017. The radio fluxes have strongly changed day by day, but the smoothed light curves are relatively stable.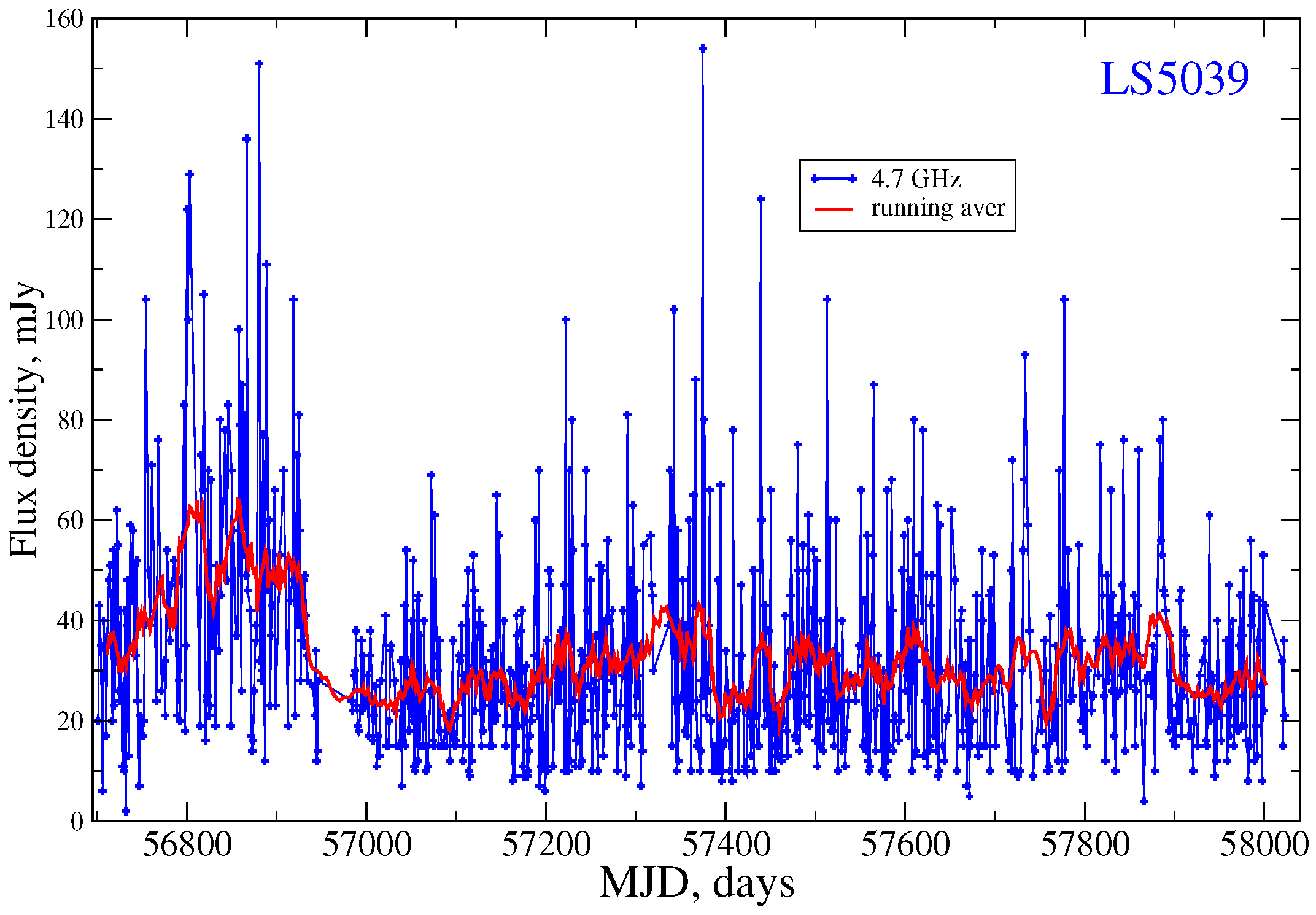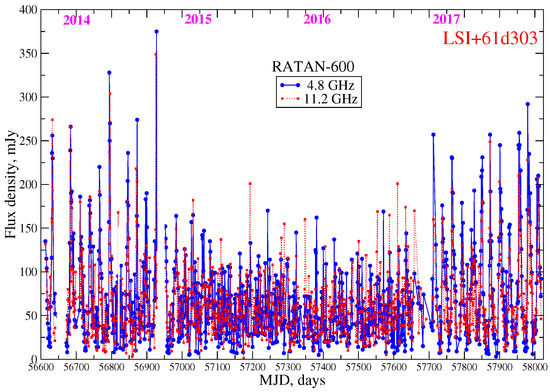 Figure 6. The radio light curves LSI+61303 at 2.3, 4.7 and 11.2 GHz during the last 52 orbits in 2013–2017. Maxima of the radio flares and its orbital phase change from 80–300 mJy and from 0.4–0.8, respectively.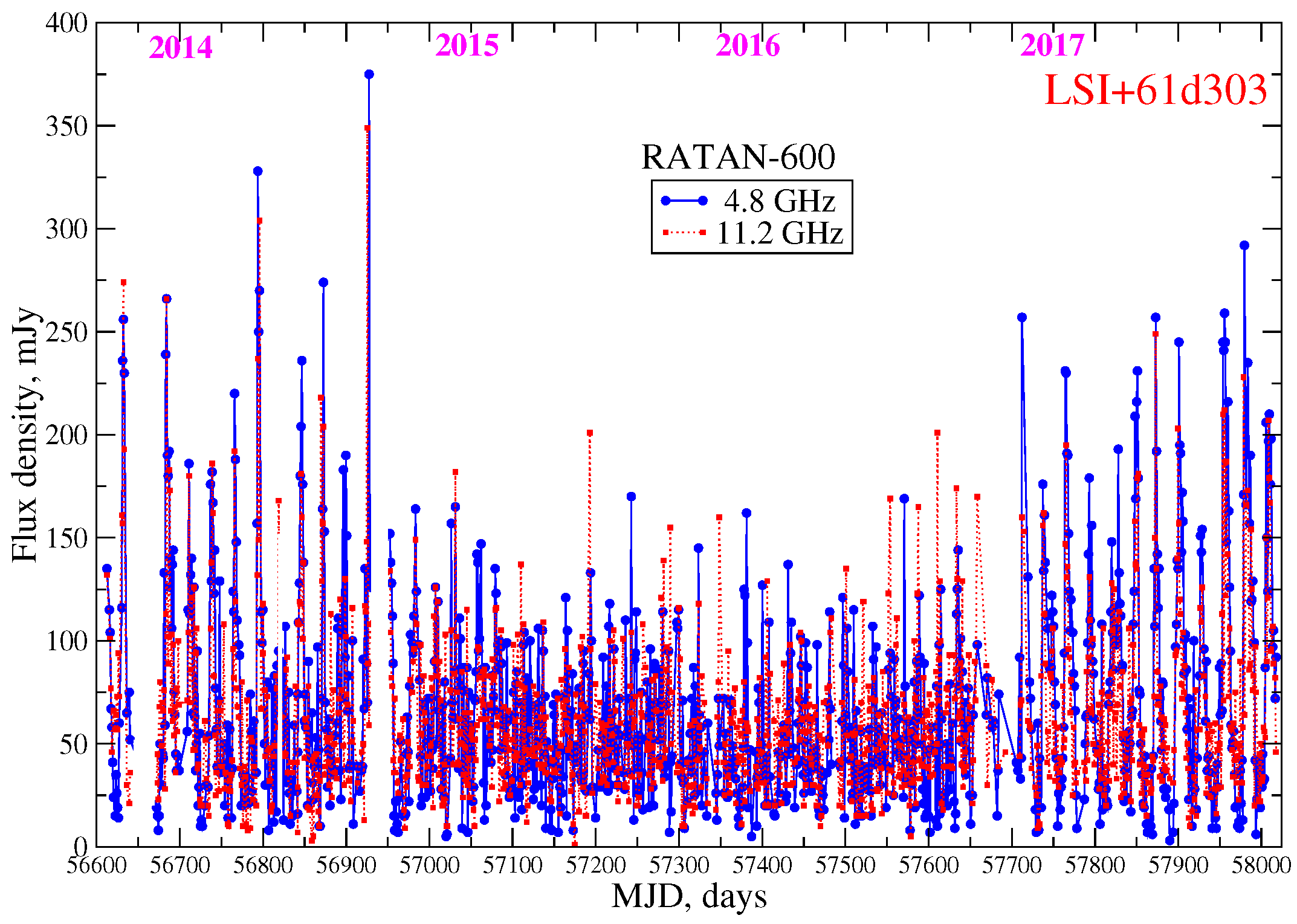 Figure 7. The radio light curves of LSI+61303 at 2.3, 4.7 and 11.2 GHz for last 10 orbits since the end of 2016 (Left) and the spectral index (Right).


© 2017 by the authors. Licensee MDPI, Basel, Switzerland. This article is an open access article distributed under the terms and conditions of the Creative Commons Attribution (CC BY) license (http://creativecommons.org/licenses/by/4.0/).