Microscopic Processes in Global Relativistic Jets Containing Helical Magnetic Fields: Dependence on Jet Radius
1
Department of Physics, University of Alabama in Huntsville, ZP12, Huntsville, AL 35899, USA
2
Institute for Theoretical Physics, Goethe University, D-60438 Frankfurt am Main, Germany
3
Instituto de Astrofísica de Andalucía, CSIC, Apartado 3004, 18080 Granada, Spain
4
Institute of Space Science, Atomistilor 409, RO-077125 Bucharest-Magurele, Romania
5
Department of Physics and Astronomy, University of Gent, Proeftuinstraat 86, B-9000 Gent, Belgium
6
Department of Physics and Astronomy, University of Liege, Place du 20-Août, 7, 4000 Liège, Belgium
7
Department of Physics, Florida State University, 600 W, College Avenue Tallahassee, FL 32306, USA
8
Institute of Nuclear Physics PAN, ul. Radzikowskiego 152, 31-342 Kraków, Poland
9
Institut fur Physik und Astronomie, Universität Potsdam, 14476 Potsdam-Golm, Germany
10
DESY, Platanenallee 6, 15738 Zeuthen, Germany
11
Physics Department, University College Cork, T12 YN60 Cork, Ireland
12
Innofactor Denmark A/S, Telia Parken, Øster Allé 48, 2100 København Ø, Denmark
13
Niels Bohr Institute, University of Copenhagen, Blegdamsvej 17, DK-2100 København, Denmark
14
LUTH, Observatore de Paris-Meudon, 5 place Jules Jansen, CEDEX 92195 Meudon, France
15
Department of Physics and Astronomy, The University of Alabama, Tuscaloosa, AL 35487, USA
16
Department of Physics and Astronomy, Clemson University, Clemson, SC 29634, USA
*
Author to whom correspondence should be addressed.
†
Affiliation 7 is the current address.
Academic Editor: Emilio Elizalde
Received: 23 August 2017 / Revised: 21 September 2017 / Accepted: 22 September 2017 / Published: 26 September 2017
Abstract
In this study, we investigate the interaction of jets with their environment at a microscopic level, which is a key open question in the study of relativistic jets. Using small simulation systems during past research, we initially studied the evolution of both electron–proton and electron–positron relativistic jets containing helical magnetic fields, by focusing on their interactions with an ambient plasma. Here, using larger jet radii, we have performed simulations of global jets containing helical magnetic fields in order to examine how helical magnetic fields affect kinetic instabilities, such as the Weibel instability, the kinetic Kelvin–Helmholtz instability (kKHI) and the mushroom instability (MI). We found that the evolution of global jets strongly depends on the size of the jet radius. For example, phase bunching of jet electrons, in particular in the electron–proton jet, is mixed with a larger jet radius as a result of the more complicated structures of magnetic fields with excited kinetic instabilities. In our simulation, these kinetic instabilities led to new types of instabilities in global jets. In the electron–proton jet simulation, a modified recollimation occurred, and jet electrons were strongly perturbed. In the electron–positron jet simulation, mixed kinetic instabilities occurred early, followed by a turbulence-like structure. Simulations using much larger (and longer) systems are required in order to further thoroughly investigate the evolution of global jets containing helical magnetic fields.
View Full-Text
►

▼

Figures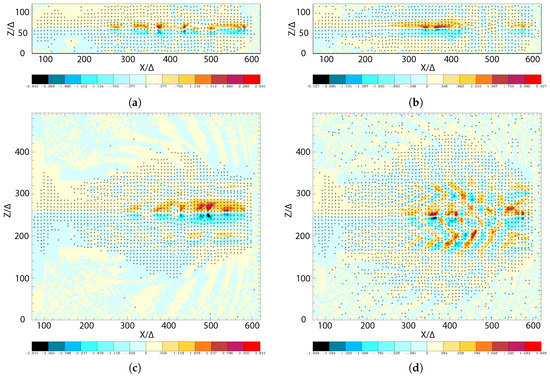 Figure 1
This is an open access article distributed under the
Creative Commons Attribution License
which permits unrestricted use, distribution, and reproduction in any medium, provided the original work is properly cited (CC BY 4.0).

Share & Cite This Article
MDPI and ACS Style
Nishikawa, K.-I.; Mizuno, Y.; Gómez, J.L.; Duţan, I.; Meli, A.; White, C.; Niemiec, J.; Kobzar, O.; Pohl, M.; Pe'er, A.; Frederiksen, J.T.; Nordlund, Å.; Sol, H.; Hardee, P.E.; Hartmann, D.H. Microscopic Processes in Global Relativistic Jets Containing Helical Magnetic Fields: Dependence on Jet Radius. Galaxies 2017, 5, 58.
Note that from the first issue of 2016, MDPI journals use article numbers instead of page numbers. See further details here.
Related Articles
Comments
[Return to top]