Open Access This article is
freely available
re-usable
Conference Report
Revisiting the Globular Cluster Systems of NGC 3258 and NGC 3268
1
Instituto de Astrofísica de La Plata (CCT La Plata—CONICET, UNLP), Facultad de Ciencias Astronómicas y Geofísicas de la Universidad Nacional de La Plata, Paseo del Bosque S/N, B1900FWA La Plata, Argentina
2
Consejo Nacional de Investigaciones Científicas y Técnicas, Rivadavia 1917, C1033AAJ Ciudad Autónoma de Buenos Aires, Argentina
*
Author to whom correspondence should be addressed.
Academic Editors: Ericson D. Lopez and Duncan A. Forbes
Received: 27 June 2017 / Accepted: 22 August 2017 / Published: 31 August 2017
Abstract
:
We present a photometric study of NGC 3258 and NGC 3268 globular cluster systems (GCSs) with a wider spatial coverage than previous works. This allowed us to determine the extension of both GCSs, and obtain new values for their populations. In both galaxies, we found the presence of radial colour gradients in the peak of the blue globular clusters. The characteristics of both GCSs point to a large evolutionary history with a substantial accretion of satellite galaxies.
Keywords:
galaxies: elliptical and lenticular, cD; galaxies: evolution; galaxies: star clusters: individual: NGC 3258 & NGC 3268
Acknowledgments
This research was funded with grants from Consejo Nacional de Investigaciones Científicas y Técnicas de la República Argentina (PIP 112-201101-00393), Agencia Nacional de Promoción Científica y Tecnológica (PICT-2013-0317), and Universidad Nacional de La Plata (UNLP 11-G124), Argentina.
Author Contributions
This paper was totally carried out by the authors.
Conflicts of Interest
The authors declare no conflict of interest.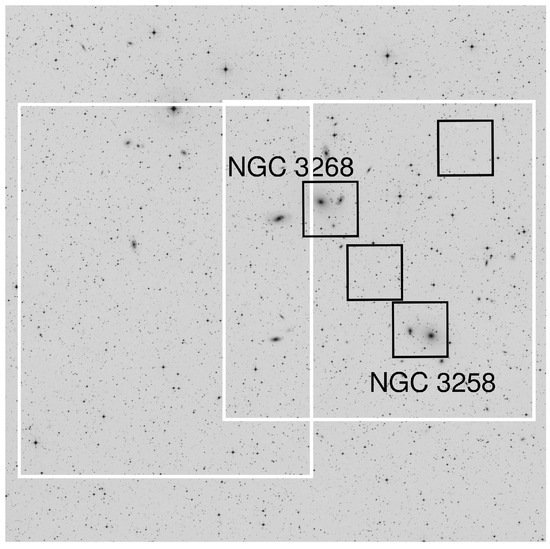 Figure 1. The MOSAIC (white regions) and FORS1 (black regions) fields are overlaid on a arcmin DSS image of the Antlia cluster. North is up and east is to the left.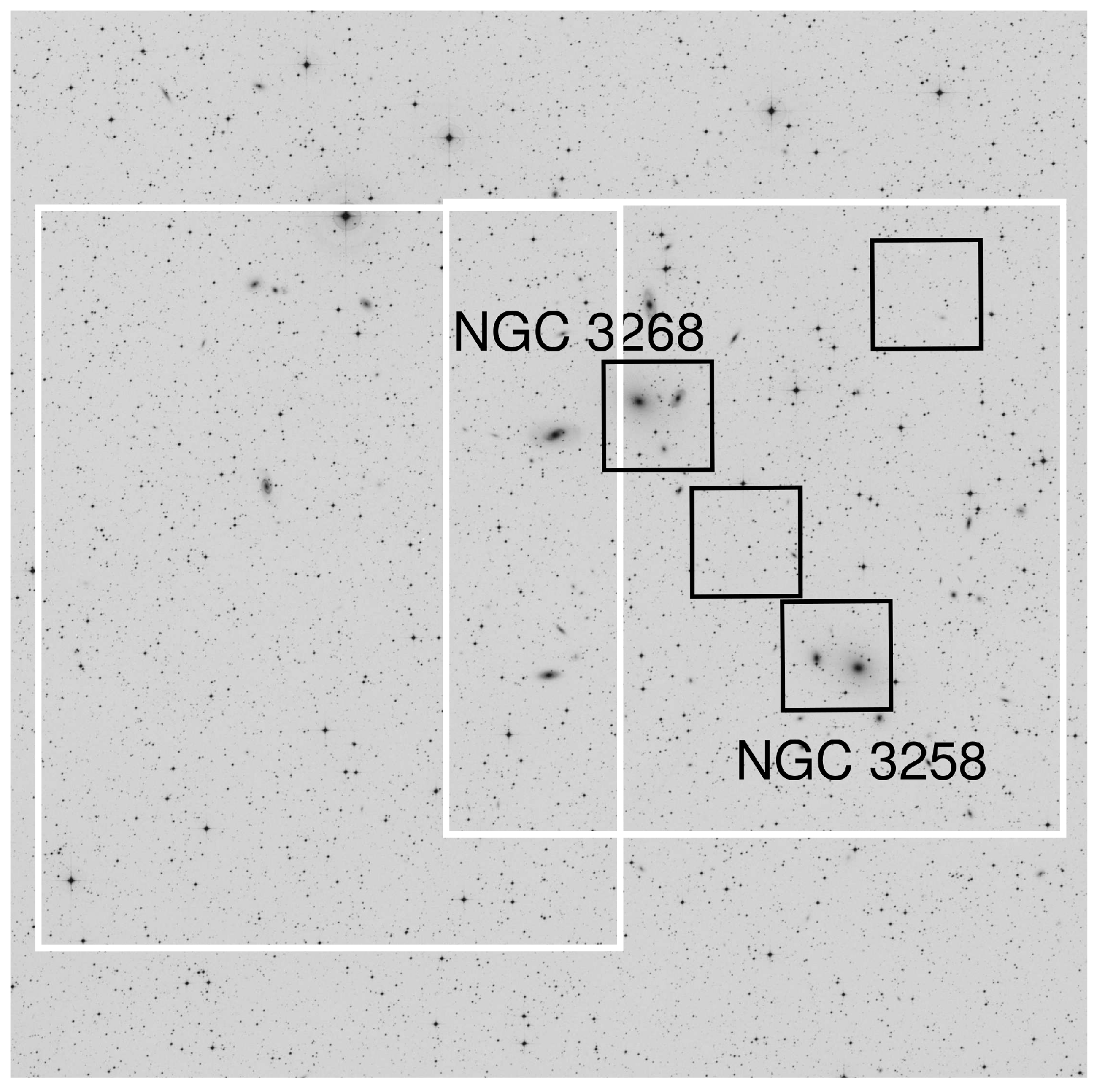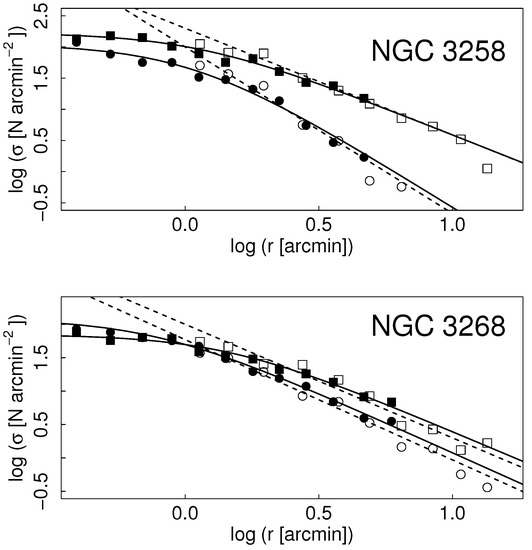 Figure 2. Background and completeness corrected radial profiles from FORS1 data for blue (filled squares) and red (filled circles) globular clusters (GCs). The open symbols shows the MOSAIC data, properly scaled. Solid curves represent the Hubble modified profile fitted to FORS1 data, and dashed ones the power-laws fitted to MOSAIC data.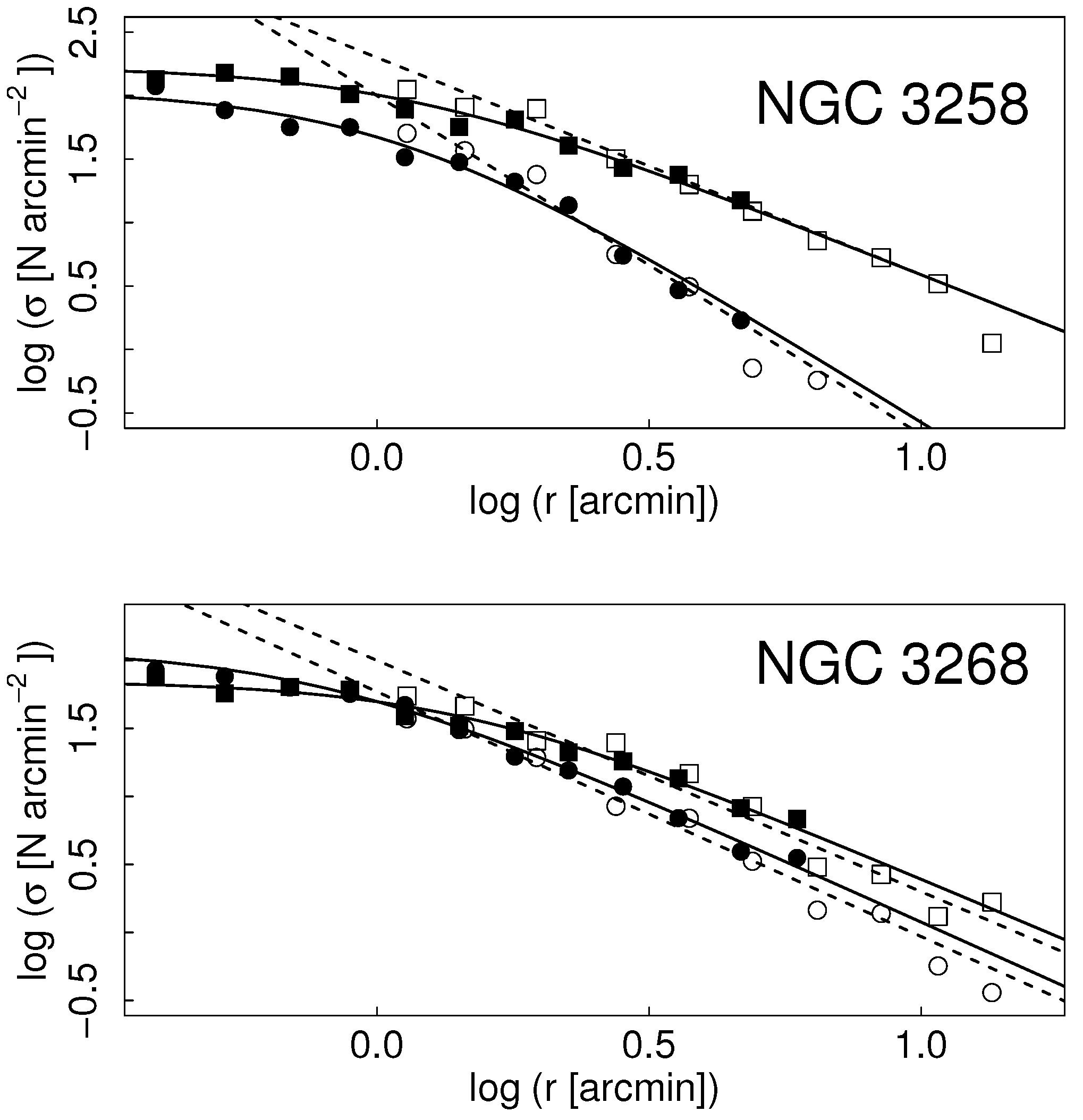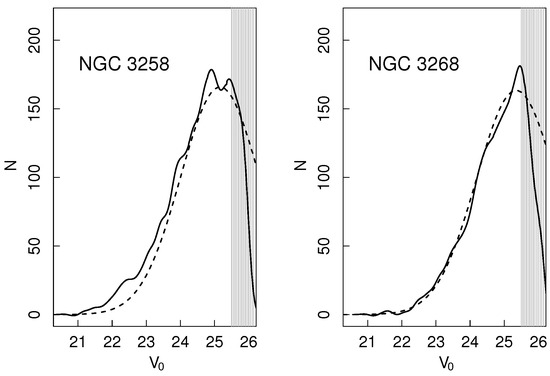 Figure 3. In each panel the smoothed GC luminosity function from FORS1 data is represented with a solid line, while the dashed one represents the Gaussian fitted to the data. The shaded regions indicate the regions with fainter magnitudes than our limit due to the completeness drop.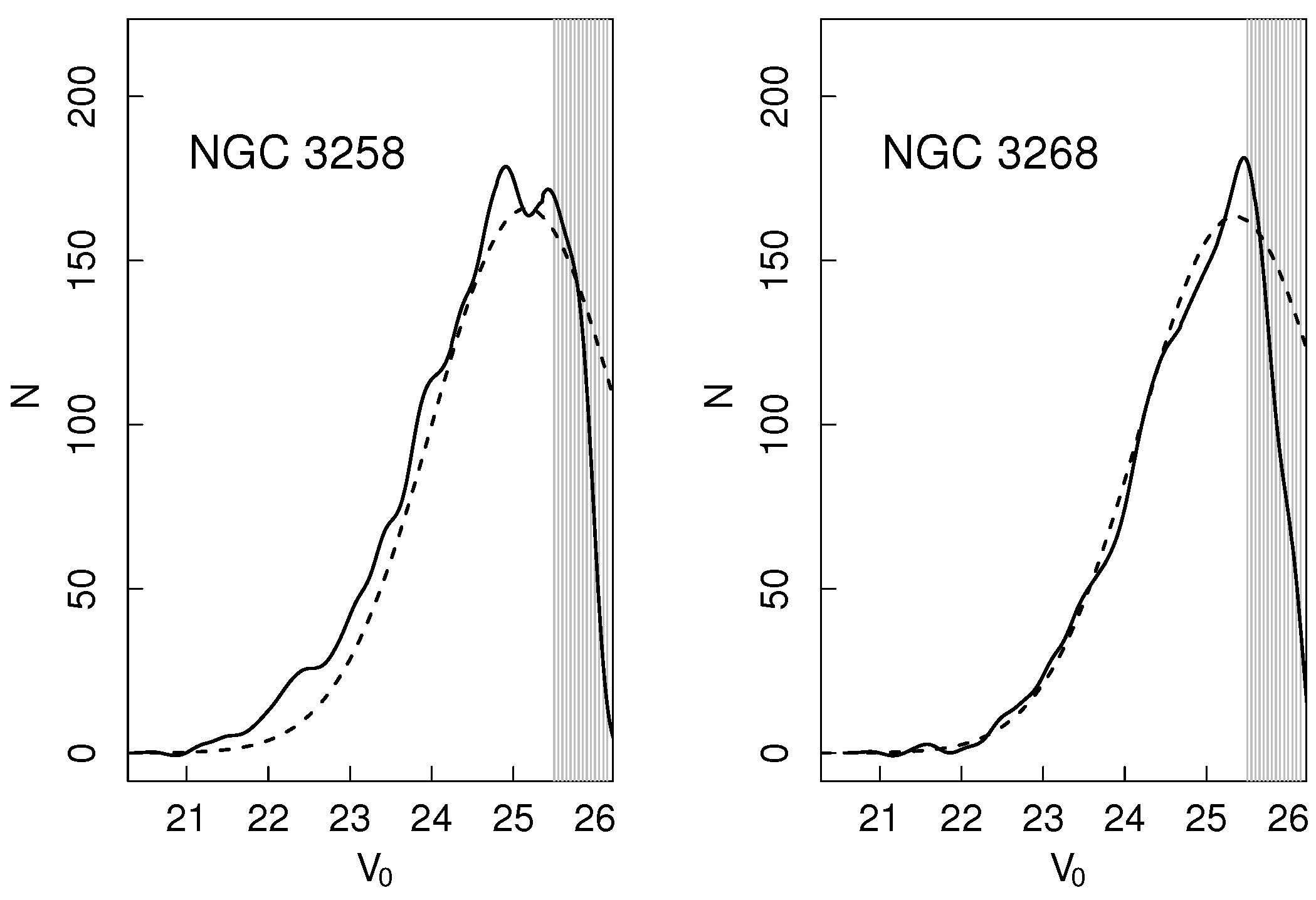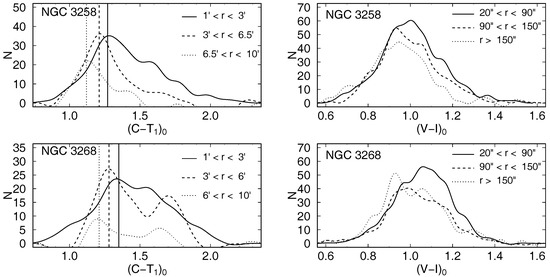 Figure 4.
Left panels
: smoothed colour distributions for GC candidates from MOSAIC data, split in three radial distance regimes. Vertical lines indicate mean colours for the blue subpopulation, obtained with Gaussian mixture modeling (GMM) [
24
].
Right panels
: analogue figures for GC candidates from FORS1 data.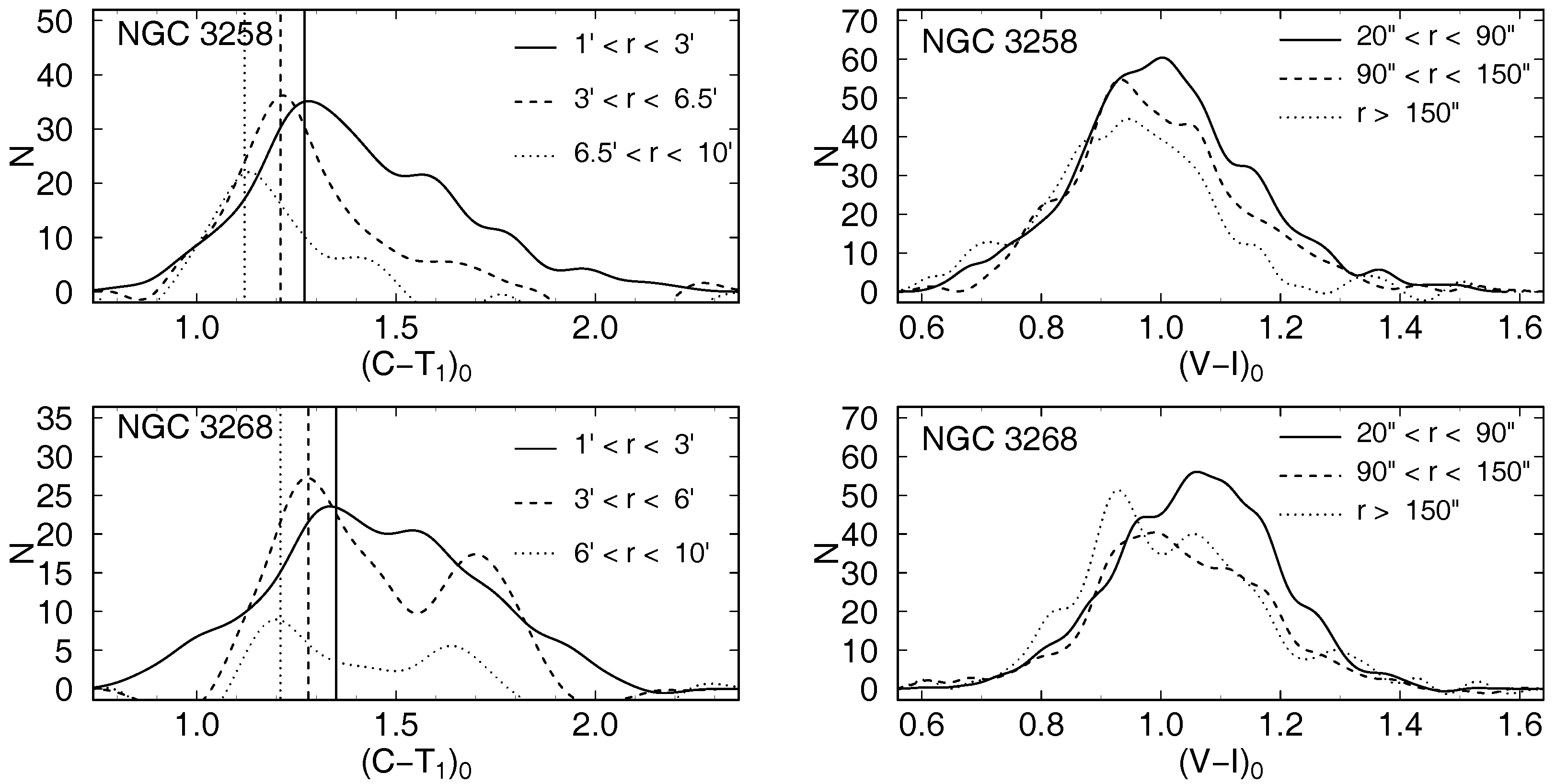 Name
Obs. Date
Exp. Time
Typical
MOSAIC data
Central Field
April 2002
s in s in
East Field
May 2004
s in s in
FORS1 data
March 2003
s in s in

I
NGC 3258
NGC 3268
Blue GCs
Red GCs
Blue GCs
Red GCs

a

© 2017 by the authors. Licensee MDPI, Basel, Switzerland. This article is an open access article distributed under the terms and conditions of the Creative Commons Attribution (CC BY) license (http://creativecommons.org/licenses/by/4.0/).