Open Access This article is
freely available
re-usable
Conference Report
The Baryonic Halos of Isolated Elliptical Galaxies
1
Gemini Observatory, Colina el Pino s/n, Casilla 603, La Serena 1700000, Chile
2
Centre for Astrophysics & Supercomputing, Swinburne University, Hawthorn VIC 3122, Australia
3
Department of Astronomy and Astrophysics, University of California Observatories, Santa Cruz, CA 95064, USA
4
Department of Physics and Astronomy, University of Victoria, Victoria, BC V8W 3P2, Canada
5
Departamento de Astronomía, Universidad de Concepción, Concepción 3349001, Chile
6
Instituto de Astrofísica, P. Universidad Católica de Chile, Santiago 7820436, Chile
*
Author to whom correspondence should be addressed.
Academic Editors: Duncan A. Forbes and Ericson D. López
Received: 23 June 2017 / Accepted: 15 August 2017 / Published: 18 August 2017
Abstract
:
Without the interference of a number of events, galaxies may suffer in crowded environments (e.g., stripping, harassment, strangulation); isolated elliptical galaxies provide a control sample for the study of galaxy formation. We present the study of a sample of isolated ellipticals using imaging from a variety of telescopes, focusing on their globular cluster systems as tracers of their stellar halos. Our main findings are: (a) GC color bimodality is common even in the most isolated systems; (b) the specific frequency of GCs is fairly constant with galaxy mass, without showing an increase towards high-mass systems like in the case of cluster ellipticals; (c) on the other hand, the red fraction of GCs follows the same inverted V shape trend with mass as seen in cluster ellipticals; and (d) the stellar halos show low Sérsic indices which are consistent with a major merger origin.
Keywords:
galaxies: star clusters: general; galaxies: halos; galaxies: elliptical and lenticular; CD
Acknowledgments
Based on observations obtained at the Gemini Observatory (Gemini programs: GS-2011B-Q-83, GS-2012A-Q-6), which is operated by the Association of Universities for Research in Astronomy, Inc., under a cooperative agreement with the NSF on behalf of the Gemini partnership: the National Science Foundation (United States), the National Research Council (Canada), CONICYT (Chile), Ministerio de Ciencia, Tecnología e Innovación Productiva (Argentina), and Ministério da Ciência, Tecnologia e Inovação (Brazil). T.R. acknowledges support from the BASAL Centro de Astrofísica y Tecnologías Afines (CATA) PFB-06/2007.
Author Contributions
T.R. and R.S. designed the observations and started this collaboration; R.R.L. reduced and analyzed the MOSAIC data; A.A. and R.S. reduced and analyzed the Gemini data, T.R. analyzed the VLT data, N.H., M.S. and R.S. reduced and analyzed the Las Cumbres data. R.S. wrote this contribution.
Conflicts of Interest
The authors declare no conflict of interest.
Abbreviations
The following abbreviations are used in this manuscript:
| | |
| --- | --- |
| GC | globular cluster |
| GCS | globular cluster system |
| | specific frequency |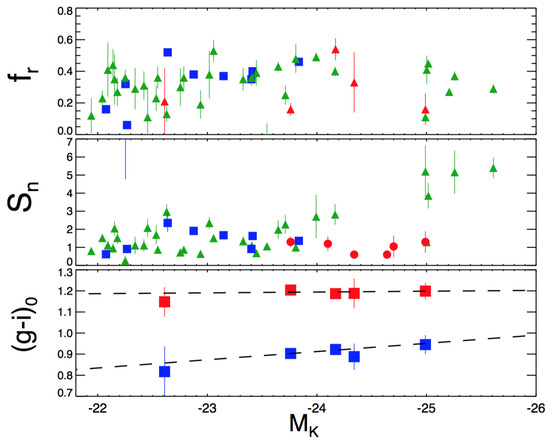 Figure 1.
Upper panel
: Globular cluster (GC) red fraction as function of 2MASS
K
-band luminosity, as a proxy for stellar mass. Red symbols represent our sample, while blue squares are taken from the [
12
] sample of 10 "low-density" early-type galaxies. Green triangles are the results from the ACS Virgo ClusterSurvey [
1
];
Middle panel
: GC specific frequency. Same symbols, including the isolated ellipticals N7507 [
7
], N3585 and N5812 [
8
];
Lower panel
: position of the red and blue peaks as a function of
K
luminosity for the five isolated ellipticals in [
10
].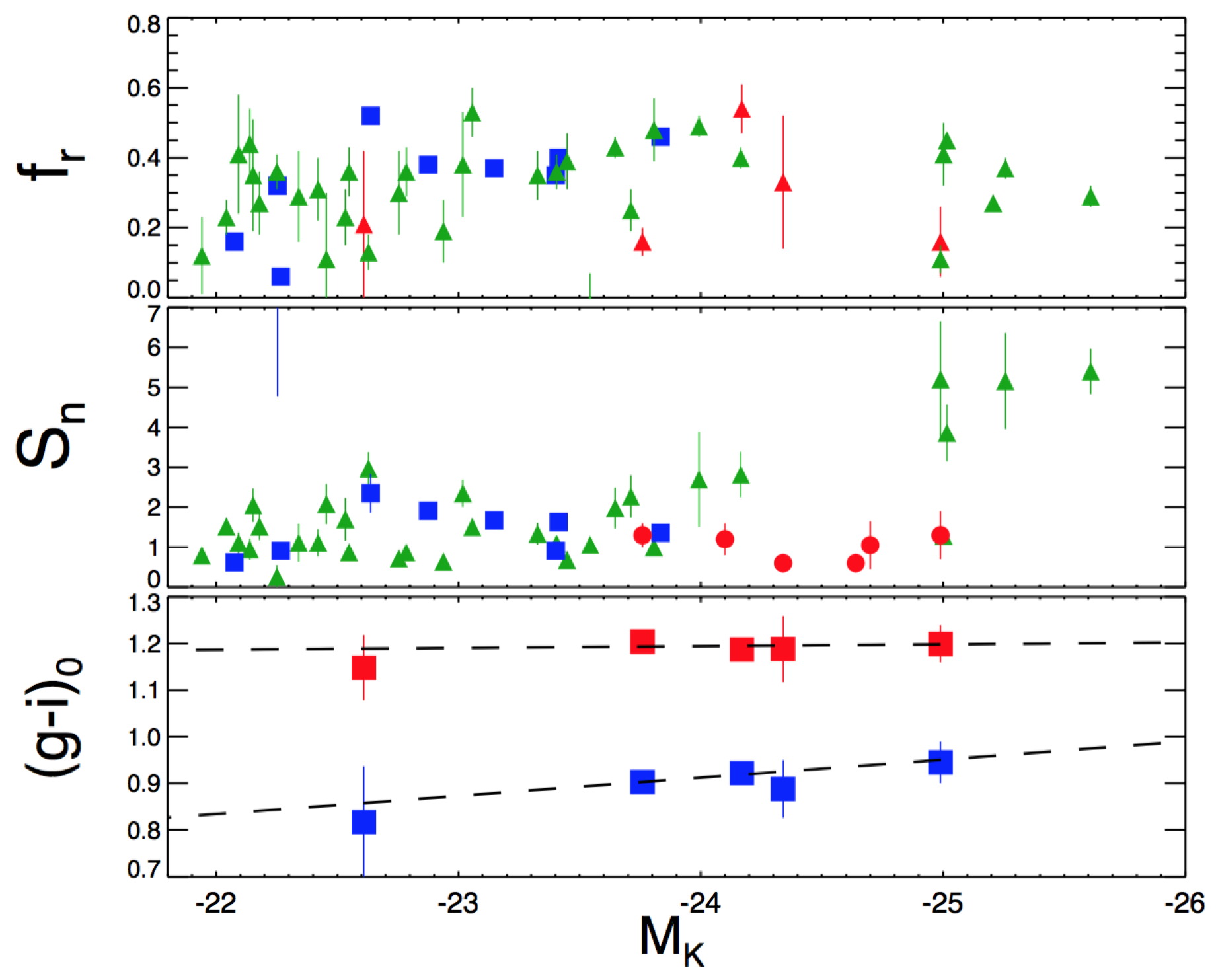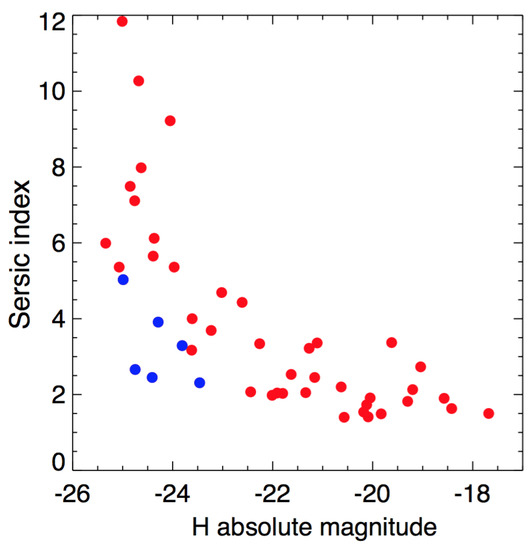 Figure 2.
Sérsic index,
n
, as function of
H
absolute magnitude derived from 2MASS photometry. Blue circles show Virgo ellipticals from [
14
], while red symbols are our Las Cumbres sample.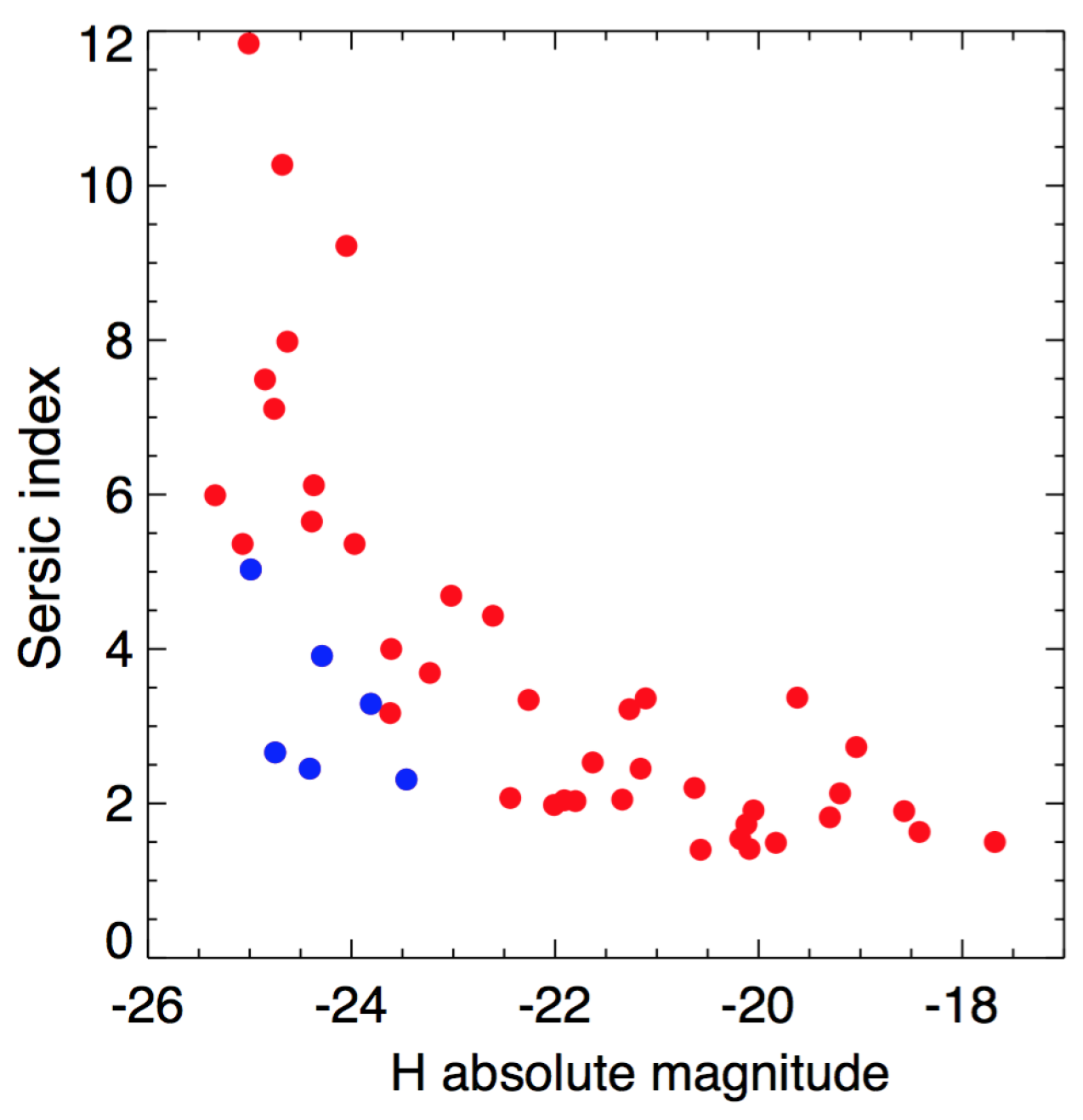 © 2017 by the authors. Licensee MDPI, Basel, Switzerland. This article is an open access article distributed under the terms and conditions of the Creative Commons Attribution (CC BY) license (http://creativecommons.org/licenses/by/4.0/).