Open Access This article is
freely available
re-usable
Letter
The Brazil–Argentina Gemini Group for the Study of Globular Cluster Systems (BAGGs GCs): FLAMINGOS-2 and GMOS Data for NGC 1395
1
Facultad de Ciencias Astronómicas y Geofísicas, National University of La Plata, La Plata B1900FWA, Argentina
2
Instituto de Astrofísica de La Plata (CCT La Plata, CONICET-UNLP), La Plata B1904CMC, Argentina
3
The National Scientific and Technical Research Council (CONICET), CABA C1425FQB, Argentina
4
Planetario de la Ciudad de Buenos Aires, CABA C1425FGC, Argentina
5
Departamento de Astronomia, Instituto de Física, Universidade Federal do Rio Grande do Sul, Porto Alegre 90040-060, Brazil
6
Instituto de Astronomia, Geofísica e Ciências Atmosféricas da U. de São Paulo, Cidade Universitária, 05508-900 São Paulo, Brazil
†
Current address: Paseo del Bosque s/n, La Plata CP B1900FWA, Argentina.

‡
These authors contributed equally to this work.

Academic Editors: Duncan A. Forbes and Ericson D. Lopez
Received: 1 July 2017 / Accepted: 7 August 2017 / Published: 14 August 2017
Abstract
:
In this letter, we present preliminary results of the analysis of Flamingos-2 and GMOS-S photometry of the globular cluster (GC) system of the elliptical galaxy NGC 1395. This is the first step of a long-term Brazilian–Argentinian collaboration for the study of GC systems in early-type galaxies. In the context of this collaboration, we obtained deep NIR photometric data in two different bands (
J
and ), which were later combined with high quality optical Gemini + GMOS photometry previously obtained by the Argentinian team. This allowed us to obtain different color indices, less sensitive to the effect of horizontal branch (HB) stars for several hundreds of GC candidates, and to make an initial assessment of the presence or absence of multiple GC populations in colors in NGC 1395.
Keywords:
early-type galaxies; globular cluster; galaxy halos
Acknowledgments
This research was funded with grants from Consejo Nacional de Investigaciones Científicas y Técnicas de la República Argentina, Agencia Nacional de Promoción Científica y Tecnológica, and Universidad Nacional de La Plata, Argentina.
Conflicts of Interest
The authors declare no conflict of interest.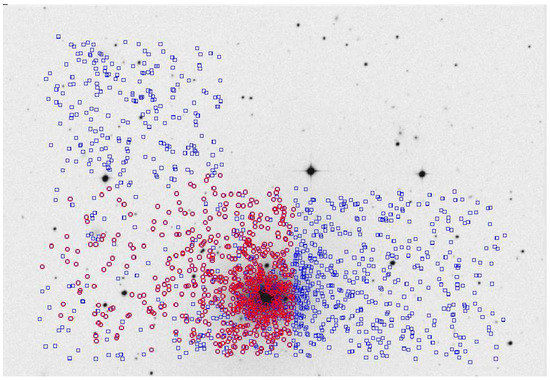 Figure 1. DSS red image of NGC 1395 showing the optical globular cluster (GC) candidates (blue squares). The GC candidates detected in the NIR images (∼650) are shown in red. The size of this image is arcmin. North is up and east is to the left.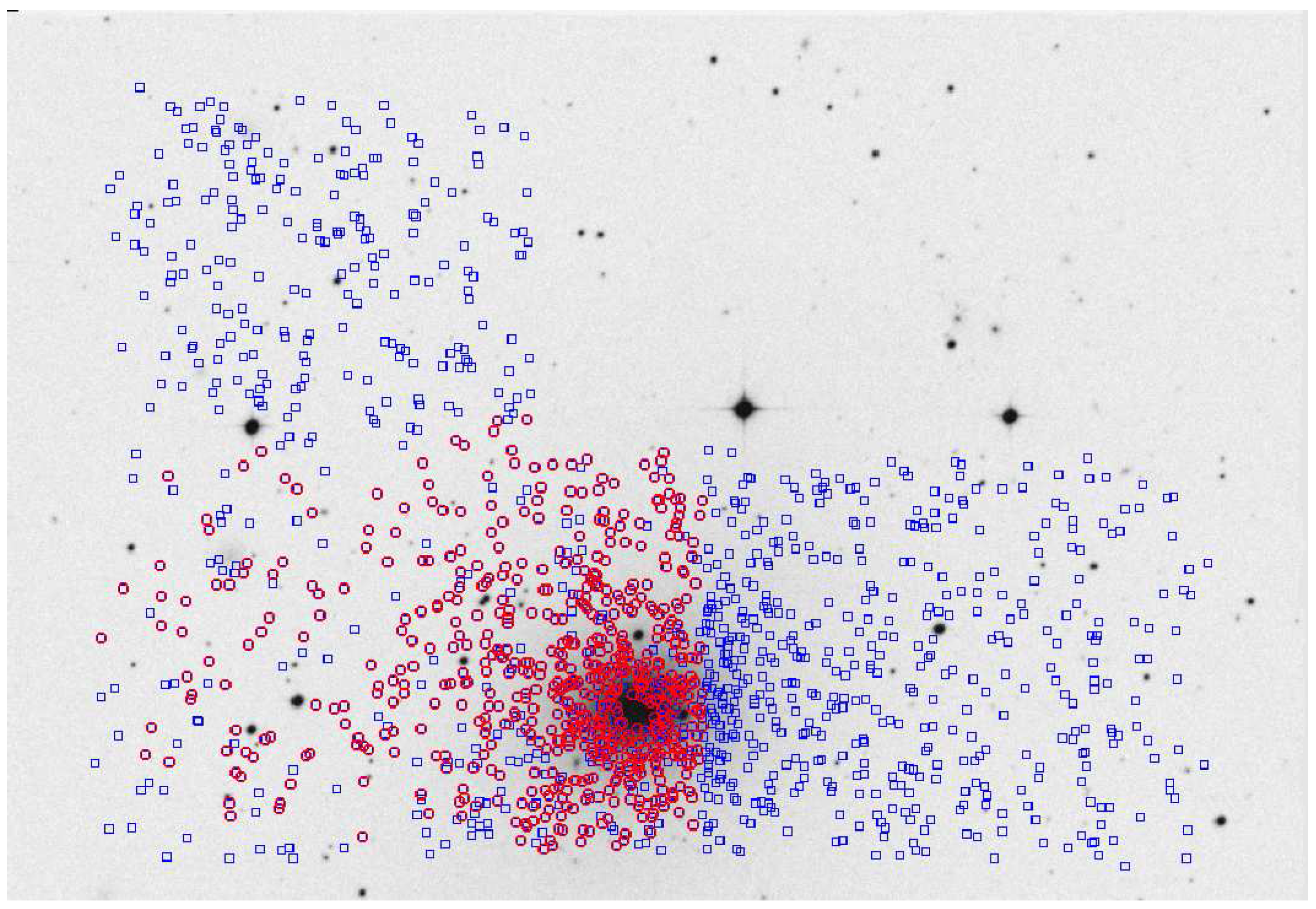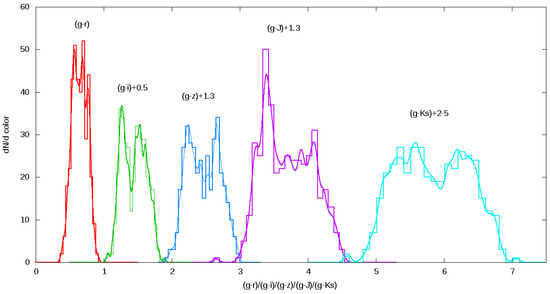 Figure 2. Histograms and density color distributions for different band combinations and for objects with mag. The considered bins are in the range 0.04–0.1 mag. The density distributions were built using a Gaussian kernel with mag. To avoid superposition, we shifted some histograms by a constant value, as indicated in the figures.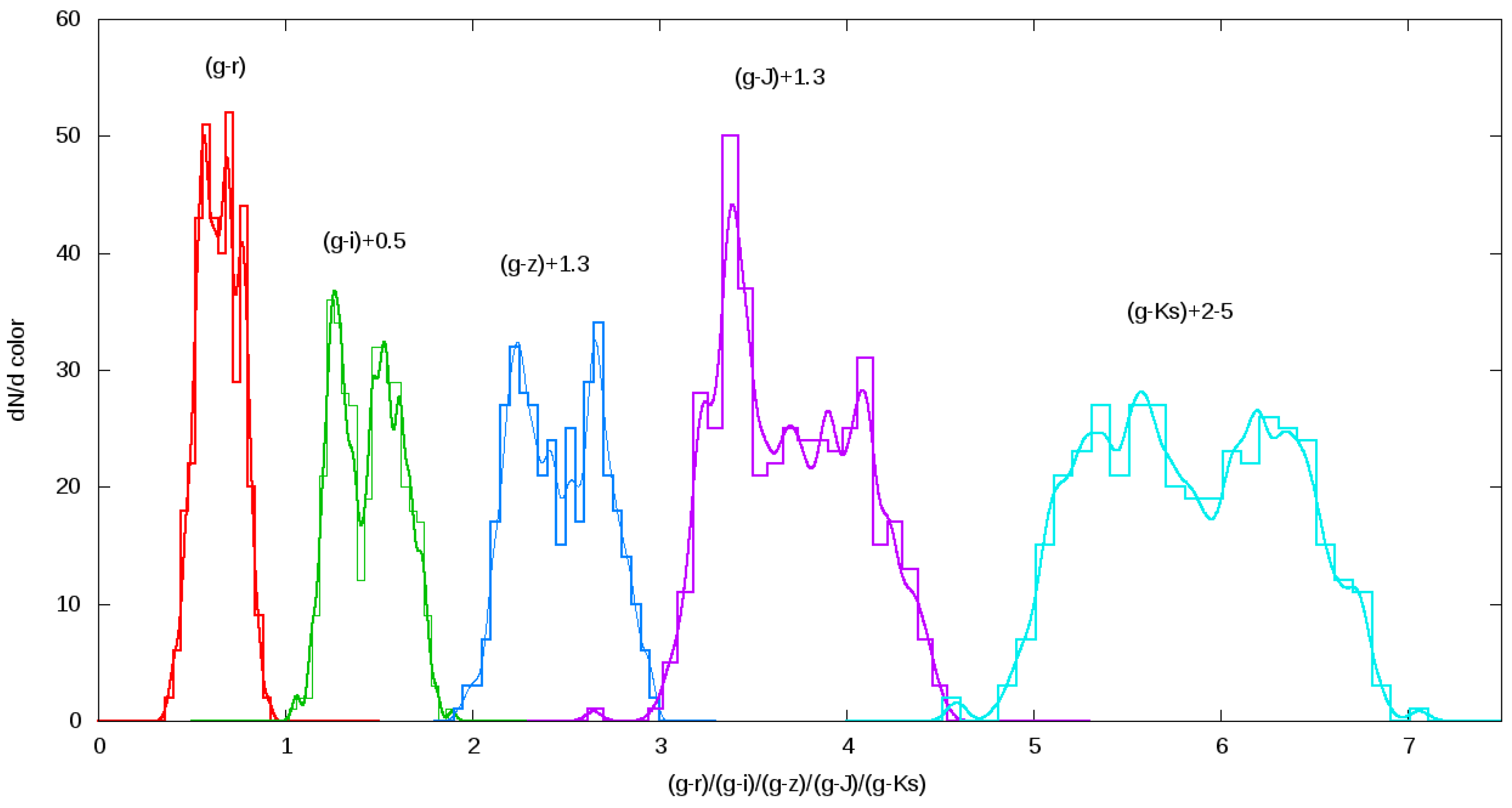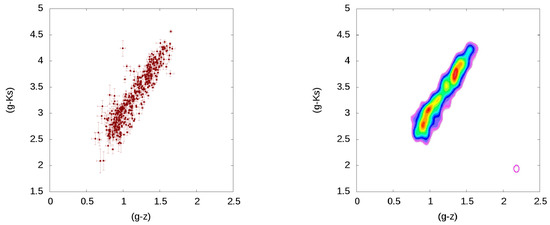 Figure 3. (Left): Color–color vs. diagram built from our optical and NIR photometric sample (objects with mag); (Right): Smoothed version of the same diagram as that on the left. The elliptical symbol depicts the kernel used to smooth the original diagram.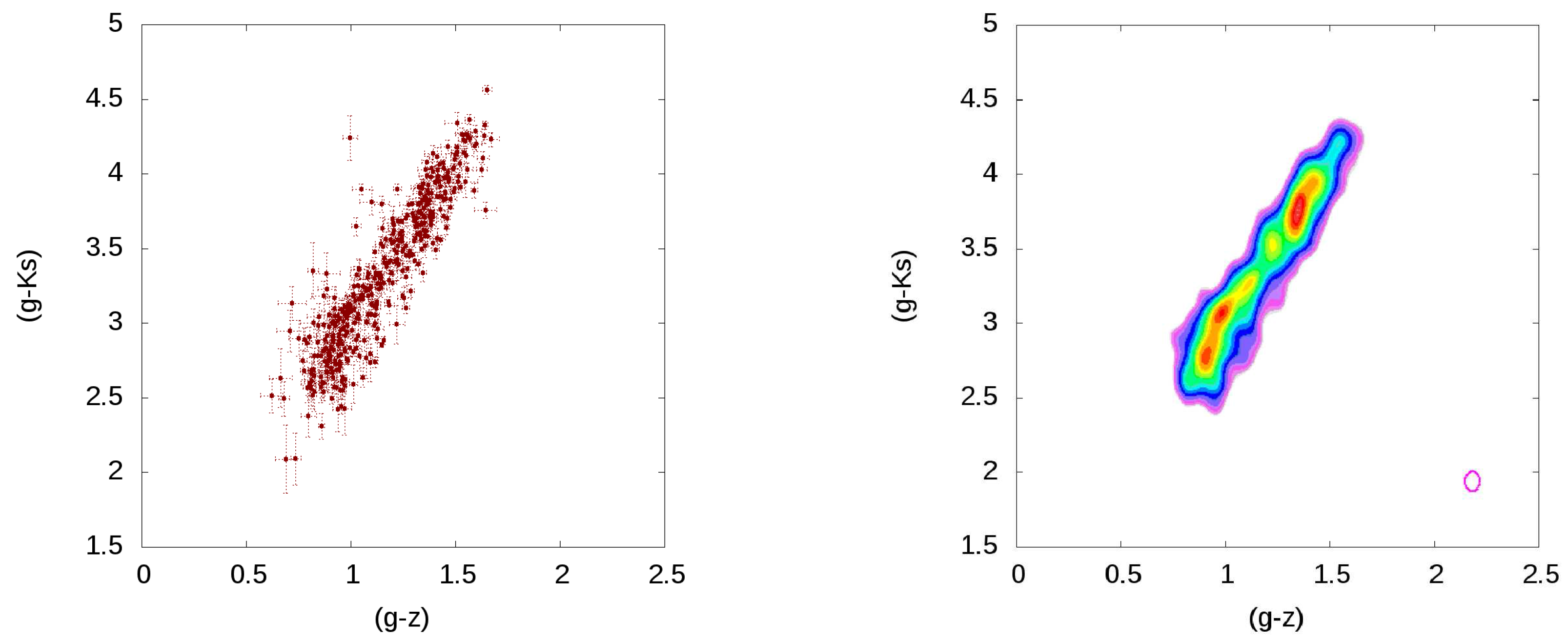 © 2017 by the authors. Licensee MDPI, Basel, Switzerland. This article is an open access article distributed under the terms and conditions of the Creative Commons Attribution (CC BY) license (http://creativecommons.org/licenses/by/4.0/).