Open Access This article is
freely available
re-usable
Article
AGN Jet Kinematics on Parsec-Scales: The MOJAVE Program
Department of Physics and Astronomy, Purdue University, 525 Northwestern Avenue, West Lafayette, IN 47907, USA
*
Author to whom correspondence should be addressed.
Academic Editors: Jose L. Gómez, Alan P. Marscher and Svetlana G. Jorstad
Received: 20 July 2016 / Accepted: 2 September 2016 / Published: 9 September 2016
Abstract
:
Very long baseline interferometry offers the best means of investigating the complex dynamics of relativistic jets powered by active galactic nuclei, via multi-epoch, sub-milliarcsecond, full-polarization imaging at radio wavelengths. Although targeted studies have yielded important information on the structures of individual AGN jets, the strong selection effects associated with relativistically beaming imply that general aspects of the flows can only be determined via large statistical studies. In this review I discuss major results from the Monitoring of Jets in Active Galactic Nuclei With VLBA Experiments (MOJAVE) program, which has gathered multi-epoch Very Long Baseline Array (VLBA) data at 15 GHz on over 400 AGN jets over the course of two decades. The sample is large enough to encompass a range of AGN optical class, radio luminosity and synchrotron peak frequency, and has been used to show that within a particular jet, individual bright features have a spread of apparent speed and velocity vector position angle about a characteristic value. We have found that in some cases there is a secular evolution of launch angle direction over time, indicative of evolving narrow energized channels within a wider outflow. The majority of the jet features are superluminal and accelerating, with changes in speed more common than changes in direction. Within approximately 100 pc of the AGN, the flows are generally accelerating, while beyond this distance the flows begin to decelerate or remain nearly constant in speed. We also find evidence for a maximum bulk flow Lorentz factor of 50 in the pc-scale radio regime, and a trend of higher jet speeds in lower-synchrotron peaked and gamma-ray-loud blazars.
Keywords:
BL Lacertae objects: general; galaxies: active; galaxies: jets; quasars: general; radio continuum: galaxies
Acknowledgments
The MOJAVE project was supported by NASA-
Fermi
GI grant NNX15AU76G. The National Radio Astronomy Observatory is a facility of the National Science Foundation operated under cooperative agreement by Associated Universities, Inc. This work made use of the Swinburne University of Technology software correlator [
38
], developed as part of the Australian Major National Research Facilities Programme and operated under licence.
Conflicts of Interest
The authors declare no conflict of interest.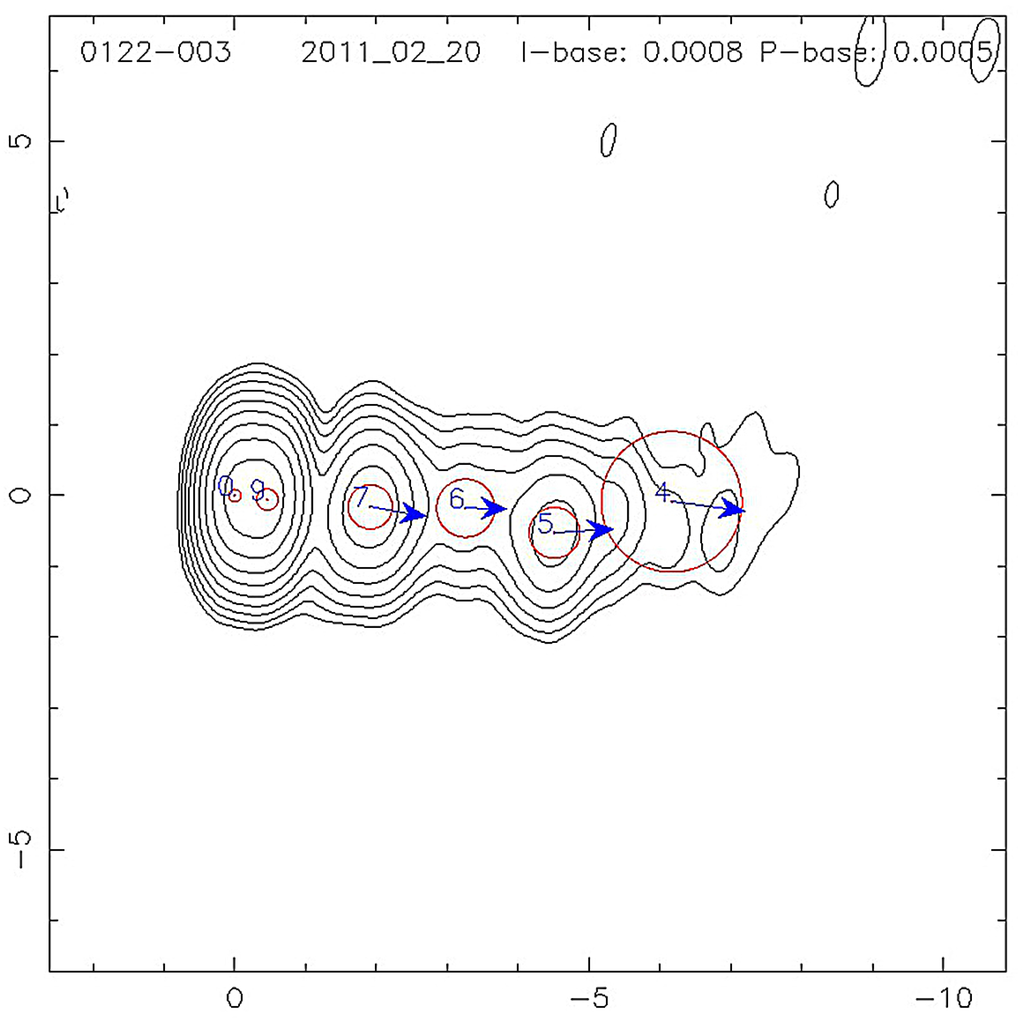 Figure 1. Monitoring of Jets in Active Galactic Nuclei With VLBA Experiments (MOJAVE) 15 GHz contour map of the jet of PKS 0122–003 in February 2011, with fitted circular Gaussian jet features and vector arrows showing the direction of their motion on the sky. The lengths of the arrows are proportional to the proper motions, which range from 120 to 230 (7–12 c).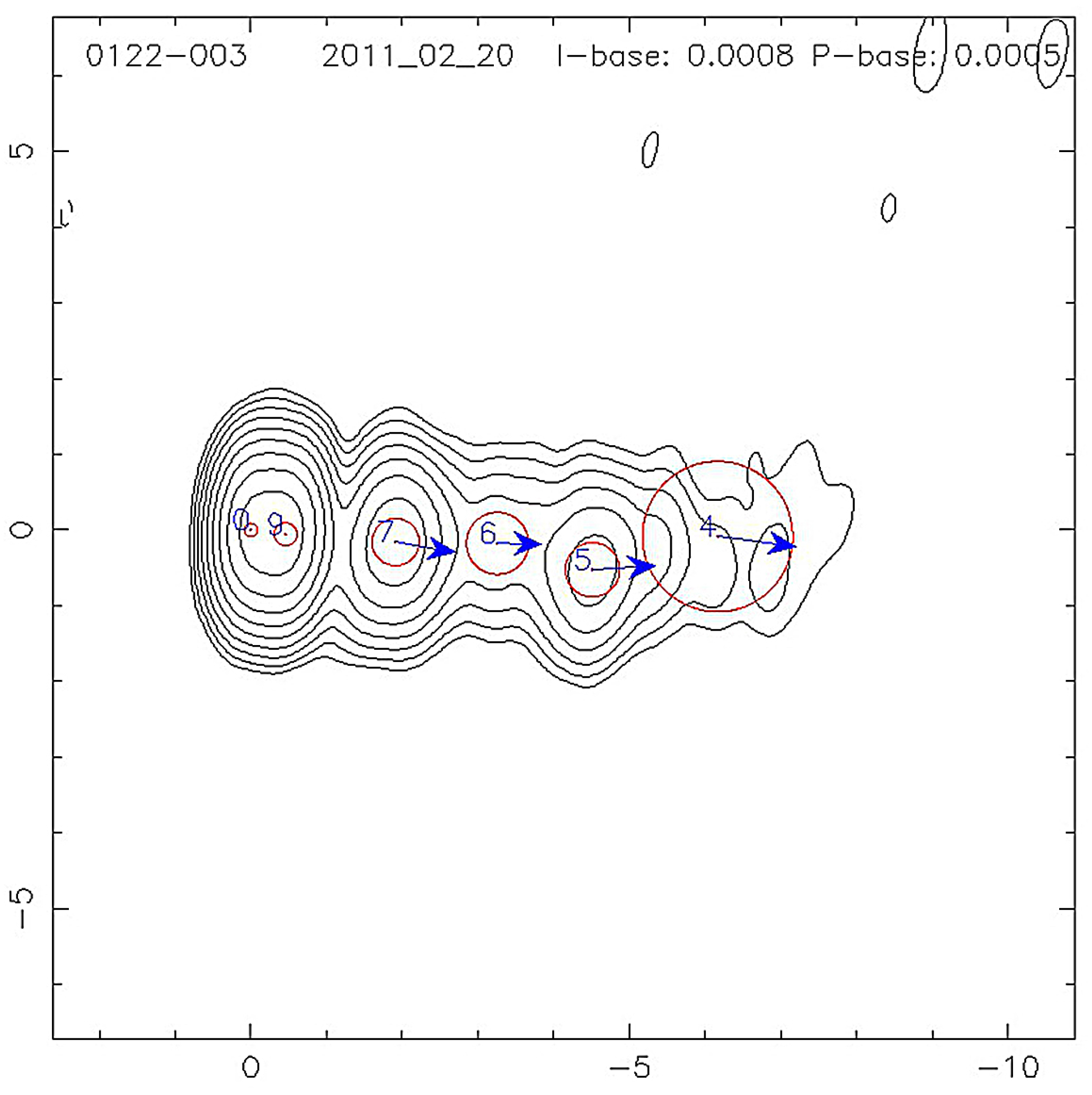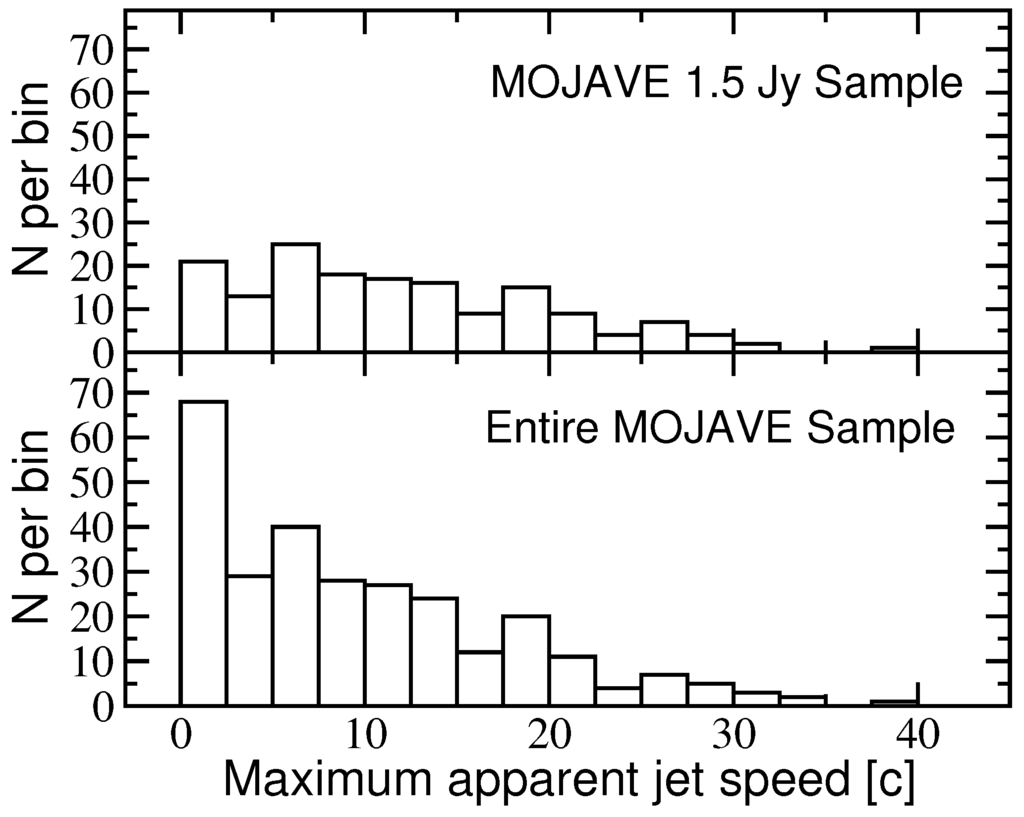 Figure 2. Top panel: distribution of maximum observed jet speed for AGN in the flux-density limited MOJAVE 1.5 Jy sample. Lower panel: maximum speed distribution for all jets measured to date by the MOJAVE program.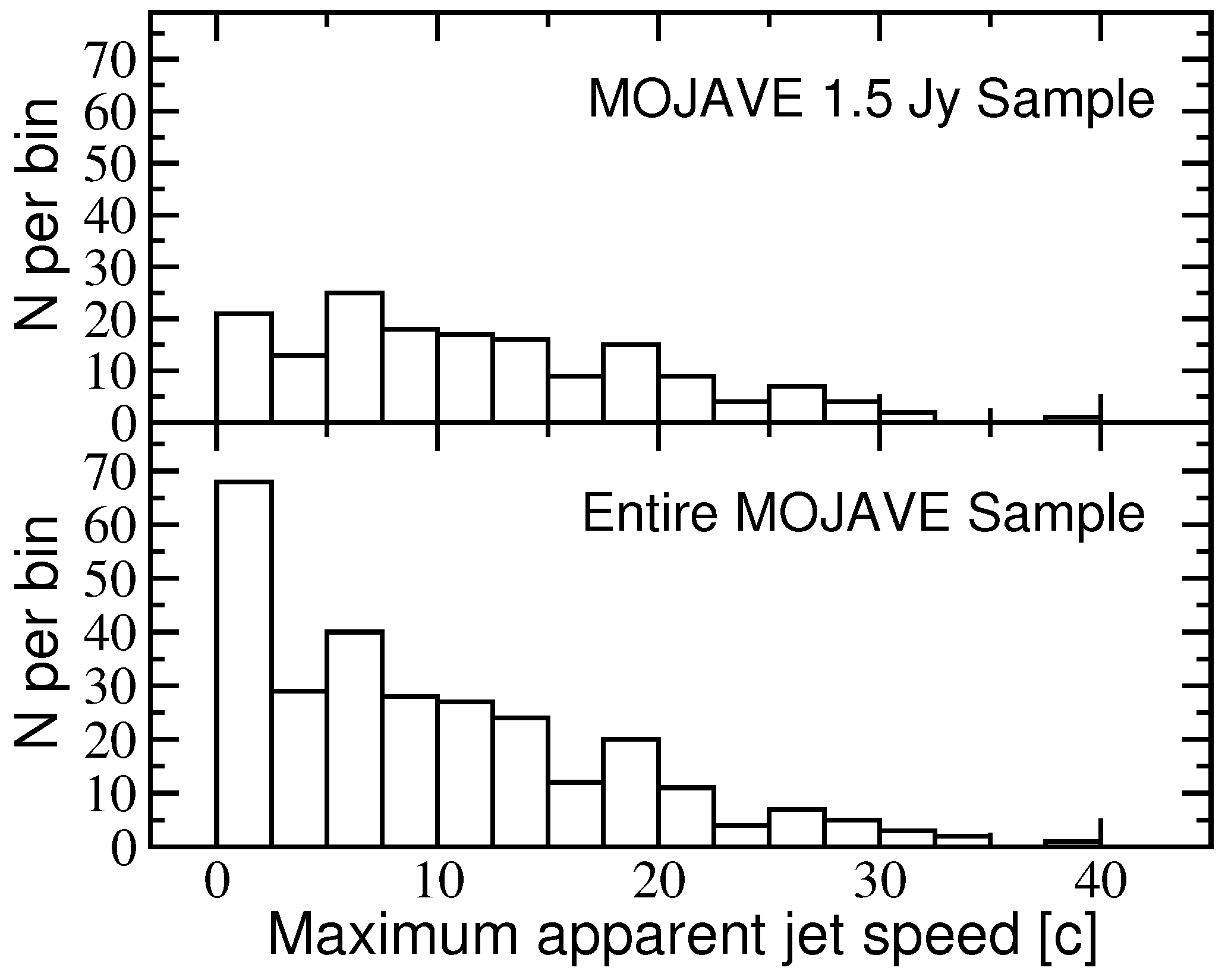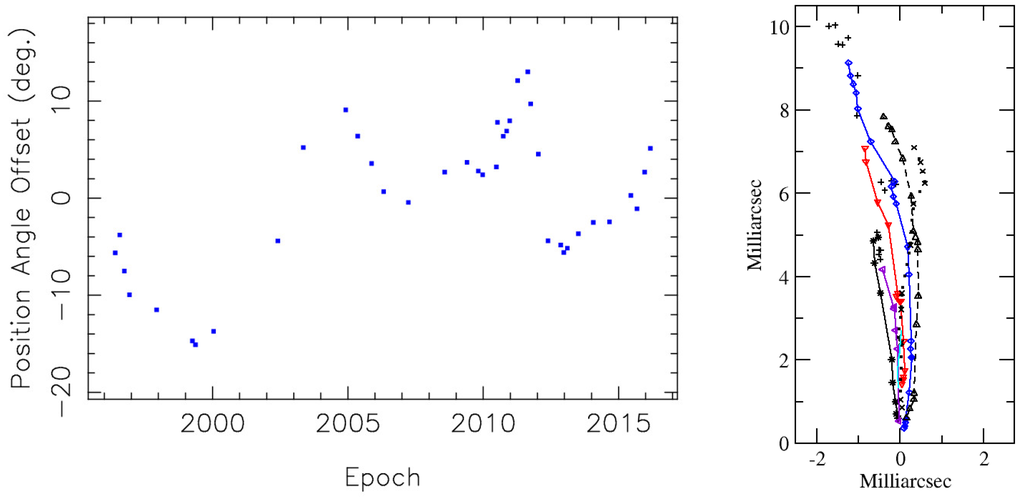 Figure 3.
Left
: Plot of inner jet position angle versus time for the quasar 1222+216, based on MOJAVE Very Long Baseline Array (VLBA) data;
Right
: Sky trajectories of moving features in this jet over a 15 year period.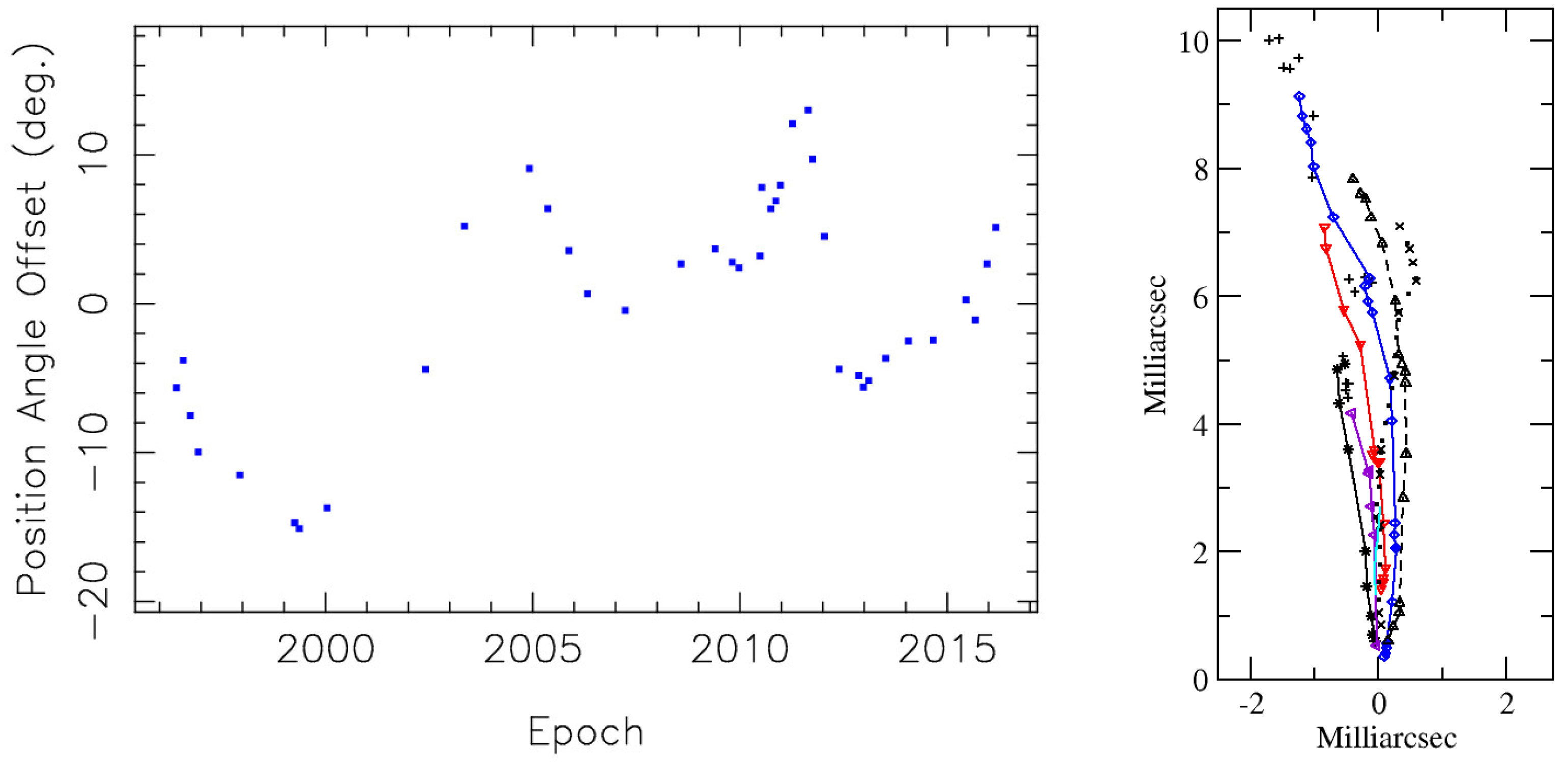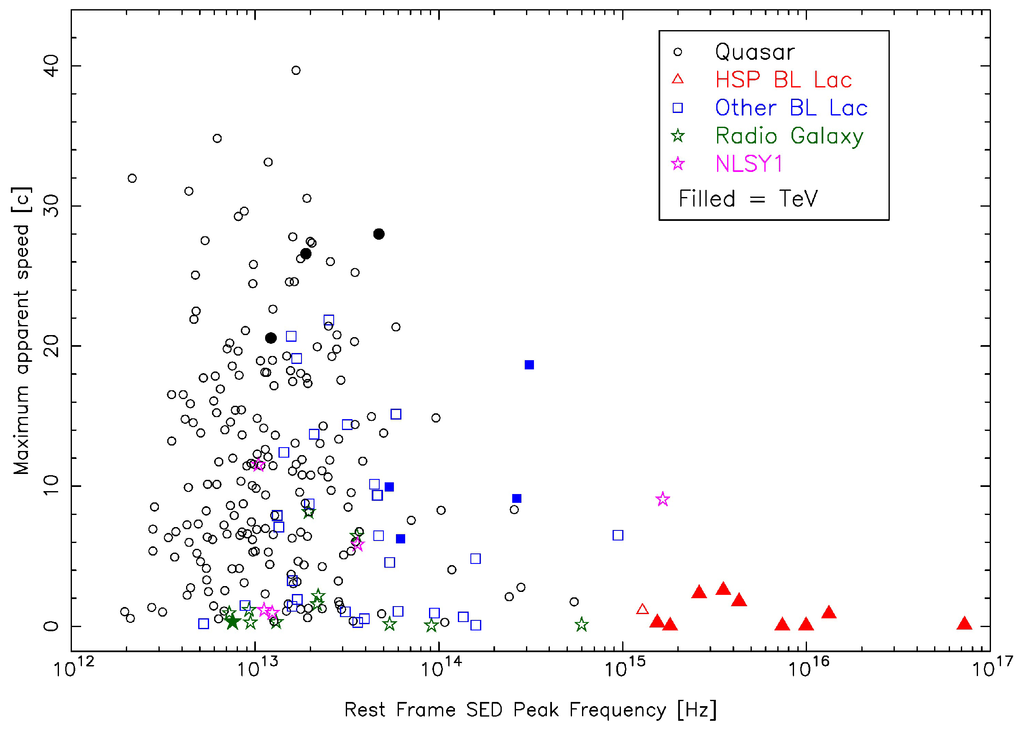 Figure 4. Plot of maximum apparent jet speed vs. synchrotron spectral energy distributions (SED) peak frequency for jets measured by the MOJAVE program.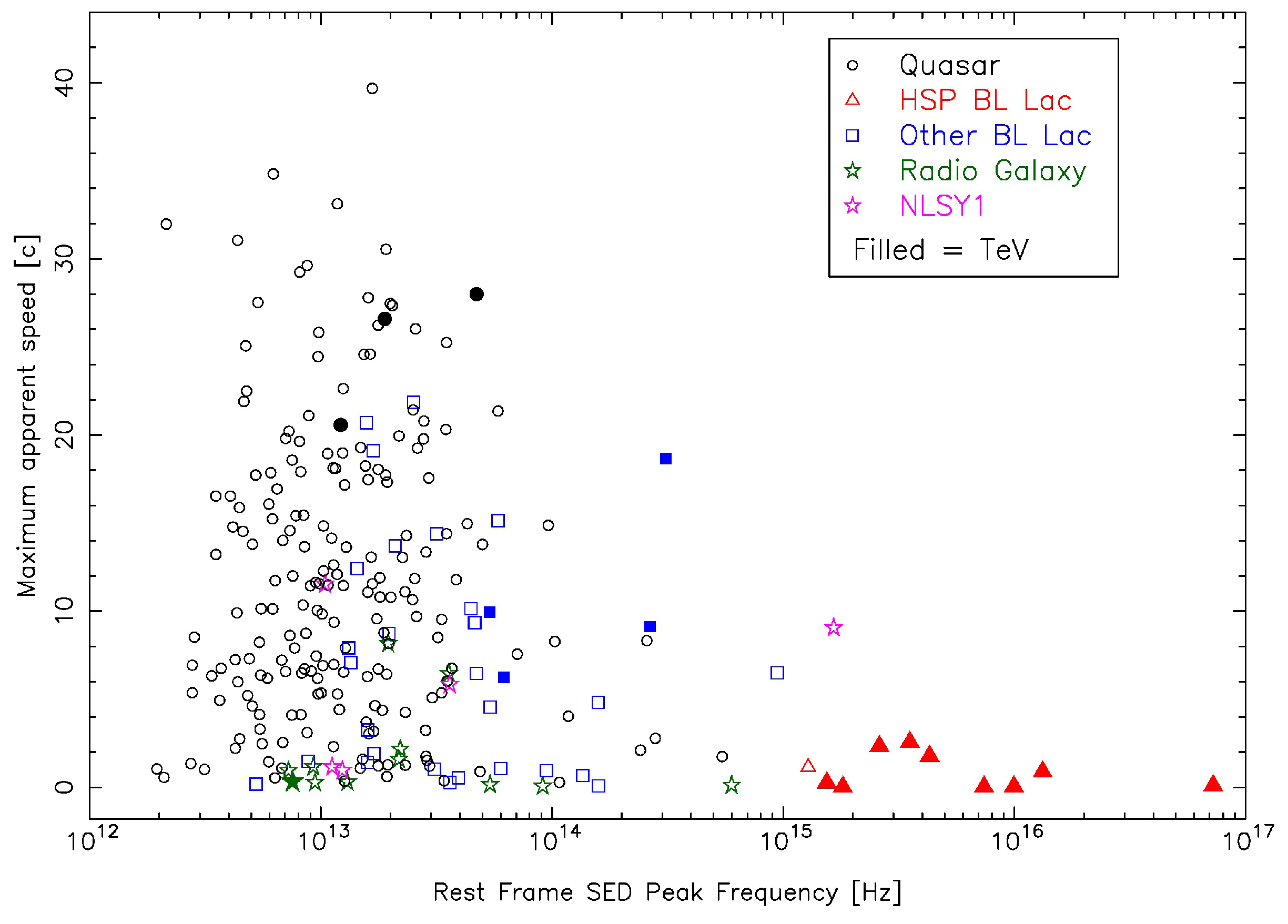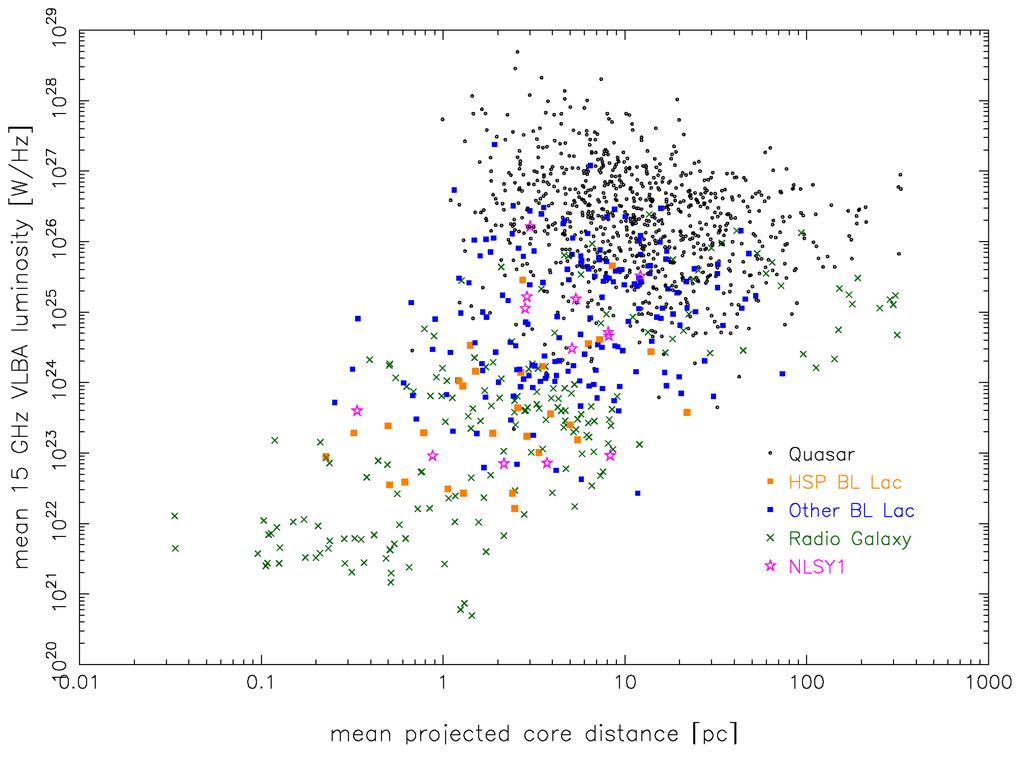 Figure 5. Plot of 15 GHz luminosity versus projected distance downstream from the core feature, for jet features in the MOJAVE survey. Black circles represent quasars, orange squares high spectral peaked BL Lacs, blue squares other BL Lacs, green crosses radio galaxies, and purple stars NLSY1 galaxies.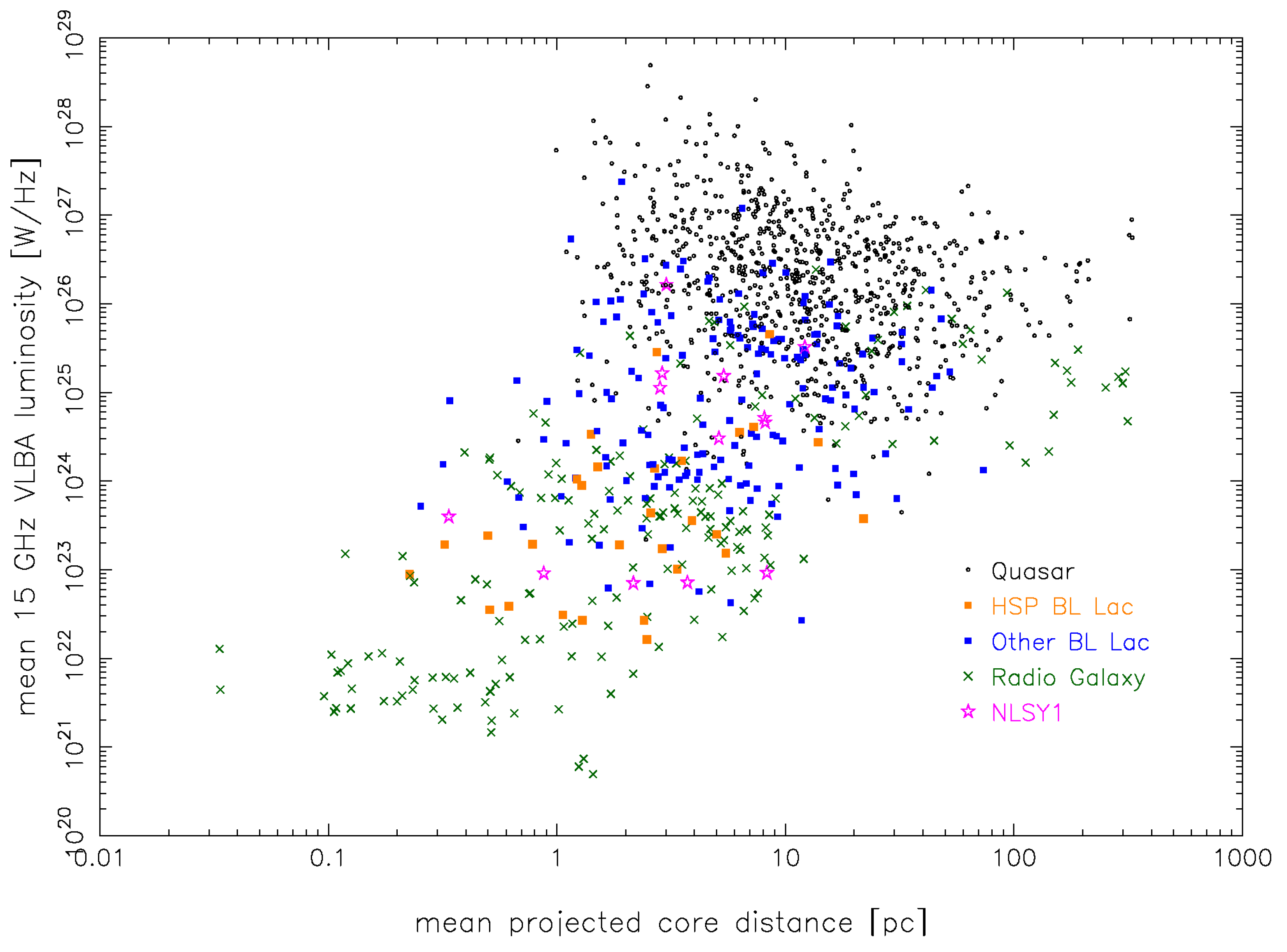 © 2016 by the authors; licensee MDPI, Basel, Switzerland. This article is an open access article distributed under the terms and conditions of the Creative Commons Attribution (CC-BY) license (http://creativecommons.org/licenses/by/4.0/).