Open Access This article is
freely available
re-usable
Article
The Optical Variability of the BL Lac AO 0235+164
1
Center for Astrophysics, Guangzhou University, Guangzhou 510006, China
2
Astronomy Science and Technology Research Laboratory of Department of Education of Guangdong Province, Guangzhou 510006, China
3
Abastumani Observatory, Mt. Kanobili, Abastumani 0301, Georgia
4
Engelhardt Astronomical Observatory, Kazan Federal University, Tatarstan 420000, Russia
5
Xinjiang Astronomical Observatory, Chinese Academy of Sciences, Urumqi 830011, China
6
Astrophysikalisches Institut Potsdam, An der Sternwarte 16, Potsdam 14482, Germany
7
Faculty of Physics and Electronic Information, LangFang Teacher's College, China
8
Department of Astronomy, Boston University, Boston, MA 02215, USA
9
National Astronomical Observatory, Chinese Academy of Sciences, Beijing 100864, China
*
Author to whom correspondence should be addressed.
Academic Editors: Jose L. Gómez, Alan P. Marscher and Svetlana G. Jorstad
Received: 14 July 2016 / Accepted: 18 August 2016 / Published: 30 August 2016
Abstract
:
In this work, we present optical R band observations of AO 0235+164 carried out during the period of November 2006 to December 2012 using the Ap6E CCD camera attached to the primary focus of the 70 cm meniscus telescope at Abastumani Observatory, Georgia. It shows a large variation of = 4.88 mag (14.19–19.07 mag) and a short time scale of = 73.5 min during our monitoring period. When periodicity analysis methods are applied to the R-band data from both historic and our observations, periods = 8.26 yr and = 0.54 yr are found.
Keywords:
galaxies; BL Lacertae objects; individual (AO 0235+164); photometry; variability
2. Observations
All our observations were made using a 70 cm meniscus telescope at Abastumani Observatory. The observations and data reduction were described in our recent work [
34
]. The
R
-band light curve for AO 0235+164 is shown in red in
Figure 1
.
From the red points in
Figure 1
, we can see that AO 0235+164 is extremely variable. It shows a variation of 4.88 mag from
R
= 14.19 to
R
= 19.07 mag, and a short time scale of = 73.5 min during the whole observing period [
34
].
Period Analysis
We have compiled the optical data from the literature [
9
,
24
], and constructed an optical light curve covering a time span of 30 years, as shown in
Figure 1
. It is clear that the light curve is not evenly sampled. In the case that data are unevenly sampled in time series (as we have done in [
33
]), the Jurkevich (JV) method [
6
] and improved power spectral analysis (PSA) will be adopted for the possible periodicities.
The JV method is based on the expected mean square deviation. The deviation of a given period
τ
for a light curve can be calculated, as described in [
33
,
35
]. If a frequency is equal to the true frequency, then reaches the minimum. The plot of against
f
is shown in the top panel of
Figure 2
.
Many attempts of power spectral analysis have been made to investigate the periodicity. An improved technique is the date-compensated discrete Fourier transform (DCDFT)+ the CLEANest algorithm [
36
,
37
], a least-square regression on , , and constant function. The DCDFT is a powerful method for unevenly spaced data, so we adopted it to the
Figure 2
light curve [
37
].
We assume that there are seven independent frequency components to clean the observational data; the CLEANest spectrum is shown in
Figure 2
. There are signs of periods: = 8.26 yr, = 0.54 yr, = 0.85 yr, = 1.99 yr, and = 0.56 yr in the optical light curve.
We also use the first order continuous autoregressive process (CAR1) to estimate the false alarm probability (FAP) of red noise, which CAR1 process , a model of red noise, can be given by the stochastic difference function :
3. Discussions and Conclusions
4. Summary
In this work, we have presented the R optical observations during the period of November 2006 to December 2012. The following results are obtained:
(1)

The largest variation = 4.88 mag is detected from our observations.

(2)

There are two periods in the light curve, = 8.26 yr and = 0.54 yr.
Acknowledgments
The work is partially supported by the National Natural Science Foundation of China (NSFC U1531245, U1431112, U11203007, 11403006, 10633010, 11173009), the Innovation Foundation of Guangzhou University (IFGZ), Guangdong Province Universities and Colleges Pearl River Scholar Funded Scheme(GDUPS)(2009), Yangcheng Scholar Funded Scheme(10A027S), and support for Astrophysics Key Subjects of Guangdong Province and Guangzhou City. The Abastumani team acknowledges financial support of the project FR/639/6-320/12 by the Shota Rustaveli National Science Foundation under contract 31/76. This work was presented in "Blazars through Sharp Multi-Wavelength Eyes", Malaga (Spain), 30 May–3 June 2016.
Author Contributions
Junhui Fan is responsible for the writing and the motivation of the paper; Omar Kurtanidze, Gotthard M Richter, Maria G Nikolashvili, Sofia O Kurtanidze, Revaz Chanishvili are responsible for the observations and data reductions; Yi Liu is for period analysis; Hongtao Wang is for the historic data collection; Mahito Sasada provides some optical data; Chao Lin is responsible for the edition of the paper and checking the references; Xiang Liu, Aiying Zhou, and Yuhai Yuan are responsible for some discussions.
Conflicts of Interest
The author declares no conflict of interest.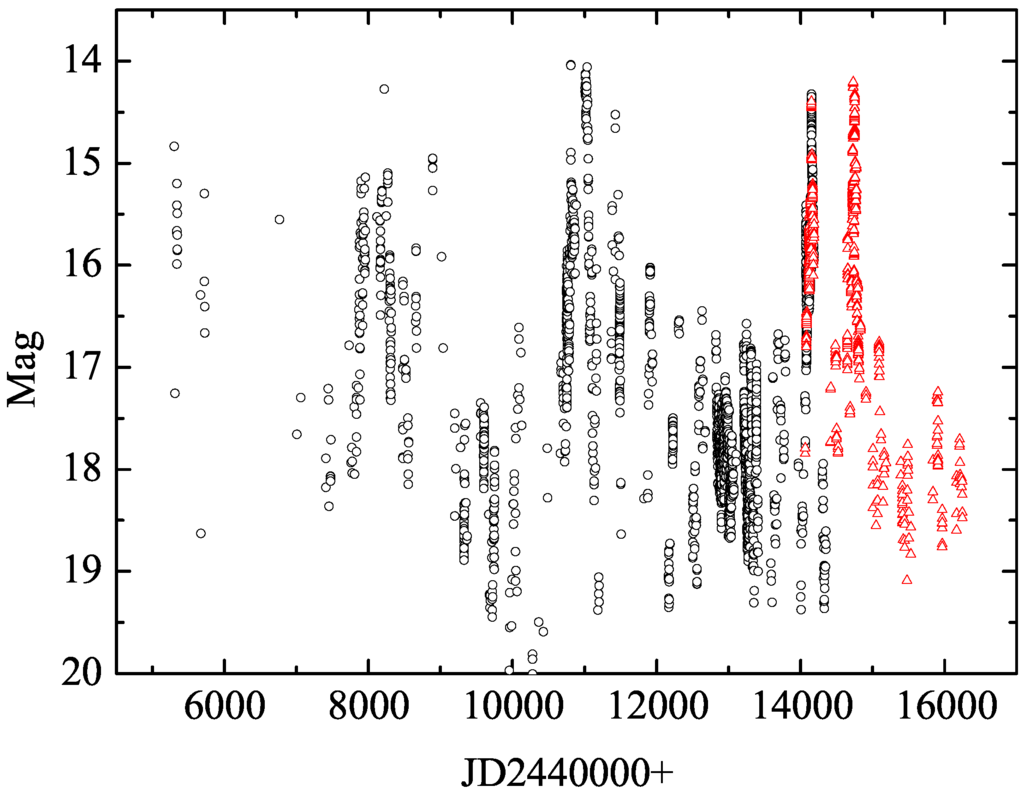 Figure 1. Historic light curve of AO 0235+164 during JD 2445300 to JD 2456247. The open circles are from the literature and the triangles are from our own observations.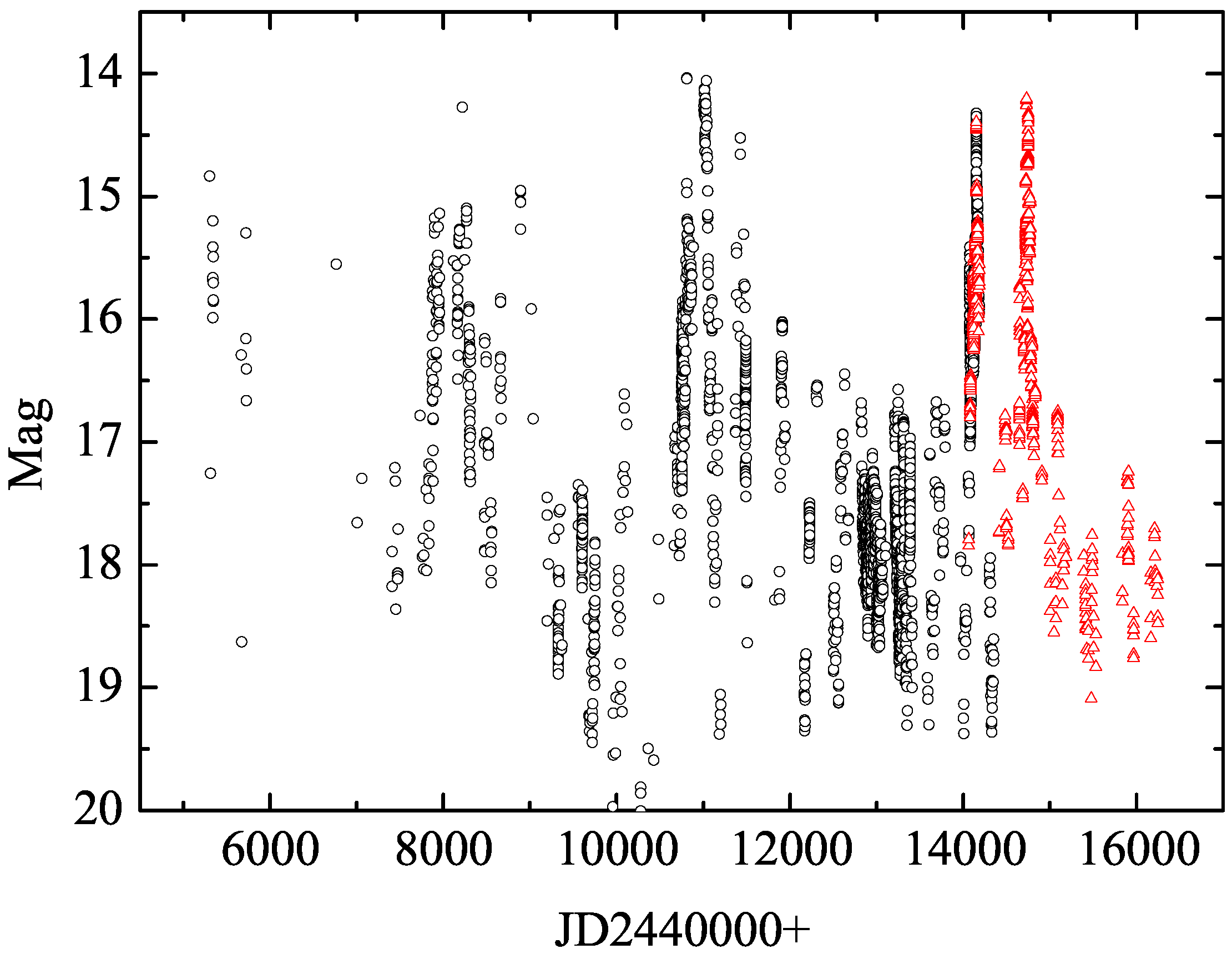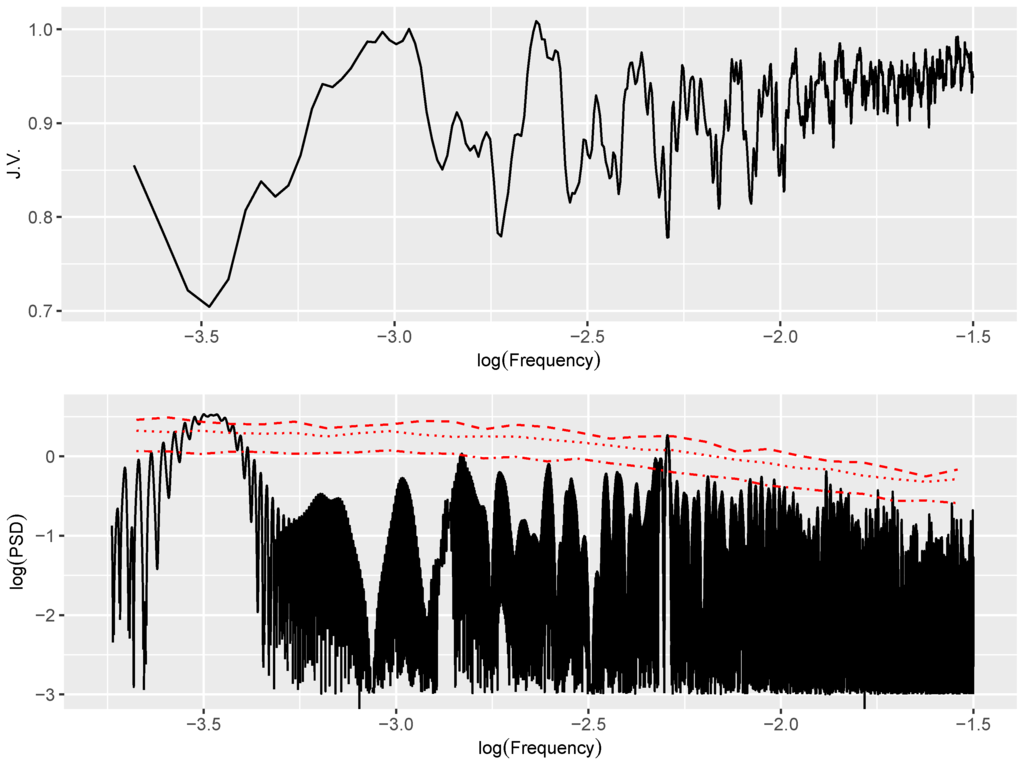 Figure 2. Top panel: Periodicity analysis results of AO 0235+164 obtained by Jurkevich (JV) method. Bottom panel: results for AO 0235+164 by power spectral analysis (PSA) method. The curves of the false alarm probability by using the continuous autoregressive process (CAR1) method are also plotted. Two signals, = 8.26 yr and = 0.54 yr, can be found with the threshold that false alarm probability .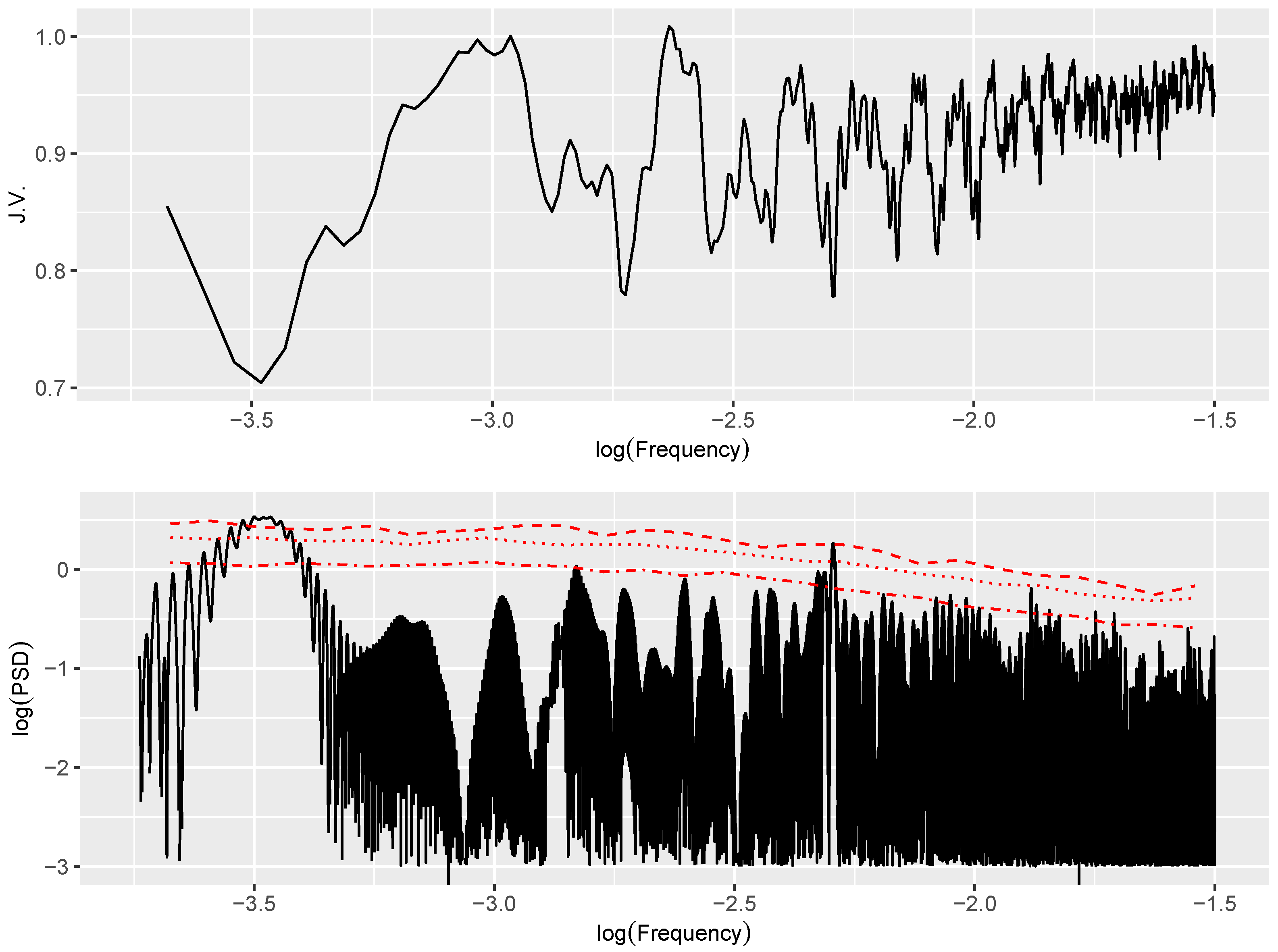 © 2016 by the authors; licensee MDPI, Basel, Switzerland. This article is an open access article distributed under the terms and conditions of the Creative Commons Attribution (CC-BY) license (http://creativecommons.org/licenses/by/4.0/).