Open Access This article is
freely available
re-usable
Case Report
Adaptive, Iterative, Long-Term Personalized Therapy Management in a Case of Stage IV Refractory NSCLC
1
Avinash Cancer Clinic, Tilak Road, Pantancha Gate, Sadashiv Peth, Pune 411030, Maharashtra, India
2
Datar Cancer Genetics Ltd., F-8 D-Road, Ambad, Nasik 422010, Maharashtra, India
*
Author to whom correspondence should be addressed.
Received: 19 June 2019 / Accepted: 3 July 2019 / Published: 5 July 2019
Abstract
:
In this paper we report long-term therapy management based on iterative de novo molecular and cellular analysis in a case of metastatic non-small cell lung cancer (NSCLC), with prior history of treated colorectal cancer. In the described case temporal tumor evolution, emergent therapy resistance and disease recurrences were addressed via the administration of personalized label- and organ-agnostic treatments based on de novo tumor profiling. This adaptive and iterative treatment strategy countered disease progression at each instance and led to the durable regression of primary as well as metastatic lesions. Concurrently, serial evaluation of mutations in cell-free circulating tumor DNA (ctDNA) via liquid biopsy (LBx) was performed to monitor disease status, ascertain treatment response, identify emergent drug resistance and detect recurrence at sub-radiological levels. The treatment management strategy described herein effectively addressed multiple, sequential clinical conundrums for which viable options were unavailable under the current Standard of Care (SoC).
Keywords:
non small cell lung cancer (NSCLC); precision oncology; personalized therapy management
Supplementary Materials
The following are available online at
https://www.mdpi.com/2075-4426/9/3/34/s1
, Figure S1: Molecular pathways linked to invasion and metastasis. TGF-β signaling pathway intermediates in November 2016 (A) and January 2017 (B). ERBB2 and MAPK/ERK pathway intermediates in November 2016 (C) and January 2017 (D), Table S1: List of genes in multigene NGS panel.
Author Contributions
A.R. and A.B.: Treating Oncologists, Therapy Selection, Therapy Administration, Response Monitoring. R.D.: Clinical Management. D.P., D.A., V.D., R.D.: Evaluation of Molecular and Cellular Data, Therapy Recommendations.
Funding
The patient did not receive any financial compensation from Datar Cancer Genetics Limited (DCGL) for consenting to receive personalized cancer therapy. The patient did not receive any financial assistance for any therapy, interventions or procedures from DCGL. This manuscript does not report findings from a funded study. No external funding was received by any of the authors or their institutions in relation to the data presented in this manuscript.
Data Availability
Deidentified data may be made available by the authors upon reasonable request, and may require the execution of appropriate non-disclosure agreements.
Conflicts of Interest
A.R., A.B. and R.D. received financial compensation from DCGL for consultations. D.P., V.D. and D.A. are employees of DCGL which offers commercial services for onco-diagnosis and therapy management. R.D. is the Founder and Chairman and Managing Director of DCGL. The patient and oncologists availed of personalized therapy guidance service from DCGL.
Figure 1. Trends in mutant allele frequency of Epidermal Growth Factor Receptor (EGFR) as determined by liquid biopsy analysis of ctDNA. Variations in allele frequencies of EGFR.pE746-A750del (⏺) and EGFR.T790M (▲) mutations in ctDNA. A spike in EGFR.pE746-A750del (⇩) was observed that was predictive of recurrence. A significant increase in EGFR.pE746-A750del at first recurrence (⇨), second recurrence (⇦) and third recurrence (🡇) was also noted. Detection of EGFR.T790M (🡇) at second recurrence is indicated. By July 2018, the ctDNA EGFR-mutation burden was undetectable (A). Treatment response: A regression of 18F-fluorodeoxyglucose (FDG)-avid left prevascular nodal lesion (white arrow) was observed between November 2016 (B), January 2017 (C) and April 2017 (D). L and R indicate left and right sides in the positron emission tomography-computed tomography (PET-CT) transverse sections. Trends in exosomal mRNA profile between November 2016 and January 2017 showed a downregulation of mRNA transcripts, which was suggestive of the reduction in invasiveness and metastatic potential (E).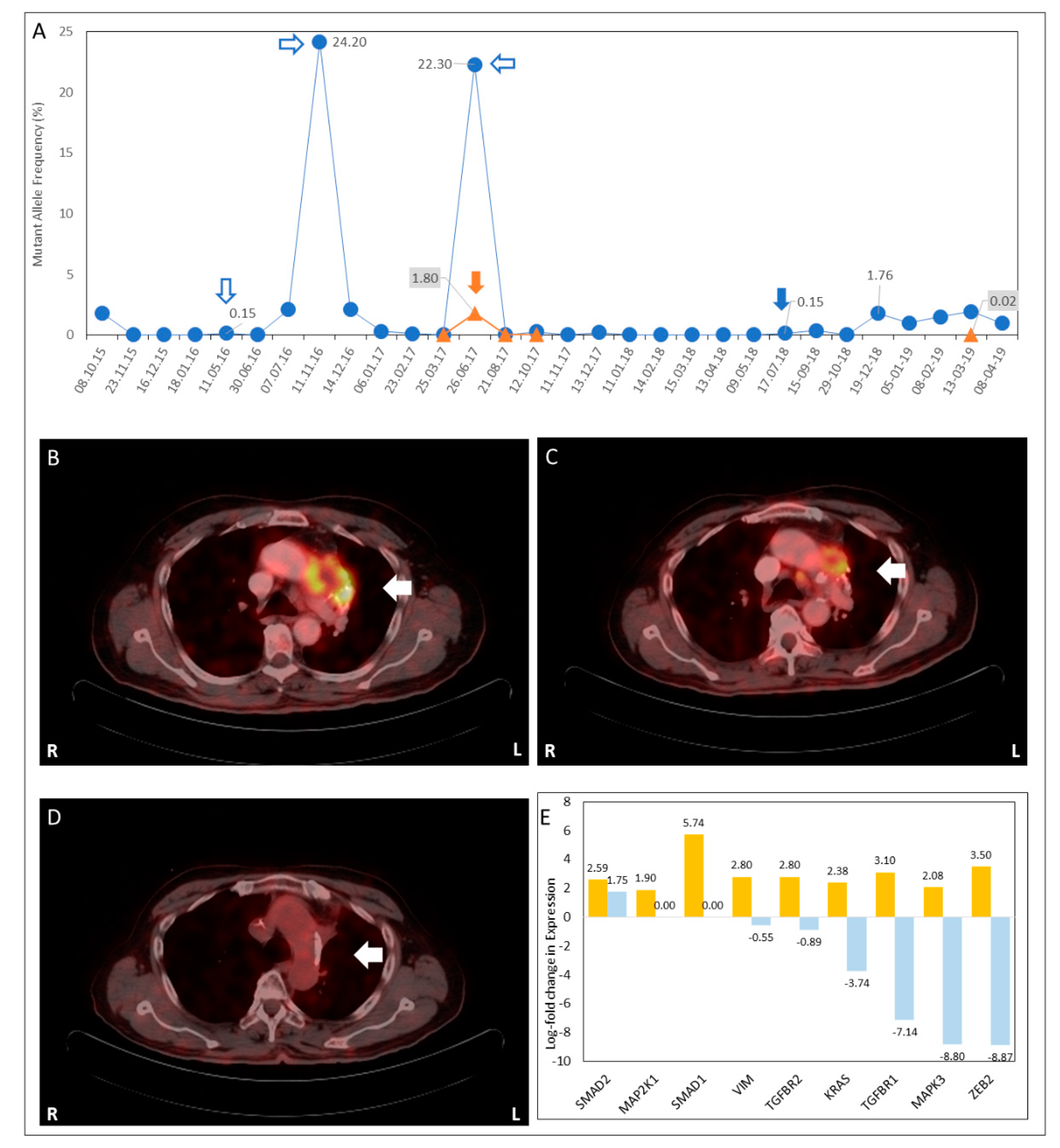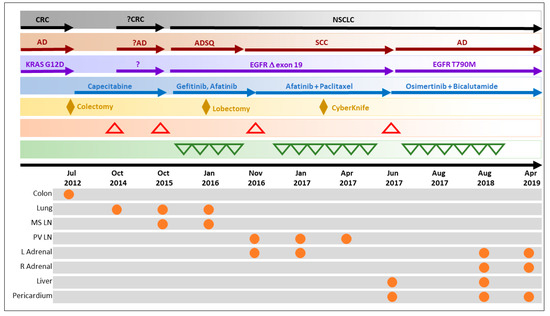 Figure 2. Timeline of events. CRC: colorectal cancer; NSCLC: non-small cell lung cancer; AD: adenocarcinoma; ADSQ: adenosquamous carcinoma; SCC: squamous cell carcinoma; ⬧: locoregional treatment; △: progression/recurrence; ▽: treatment response/regression; ⏺ presence of malignant mass at various sites; MS LN: mediastinal lymph node; PV LN: prevascular lymph node; L Adrenal: left adrenal; R Adrenal: right adrenal.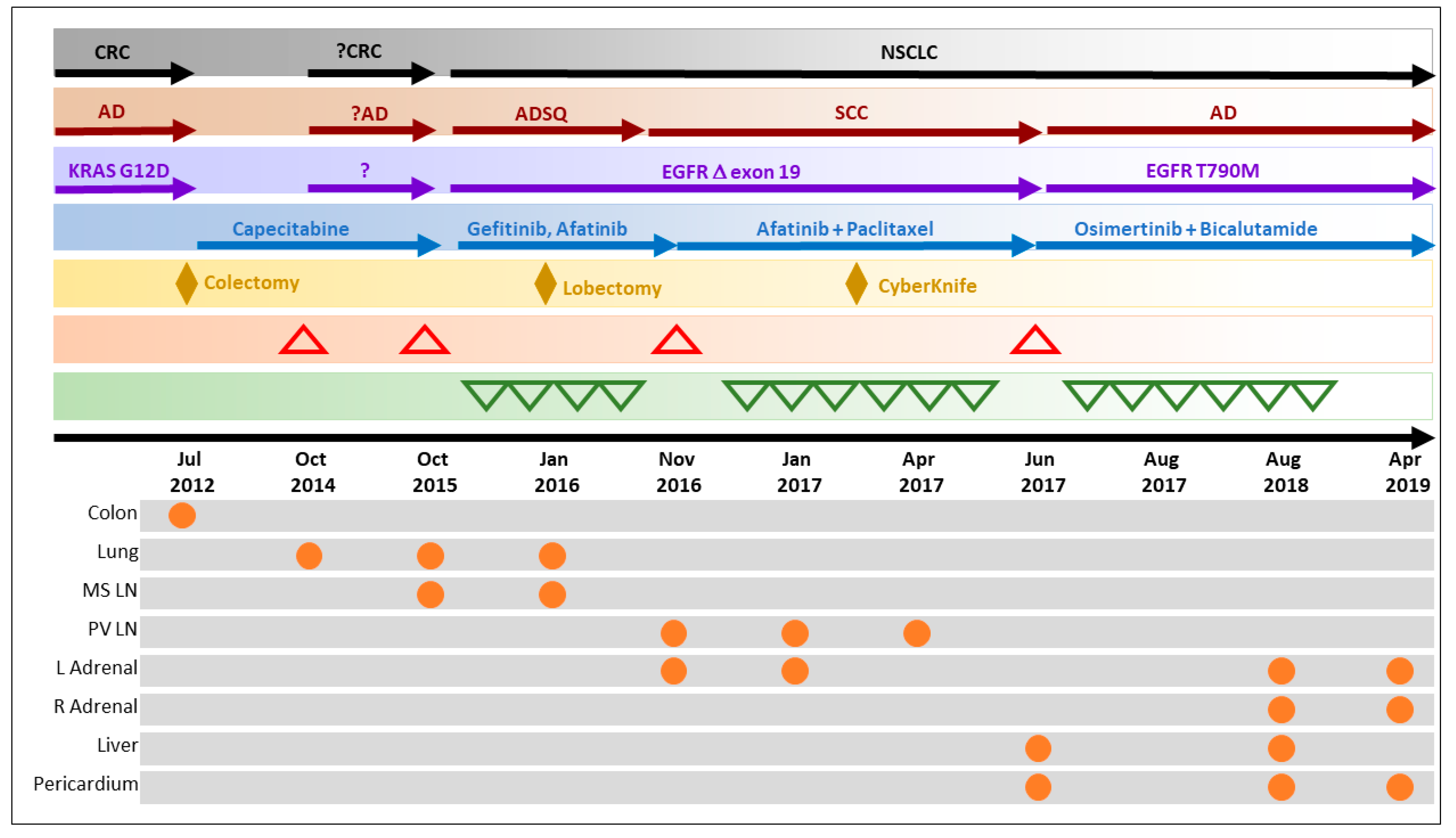 © 2019 by the authors. Licensee MDPI, Basel, Switzerland. This article is an open access article distributed under the terms and conditions of the Creative Commons Attribution (CC BY) license (http://creativecommons.org/licenses/by/4.0/).