Open Access This article is
freely available
re-usable
Article
Inhaled Xenon Washout as a Biomarker of Alzheimer's Disease
1
Department of Chemistry, Lakehead University, 955 Oliver Rd, Thunder Bay, ON P7B 5E1, Canada
2
Thunder Bay Regional Health Research Institute, 980 Oliver Rd, Thunder Bay, ON P7B 5E1, Canada
3
Thunder Bay Regional Health Sciences Centre, 980 Oliver Rd, Thunder Bay, ON P7B 5E1, Canada
4
Northern Ontario School of Medicine, 955 Oliver Rd, Thunder Bay, ON P7B 5E1, Canada
*
Author to whom correspondence should be addressed.
Received: 3 May 2018 / Accepted: 5 June 2018 / Published: 6 June 2018
Abstract
:
Biomarkers have the potential to aid in the study of Alzheimer's disease (AD); unfortunately, AD biomarker values often have a high degree of overlap between healthy and AD individuals. This study investigates the potential utility of a series of novel AD biomarkers, the sixty second
129
Xe retention time, and the xenon washout parameter, based on the washout of hyperpolarized
129
Xe from the brain of AD participants following inhalation. The xenon washout parameter is influenced by cerebral perfusion, T1 relaxation of xenon, and the xenon partition coefficient, all factors influenced by AD. Participants with AD (
n
= 4) and healthy volunteers (
n
= 4) were imaged using hyperpolarized
129
Xe magnetic resonance imaging (MRI) and magnetic resonance spectroscopy (MRS) to determine the amount of retained xenon in the brain. At 60 s after the breath hold, AD patients retained significantly higher amounts of
129
Xe compared to healthy controls. Data was fit to a pharmacokinetic model and the xenon washout parameter was extracted. Xenon washout in white and grey matter occurs at a slower rate in Alzheimer's participants (
129
Xe half-life time of 42 s and 43 s, respectively) relative to controls (20 s and 16 s, respectively). Following larger scale clinical trials for validation, the xenon washout parameter has the potential to become a useful biomarker for the support of AD diagnosis.
Keywords:
hyperpolarized gas MRI; xenon; gas retention; Alzheimer's disease; wash out; vascular
Author Contribution
F.T.H. designed experiments, conducted experiments, analyzed data, interpreted data and wrote the manuscript. T.L. designed experiments, conducted experiments, analyzed data, and wrote the manuscript. J.-A.P. designed experiments. A.H. analyzed neurological data. K.G. analyzed radiological images. M.S.A. designed experiments and interpreted data. All authors reviewed the final manuscript.
Funding
M.S.A. is funded by a grant from the Weston Foundation (TR140072). F.T.H. holds post-doctoral fellowships from the BrightFocus Foundation (A2015344F) and the Canadian Institutes for Health Research (358549).
Acknowledgments
F.T.H. wishes to acknowledge the BrightFocus Foundation and its generous donors for support of this work. The authors would like to thank the numerous administrative and technical staff that assisted us in the conduct of these experiments including Railli Pellizzari, Elizabeth Tuburchuk, Jessica Dickson, Lori-Anne Moon, Kendra Rhys, Nicole Rigato, Erin Venn, Melanie Scaravelli, Sue Wright, Laurel Knowles, Robyn Harris, and Crystal Forsyth. This project would not have been possible without the diligent assistance of these individuals.
Conflict of Interest
The authors declare no conflicts of interest.
Trial Registration
More information regarding this clinical trial can be found at
clinicaltrials.gov
NCT02638519.
Figure 1. (A) Representative 129Xe MRS of healthy controls and AD participants. (B) Signal intensity of GM, WM, and the ratio of GM to WM in healthy controls compared to AD participants. a.u. = arbitrary units.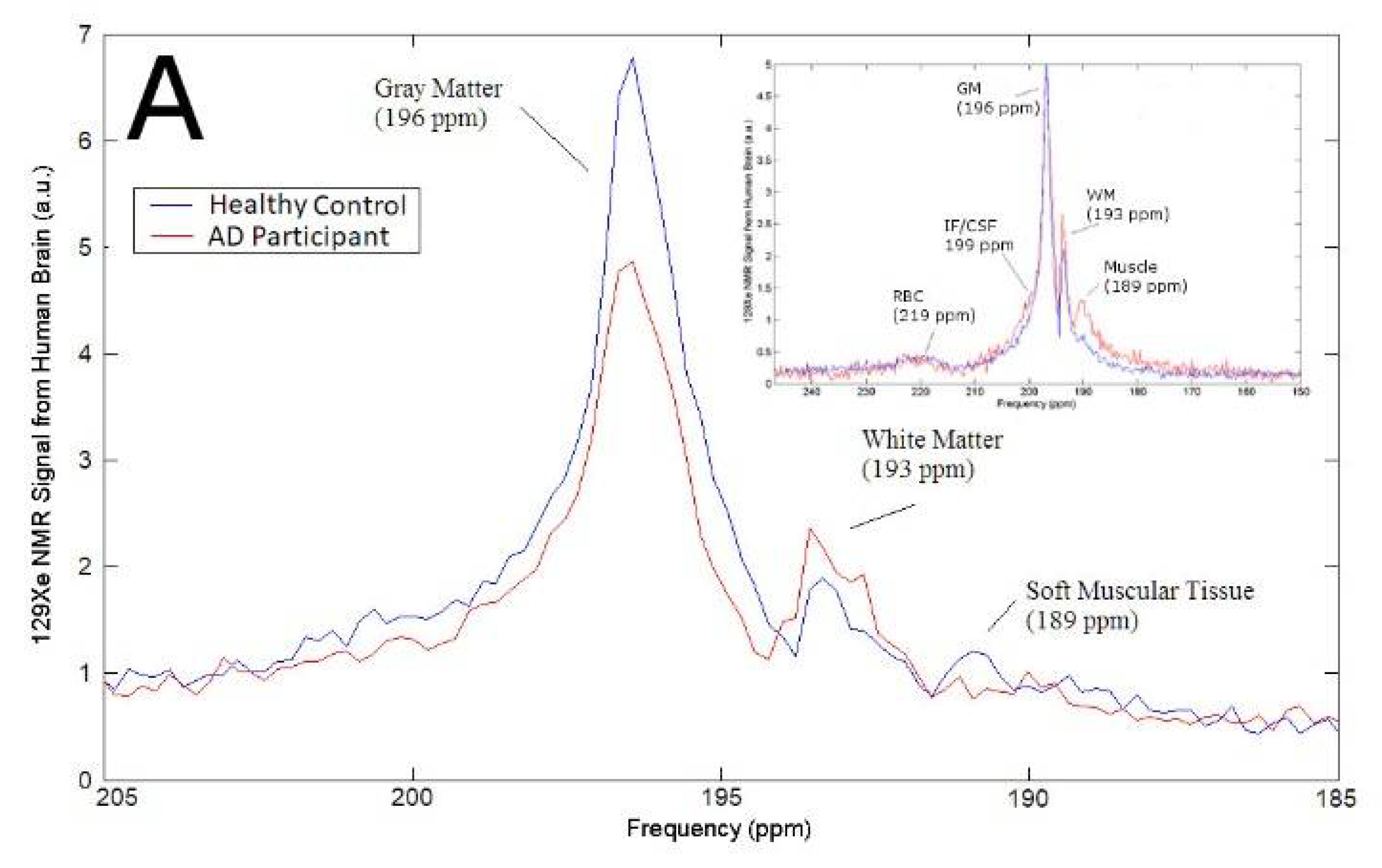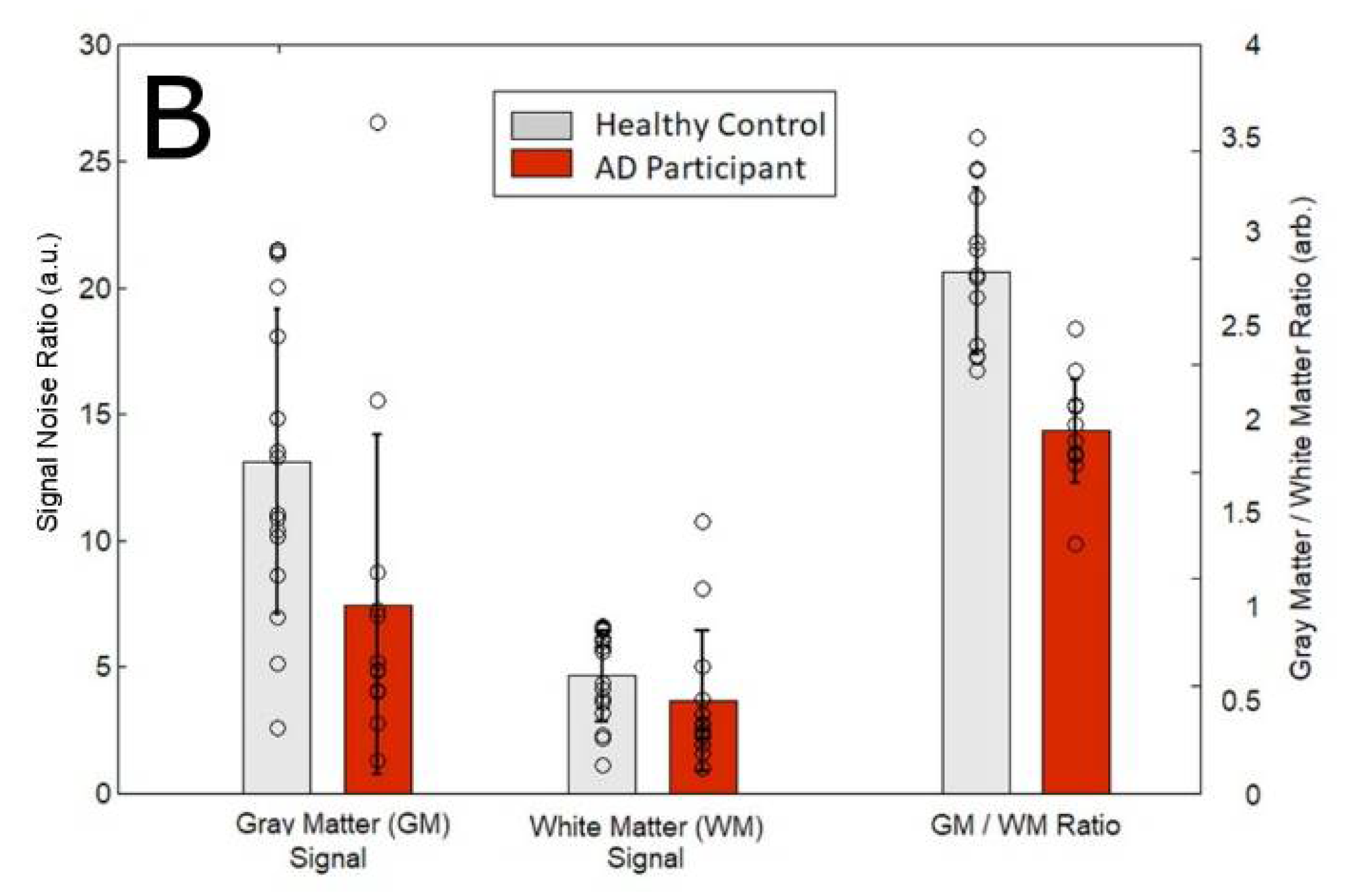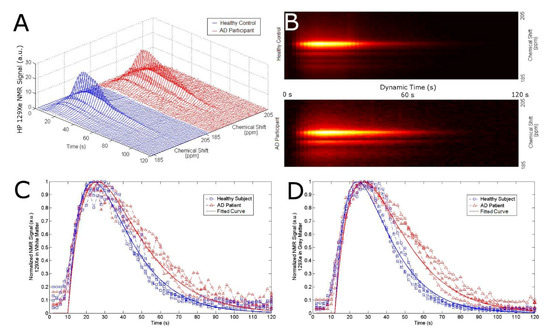 Figure 2. (A) Stack plot of dynamic 129Xe NMR spectra for healthy controls (blue) and AD patients (red). (B) Topographic "streak" plot of (A) depicting the NMR dynamic spectra from the top with SNR in "hotter" colors. Notice a higher SNR in AD patients for a longer time than that of the healthy controls. SNR of 129Xe-WM (C) and 129Xe-GM (D) as a function of time for healthy controls (blue) and AD participants (red). The participants inhaled 500 mL of HP 129Xe and held their breath for 20 s. 129Xe MRS from the brain region was acquired every 2 s. Notice an increase in 129Xe signal after approximately 10 s as the 129Xe reached the brain. At 20 s, the participant exhaled and the 129Xe signal began to decrease at different rates for AD participants vs. healthy controls for WM and GM.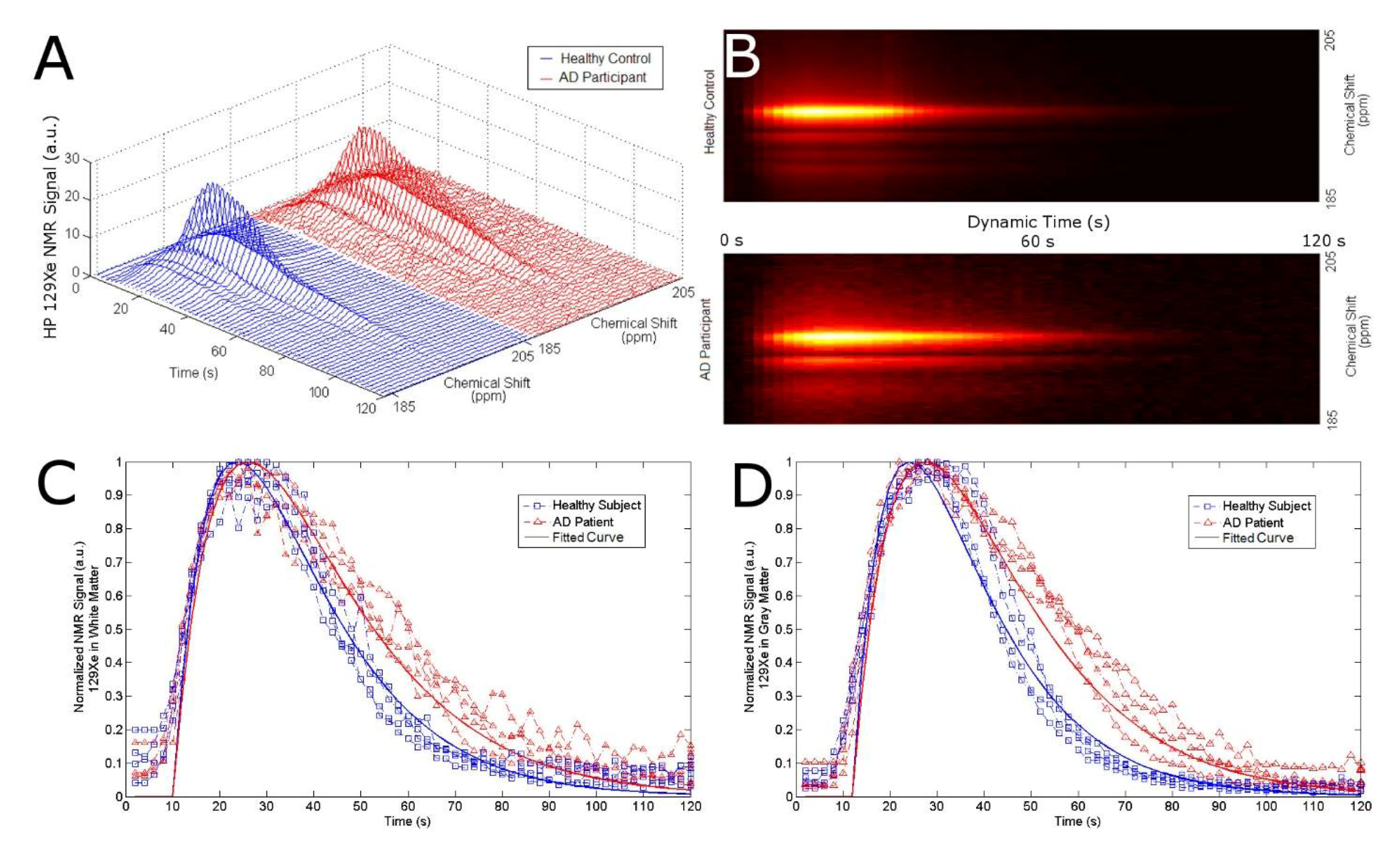 Figure 3. (A) Normalized 129Xe retention at 60 s after the breath-hold for Xe-WM and Xe-GM. (B) Xenon washout parameter for gray matter and white matter.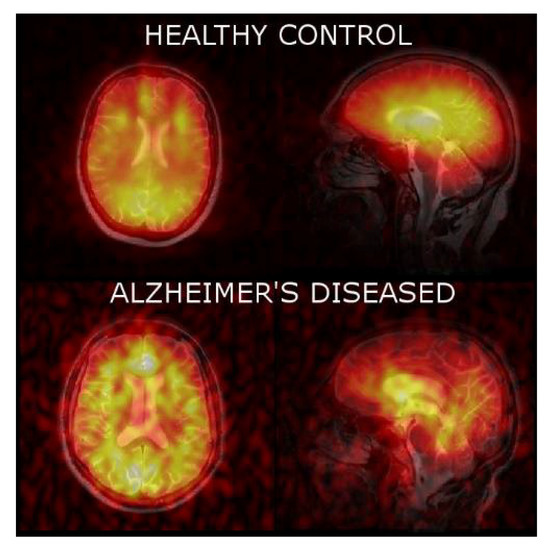 Figure 4. Axial and sagittal 129Xe MRI of healthy controls and AD participants. An observably higher SNR was obtained for healthy controls relative to AD participants.
Figure 5. Xenon washout parameter maps of healthy controls age-matched to AD patients overlaid on T2W anatomical images.
Healthy Controls (

n

= 4)
Alzheimer's Participants (

n

= 4)
Mean Age (years)
70.0 ± 4.5
71.3 ± 6.2
Age of AD Diagnosis
N/A
64.8 ± 4.3
Sex
2 males/2 females
3 males/1 female
MoCA Score
28 ± 1
21 ± 3
Norm. Xe-WM signal @ 60 s
0.200 ± 0.0163
0.458 ± 0.0531
Norm. Xe-GM signal @ 60 s
0.174 ± 0.0252
0.465 ± 0.569
Xe Washout Parameter–WM
0.073 ± 0.021
0.051 ± 0.025
Xe Washout Parameter−GM
0.094 ± 0.021
0.055 ± 0.029

© 2018 by the authors. Licensee MDPI, Basel, Switzerland. This article is an open access article distributed under the terms and conditions of the Creative Commons Attribution (CC BY) license (http://creativecommons.org/licenses/by/4.0/).