Open Access This article is
freely available
re-usable
Article
Dissecting the Repertoire of DNA-Binding Transcription Factors of the Archaeon
Pyrococcus furiosus
DSM 3638
1
Facultad de Medicina, Universidad Juárez Autónoma de Tabasco, C.P. 86100 Tabasco, Mexico
2
Facultad de Ciencias, Universidad Nacional Autónoma de México, Unidad Académica de Ciencias y Tecnología de la UNAM en Yucatán, Carretera Sierra Papacal-Chuburna Km. 5, C.P. 97302 Mérida, Yucatán, Mexico
3
Tecnológico Nacional de México, Instituto Tecnológico de Mérida, C.P. 97000 Mérida, Yucatán, Mexico
4
Instituto de Investigaciones en Matemáticas Aplicadas y en Sistemas, Universidad Nacional Autónoma de México, Unidad Académica Yucatán, C.P. 97302 Mérida, Yucatán, Mexico
*
Authors to whom correspondence should be addressed.
Received: 5 July 2018 / Accepted: 19 September 2018 / Published: 21 September 2018
Abstract
:
In recent years, there has been a large increase in the amount of experimental evidence for diverse archaeal organisms, and these findings allow for a comprehensive analysis of archaeal genetic organization. However, studies about regulatory mechanisms in this cellular domain are still limited. In this context, we identified a repertoire of 86 DNA-binding transcription factors (TFs) in the archaeon
Pyrococcus furiosus
DSM 3638, that are clustered into 32 evolutionary families. In structural terms, 45% of these proteins are composed of one structural domain, 41% have two domains, and 14% have three structural domains. The most abundant DNA-binding domain corresponds to the winged helix-turn-helix domain; with few alternative DNA-binding domains. We also identified seven regulons, which represent 13.5% (279 genes) of the total genes in this archaeon. These analyses increase our knowledge about gene regulation in
P. furiosus
DSM 3638 and provide additional clues for comprehensive modeling of transcriptional regulatory networks in the
Archaea
cellular domain.
Keywords:
transcription factors; DNA-binding domain; regulatory interaction; archaeon; regulatory network
Supplementary Materials
The following are available online at
https://www.mdpi.com/2075-1729/8/4/40/s1
, Figure S1: Regulatory network associated with
P. furiosus
, Figure S2: Functional assignments based on COG annotations. Heat map representing the proportion of genes per functional category, Table SI: Assignation of superfamily domains for the collection of TFs, Table SII: Complete collection of TFs and target genes compiled and identified in Pyrococcus furiosus DSM 3638, Table SIII. Operons predicted in the genome of Pyrococcus furiosus DSM 3638.
Author Contributions
A.D. compiled TFs; S.T.-S. compiled TFs and regulons; M.A.M.-N., E.P.-R. analyzed and integrated the data; E.P.-R. conceptualization, project administration; M.A.M.-N., E.P.-R. wrote the manuscript.
Funding
This research was funded by Dirección General de Asuntos del Personal Académico, Universidad Nacional Autónoma de México, PAPIIT IN-201117 and PAPIIT IA-205417 given to E.P.-R. and M.A.M.-N., respectively.
Acknowledgments
We appreciate to the program of Verano de la Investigación Científica, Academia Mexicana de Ciencias to A.D. Joaquin Morales, Sandra Sauza, Rafael Hernandez-Guerrero, and Israel Sánchez are very much appreciated for their computational support.
Conflicts of Interest
The authors declare no conflict of interest.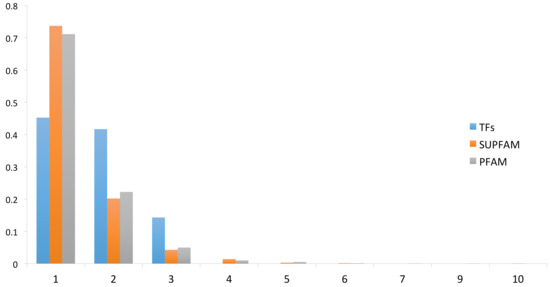 Figure 1.
Domain organization of the DNA-binding transcription factors (TFs). On the
x
-axis is the proportion of proteins with different domains for the TFs and for the total proteins of
P. furiosus
. The numbers on the
y
-axis correspond to TFs with 1 domain, 2 domains, 3 domains, and so on.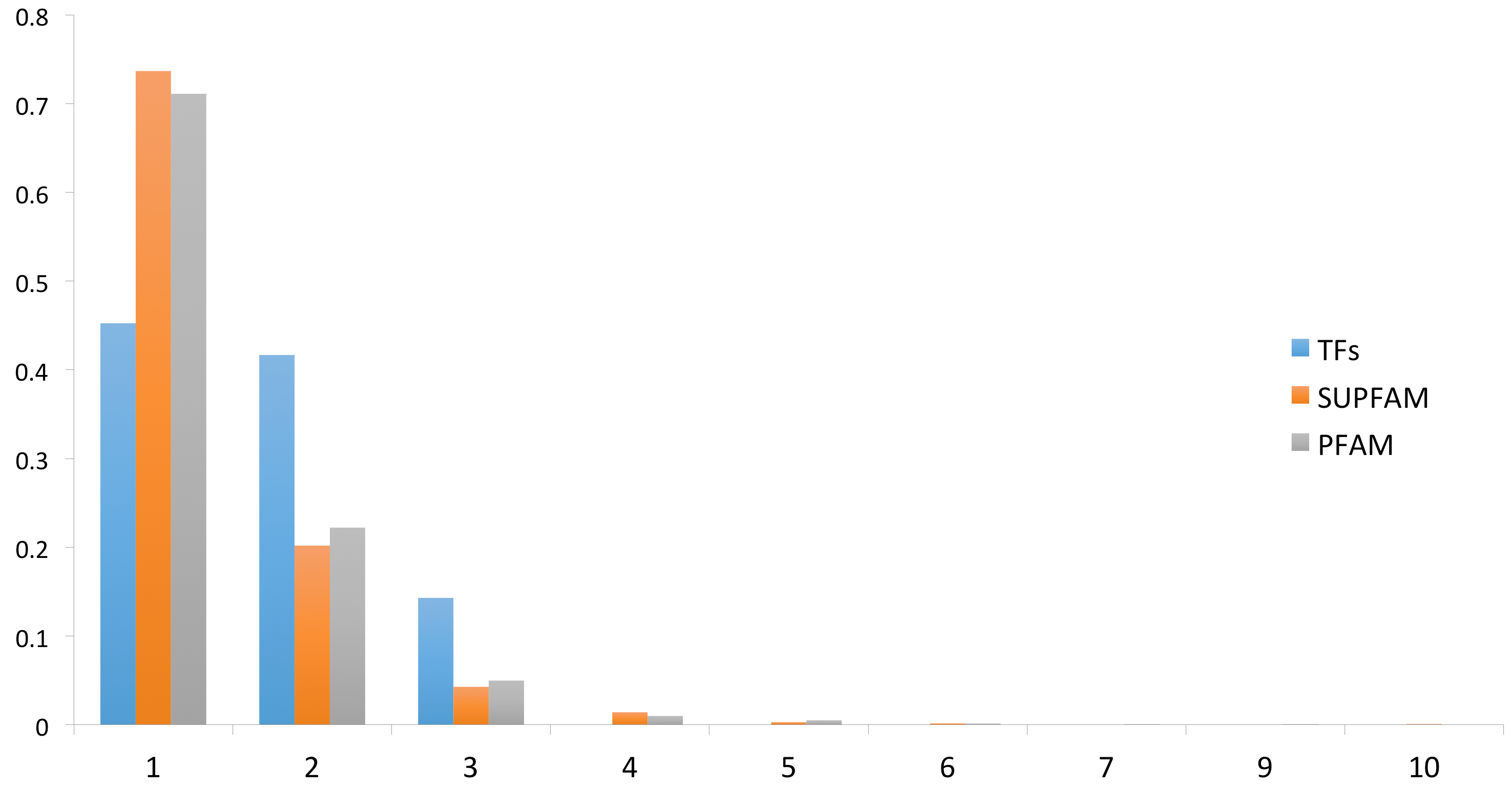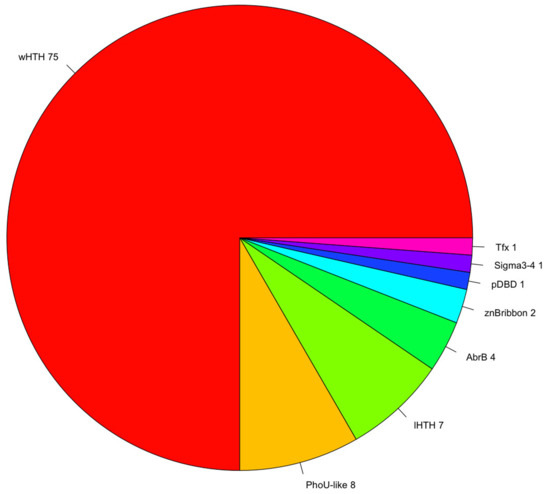 Figure 2.
Repertoire of DNA-binding TFs. Diversity of DNA-Binding Domains (DBDs) associated with
P. furiosus
. The winged helix-turn-helix (wHTH) domain represents 73% of the total repertoire of DBDs; the PhoU-like and lambda HTH domains each represent 6% of the total. In minor proportions are alternative DBDs, such as the AbrB, AlbA, and zinc beta ribbon domains, among others, and these represent 12% of the total of DBDs.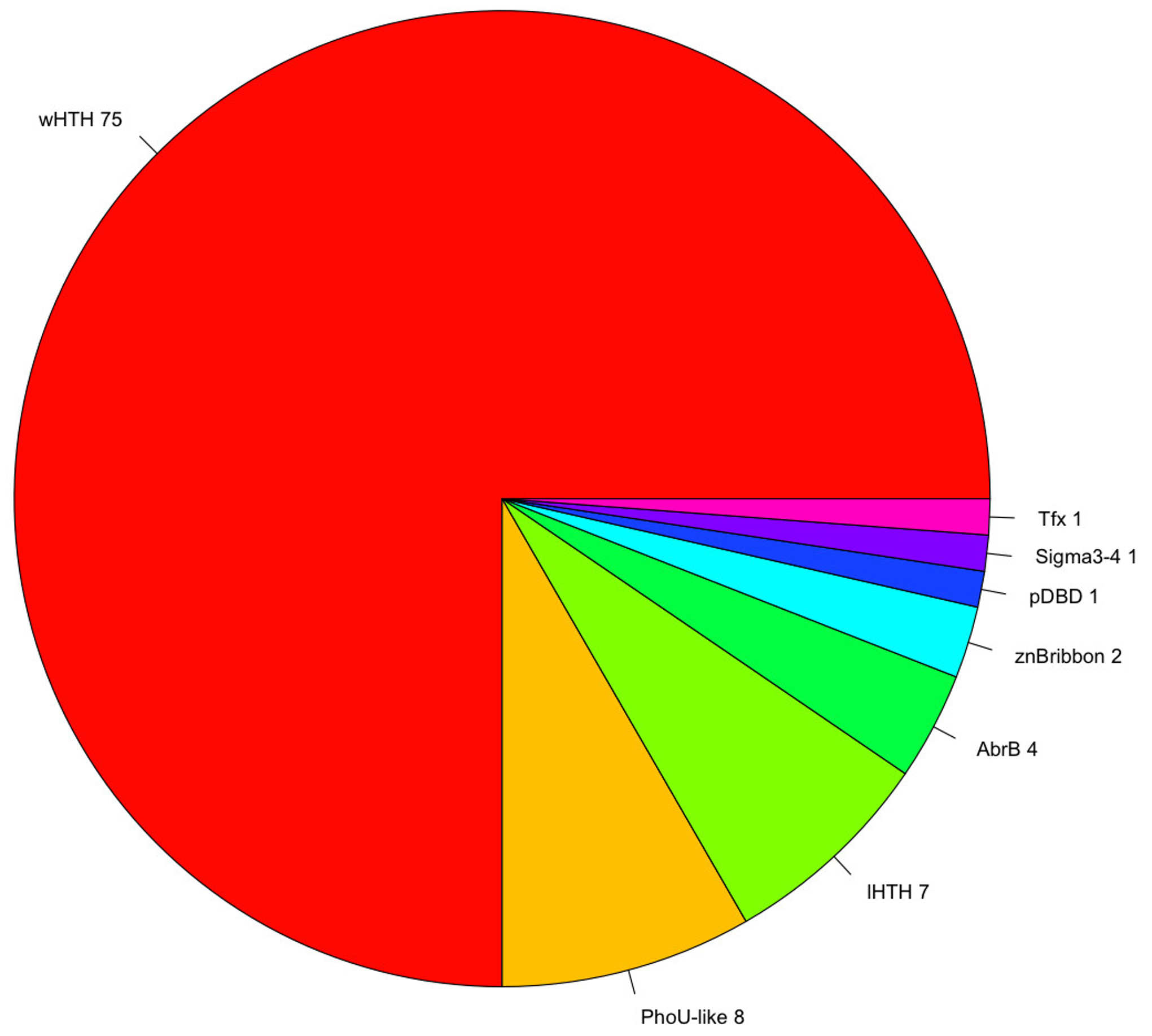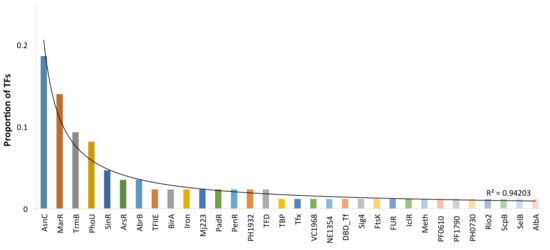 Figure 3.
TF families identified in
P. furiosus
. The
x
-axis indicates the family names; on the
y
-axis are proportions of the regulatory families.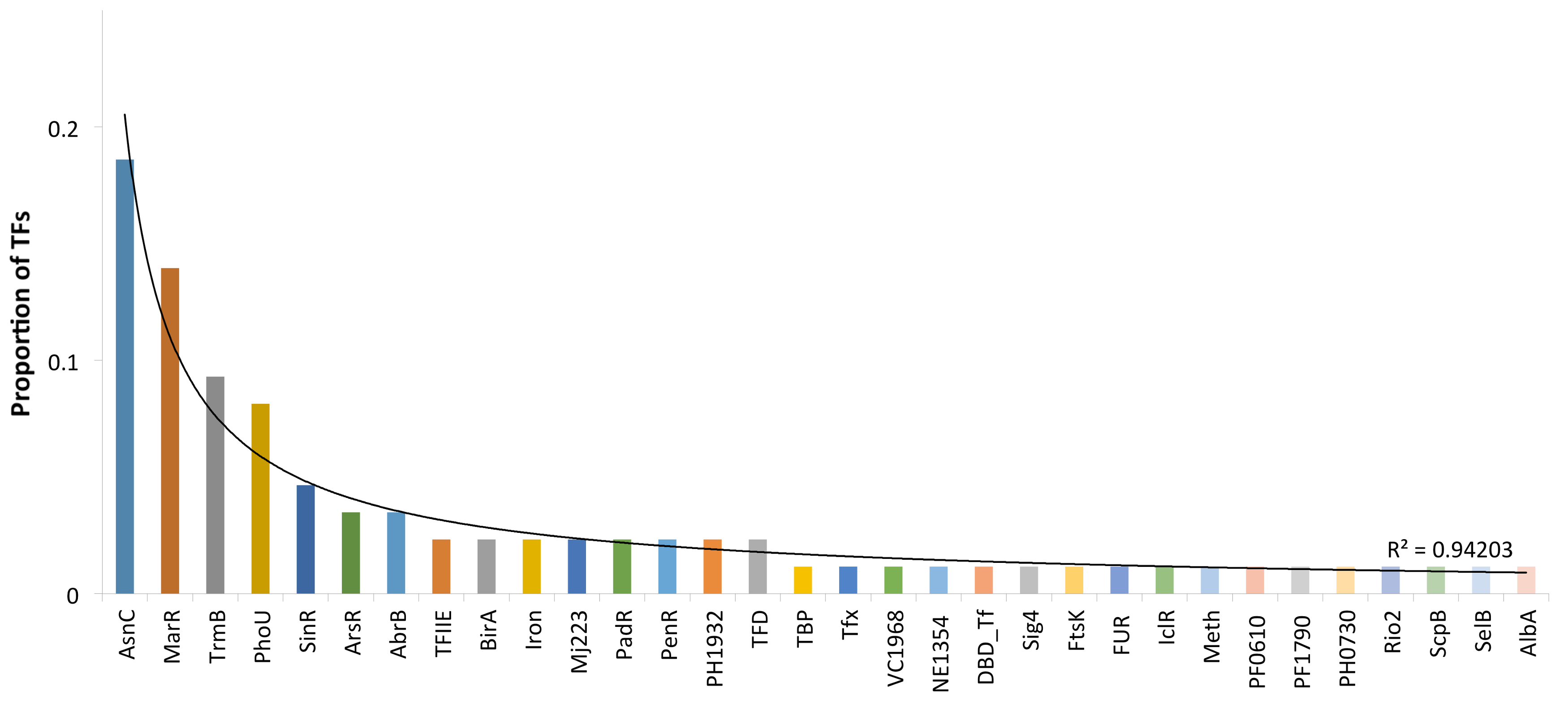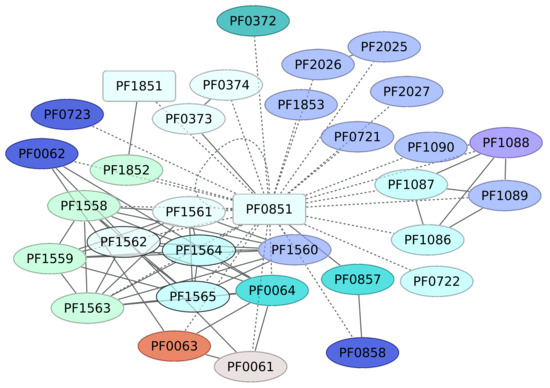 Figure 4.
Genes associated with the Iron-dependent repressor family (PF0851). In red squares are the regulatory proteins identified in this work. The continuous line indicates those genes for which there is experimental evidence of regulation, whereas dashed lines correspond to predicted interactions based on analysis using the String server (interaction values 0.7 were considered) (
http://string.embl.de/
). Colors for genes correspond to COG categories. TFs are in rectangles; inferred TFs (not based on experimental evidence) are in green. Other categories and colors are as follows: K category, blue; G, yellow; C, dark green; P, dark blue; E, purple; O, red. Shown in white are those genes with no COG assignment or with a hypothetical or general function.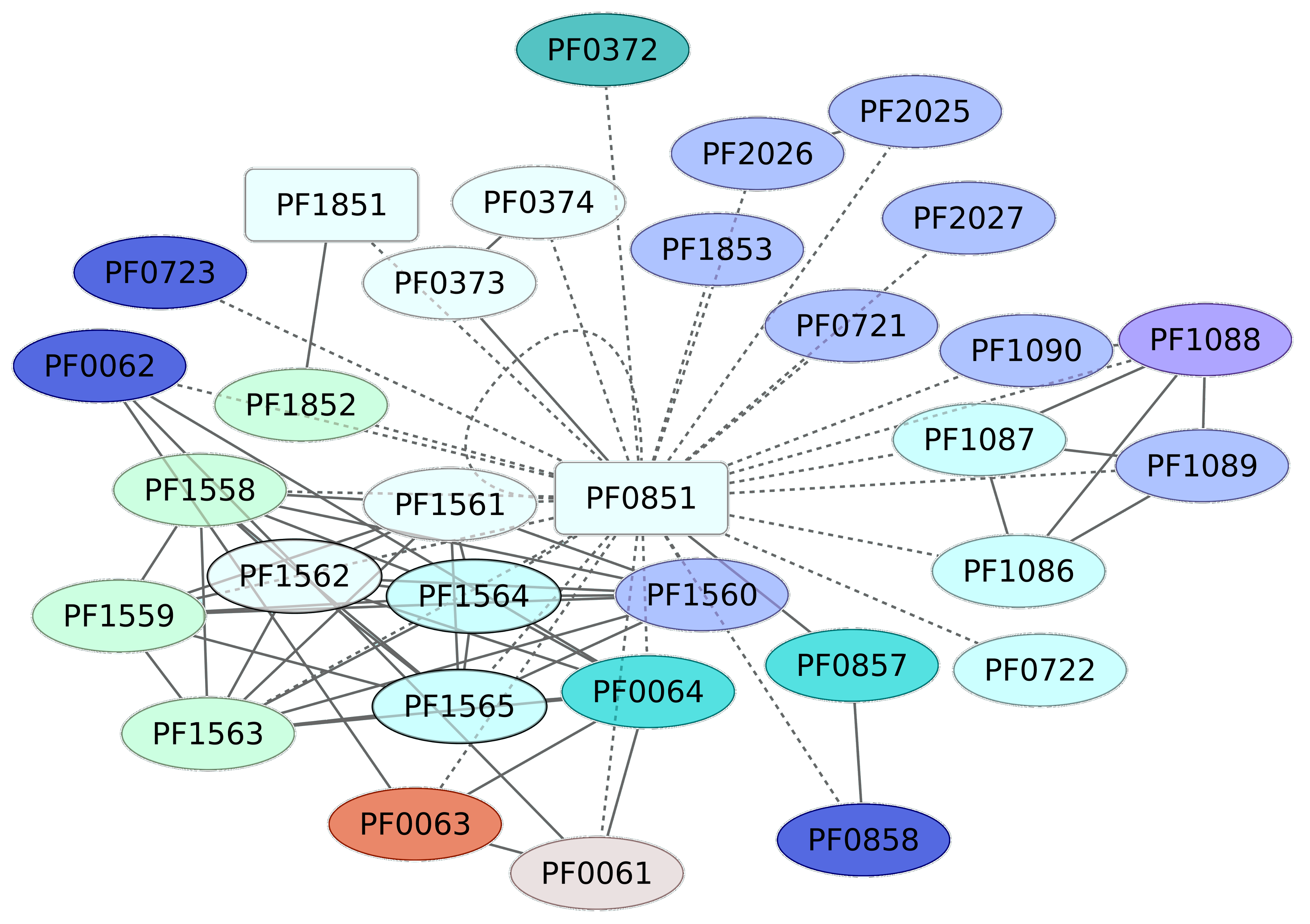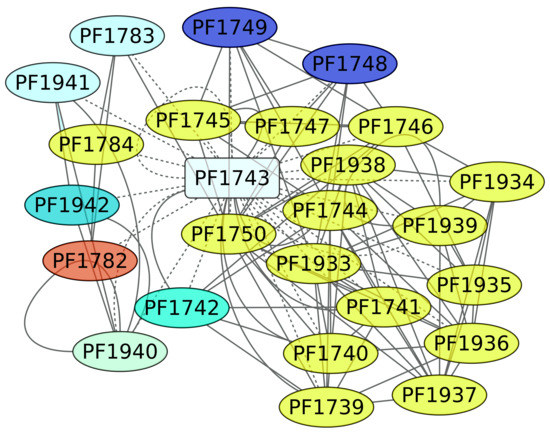 Figure 5.
Genes associated with the maltose and trehalose metabolism regulon (PF1743). The color codes are the same as
Figure 4
.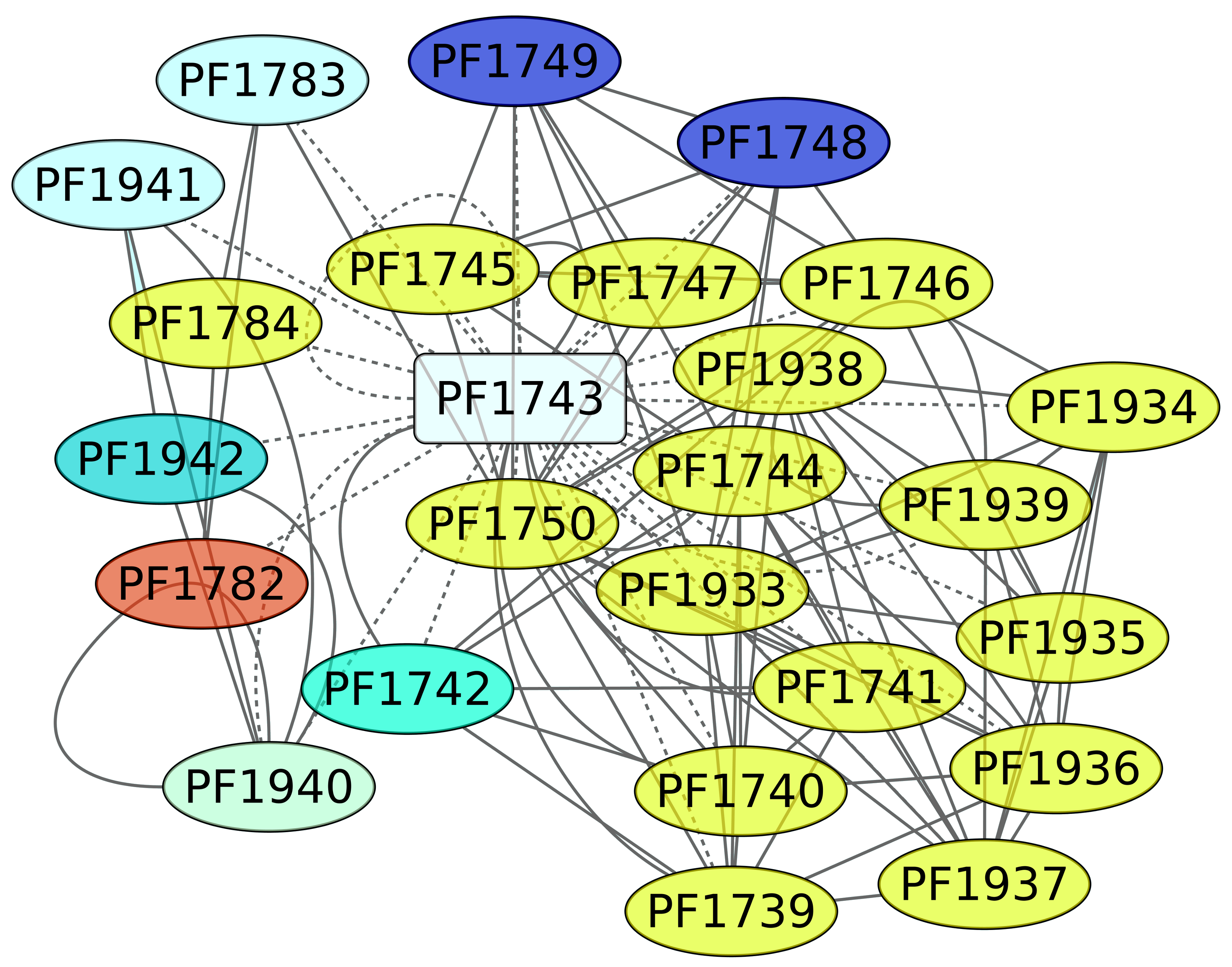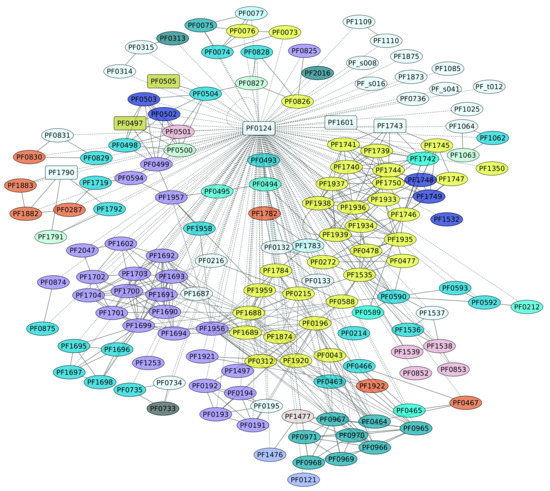 Figure 6.
Genes regulated by TrmBL1 (PF0124). The color codes are the same as
Figure 4
.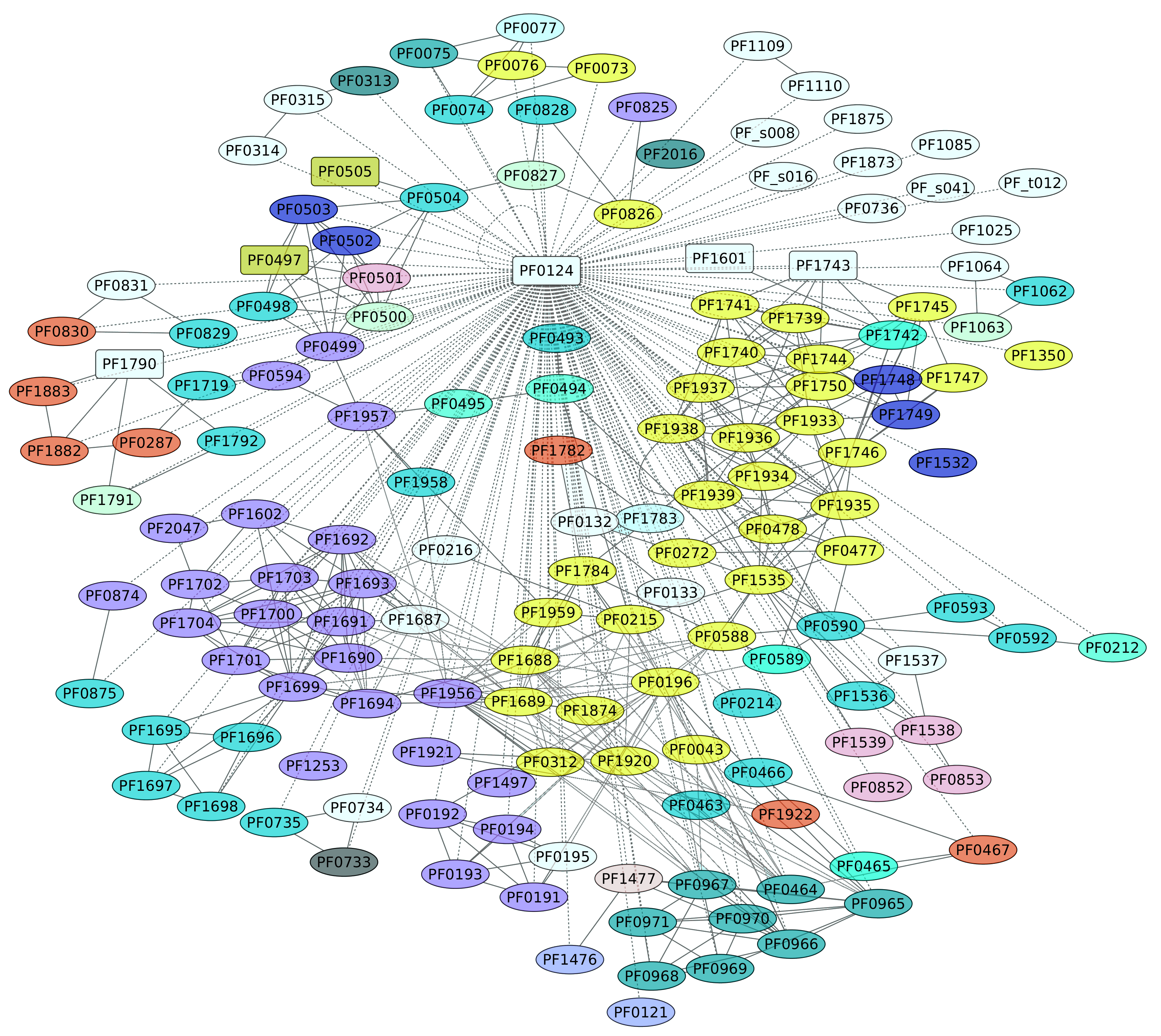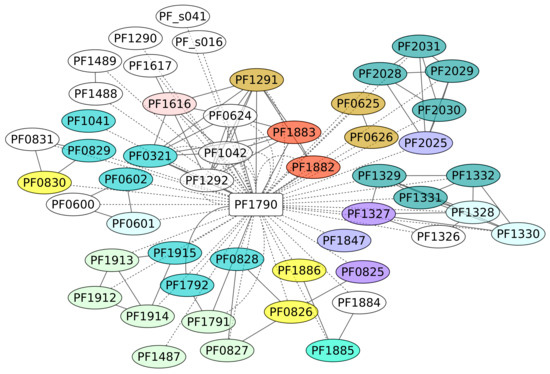 Figure 7.
Phr regulon (PF1790). The color codes are the same as
Figure 4
.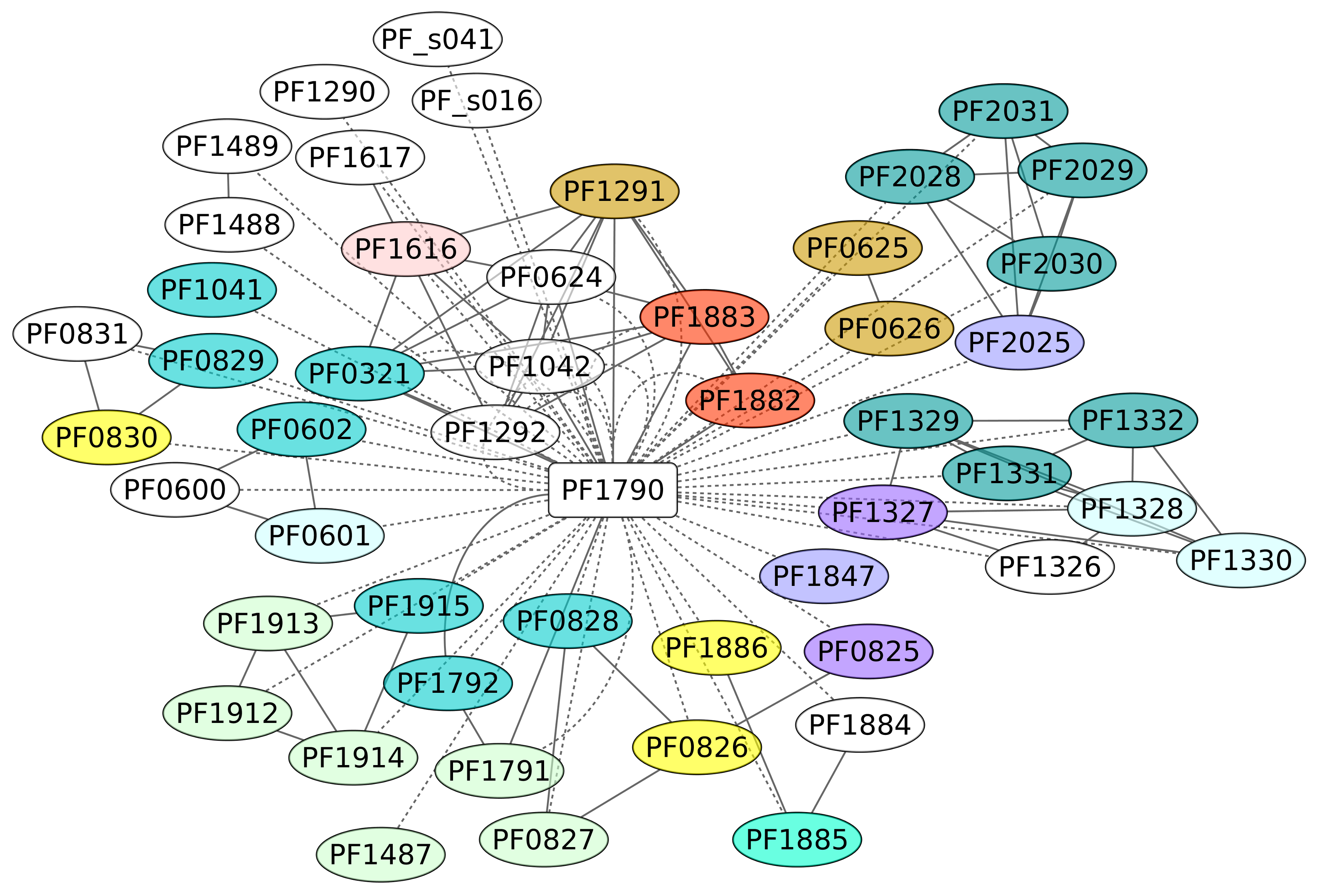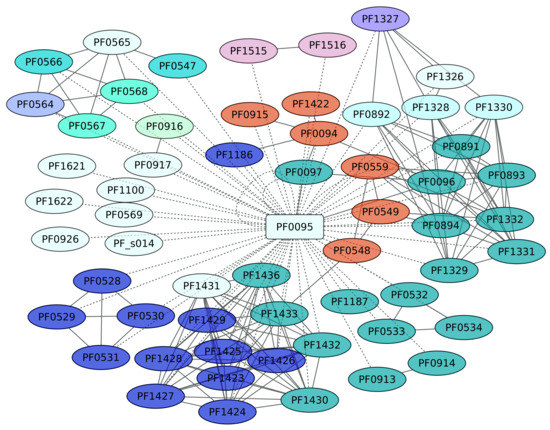 Figure 8.
Sur regulon (PF0095). The color codes are the same as
Figure 4
.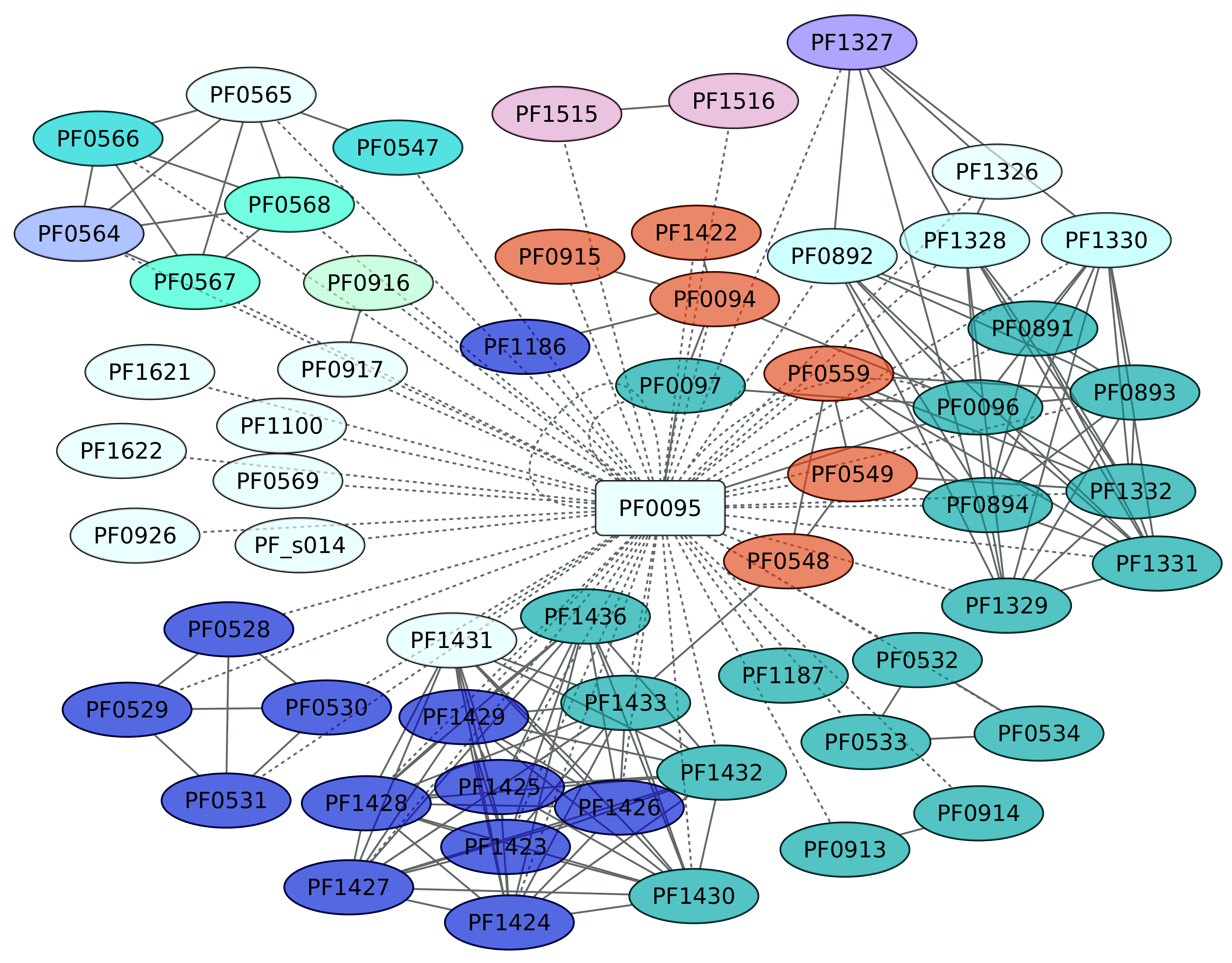 | Superfamily | Family(s) | Total of Proteins |
| --- | --- | --- |
| wHTH | AsnC, MarR TrmB, ArsR, TFIIE, PenR, PadR, Iron, PH1932, Mj223, BirA, TFIIE, PenR, PadR, Iron, PH1932, Mj223, BirA, IclR, ScpB, Rio2, PH0730, PF1790, PF0610, Meth, FtsK, Fur, SelB | 63 |
| PhoU-like | PhoU | 7 |
| lHTH | SinR, VC1968, NE1354 | 6 |
| AbrB | AbrB | 3 |
| znBribbon | TFD | 2 |
| pDBD | DBD_Tf | 2 |
| Tfx | Tfx | 1 |
| Sigma3,4 | Sig4 | 1 |
| AlbA | AlbA | 1 |
| TBP | TBP | 1 |

© 2018 by the authors. Licensee MDPI, Basel, Switzerland. This article is an open access article distributed under the terms and conditions of the Creative Commons Attribution (CC BY) license (http://creativecommons.org/licenses/by/4.0/).