Open Access This article is
freely available
re-usable
Review
Ecology and Evolution in the RNA World Dynamics and Stability of Prebiotic Replicator Systems
1
Evolutionary Systems Research Group, MTA, Centre for Ecological Research, Hungarian Academy of Sciences, Klebelsberg Kuno u. 3, 8237 Tihany, Hungary
2
Center for the Conceptual Foundations of Science, Parmenides Foundation, Kirchplatz 1, 82049 Pullach/Munich, Germany
3
MTA-ELTE Theoretical Biology and Evolutionary Ecology Research Group, Department of Plant Systematics, Ecology and Theoretical Biology, Eötvös Loránd University, Pázmány Péter sétány. 1/c, 1117 Budapest, Hungary
4
Department of Plant Systematics, Ecology and Theoretical Biology, Eötvös Loránd University, Pázmány Péter sétány. 1/c, 1117 Budapest, Hungary
5
Biocomplexity Group, Niels Bohr Institute, Copenhagen University, Blegdamsvej 17, 2100 Copenhagen, Denmark
*
Author to whom correspondence should be addressed.
Received: 30 September 2017 / Accepted: 13 November 2017 / Published: 27 November 2017
Abstract
:
As of today, the most credible scientific paradigm pertaining to the origin of life on Earth is undoubtedly the RNA World scenario. It is built on the assumption that catalytically active replicators (most probably RNA-like macromolecules) may have been responsible for booting up life almost four billion years ago. The many different incarnations of nucleotide sequence (string) replicator models proposed recently are all attempts to explain on this basis how the genetic information transfer and the functional diversity of prebiotic replicator systems may have emerged, persisted and evolved into the first living cell. We have postulated three necessary conditions for an RNA World model system to be a dynamically feasible representation of prebiotic chemical evolution: (1) it must maintain and transfer a sufficient diversity of information reliably and indefinitely, (2) it must be ecologically stable and (3) it must be evolutionarily stable. In this review, we discuss the best-known prebiotic scenarios and the corresponding models of string-replicator dynamics and assess them against these criteria. We suggest that the most popular of prebiotic replicator systems, the hypercycle, is probably the worst performer in almost all of these respects, whereas a few other model concepts (parabolic replicator, open chaotic flows, stochastic corrector, metabolically coupled replicator system) are promising candidates for development into coherent models that may become experimentally accessible in the future.
Keywords:
RNA-world; ribozymes; coexistence; ecological stability; evolutionary stability; template replication; modelling the origin of life; evolvability
Acknowledgments
The research was funded by the National Research, Development and Innovation Office (NKFIH) under OTKA grant numbers 112788 (I.Z.), 120799 (B.K.), 124438 (B.K., T.C. and A.S.), K119347 (Á.K. and A.S.) and GINOP-2.3.2-15-2016-00057 (B.K., T.C., Á.K., A.S., I.S. and I.Z.). This work was carried out as part of EU COST action CM1304 "Emergence and Evolution of Complex Chemical Systems".
Author Contributions
All authors contributed equally.
Conflicts of Interest
The authors declare no conflict of interest.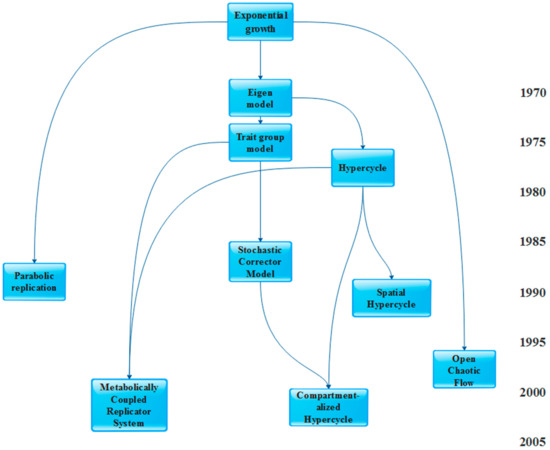 Figure 1. Genealogy of prebiotic replicator models. The simplest possible model for replicator dynamics is exponential growth, which does not allow coexistence as the fittest always wins. Since it is an idealistic case, all sorts of extensions and deviations from the basic model are intended to make prebiotic systems more realistic and more permissive in terms of coexistence, ultimately crossing the barrier beyond which a sufficient amount of information can be stably maintained on the evolutionary timescale for cellular life to emerge.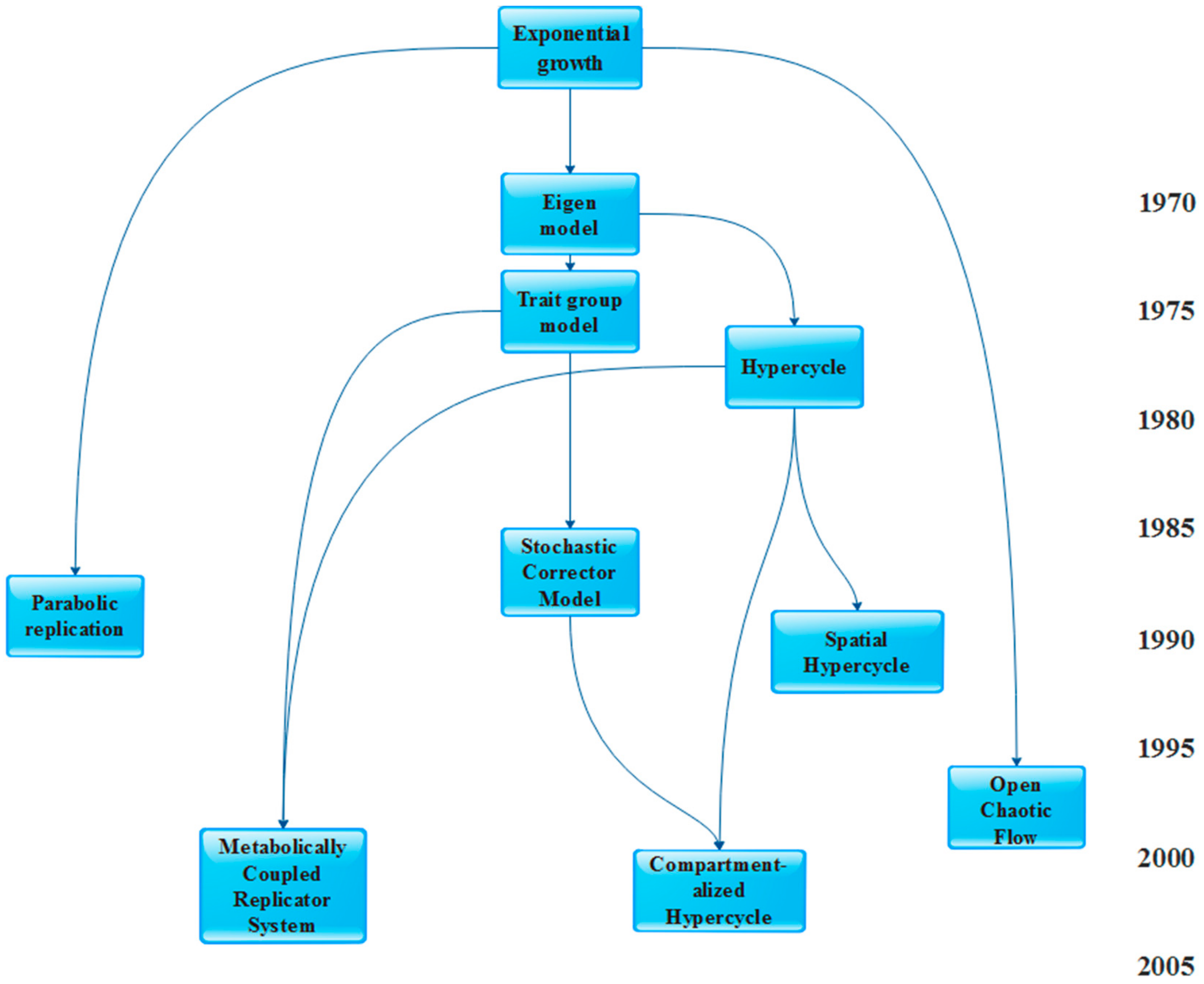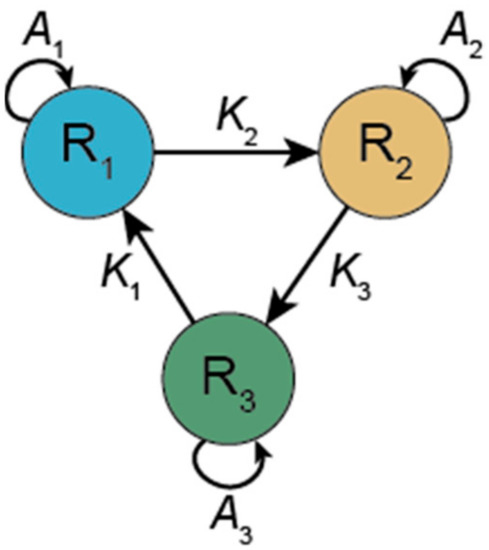 Figure 2. A 3-membered hypercycle. Each member (Ri) of the hypercycle can catalyse its own replication (Ai) and the replication of the next member in the cycle (Ki+1).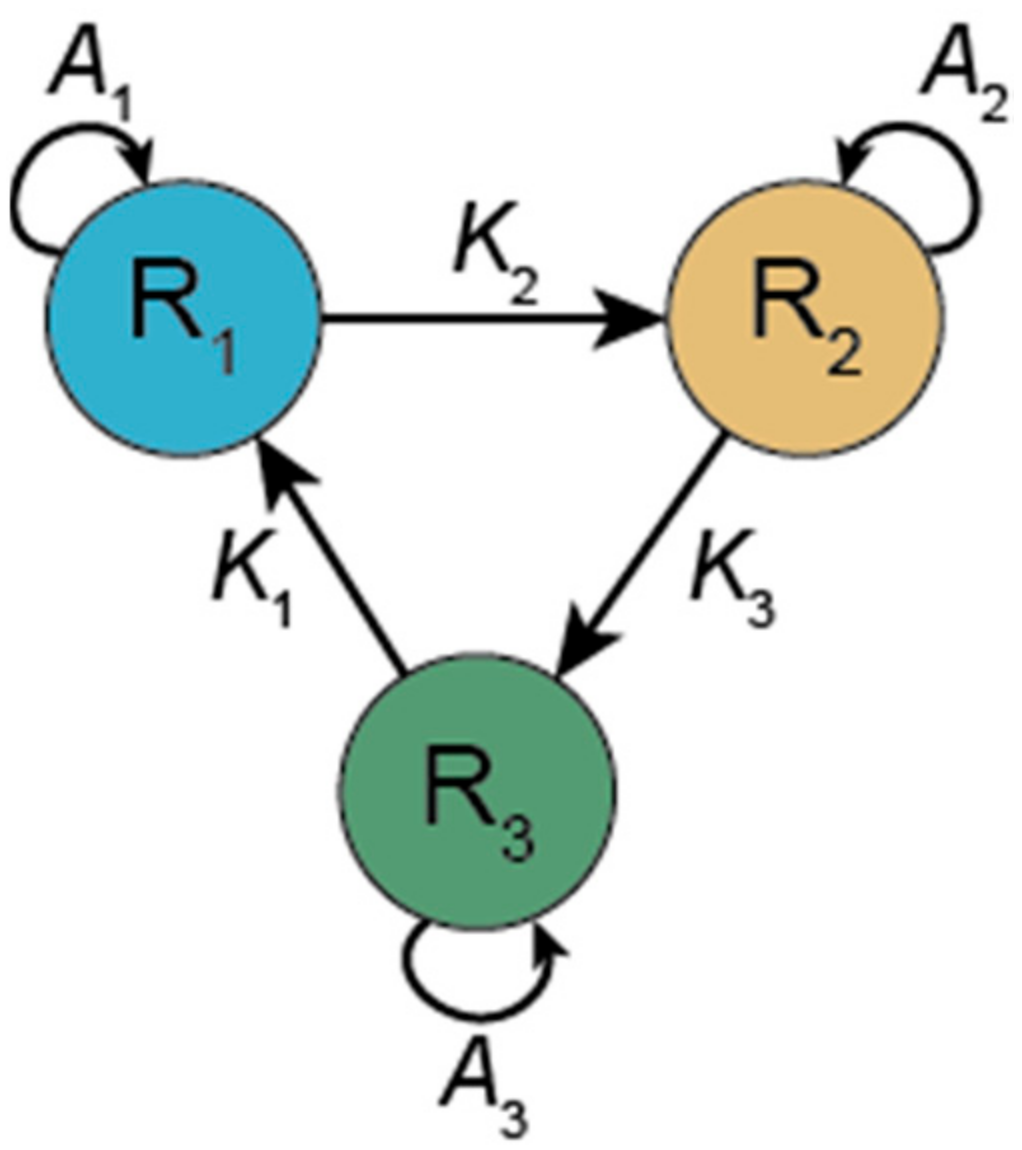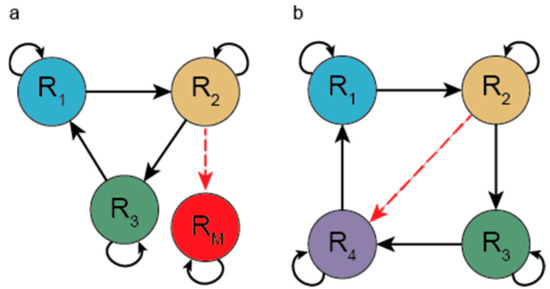 Figure 3. Evolutionary instability in the hypercycle. (a) A parasite (RM) that enjoys catalysis from a member of the hypercycle (R2) but does not take part in the hypercycle organization. (b) A shortcut mutation (red dotted arrow) which changes the specificity of the catalysis offered by a member of the hypercycle (R2) so that it catalyses the replication of a member it should not catalyse. R1, R2 and R4 now form a 3-membered hypercycle, which can replicate faster than the 4-membered hypercycle.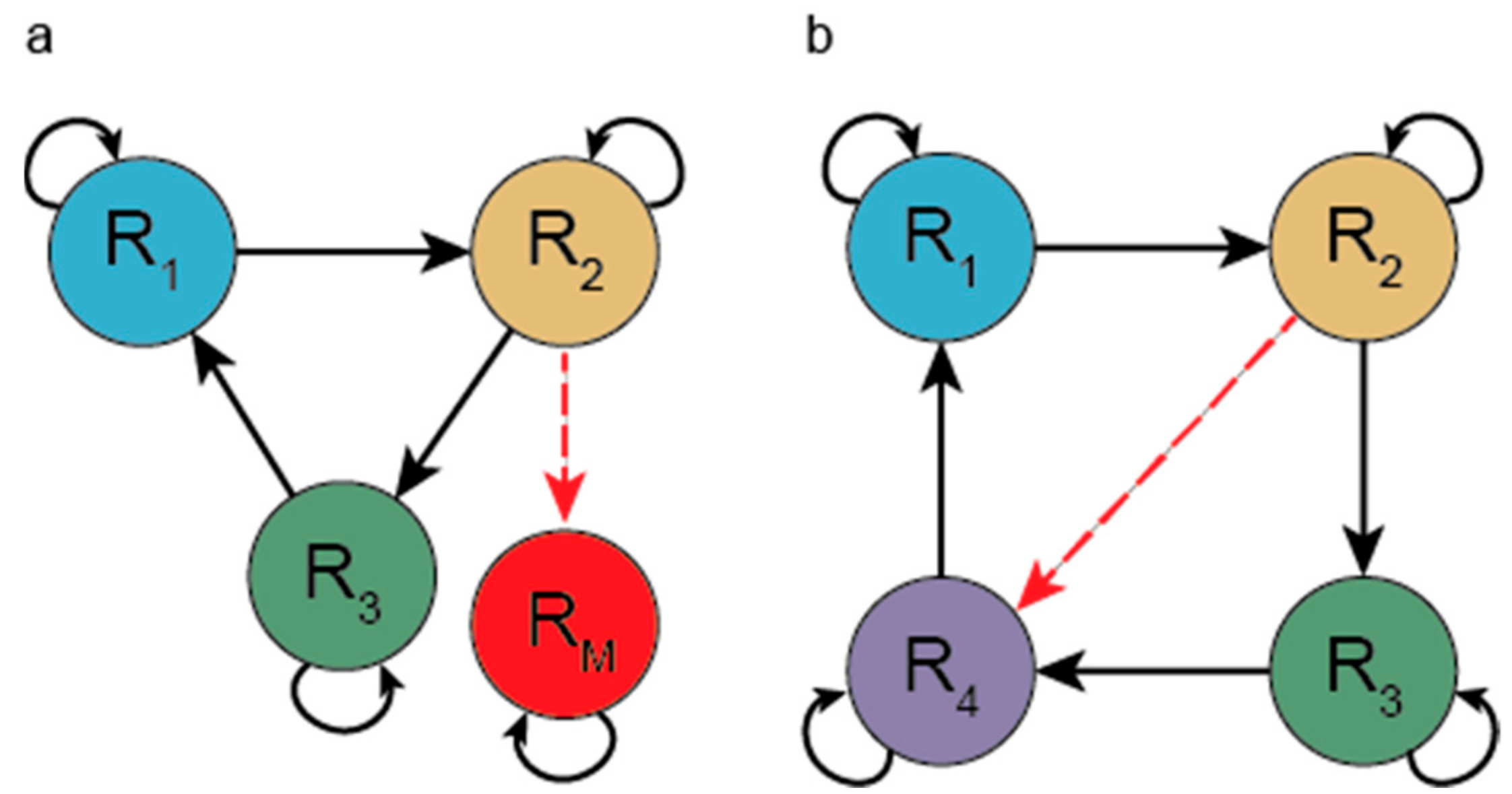 Figure 4.
The motion of particles in an open chaotic flow. The blinking vortex-sink system is used for demonstration. It models the outflow from a large bath tub with two sinks that are opened in an alternating manner. Crosses denote the sinks. (
a
) Diverging trajectories of two particles that initially are close to each other. In this example, they even leave the bath in different sinks. (
b
) A snapshot on particles distributed along a fractal set (chaotic saddle) in open chaotic flow generated by the blinking vortex-sink system. (Based on [
32
].)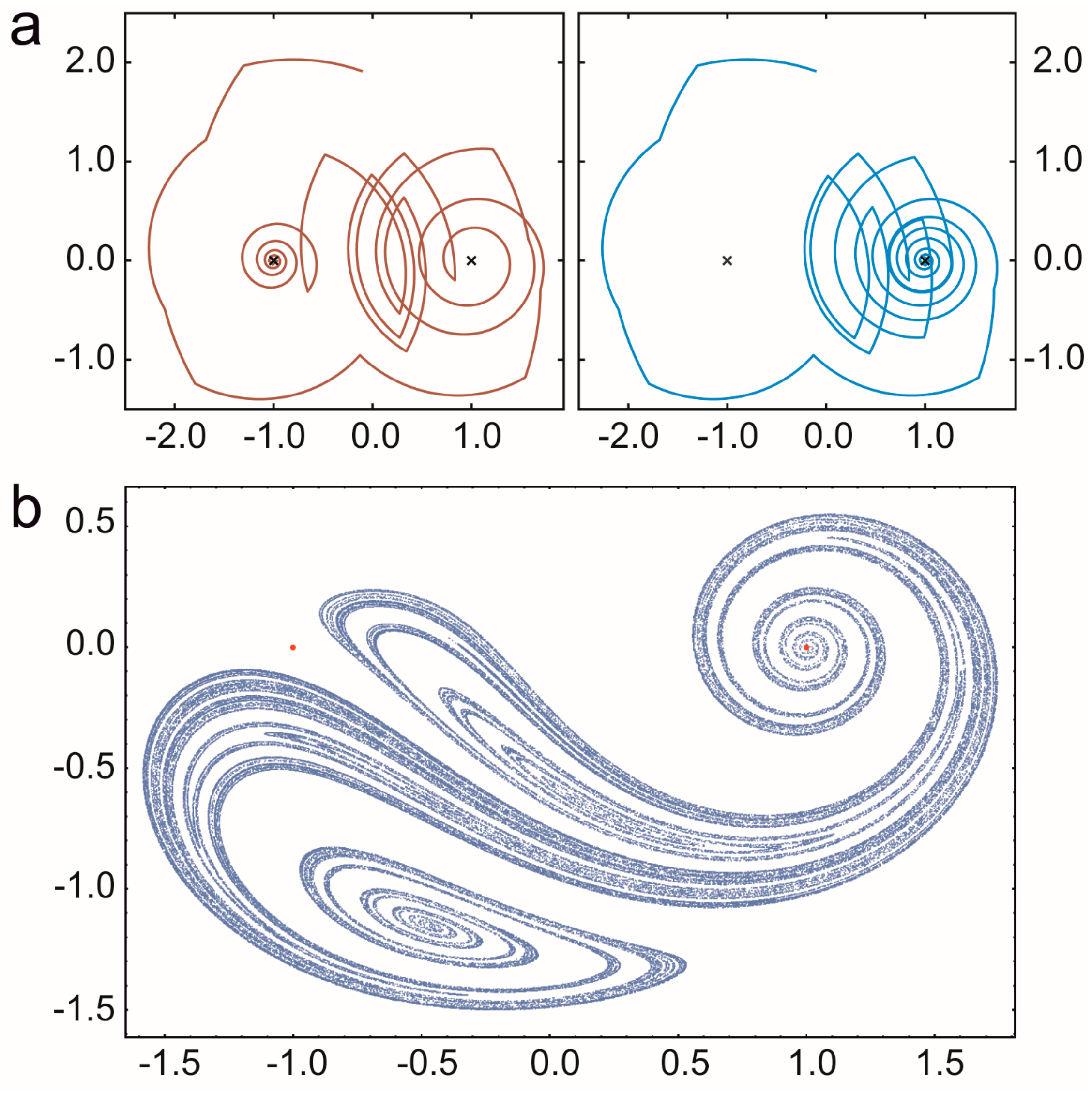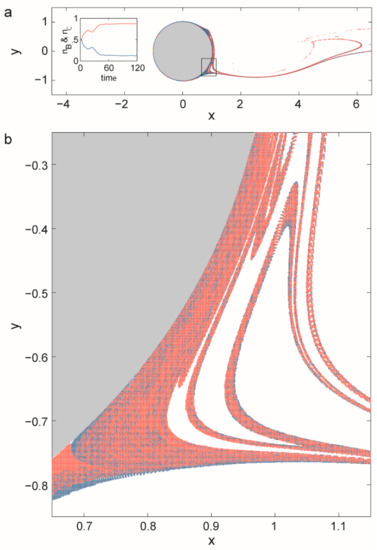 Figure 5.
The distribution of two replicators (red) B and (blue) C competing for the same resource material (white) in the wake of a cylinder. The flow is from left to right. The inset in (
a
) shows the time-dependence of the population numbers
n
B
,
n
C
and clearly indicates the approach to a steady state of coexistence. A blow-up of the region indicated by a rectangle in (
a
) is seen in (
b
). B-s replication rate is 4/3 of the C-s, while decay rates are the same for the two species. Coexistence of 35 species is experienced in other simulations. (Based on [
31
].)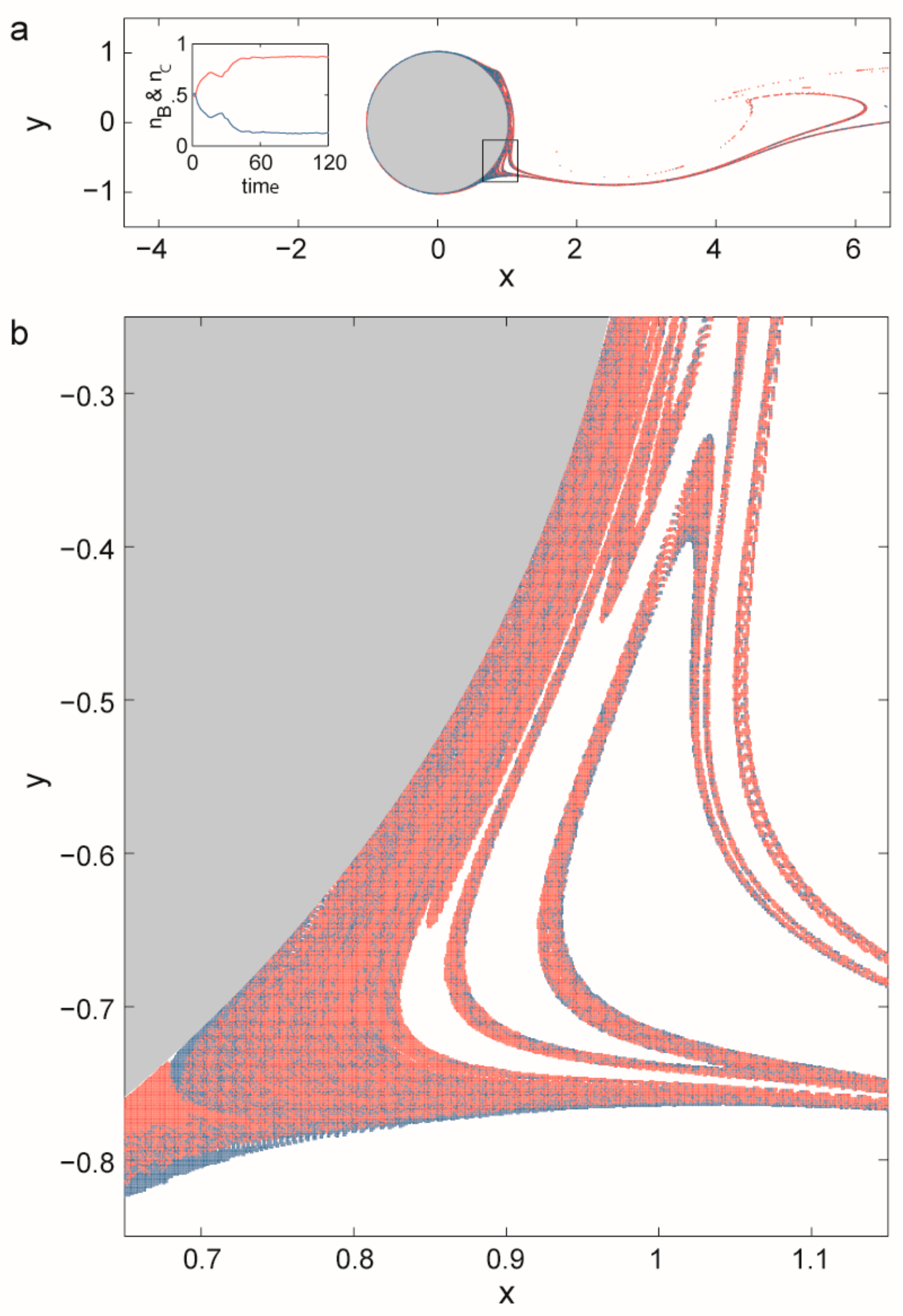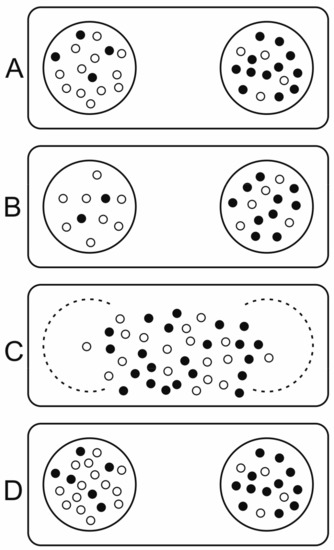 Figure 6.
Wilson's trait group (or structured deme) model. (
A
) Individuals with different traits, black and white dots, form localized trait groups. (
B
) After ecological interactions and selection, (
C
) survivors are released to form a pool, where they can reproduce. (
D
) New groups form (After [
39
]).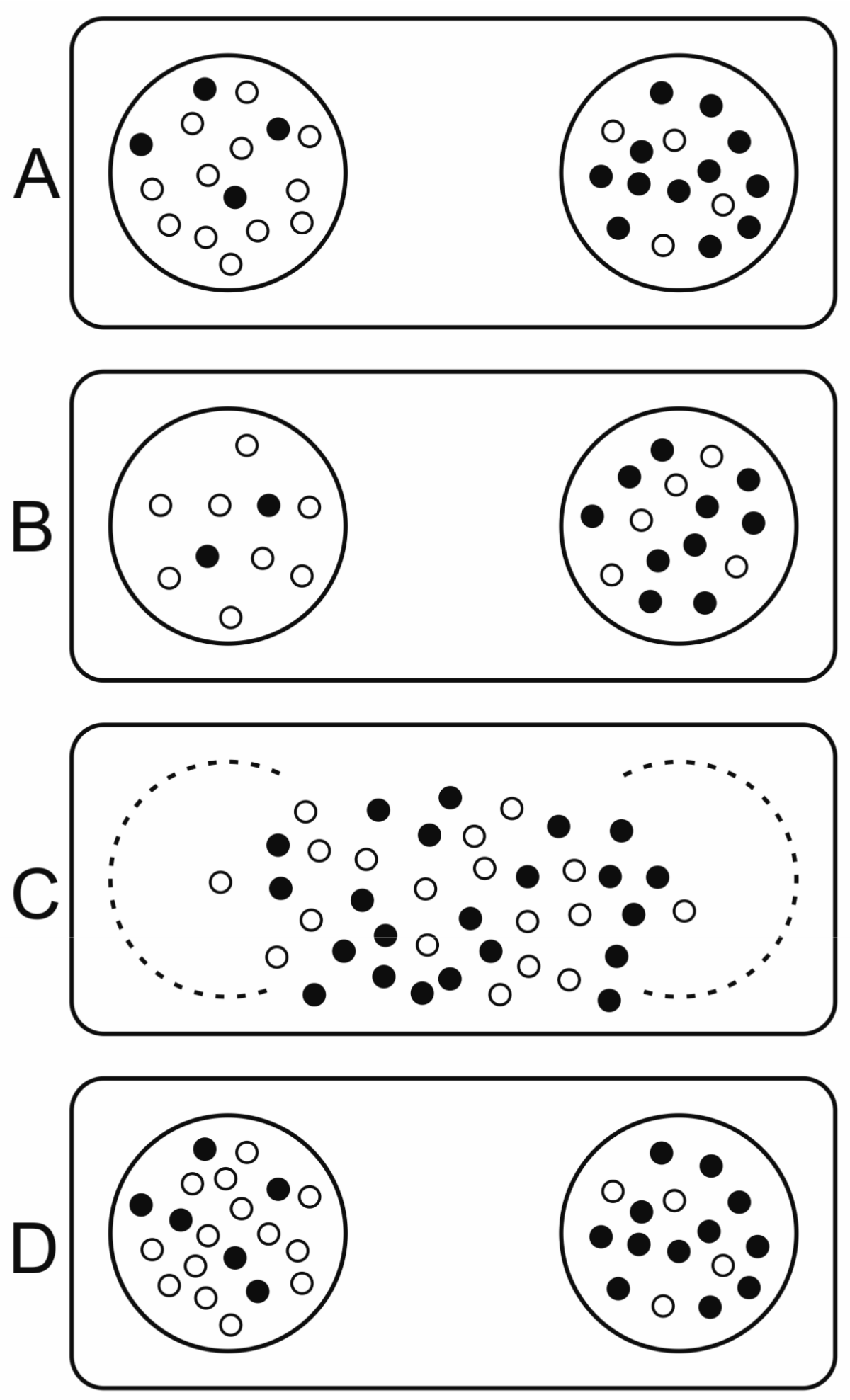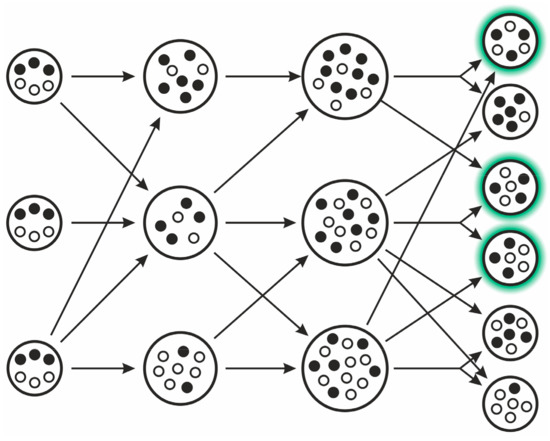 Figure 7.
The stochastic corrector model. The two replicator types are indicated with filled and empty small circles. Arrows indicate transitions, as individual compartments grow and divide. Compartments with green highlight (after division) contain the optimal composition of replicators (after [
29
]).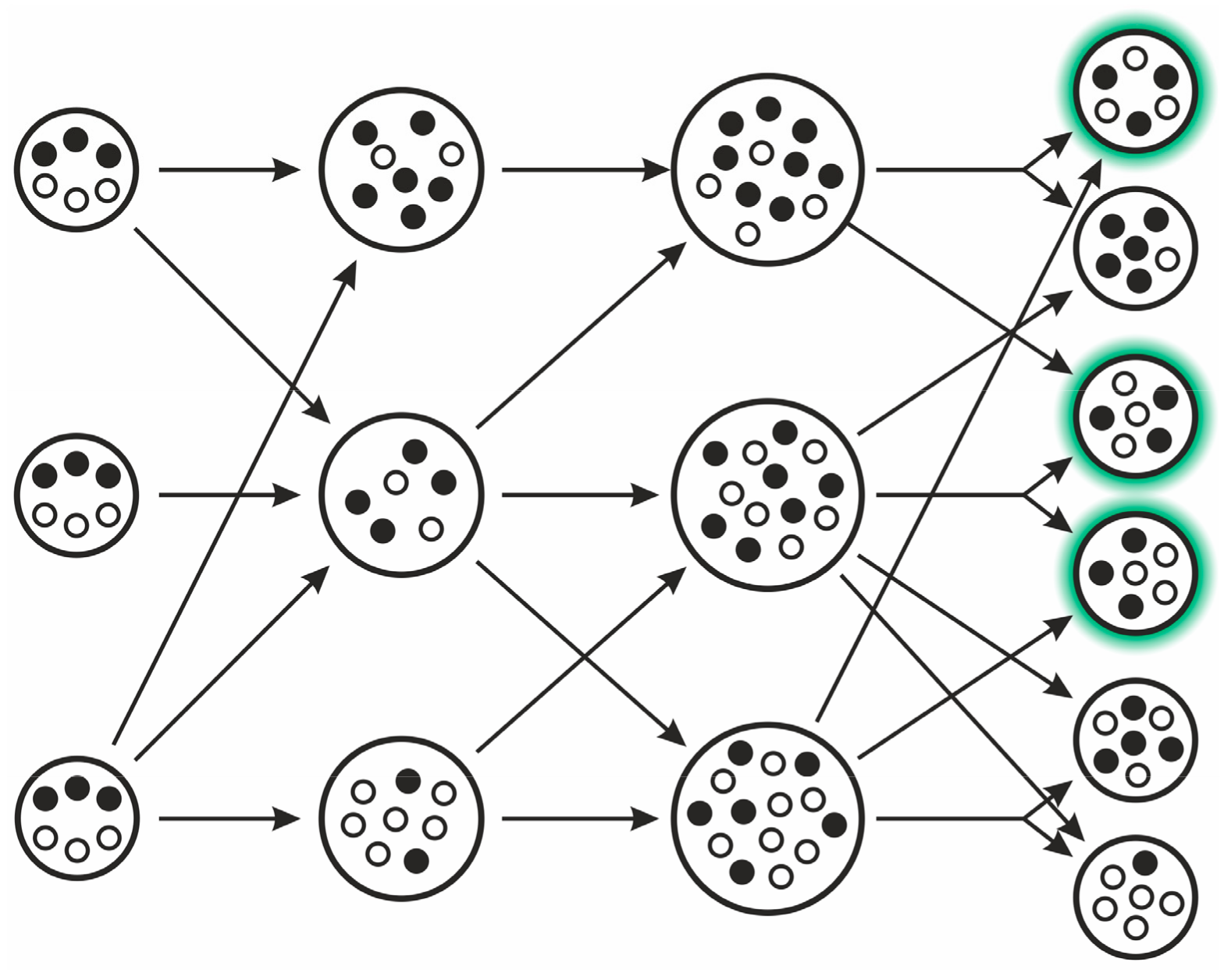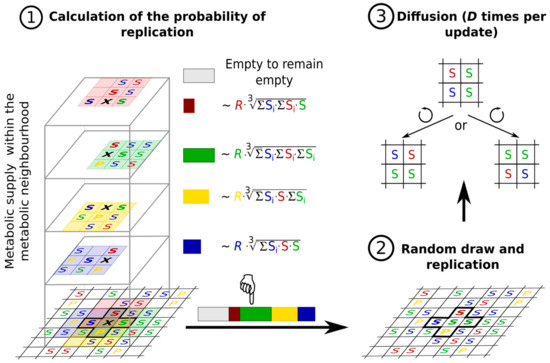 Figure 8.
Basics of the MCRS algorithm. (1) Metabolic support of the four replicators in the von Neumann neighbourhood of an empty site (black
X
). Red, green and blue
S
s denote different, metabolically active replicator species, the yellow
P
stands for a parasitic replicator. (2) The replicator taking the empty site by the next generation is determined by a random draw, with the empty site to remain empty having a constant claim and the claim of each adjacent replicator depending on its own replicability (
R
) and the metabolic support it receives from within its own 3 × 3 metabolic neighbourhood. (3) Each replication step is followed by replicator diffusion, implemented as
D
elementary steps of the Toffoli-Margolus algorithm [
114
] at random positions of the lattice.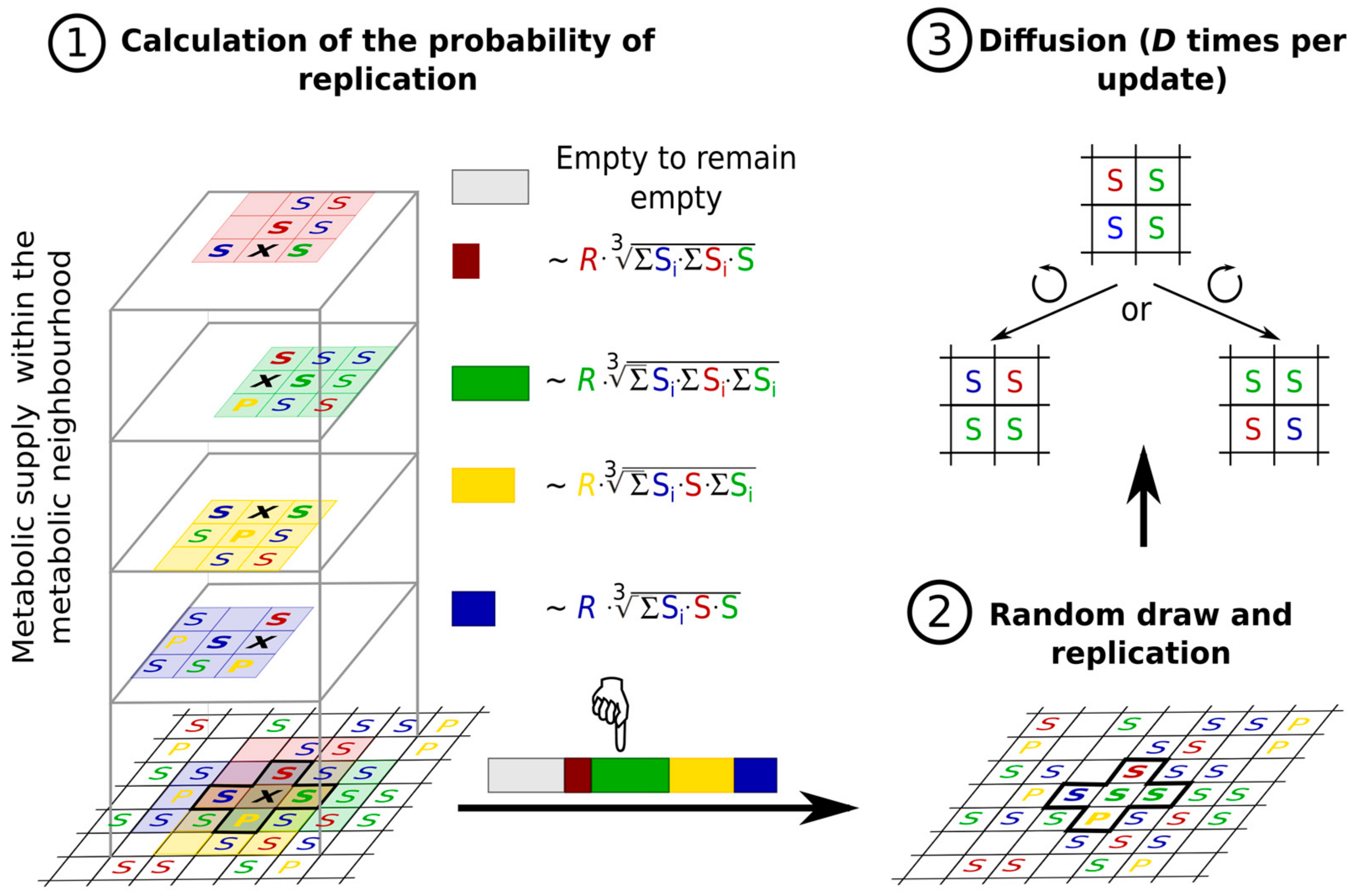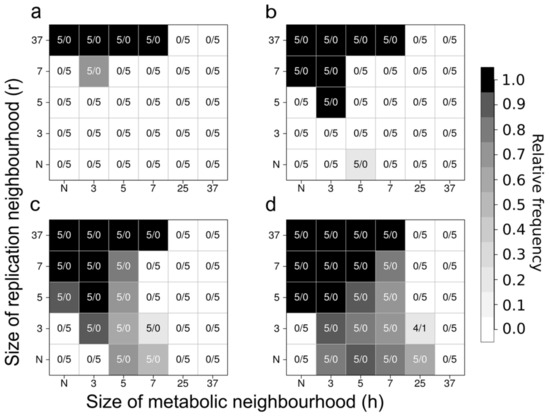 Figure 9.
Persistence of the MCRS at different sizes of the metabolic and the replication neighbourhood. Neighbourhood sizes are given as side lengths of a square-shaped section of the lattice that is centred on the focal site;
N
stands for von Neumann neighbourhood. The
i
/
j
values inside the table cells specify the numbers of persistent/extinct systems out of five replicate simulations; grayscale values are system densities in percentages of sites occupied by replicators within the lattice after 10,000 generations. Panel (
a
)
D
= 0, Panel (
b
)
D
= 1, Panel (
c
)
D
= 4 and Panel (
d
) D = 100 (Based on [
36
]).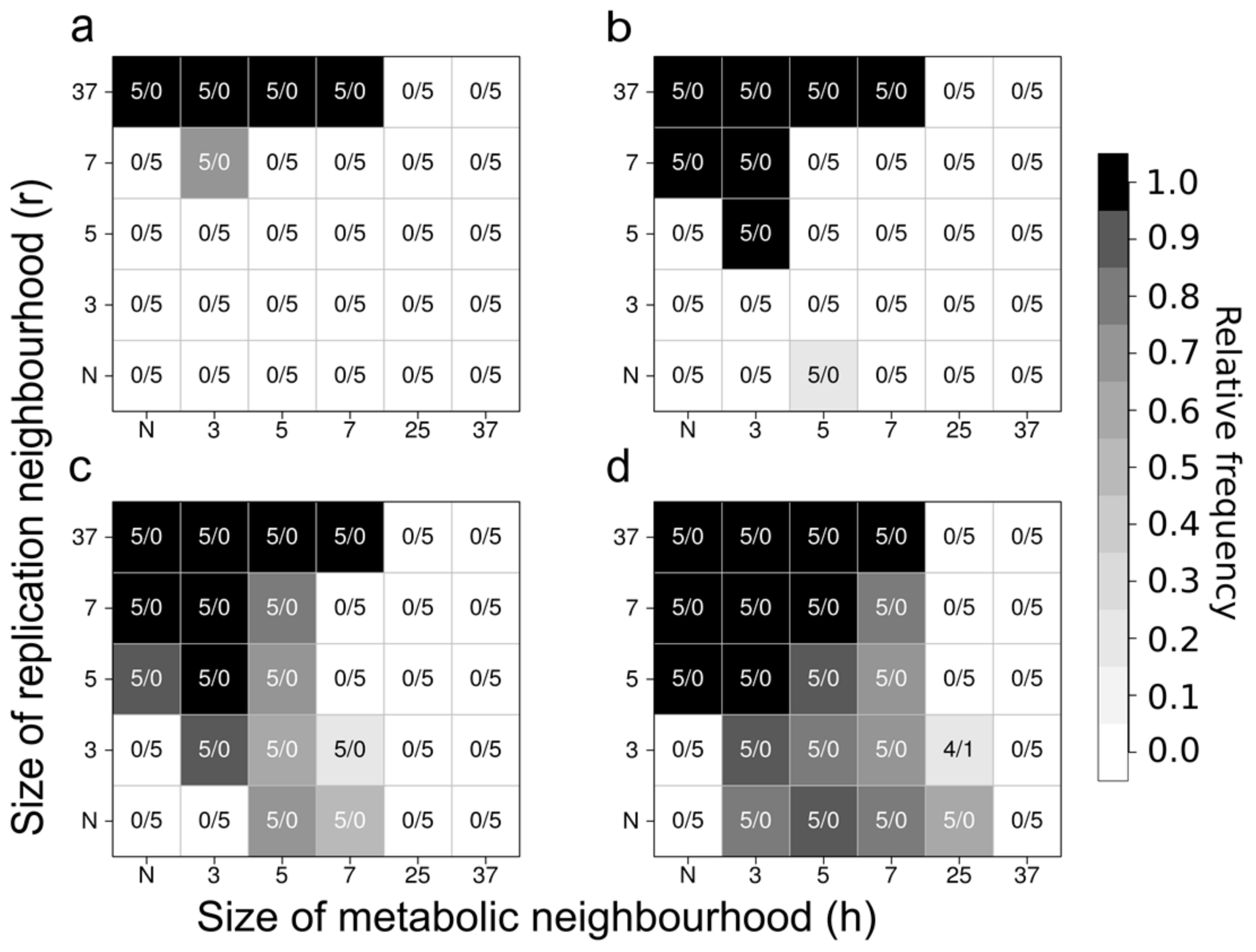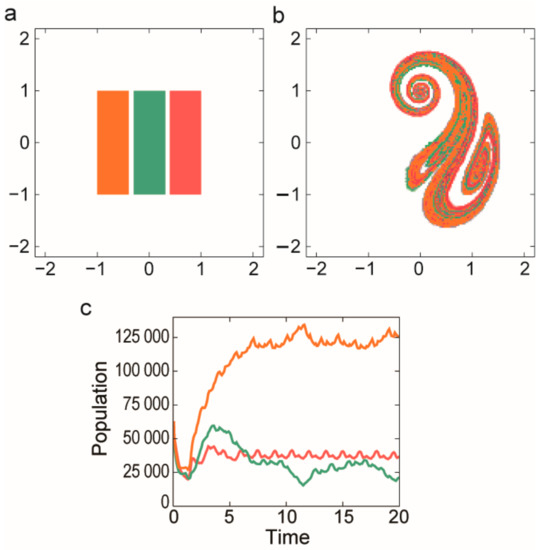 Figure 10.
Initial distribution of the replicators a snapshot and time dynamics of the metabolic network on chaotic advection by an open flow. (
a
) Replicators are placed into separate stripes initially. Different species are denoted by different colours. (
b
) The snapshot of spatial distribution of replicators at
t
= 10 in units of flow's period. (
c
) The population size is shown as a function of time measured in units of the flow's period. The size of the metabolic neighbourhood was σ = 10 for each competitors and their spontaneous decay was δ = 0.02. The replication constants were different for each species, these were
k
1
= 3 (red),
k
2
= 4 (green) and
k
3
= 5 (orange). The potential that an empty site remains empty was
C
e
= 2 (Based on [
32
]).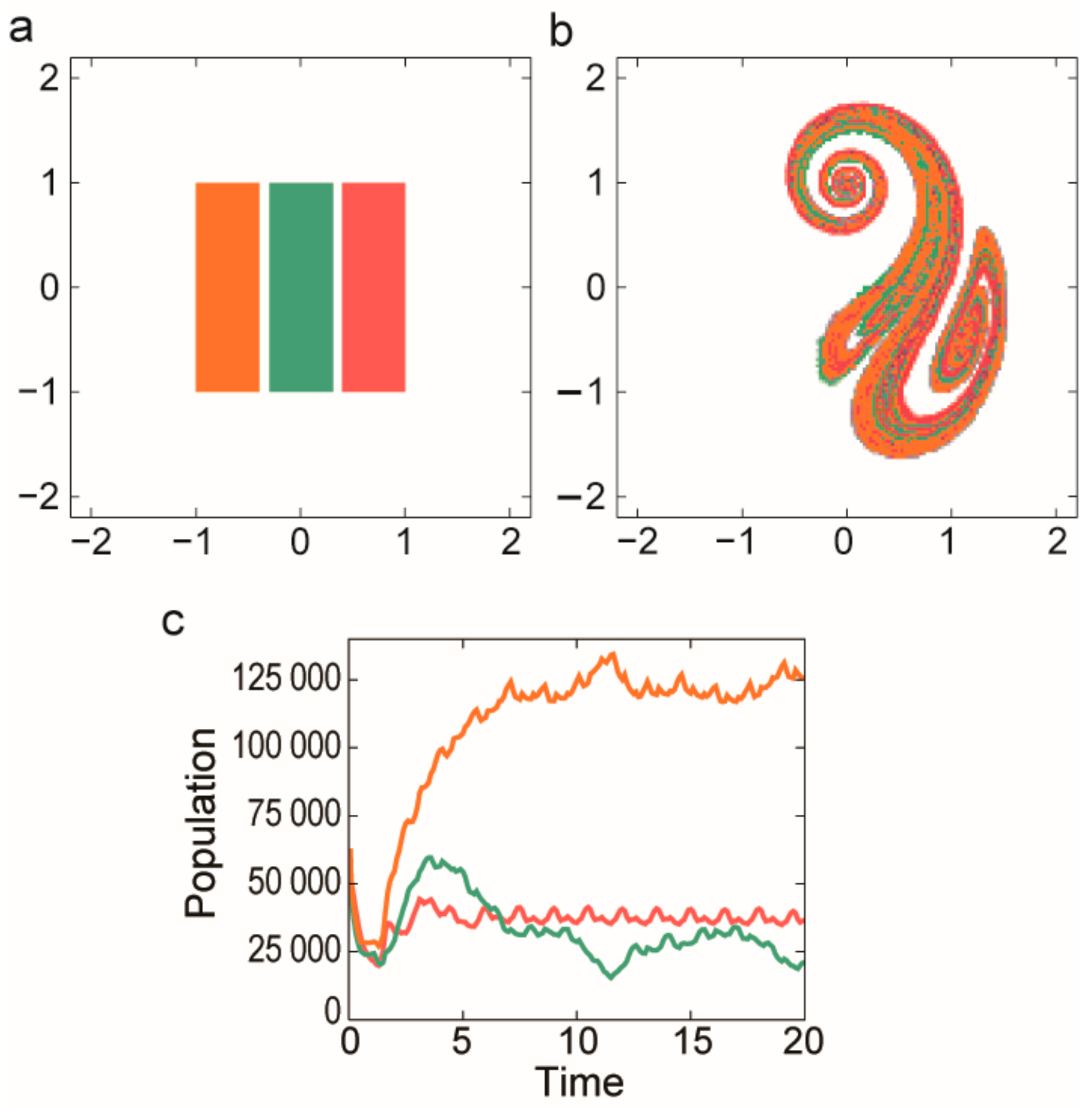 Figure 11. The 2D secondary RNA structure is determined from the primary structure (nucleotide sequence) using the thermodynamic condition that the folded molecule should have the smallest possible free conformation energy. The conformation calculations are executed by the ViennaRNA algorithm.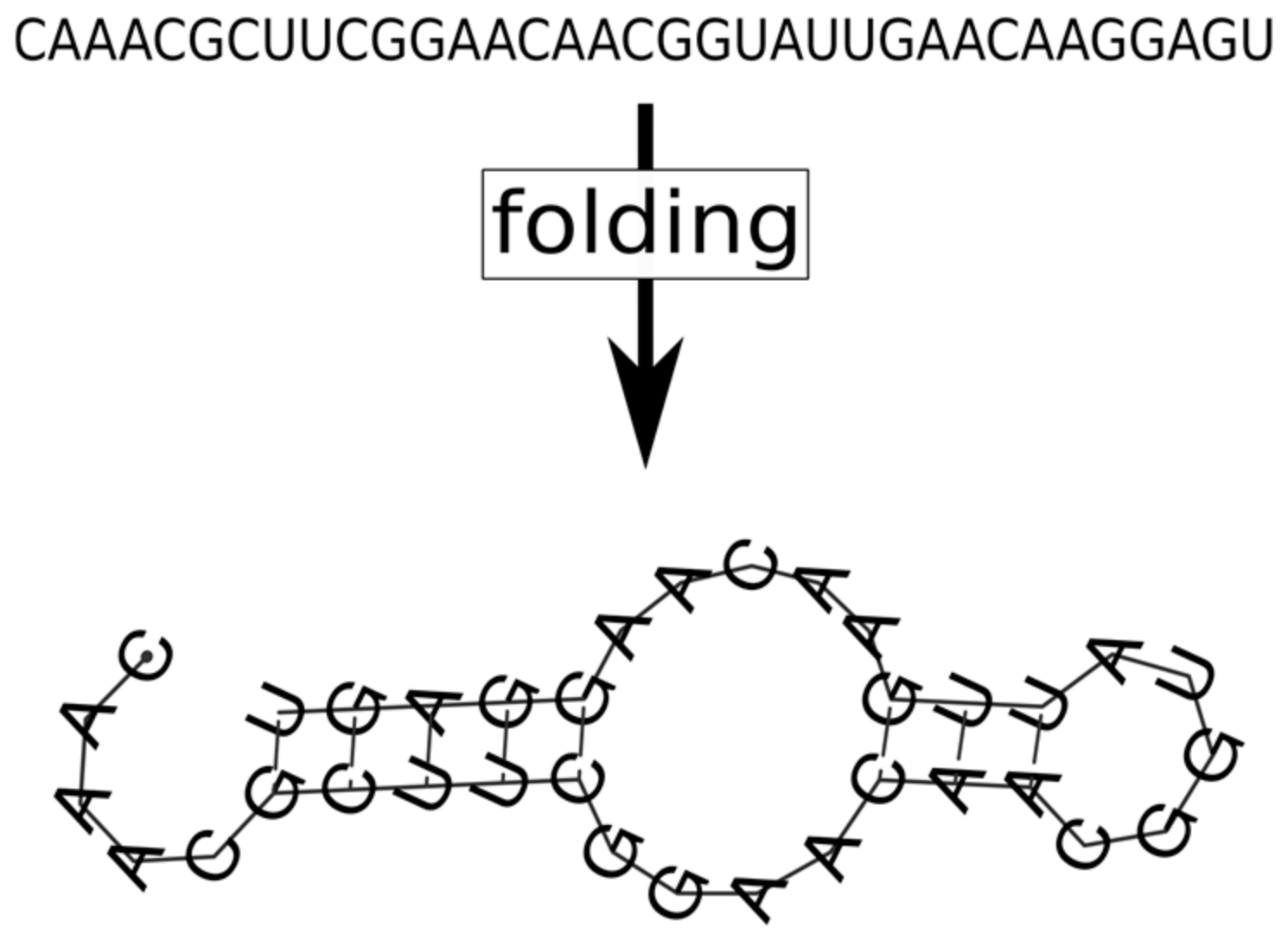 Figure 12.
Trait convergence in the sequence-explicit version of MCRS. (
a
) Relative replicator frequencies, (
b
) (metabolic) ribozyme activities and (
c
) replicator lengths at the stationary states of the simulations, after two million generations, as functions of the selection pressure against sequence length ("length penalty"). Open triangles in panel (
a
) are the proportion of surviving systems out of 100 parallel simulations; Red, green and blue dots represent the three different metabolically active replicator types, grey dots represent all the parasitic (metabolically inactive) replicators. Persistent MCRS systems are efficiently selected for convergence in all the fitness-related traits of the replicators (Based on [
38
]).


Table 1. Categorization of dynamical models with respect to their temporal and structural resolution. For details of the models see the main text and references. Note that unstructured replicator models in discrete time are generally lacking as fully (i.e., in both space and time) continuous models are much easier to handle analytically.
Structure/Time
Discrete Time
Continuous Time
Without structure (only global interactions)
-
QS, HC, PR
With structure (global and local interactions)

Compartmentalized

SCM
CHC, TGM

Spatial

MCRS
SHC, CM

Table 2. An assessment of each model in the context of the three main criteria and their "evolvability", the scope for the adoption of mutant replicators with a useful function into the system.
Diversity-Maintaining Ability
Ecological Stability
Evolutionary Stability
Evolvability
HC
An arbitrary number of sequences can coexist if there is no population stochasticity; otherwise some species can be lost.
The cooperative nature of organization ensures that, given high enough catalytic aid, the system is stable.
Selfish parasites and short-cut mutants can destroy the system.
No
SHC
Due to the importance of local interaction, the number of potentially coexisting sequences is limited.
The cooperative nature of organization ensures that, given high enough catalytic aid, the system is stable.
The organization is stable against selfish parasites but short-cut mutants could still take over. The system still cannot evolve new hypercycle members.
No
CHC
The number of sequences is limited due to the random assortment into daughter cells.
The cooperative nature of organization ensures that, given high enough catalytic aid, the system is stable.
Group selection can probably maintain existing diversity but the system still cannot evolve new hypercycle members.
N/A
PR
An arbitrary number of sequences can coexist at arbitrarily small concentrations.
The continuous advantage of rarity of any replicator ensures coexistence at any external parameter combination.

-

Non-Darwinian regime.

-

No classical selection.

-

Any number of new replicators can invade the community without outcompeting others.

No
SCM
N/A
N/A

-

Stochastic replication/degradation.

-

Random assortment during fission.

-

Shared metabolism.

Yes
OCF
An arbitrary number of sequences can coexist at arbitrarily small concentrations but locally dense populations (the concentration at the boundary of fractals can be very high).
The continuous advantage of rarity for any replicator ensures the coexistence at any external parameter combination.

-

Non-Darwinian regime.

-

No classical selection.

-

Any number of new replicators can invade the community without outcompeting others.

No
MCRS
A limited number of ribozyme replicators coexist in a highly robust system.
Advantage of rarity due to the mandatory metabolic cooperation of all replicator species maintains stability across the parameter space.

-

Darwinian selection for fitness homogeneity.

-

Dynamical trait convergence with functional diversification.

-

Sequence-dependent replicator functionality.

-

Parasite resistance.

-

Parasite "adoption" for useful functions.

-

No need for membrane compartments.

Yes
TGM
N/A
N/A

-

Small compartment size.

-

Low diffusion rate.

-

Rapid extinction of inferior compartments.

-

Selfish replicators are coupled to cooperative ones.

Yes

© 2017 by the authors. Licensee MDPI, Basel, Switzerland. This article is an open access article distributed under the terms and conditions of the Creative Commons Attribution (CC BY) license (http://creativecommons.org/licenses/by/4.0/).