Open Access This article is
freely available
re-usable
Article
Integral Phylogenomic Approach over
Ilex
L. Species from Southern South America
1
Departamento de Ecología, Genética y Evolución, Facultad de Ciencias Exactas y Naturales, Universidad de Buenos Aires—IEGEBA (UBA—CONICET), C1428EHA Ciudad Autónoma de Buenos Aires, Argentina
2
Consejo Nacional de Investigaciones Científicas y Técnicas (CONICET), Godoy Cruz 2290, C1425FQB Ciudad Autónoma de Buenos Aires, Argentina
*
Correspondence: Tel.: +54-011-5285-8645
†
Current address: Escuela de Ciencias Agrarias, Naturales y Ambientales, Universidad del Noroeste de la Provincia de Buenos Aires (UNNOBA), Av. Pte. Dr. Arturo Frondizi N° 2650 Pergamino, Buenos Aires, Argentina.

Received: 9 October 2017 / Accepted: 16 November 2017 / Published: 22 November 2017
Abstract
:
The use of molecular markers with inadequate variation levels has resulted in poorly resolved phylogenetic relationships within
Ilex
. Focusing on southern South American and Asian species, we aimed at contributing informative plastid markers. Also, we intended to gain insights into the nature of morphological and physiological characters used to identify species. We obtained the chloroplast genomes of
I.
paraguariensis
and
I. dumosa
, and combined these with all the congeneric plastomes currently available to accomplish interspecific comparisons and multilocus analyses. We selected seven introns and nine IGSs as variable non-coding markers that were used in phylogenomic analyses. Eight extra IGSs were proposed as candidate markers. Southern South American species formed one lineage, except for
I. paraguariensis
,
I. dumosa
and
I. argentina
, which occupied intermediate positions among sampled taxa; Euroasiatic species formed two lineages. Some concordant relationships were retrieved from nuclear sequence data. We also conducted integral analyses, involving a supernetwork of molecular data, and a simultaneous analysis of quantitative and qualitative morphological and phytochemical characters, together with molecular data. The total evidence tree was used to study the evolution of non-molecular data, evidencing fifteen non-ambiguous synapomorphic character states and consolidating the relationships among southern South American species. More South American representatives should be incorporated to elucidate their origin.
Keywords:
multilocus phylogenomics; networks and splits graphs; non-coding regions; plastomes; supernetwork; character evolution
1. Introduction
The cosmopolitan plant genus
Ilex
L. (Aquifoliaceae Bartl.) comprises ca. 600 functionally dioecious species of perennial and deciduous trees and shrubs [
1
,
2
]. Most species have ornamental value, while several others have medicinal and nutritious properties [
3
]. Tropical America and subtropical East Asia are documented centres of diversity for the genus [
1
,
2
], which has ample representation in the Neotropics (ca. 220–300 species) but is less abundant towards subtropical South America [
1
,
2
,
4
]. Particularly, less than 15 species have been described across eastern Paraguay, southern Brazil and north eastern Argentina, and only two are known for Uruguay [
3
,
4
,
5
,
6
,
7
,
8
]. Among southern South American (sSA) species,
I. paraguariensis
A. St.-Hil.—the "yerba mate" tree—is the most important from a socio-economic perspective. The aerial parts of
I. paraguariensis
are commercialized to prepare a tea-like beverage called "mate", highly popular in most sSA countries, and lately also in the Middle East. The infusion is appreciated for its distinctive flavour and invigorating and nutraceutical properties, attributed to the high concentration of secondary metabolites [
9
,
10
,
11
]. In the past,
I. argentina
Lillo,
I. brasiliensis
(Spreng) Loes.,
I. brevicuspis
Reissek,
I. dumosa
Reissek,
I. integerrima
(Vellozo) Reissek,
I. microdonta
Reissek,
I. pseudobuxus
Reissek,
I. taubertiana
Loes., and
I. theezans
Reissek, were used as adulterants of the "yerba mate" [
12
]. This led to several phytochemical and morphological studies for species identification [
5
,
6
,
7
,
13
,
14
,
15
,
16
,
17
]; nowadays, only
I. dumosa
preparations are promoted as a caffeine-free alternative to the genuine "mate" [
18
].
The origin and affiliation of sSA
Ilex
species are unclear [
19
,
20
,
21
,
22
,
23
,
24
]. Previous molecular studies showed association with North American, Central American and Asian taxa [
20
,
21
,
22
,
23
,
24
]. Still, phylogenetic analyses have been based on few universal nuclear and/or heterologous plastidial markers with dubious resolution power [
19
,
20
,
21
,
22
,
23
,
24
,
25
,
26
]. Hence, published phylogenies showed taxon instability, poor backbone resolution and incongruences, leading to unstable relationships [
20
,
21
,
22
,
24
]. Most phytochemical and morphological studies of sSA taxa were mainly descriptive [
3
,
4
,
5
,
6
,
7
,
13
,
14
,
27
], and only a few employed phenetic methodologies [
28
,
29
]. However, Loizeau et al. [
1
] attempted a phylogenetic analysis with morphological characters.
Manen et al. [
22
] estimated that the age of the most recent common ancestor of the extant
Ilex
species' plastomes is about 15 million years. Nuclear-based phylogenetic studies in
Ilex
evidenced frequent interlineage and intersectional hybridizations, lineage sorting, gene flow, and inconsistencies with traditional classification [
20
,
21
,
22
,
23
,
24
,
25
,
26
]. In contrast, plastid-based phylogenetic trees correlated with the geographical distribution of the species without evidencing gene flow, and in some cases, were more consistent with morphologically-based taxonomy [
21
,
22
,
23
,
24
,
25
,
26
]. In this context, plastidial markers emerge as more appropriate tools for studying phylogenetic relationships in this group, and also as a source of valued variable genetic markers. The chloroplast genome has uniparental transmission mode (maternal, in most angiosperms), haploidy, and substantially less gene flow compared to biparentally inherited nuclear genes [
30
,
31
,
32
,
33
]. The literature abounds in studies focused on detecting variable plastidial markers and in successfully applying them at various taxonomic levels [
34
,
35
,
36
,
37
,
38
,
39
]; however, the early diverging Aquifoliaceae has been scarcely represented [
40
,
41
]. Aiming at a forthcoming elucidation of the relationships within
Ilex
through truly informative markers and robust phylogenies, we herein characterized the chloroplastidic genomes of sSA endemic species
I. paraguariensis
and
I. dumosa
, and of the Asian
I. cornuta
Lindl. and Paxt. Then, using all the
Ilex
plastomes currently available, we accomplished interspecific comparisons and multilocus analyses, selecting variable non-coding plastidial markers with which we assessed the phylogenetic relationships among most species from southern South America, together with Euroasiatic representatives. Results were contrasted with those derived from nuclear sequence data analyses. Furthermore, integral analyses were performed including nucleotide sequences, morphological, phytochemical and genotyping data. We implemented two phylogenetic approaches, one that uses traditional dicotomical topologies, and another that does not force tree-like topologies to model relationships (that is, split graphs and supernetworks). The present work allowed the improvement of the existing draft plastome for
I. paraguariensis
[
42
], but more importantly we contributed a panel of variable markers and we integrated different discrete and quantitative data for the assessment of phylogenetic relationships, acquiring new insights on the evolution of characters used for species identification.
5. Conclusions
Our study showed that plastid markers usually cited in the literature, are not always the best choice for phylogenetics of a particular group. Whenever possible, a careful survey should be performed to detect regions with the adequate variation level. Until the costs of sequencing complete plastomes become massively affordable, sequencing of non-coding markers with proven variation may be preferable. Moreover, the markers proposed in this study constitute a more effective option, in terms of cost-benefit, than the compound markers suggested by other authors, at least for assessing species level phylogenetics.
As introgression and hybridization processes are documented in
Ilex
species, we herein not only inferred classical tree-like topologies, but also assayed methodological approaches that do not force dicotomical trees to model relationships. These analyses employed several data sources (multilocus plastid and nuclear regions, as well as morphological and physiological characters), some of which were never tested in a phylogenetic framework. In addition, our analyses differ from previous phylogenetic analyses in the improvement of group support values [
1
,
22
,
24
] and highlight the importance of the use of markers with suitable variation levels, and of the combination of different data sources.
Traditionally, species delimitation within
Ilex
was based on morphological characters whose primary homology statements have not been evaluated on phylogenetic trees. More efforts are needed to increase our knowledge on the evolution of such features, and concomitantly, in clarifying the controversial taxonomic system of the genus. As the number of taxa involved rises, we anticipate that more accurate and robust inferences will emerge from the synergic analysis of our set of molecular markers with other sources of data, either molecular or morpho-physiological. Besides, we expect that the contributed knowledge will facilitate the implementation of a chloroplast transformation technology [
76
,
89
,
90
], particularly in those species with nutraceutical attributes. This, in turn, would accelerate the achievement of modern varieties that may fulfil producers and market requirements.
Supplementary Materials
The following are available online at
www.mdpi.com/2075-1729/7/4/47/s1
, Figure S1: Nucleotide variation analysis of non-coding regions, Figure S2: Schematic plastomic maps for
I. paraguariensis
,
I. dumosa
and
I. cornuta
, Figure S3: Maximum Likelihood phylogenomic analyses of multilocus data sets performed in the context of other angiosperm taxa, Figure S4: Genetic relationships among
Ilex
species computed from ITS and nepGS nuclear sequences, Figure S5: Nucleotide variation analysis of the plastid regions proposed in Yao et al. [
60
], Table S1: Genbank accession numbers for intronic and IGS regions for additional species used to evaluate their nucleotide variation level through single-locus alignments, and the phylogenetic performance of the selected markers, in the context of other angiosperms, Table S2: Accession number and geographic origin of each additional
Ilex
species and Genbank accession numbers of IGS, ITS and nepGS regions used, Table S3: Primer pairs used for gap closure, junction verification and intergenic spacer (IGS) amplification, Table S4: Morphological and phytochemical characters considered in the total evidence and character analyses, Table S5: Gene content of the chloroplast genomes of
I. paraguariensis
,
I. dumosa
and
I. cornuta
, Supplementary File 1: Draft plastome for
Ilex cornuta
, Supplementary File 2: Input unrooted trees (networks) in newick format used for supernetwork construction: ML phylograms derived from IGS, ITS and nepGS, and NJ phylogram derived from AFLP, Supplementary File 3: Combined data matrix in TNT format used for total evidence analysis. The data matrices and resulting trees from the ML (
Figure 3
a) and total evidence (
Figure 4
b) analyses were uploaded to TreeBASE, at
http://purl.org/phylo/treebase/phylows/study/TB2:S21886
.
Acknowledgments
The authors are indebted to the personnel from EEA-INTA Cerro Azul, to P.A. Sansberro (IBONE-UNNE), and to the personnel from the "Jardín Botánico Carlos Thays, de Buenos Aires", who kindly provided specimens from living collections. We dedicate this work to the memory of G.C. Giberti, who generously collaborated and assisted us during all these years. We are also grateful with R.A. Scherer from Pindó S.A. (Misiones, Argentina) for his contribution, and with A. Guberman and D. de Panis (FCEN, UBA) for their helpful and kind technical assistance. We acknowledge previous reviewers that helped improving this manuscript. Grants from the Consejo Nacional de Investigaciones Científicas y Técnicas (PIP 12-200801-00342), the Universidad de Buenos Aires (UBA 20020100100859) and the Agencia Nacional de Investigaciones Científicas y Técnicas (PICT 2010-1665, PICT 2011-2420 and PICT 2015-2525, the latter covering the costs of publishing) are gratefully acknowledged.
Author Contributions
J.C., M.B. and A.M.G. conceived and designed the experiments; J.C. and M.B. performed the experiments; J.C., M.J.G. and A.M.G. analysed the data; L.P. and A.M.G. contributed reagents and analysis tools; J.C., M.J.G., L.P. and A.M.G. wrote the paper.
Conflicts of Interest
The authors declare no conflict of interest. The founding sponsors had no role in the design of the study; in the collection, analyses, or interpretation of data; in the writing of the manuscript, and in the decision to publish the results.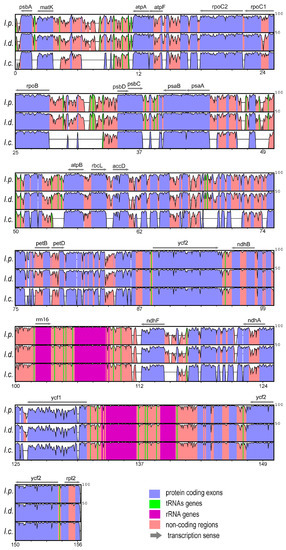 Figure 1.
Sequence identity among plastomes of
I. paraguariensis
,
I. dumosa
and
I. cornuta
, using
Panax ginseng
as the reference. For each species (indicated by its initials), the peaks and valleys depict sequence identity estimated against the reference sequence, between 50% (lower line) and 100% (upper line). The horizontal axis shows the position (in Kbp) along the linear chloroplast. Only some features are indicated in each block for guidance; full maps are shown in
Figure S2
. Regions with missing data are indicated by empty spaces. Grey arrows above each panel denote transcription sense for each gene. Plastomic regions are colour coded as follows: light blue, protein coding (exons); green, tRNAs genes; violet, rRNA genes; pink, non-coding regions (introns and intergenic spacers).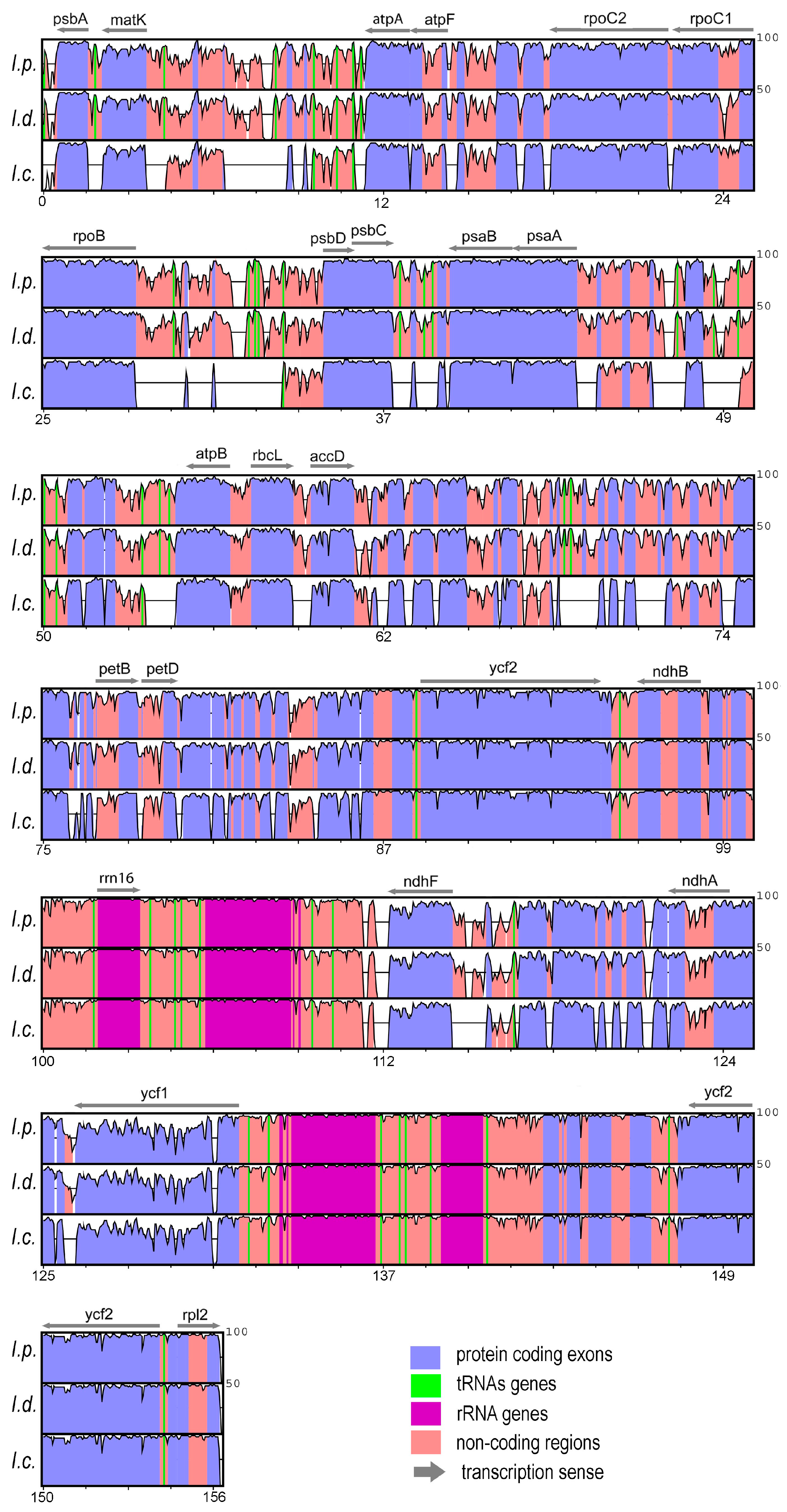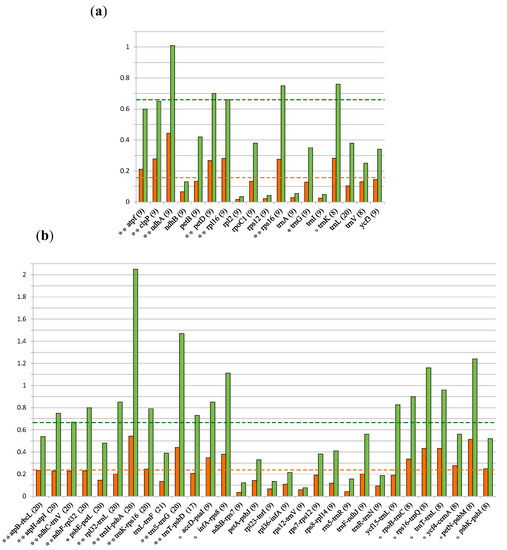 Figure 2.
Survey of nucleotide variation of non-coding regions. Histograms showing the normalized ratio expressed as percentage, in orange, and the average uncorrected p-distance, expressed as percentage, in green. The number of
Ilex
species used is indicated between brackets. * Marks a region selected as in
Figure S2
; ** mark regions validated with current sampling; ° mark regions selected solely under current sampling. (
a
) Values estimated from 18 single-loci intron alignments; (
b
) Values estimated from 30 single-loci IGS alignments.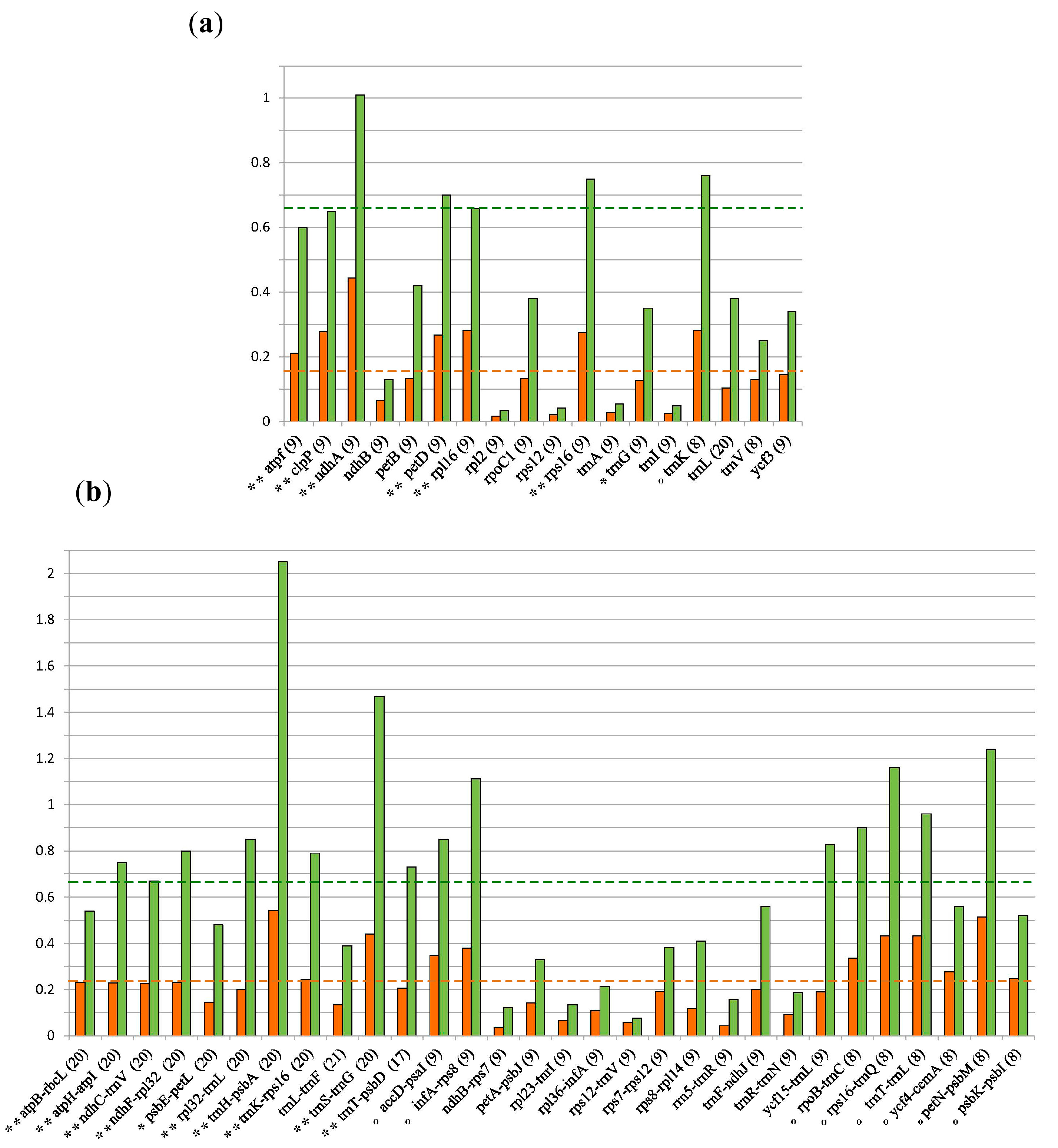 Figure 3.
Genetic relationships among 20
Ilex
species computed from the multilocus IGS dataset. The species were named using the specific epithet alone, for simplicity. (
a
) The Maximum Likelihood unrooted phylogram (lnL = −13,104.12) was inferred applying a GTR model [
73
], and a discrete Gamma distribution was used—with five categories—to model evolutionary rate differences among sites (G = 0.092); all positions with <50% coverage were eliminated, thus 7655 bp were considered. Bootstrap values >50% (500 pseudoreplicates) are shown. Branch lengths are in number of substitutions per site; (
b
) Neighbour-Net split graph based on uncorrected p-distance. All positions were used to derive the network (7862 bp; fit = 97.36; LSfit = 99.89). The scale bar is in genetic distance units. The numbers indicated the edge weight, which is proportional to the edge length.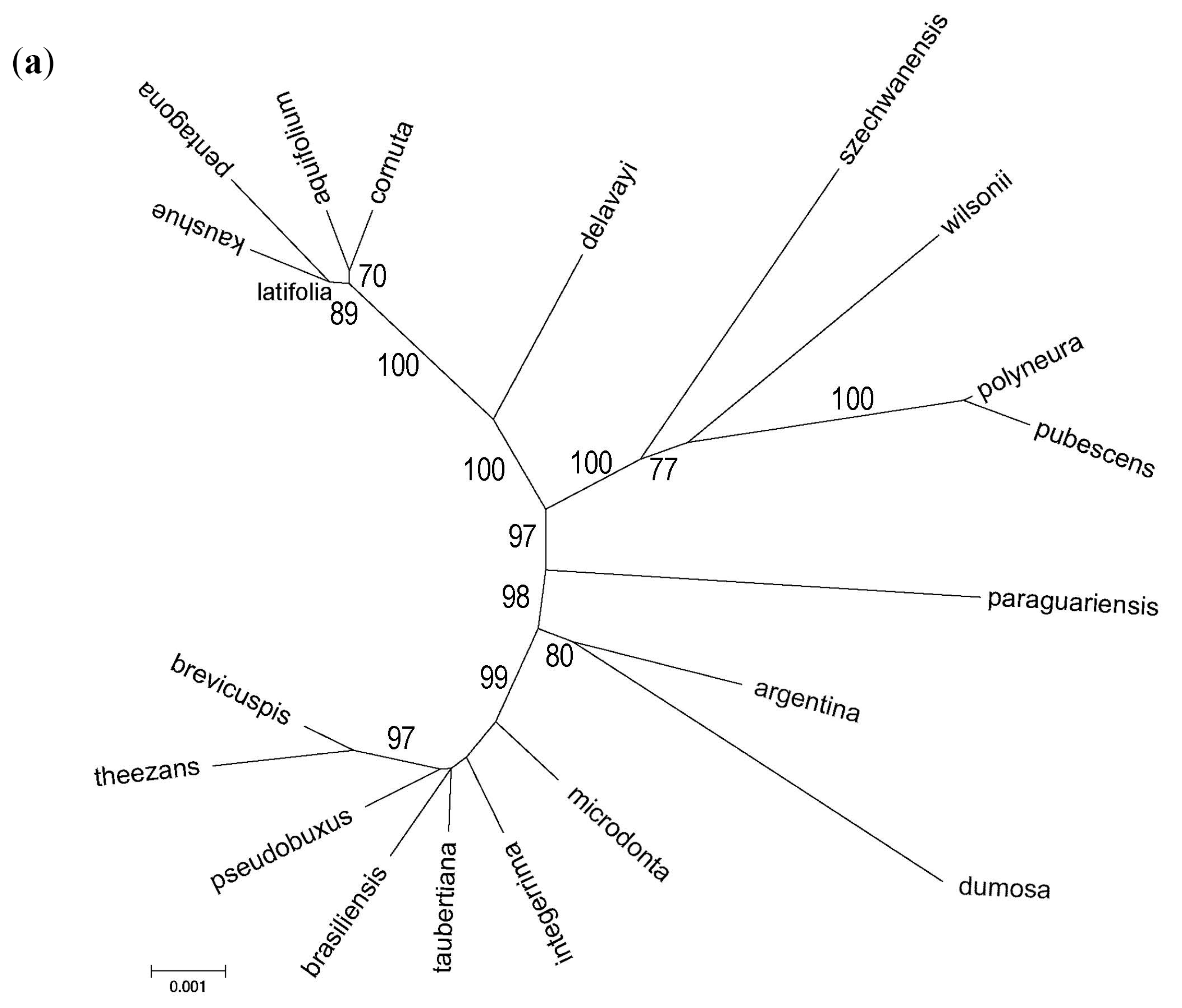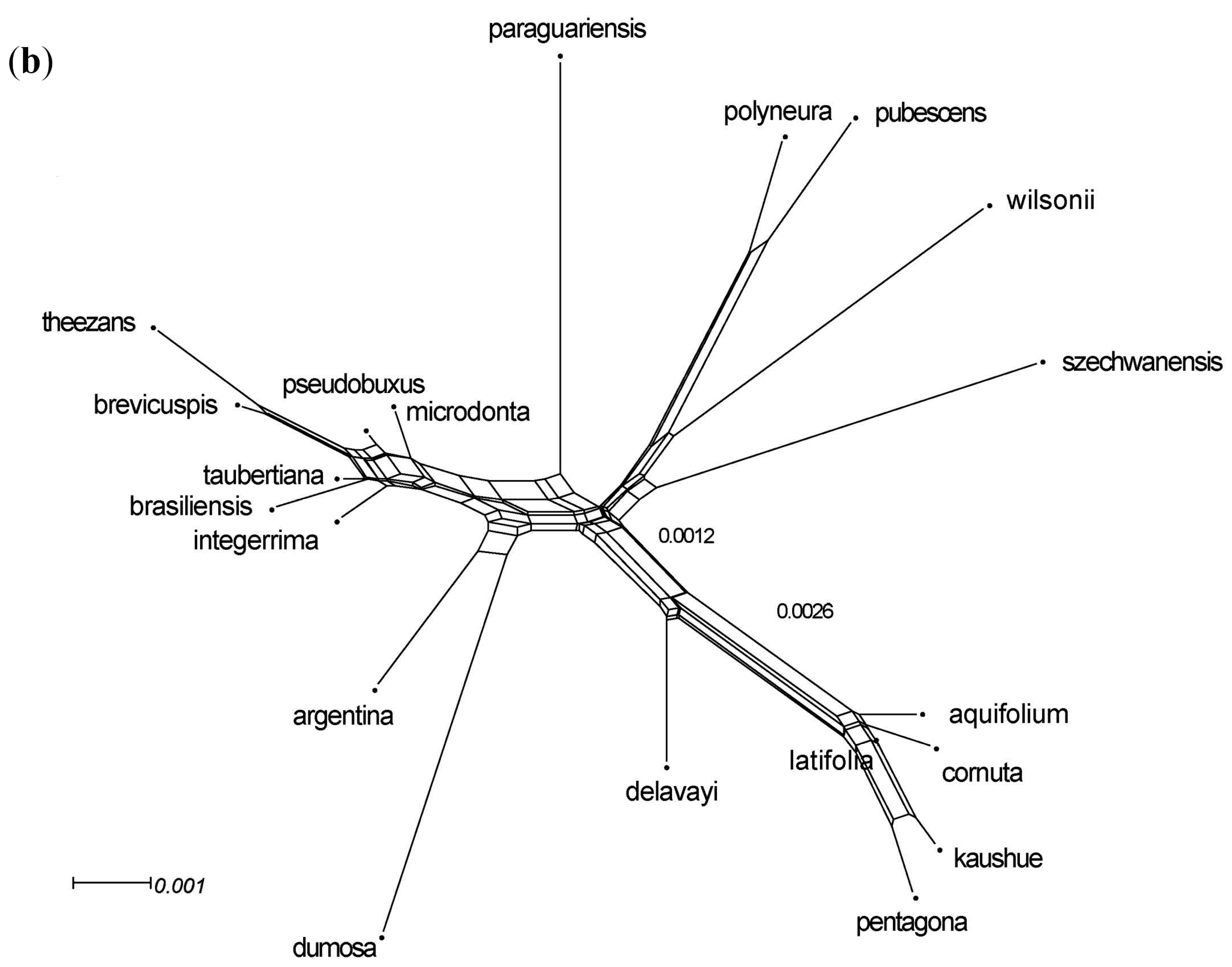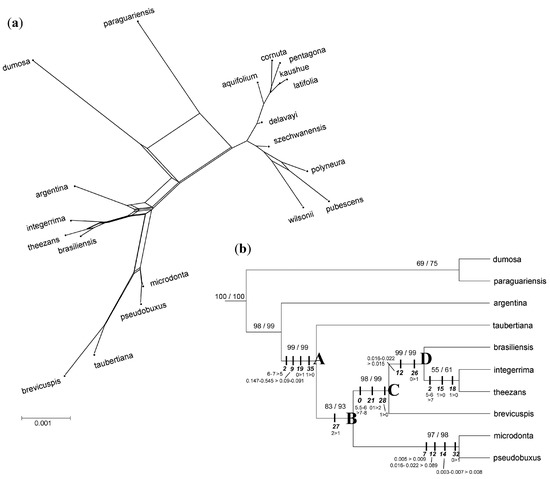 Figure 4.
Integral phylogenetic analyses for
Ilex
species. The species were named using the specific epithet alone, for simplicity. (
a
) The supernetwork topology. The scale bar represents edges weights; (
b
) The total evidence most parsimonious topology for sSA species (score = 1689.06; CI = 0.736; RI = 0.471). Numbers above branches are boostrap/jackkniffe support values; non-ambiguous synapomorphic morphological and phytochemical character state changes (not standardized) are indicated at each internal node.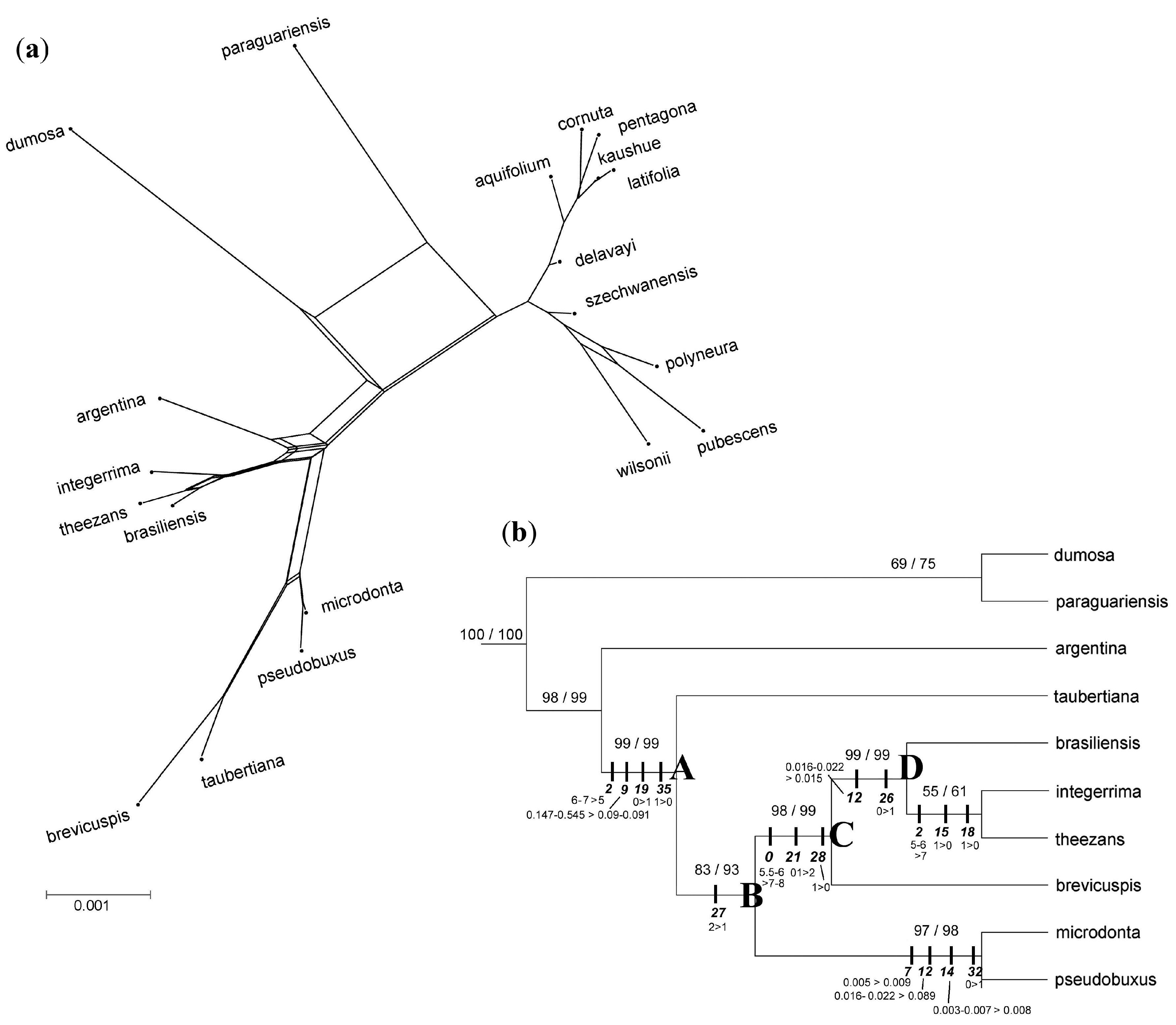 © 2017 by the authors. Licensee MDPI, Basel, Switzerland. This article is an open access article distributed under the terms and conditions of the Creative Commons Attribution (CC BY) license (http://creativecommons.org/licenses/by/4.0/).