The Apparent Involvement of ANMEs in Mineral Dependent Methane Oxidation, as an Analog for Possible Martian Methanotrophy
1
Department of Geosciences and Penn State Astrobiology Research Center, The Pennsylvania State University, 220 Deike Building, University Park, PA 16802, USA
2
Division of Geological and Planetary Sciences, California Institute of Technology, Pasadena, CA 91125, USA
*
Author to whom correspondence should be addressed.
Received: 25 August 2011 / Revised: 14 September 2011 / Accepted: 11 November 2011 / Published: 18 November 2011
Abstract
On Earth, marine anaerobic methane oxidation (AOM) can be driven by the microbial reduction of sulfate, iron, and manganese. Here, we have further characterized marine sediment incubations to determine if the mineral dependent methane oxidation involves similar microorganisms to those found for sulfate-dependent methane oxidation. Through FISH and FISH-SIMS analyses using
13
C and
15
N labeled substrates, we find that the most active cells during manganese dependent AOM are primarily mixed and mixed-cluster aggregates of archaea and bacteria. Overall, our control experiment using sulfate showed two active bacterial clusters, two active shell aggregates, one active mixed aggregate, and an active archaeal sarcina, the last of which appeared to take up methane in the absence of a closely-associated bacterial partner. A single example of a shell aggregate appeared to be active in the manganese incubation, along with three mixed aggregates and an archaeal sarcina. These results suggest that the microorganisms (e.g., ANME-2) found active in the manganese-dependent incubations are likely capable of sulfate-dependent AOM. Similar metabolic flexibility for Martian methanotrophs would mean that the same microbial groups could inhabit a diverse set of Martian mineralogical crustal environments. The recently discovered seasonal Martian plumes of methane outgassing could be coupled to the reduction of abundant surface sulfates and extensive metal oxides, providing a feasible metabolism for present and past Mars. In an optimistic scenario Martian methanotrophy consumes much of the periodic methane released supporting on the order of 10,000 microbial cells per cm
2
of Martian surface. Alternatively, most of the methane released each year could be oxidized through an abiotic process requiring biological methane oxidation to be more limited. If under this scenario, 1% of this methane flux were oxidized by biology in surface soils or in subsurface aquifers (prior to release), a total of about 10
20
microbial cells could be supported through methanotrophy with the cells concentrated in regions of methane release.
View Full-Text
►

▼

Figures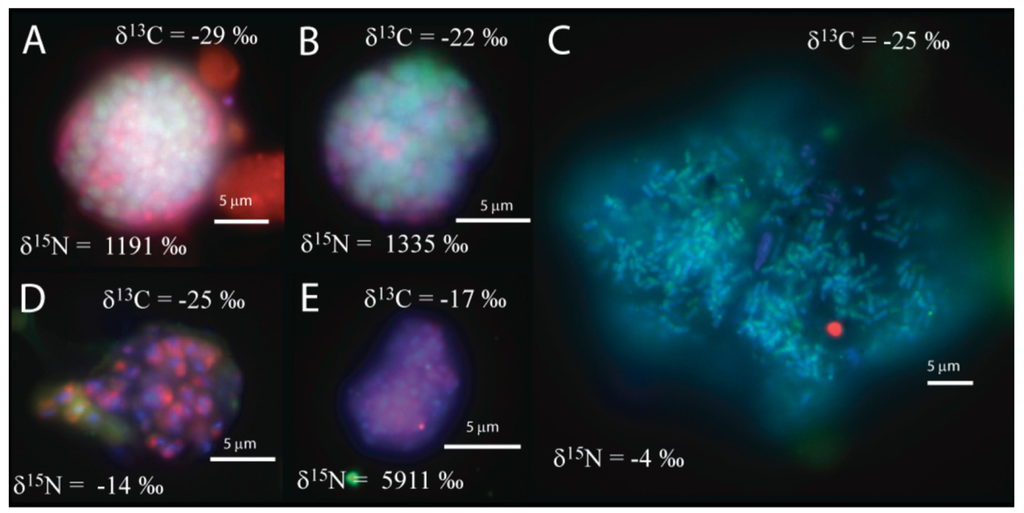 Figure 1

Share & Cite This Article
MDPI and ACS Style
House, C.H.; Beal, E.J.; Orphan, V.J. The Apparent Involvement of ANMEs in Mineral Dependent Methane Oxidation, as an Analog for Possible Martian Methanotrophy. Life 2011, 1, 19-33.
Related Articles
Comments
[Return to top]