Multiple Magma Conduits Model of the Jinchuan Ni-Cu-(PGE) Deposit, Northwestern China: Constraints from the Geochemistry of Platinum-Group Elements
1
Key Laboratory of Metallogenic Prediction of Nonferrous Metals and Geological Environment Monitoring (Ministry of Education), School of Geosciences and Info-Physics, Central South University, Changsha 410083, China
2
State Key Laboratory of Nuclear Resources and Environment, East China University of Technology, Nanchang 330013, China
3
Nickel Cobalt Research and Design Institute, Jinchuan Group Co., Ltd., Jinchang 737104, China
*
Author to whom correspondence should be addressed.
Received: 13 February 2019 / Revised: 12 March 2019 / Accepted: 14 March 2019 / Published: 18 March 2019
Abstract
The giant Jinchuan nickel-copper-platinum-group element (PGE) deposit is hosted by two individual sub-vertical intrusions, referred to as the western and eastern intrusions (including segment II-W and segment II-E). Exactly how the Jinchuan deposit was formed by a system of sub-vertical magma conduits is still not well understood. This paper reports new major elements, trace elements and PGEs data from the Jinchuan deposit to study the formation mechanism of sulfide ores with different textures and their relationship with the magma conduit system. Our study shows that the PGE tenors of disseminated and net-textured sulfide in segment II-E are significantly lower than segment II-W and the western intrusion, but the Cu/Pd ratios are opposite. In addition, net-textured sulfides in segment II-W show a negative correlation between IPGE (Ir, Ru and Rh) and PPGE (Pt and Pd) in contrast to the positive correlation in segment II-E and the western intrusion. These features indicate the parental magma sources of the western intrusion, segment II-W and segment II-E were originally three different surges of PGE-depleted magma. Modeling of parental magma in the western intrusion, segment II-W and segment II-E suggests that they were formed by the same initial picritic basalt (100 ppm Cu, 1 ppb Ir and 10 ppb Pd) with different prior sulfide segregations (0.0075%, 0.0085% and 0.011%). The three parts of Jinchuan sulfides show that the Pt/Pd and (Pt + Pd)/(Ir + Ru + Rh) ratios decrease from section III-5 toward both sides in the western intrusion and decrease from section II-14 toward all sides, whereas no regular spatial variations occur in segment II-E, showing the different fractionation processes of sulfide melt. The massive sulfides in the western intrusion and segment II-E experienced a ~20% to 40% and ~40% to 60% fractionation of sulfide melt, respectively. We propose that the Jinchuan deposit was generated in a metallogenic system of multiple magma conduits, where sulfides entrained in parental magma experienced different amounts of prior removal.
View Full-Text
►

▼

Figures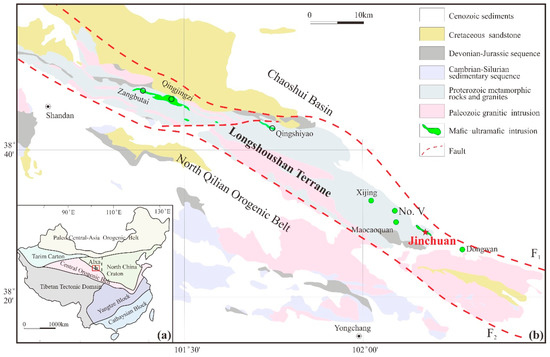 Figure 1
This is an open access article distributed under the
Creative Commons Attribution License
which permits unrestricted use, distribution, and reproduction in any medium, provided the original work is properly cited (CC BY 4.0).

Share & Cite This Article
MDPI and ACS Style
Mao, X.; Li, L.; Liu, Z.; Zeng, R.; Dick, J.M.; Yue, B.; Ai, Q. Multiple Magma Conduits Model of the Jinchuan Ni-Cu-(PGE) Deposit, Northwestern China: Constraints from the Geochemistry of Platinum-Group Elements. Minerals 2019, 9, 187.
Note that from the first issue of 2016, MDPI journals use article numbers instead of page numbers. See further details here.
Related Articles
Comments
[Return to top]