Gem-Quality Green Cr-Bearing Andradite (var. Demantoid) from Dobšiná, Slovakia
1
Gemmological Institute, Faculty of Natural Sciences, Constantine the Philosopher University in Nitra, Nábrežie mládeže 91, 949 74 Nitra, Slovakia
2
Department of Mineralogy and Petrology, Faculty of Natural Sciences, Comenius University in Bratislava, Ilkovičova 6, Mlynská dolina, 842 15 Bratislava, Slovakia
3
Gemological Laboratory of e-gems.cz, 110 00 Prague, Czech Republic
4
Earth Science Institute of the Slovak Academy of Sciences, Ďumbierska 1, 974 01 Banská Bystrica, Slovakia
5
Department of Geological Sciences, Masaryk University, Kotlářská 2, 611 37 Brno, Czech Republic
6
Central European Institute of Technology, Masaryk University, Kamenice 5, 625 00 Brno, Czech Republic
7
Department of Environmental Ecology, Faculty of Natural Sciences, Comenius University in Bratislava, Ilkovičova 6, Mlynská dolina, 842 15 Bratislava, Slovakia
*
Author to whom correspondence should be addressed.
Received: 11 February 2019 / Revised: 1 March 2019 / Accepted: 4 March 2019 / Published: 8 March 2019
Abstract
Andradite, variety demantoid, is a rare gem mineral. We describe gem-quality garnet crystals from serpentinized harzburgites from Dobšiná, Slovakia which were faceted. Both the andradite samples were transparent, with a vitreous luster and a vivid green color. They were isotropic with refractive indices >1.81. The measured density ranged from 3.82 to 3.84 g·cm
−3
. Andradite var. demantoid appeared red under Chelsea filter observation. Both samples contained fibrous crystalline inclusions with the typical "horsetail" arrangement. The studied garnet had a strong Fe
3+
dominant andradite composition with 1.72–1.85 apfu Fe
3+
, Cr
3+
up to 0.15 apfu, Al
3+
0.03 to 0.04 apfu, V
3+
up to 0.006 apfu substituted for Fe
3+
, Mn
2+
up to 0.002 apfu, and Mg up to 0.04 apfu substituted for Ca. Raman spectrum of garnet showed three spectral regions containing relatively strong bands: I—352–371 cm
−1
, II—816–874 cm
−1
, and III—493–516 cm
−1
. The optical absorption spectrum as characterized by an intense band at 438 nm and two broad bands at 587 and 623 nm and last one at 861 nm, which were assigned to Fe
3+
and Cr
3+
. Transmission was observed in the ultraviolet spectral region (<390 nm), near the infrared region (700–800 nm), and around 530 nm in the green region of visible light, resulting in the garnet's green color.
View Full-Text
►

▼

Figures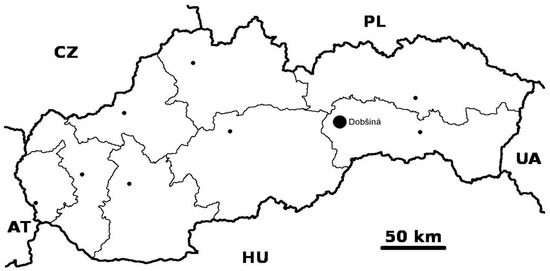 Figure 1
This is an open access article distributed under the
Creative Commons Attribution License
which permits unrestricted use, distribution, and reproduction in any medium, provided the original work is properly cited (CC BY 4.0).

Share & Cite This Article
MDPI and ACS Style
Štubňa, J.; Bačík, P.; Fridrichová, J.; Hanus, R.; Illášová, Ľ.; Milovská, S.; Škoda, R.; Vaculovič, T.; Čerňanský, S. Gem-Quality Green Cr-Bearing Andradite (var. Demantoid) from Dobšiná, Slovakia. Minerals 2019, 9, 164.
Note that from the first issue of 2016, MDPI journals use article numbers instead of page numbers. See further details here.
Related Articles
Comments
[Return to top]