Trace Element Analysis of Pyrite from the Zhengchong Gold Deposit, Northeast Hunan Province, China: Implications for the Ore-Forming Process
1
Key Laboratory of Metallogenic Prediction of Nonferrous Metals and Geological Environment Monitoring, Ministry of Education, School of Geosciences and Info-Physics, Central South University, Changsha 410083, China
2
School of Resources and Safety Engineering, Central South University, Changsha 410083, China
*
Author to whom correspondence should be addressed.
Received: 1 June 2018 / Revised: 14 June 2018 / Accepted: 15 June 2018 / Published: 20 June 2018
Abstract
The Zhengchong gold deposit is located in the central segment of the Jiangnan Orogen in northeastern Hunan Province, South China. The host rocks of this deposit are the Neoproterozoic slates of the Lengjiaxi Group and granodiorite. The structures in the Zhengchong gold deposit are dominated by NE-trending reverse faults, which control the gold-bearing veins. The orebody consists of NE-trending laminated quartz veins and NW-trending quartz veins. The alteration styles include silicification, carbonatization, sulfidation, sericitization and chloritization. The Zhengchong gold mineralization can be divided into four stages: Quartz-pyrite (stage I), quartz-pyrite-arsenopyrite (stage II), quartz-polysulfide (stage III) and quartz-carbonate (stage IV). Three generations of hydrothermal pyrite were identified: Disseminated euhedral to subhedral cubes in altered wall-rock (PyI), euhedral to subhedral cubes inter-grown with arsenopyrite and tetrahedrite in quartz veins and wall-rock (PyII), and euhedral cubes with microinclusions (native gold, galena, sphalerite, chalcopyrite, tetrahedrite, and pyrrhotite) or metasomatic textures in sulfide-rich veins or veinlets (PyIII). PyII and PyIII are arsenian pyrite and represent the main Au-bearing minerals. PyI records the lowest concentrations of Au; PyII and PyIII record similar amounts of Au, Cu, Pb, Zn, and Bi, but PyIII is more enriched in Co, Ni, Te, and Se. The substitution of As, Se and Te for S and that of Co and Ni for Fe occurs by direct-ion exchange. Invisible gold is uniformly distributed within the arsenian pyrite, and visible gold fills microfractures in PyII or occurs as inclusions in PyIII. Co, Ni, Cu exhibit positive correlations with Au and a negative correlation between Au + Cu + Co + Ni and Fe reflect that Fe vacancies may have been a major cause of the precipitation of invisible Au and other metal elements in pyrite structure. There are systematic trace element differences between the three generations of pyrite (PyI, PyII, PyIII). The more Co, Ni and Se, Te substitution that occurred for Fe and S, respectively, the greater the increase in the Co/Ni ratio (<1) and the decrease in the Se/Te ratio (<10) in stage III, indicating that a more reduced, lower-temperature metamorphic hydrothermal fluid was present in stage III.
View Full-Text
►

▼

Figures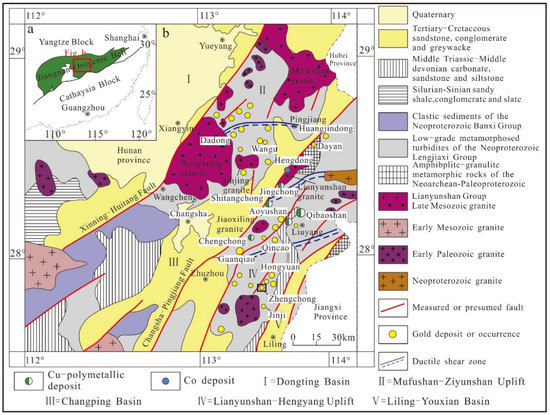 Figure 1
This is an open access article distributed under the
Creative Commons Attribution License
which permits unrestricted use, distribution, and reproduction in any medium, provided the original work is properly cited (CC BY 4.0).

Share & Cite This Article
MDPI and ACS Style
Shao, Y.-J.; Wang, W.-S.; Liu, Q.-Q.; Zhang, Y. Trace Element Analysis of Pyrite from the Zhengchong Gold Deposit, Northeast Hunan Province, China: Implications for the Ore-Forming Process. Minerals 2018, 8, 262.
Note that from the first issue of 2016, MDPI journals use article numbers instead of page numbers. See further details here.
Related Articles
Comments
[Return to top]