Geological Controls on High-Grade Iron Ores from Kiriburu-Meghahatuburu Iron Ore Deposit, Singhbhum-Orissa Craton, Eastern India
1
Steel Authority of India Limited, Raw Materials Division, Kiriburu 833222, India
2
Department of Applied Geology, Indian Institute of Technology (Indian School of Mines), Dhanbad 826004, India
3
Department of Mines and Quarries, Faculty of Mines and Petroleum Industries, University of Maroua, P.O. Box 46, Maroua, Cameroon
*
Author to whom correspondence should be addressed.
Received: 3 August 2017 / Revised: 6 October 2017 / Accepted: 12 October 2017 / Published: 18 October 2017
Abstract
Numerous iron ore deposits are hosted within the Meso to Neo-Archean banded iron formations (BIFs) extending across the Singhbhum-Orissa Craton, eastern India. Despite the widespread distribution of BIFs, which forms part of the iron ore group (IOG), heterogeneity in their grade and mineral composition is occasionally observed even within a single ore deposit. Kiriburu-Meghahatuburu iron ore deposit (KMIOD), west Singhbhum district, Jharkhand, eastern India is characterized by a dominant hematite (often martitized) occurrence with a total resource of >150 million tonnes (MT) at 62.85 wt % Fe. Very high-grade blue dust ore (friable and powdery hematitewith~67% Fe), high-grade massive, hard laminated hematitic ores (~66% Fe) and medium to low grade goethitic/lateritic ores (50%–60% Fe) are the common iron-ore lithologies in KMIOD. These ores can be distinguished in the field from their physical appearance, meso-scale texture and spatial occurrences with the host rocks along with the variation in chemical composition. The high-grade ores are characterized by high Fe (>62 wt %), low Al
2
O
3
(1.5–2.5 wt %), low SiO
2
(2.0–4.5 wt %) and low P (<0.06 wt %). Detailed field studies and laboratory investigations on the ore mineral assemblages suggest that the mineralization of high-grade iron ores at KMIOD is controlled by three major parameters, i.e., lithological, paleoclimatic and structural controls. High-grade iron ores such as blue dust seem to be formed during leaching processes through inter-bedded ferruginous shale and banded hematite jasper (BHJ) occurring within BIFs. Structural elements such as folds, joint network, fracture arrays, local faults and steeply dipping bedding planes are surmised as strong controls for the evolution of different iron ore types from the BHJ. Most of the high-grade ores are concentrated at the hinge portions of second generation folds (F
2
) owing to the easy access for circulation of meteoric solution along the fractures developed due to release of stresses at the hinge portions aided by supergene ore enrichment processes. The BHJ and interbedded ferruginous shale seem to have been given a significant contribution for the formation of different grades of iron ores over the area. Lithologically, the BIFs are governed by rheological features providing channel ways in the ore enrichment process. The variation in the iron ore mineralogy is caused by the variation in depositional and paleoclimatic environment, structural setting and lithological attributes. Hence, these parameters could be used for future exploration and grade recovery of iron ore resources in the region and in the adjoining areas.
View Full-Text
►

▼

Figures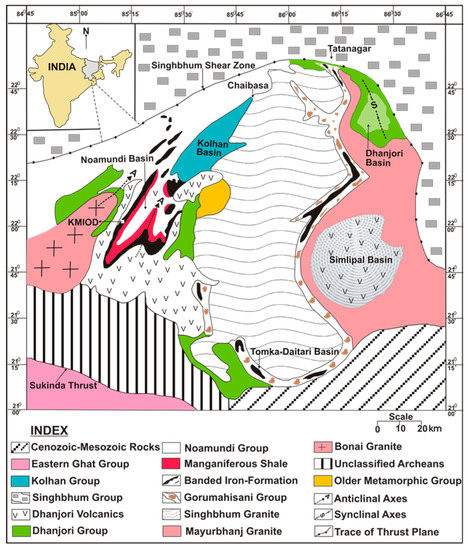 Figure 1
This is an open access article distributed under the
Creative Commons Attribution License
which permits unrestricted use, distribution, and reproduction in any medium, provided the original work is properly cited (CC BY 4.0).

Share & Cite This Article
MDPI and ACS Style
Prasad, J.; Venkatesh, A.S.; Sahoo, P.R.; Singh, S.; Sylvestre Kanouo, N. Geological Controls on High-Grade Iron Ores from Kiriburu-Meghahatuburu Iron Ore Deposit, Singhbhum-Orissa Craton, Eastern India. Minerals 2017, 7, 197.
Note that from the first issue of 2016, MDPI journals use article numbers instead of page numbers. See further details here.
Related Articles
Comments
[Return to top]