Open Access This article is
freely available
re-usable
Article
Focused Ion Beam and Advanced Electron Microscopy for Minerals: Insights and Outlook from Bismuth Sulphosalts
1
School of Chemical Engineering, The University of Adelaide, Adelaide 5005, SA, Australia
2
FEI Company, Achtseweg Noord 5, P.O. Box 80066, Eindhoven 5600 KA, The Netherlands
3
Adelaide Microscopy, The University of Adelaide, Adelaide 5005, SA, Australia
4
BHP Billiton Olympic Dam, Adelaide 5000, SA, Australia
*
Author to whom correspondence should be addressed.
Academic Editor: Paul Sylvester
Received: 2 August 2016 / Accepted: 11 October 2016 / Published: 20 October 2016
Abstract
:
This paper comprises a review of the rapidly expanding application of nanoscale mineral characterization methodology to the study of ore deposits. Utilising bismuth sulphosalt minerals from a reaction front in a skarn assemblage as an example, we illustrate how a complex problem in ore petrology, can be approached at scales down to that of single atoms. We demonstrate the interpretive opportunities that can be realised by doing this for other minerals within their petrogenetic contexts. From an area defined as Au-rich within a sulphosalt-sulphide assemblage, and using samples prepared on a Focused Ion Beam–Scanning Electron Microscopy (SEM) platform, we identify mineral species and trace the evolution of their intergrowths down to the atomic scale. Our approach progresses from a petrographic and trace element study of a larger polished block, to high-resolution Transmission Electron Microscopy (TEM) and High Angle Annular Dark Field (HAADF) Scanning-TEM (STEM) studies. Lattice-scale heterogeneity imaged in HAADF STEM mode is expressed by changes in composition of unit cell slabs followed by nanoparticle formation and their growth into "veins". We report a progressive transition from sulphosalt species which host lattice-bound Au (neyite, lillianite homologues; Pb-Bi-sulphosalts), to those that cannot accept Au (aikinite). This transition acts as a crystal structural barrier for Au. Fine particles of native gold track this progression over the scale of several hundred microns, leading to Au enrichment at the reaction front defined by an increase in the Cu gradient (several wt %), and abrupt changes in sulphosalt speciation from Pb-Bi-sulphosalts to aikinite. Atom-scale resolution imaging in HAADF STEM mode allows for the direct visualisation of the three component slabs in the neyite crystal structure, one of the largest and complex sulphosalts of boxwork-type. We show for the first time the presence of aikinite nanoparticles a few nanometres in size, occurring on distinct (111)PbS slabs in the neyite. This directly explains the non-stoichiometry of this phase, particularly with respect to Cu. Such non-stoichiometry is discussed elsewhere as defining distinct mineral species. The interplay between modular crystal structures and trace element behaviour, as discussed here for Au and Cu, has applications for other mineral systems. These include the incorporation and release of critical metals in sulphides, heavy elements (U, Pb, W) in iron oxides, the distribution of rare earth elements (REE), Y, and chalcophile elements (Mo, As) in calcic garnets, and the identification of nanometre-sized particles containing daughter products of radioactive decay in ores, concentrates, and tailings.
Keywords:
High Angle Annular Dark Field Scanning Transmission Electron Microscopy; FIB-SEM; nanoscale; bismuth sulphosalts; neyite
1. Introduction
Textural and compositional variation in minerals over large scales of observation provides valuable information that can assist interpretation of how fluid-rock interaction takes place, or how ore deposits are formed. Significant advances in the resolution, imaging, and chemical mapping techniques of current electron microscopes, as well as in-situ sample preparation methods, allow a wide range of petrogenetic topics to be addressed. Despite steady application of Transmission Electron Microscopy (TEM) techniques to mineralogical problems over the past 50 years, it is only within the last 15 years that TEM investigation of minerals in their petrogenetic context has become relatively commonplace. This has largely occurred through the advent of Focused Ion Beam (FIB)-Scanning Electron Microscopy (SEM) techniques, as such dual-beam approaches permit in-situ extraction of small volumes of sample material and preparation of foils for TEM examination. Procedures and problems encountered with applications of FIB-SEM and TEM techniques are discussed at length in a number of key publications [
1
,
2
,
3
,
4
,
5
,
6
,
7
].
Contemporary FIB-SEM platforms are equipped with X-ray detectors for acquisition of Energy Dispersive Spectra (EDS), and have Scanning Transmission Electron Microscopy (STEM) capabilities, the combination of both allowing for the study of chemical-structural heterogeneity at the sub-micron-scale. In some cases, such a level of detail is sufficient for valuable petrogenetic interpretation [
7
,
8
,
9
]. More often, FIB-SEM instrumentation serves in the selection of slices for TEM-foil preparation. Other applications of dual-beam techniques include FIB-Electron Back Scatter Diffraction (high-resolution micro-structural sample characterisation for small grains, such as the correlation of chemical heterogeneity and lattice distortion in uraninite [
10
]), and 3D-tomographic imaging (e.g., dealing with porosity, inclusion distribution, or phase intergrowths throughout a sample volume [
11
,
12
], or FIB-X-ray microtomography for analysis of tiny fluid inclusions [
13
]).
In-situ extraction of small volumes of sample material by FIB-SEM has also proven valuable for the characterization of new minerals (e.g., in the case of gratianite [
14
]). Using microbeam X-Ray synchrotron source spectrometry, such an approach can be applied for crystal-structural characterization where the phase of interest is both fine-grained and intergrown with other minerals of similar composition and/or structure. Slices prepared in-situ by FIB-SEM have also been utilized in other experiments using synchrotron radiation. For example, µ-XANES spectra on FIB-prepared foils have been used to prove the presence of Cu
+
in Cu-In-oscillatory zoned sphalerite [
15
]. The same FIB-prepared slices were also studied in detail and chemically mapped by nanoscale X-ray Fluorescence Spectroscopy. FIB-prepared slices from extra-terrestrial material have been used for high-resolution Secondary Ion Mass Spectroscopy applications (e.g., by nanoSIMS), particularly for the measurement of light element isotopes and their ratios (e.g., [
5
,
16
]).
Below, we highlight recent progress in the application of integrated FIB-SEM and TEM microbeam techniques to minerals, introducing the topics that can be addressed by studies that bridge the micron to nanometre scales of observation. We go on to show how recent developments with TEM instrumentation, particularly STEM imaging techniques, allow compositional and structural information to be correlated at an atomic-scale resolution, and why this is important for understanding minerals. To illustrate how advanced electron microscopy can 'map' mineral reactions down to the site where this happens, we use an example of bismuth sulphosalts and explore the potential they have for fingerprinting Au enrichment in sulphide ores.
2. Background
2.1. Research Topics Addressed by Integrated FIB-SEM and TEM Microbeam Techniques
2.2. Advances in Electron Microscopy—STEM Imaging at Atomic Resolution
2.3. Modularity of Complex Sulphides—Bismuth Sulphosalts
3. Approach and Methodology
3.1. Case Study
The case study was selected to demonstrate how an integrated approach between various microbeam techniques can solve a problem in ore mineralogy, and particularly what advantages there are in using advanced electron microscopy such as high-resolution HAADF STEM mode for imaging. The study was carried out on samples from a massive assemblage comprised of different bismuth sulphosalts and galena collected from the deeper part of the Antoniu North Cu orepipe, one of several that make up the Baita Bihor Cu-Mo-Zn-Pb skarn deposit, in Romania [
88
]. Metal zonation in the Baita Bihor orefield [
89
] is superimposed by Au-(Ag)-richer ores closely associated with bismuth sulphosalts, lending the otherwise dominant Cu (Mo) orebodies a more polymetallic character [
7
,
14
,
76
]. Previous LA-ICP-MS study of this assemblage (
Figure 2
a) has shown wide variation in the concentration of Au measured in sulphosalts on either side of a boundary defining changes in sulphosalt speciation (from a few to several thousand ppm [
90
]). The presence of tiny, clustered inclusions of native gold within microfractures along this boundary (
Figure 2
b) partially explains such variations. Unusual, however, is the transition from Cu-Ag-bearing Pb-Bi-sulphosalts on one side of the boundary, to aikinite on the other side, with the change taking place along the same lamellae (
Figure 2
a). Considering that Cu increases across this boundary from 1.5–5.5 wt % to 11 wt %, respectively, the main question addressed here is whether such a 'front of reaction' expressed as a steep Cu gradient is also a direct proxy for Au enrichment in the ore, and if so, whether this enrichment process can also be tracked down to the nanoscale.
The present study includes petrographic characterisation of bismuth sulphosalts in terms of textures and composition, combined with LA-ICP-MS trace element mapping of an area close to the reaction front discussed above. This is complemented by FIB-SEM cross-section imaging and nanoscale studies (HR-TEM imaging and electron diffractions) of several FIB-prepared foils obtained from the mapped area (after sample repolishing). In these foils, Au and Cu concentration gradients correlate with compositional changes in the sulphosalts. The TEM foil cut through one of the less common bismuth sulphosalts was also studied using HAADF STEM high-resolution imaging, as well as EDS mapping/profile and spot analyses.
3.2. Methodology
All instrumentation used in this study is housed at Adelaide Microscopy, The University of Adelaide. All work was performed on polished blocks, one-inch in diameter.
4. Results
4.1. Bismuth Sulphosalt Associations: Petrography, Composition, and Trace Elements
The combined petrographic and trace element study helped in identifying an area of the polished section in which the diversity of sulphosalt species and trace element distributions are strongly indicative of Au(+Ag) enrichment onto a precursor assemblage. The question addressed is if studied down to the nanoscale, can the changes in sulphosalt speciation and the mutual relationships of sulphosalt species provide unequivocal evidence of how this process takes place?
4.2. Native Gold and Bismuth Sulphosalts within the 'Reaction Front': FIB-SEM Study
A FIB-SEM study was carried out within a restricted area of the map where changes in the Cu gradient correlate with speciation of Pb-Bi-sulphosalts and enrichment in Au (
Figure 5
a). FIB cross-sectioning targeted the contacts between different minerals, as well as the Pb-Bi-sulphosalts with variable Cu content (B and D;
Figure 5
b,c). The compositional plot for EPMA analyses obtained from this area shows a linear trend from the B cluster, through D, and into the field of aikinite (
Figure 5
c).
FIB-SEM imaging (
Figure 6
) reveals the presence of particles of native gold, tens to hundreds of nm in size, at contacts with aikinite or galena (
Figure 6
c,d). Some of the coarser native gold is associated with alabandite (MnS;
Figure 6
c). Abundant, fine particles of native gold occur within aikinite, particularly at contacts with the Cu-richer Pb-Bi-sulphosalt (phase D;
Figure 6
d). An abundance of fractures and pores is typical of the association between native gold and sub-µm-scale alabandite (
Figure 6
a,b), particularly at grain contacts with galena (
Figure 6
e,f). The boundary between the two Pb-Bi-sulphosalts is along a microfracture (
Figure 6
g), but without traceable Au at the resolution of the FIB-SEM. The TEM foil prepared from the Cu-richer Pb-Bi-sulphosalt (phase D) is entirely homogenous at this scale of observation (
Figure 6
h). Although the contacts between different minerals can be very sharp (
Figure 6
a), they are often characterised by unusual, sub-µm size grains of galena, either when approaching the fractures, or as inclusions within the aikinite (
Figure 6
c,d). From the above observations, we draw attention to the fact that the studied assemblages show the effects of fluid-induced dissolution. This is expressed by the presence of pores and fractures, and (re)precipitation within the host sulphide-sulphosalt assemblage leading to nucleation of new phases such as alabandite (see the correlation with Mn map in the section above) and fine particles of native gold. Both Mn and Au could have been mobilised out of the host sulphide-sulphosalt minerals, thus explaining the (re)distribution of trace elements as well as trapping of these elements within the same area, e.g., as alabandite. The map for Au shows this element occurs along aikinite grain contacts, and in the abundance of fine particles of native gold, within the aikinite itself. The bismuthinite derivative crystal structure is less accommodating of lattice-bound Au compared to the Pb-Bi-sulphosalts (see also Discussion).
Difficulties experienced in the preparation of "clean and thin" TEM foils from sulphide/ sulphosalt assemblages using FIB-SEM techniques are also illustrated here. All the FIB cuts that include fractures and inclusions could not be thinned as were as the more homogenous material (FIB cut 2). The presence of coarser inclusions also contributed to the difficulty in preparing an evenly thin foil. Galena interacts with Ga ions under FIB milling (white dotted precipitates on
Figure 6
c–f), allowing for the rapid discrimination of the galena against other minerals in the assemblage which display no such reaction. Of the five TEM foils prepared, those from FIB cuts 1 and 2 were far better and thinner for TEM study. However, even in the latter case, torsion of the foil leading to holes during the last stage of thinning, adds to the challenge of achieving suitable samples for TEM study (
Figure 6
h).
4.3. Bismuth Sulphosalts Down to the Nanoscale: TEM Study
The combined TEM, HAADF STEM, and EDS study of foils 1 and 2 allows identification of three distinct bismuth sulphosalts: (cupro)neyite, Ag-Bi-substituted lillianite of higher order homology (dominantly N = 8; 8L) and nanometer-scale grains of aikinite. These minerals are intricately intergrown down to the nanoscale, while chemical heterogeneity is also observed in the neyite. All three sulphosalts were present in foil 1, forming distinct assemblages (domain B and filling a fracture in A), whereas lillianite homologues were absent in foil 2. In addition, fine particles of Au and hessite were also present in foil 1.
Aikinite is identified from HR-TEM imaging and Selected Area of Electron Diffractions (SAED) obtained from some of the coarser, square-shaped grains (a few hundred nm in size), where the spacings at ~8 Å on the [100] zone axis and the absence of satellite reflections along
b*
indicate one of the two primitive cells in the bismuthinite derivative series with
Pmcn
symmetry (
Figure 7
a–c). This space group was recently redefined for members of the series ([
68
], and references therein) initially considered in the
Pnma
space group (e.g., [
66
]). Although this phase could also be the end-member bismuthinite, the EDS spectra (see below) shows this is a Pb-(Cu)-bearing bismuthinite derivative. Aikinite occurs within a sub-µm-sized aggregate of lillianite homologues showing domains of twinning and typical irregular twin-related blocks (
Figure 7
d–e) with strong background contrast [
83
].
The lillianite homologue is identified as a higher-order homologue with N = 8 [
81
], based upon satellite reflections along the
c*
axis (N
1
+ N
2
+ 4 = n, where n is the number of satellites with an even index between the main reflections on
c*
; SAED in
Figure 7
f). EDS spectra (see below) shows this is a Ag-substituted phase and most likely has a composition which falls within the cluster defining B (
Figure 5
c). The streaking along the
c*
axis and parallel directions is indicative of stacking disorder.
The third sulphosalt has the largest unit cell (widest lattice fringes at ~43 Å) and can be indexed as neyite/cuproneyite on SAEDs down to [010] zone axis (
Figure 8
a,b). This is readily attributable to the cluster D in
Figure 5
c since it is present throughout foil 2 which was cut through lamellae of this composition. For the sake of simplicity, this sulphosalt is hereafter referred to as neyite, even though the crystal structure/chemistry has some notable differences relative to neyite sensu stricto as defined by Makovicky et al. (2001) [
75
]; see below. In foil 1, the
8
L lillianite homologue and neyite occur as intergrowths with one another (
Figure 8
), where the slight misfit between the 33 and 37.5 Å repeats on the
c
and
a
axes in
8
L and neyite, respectively, is adjusted by a stepwise defect (
Figure 8
c).
In the same sample, replacement relationships and inclusion nucleation at grain boundaries are also widespread (
Figure 9
). Aikinite appears to be a later phase, since this replaces both the
8
L lillianite homologue and neyite. For example, neyite blocks of variable width, from single to several unit cells, are replaced along the
c
axis by aikinite (
Figure 9
a). The latter also fills the fracture between neyite and the
8
L lillianite homologue with inclusions and defects along the embayment contact (
Figure 9
b,c). Coarser (tens of nm) grains of aikinite crosscut the lamellar aggregates of lillianite homologues (
Figure 9
d). Fine particles (tens of nm) of native gold and hessite are occasionally observed at the boundaries between the neyite and lillianite homologues (
Figure 9
e, f).
As noted above, at the contacts with aikinite, the Pb-Bi sulphosalt (phase B) occurs as sub-µm grains with different orientations at the contacts with neyite where inclusions are present (
Figure 9
e). Such fine-grained aggregates are not observed in neyite. Although no pores are observed, these aspects may be indicative of nanoscale dissolution and re-crystallisation of the lillianite homologues at the sites of inclusion nucleation.
The HR-TEM and electron diffraction data presented above draws attention to lattice-scale relationships between the main phases in the association, and the superimposed effects of replacement extending down to the nanoscale. Identification of a simple cell for the bismuthinite derivative species supports the formation of coarse aikinite that is hundreds of µm in size, tracing the Au front in
Figure 5
a as a process initiated at the nanoscale, from the grains that are tens to hundreds of nm in size nucleating along dissolution-reprecipitation boundaries (
Figure 7
a,b). Identification of the disordered, higher lillianite homologues (N = 8) in and around the aikinite, or as intergrowths with neyite (
Figure 8
c), is evidence for their formation via progressive replacement of primary heyrovskyite co-existing with galena, and ultimately leading to various symplectite associations (
Figure 3
a,b). Although TEM is best suited to discriminate order/disorder and crystal structural modularity in mineral series, and even if nuffieldite can be ruled out (much smaller unit cell;
a
= 14.49 Å;
b
= 21.41 Å;
c
= 4.04 Å; [
93
]), uncertainty still exists for defining neyite derivatives [
75
] relative to other large unit cell phases (such as some highly-substituted lillianite homologues such as ourayite). Moreover, the chemical variability reported so far for the neyite species [
76
], and the offset of the "D" compositional cluster from the ideal composition (
Figure 5
c) are issues that could be resolved using atomic probe resolution HAADF STEM imaging and EDS. Lastly, the various PbS-slabs building-up a large unit cell such as in neyite should be identifiable using high-resolution STEM imaging.
4.4. Bismuth Sulphosalts Down to the Atom-Scale—High-Resolution HAADF STEM Imaging and EDS
Our empirical comparative analysis undoubtedly shows that the large unit-cell sulphosalt under study is neyite since high-resolution HAADF STEM imaging allows for direct visualisation of the heavy atoms building the main blocks in the crystal structure. Differences in the distributions of the lighter cations relative to the sites (Ag and Cu) predicted by the model can be solved only by employing numerical simulations of the experimental images relative to the ideal crystal structure. Alternatively, using the ABF STEM imaging mode could help in tracking the lighter cations in the structure.
5. Discussion
The case study discussed here provides insights into ore-forming processes and particularly the interplay between lattice-scale mineral modifications that support geochemical changes and eventually leads to ore transformation. Secondly, the study draws attention to the relevance, and predictive capacity, of crystal structural modularity in mineral series, and the value this carries for recognition of primary crystallisation versus replacement processes.
6. Implications and Outlook
Despite the fact that the nanoscale characterization of ore minerals in a petrogenetic context is probably still in its infancy, numerous opportunities exist for innovative research. On the basis of preliminary data, we highlight several areas which we believe represent exciting avenues for future nanoscale mineralogical research. Furthermore, they all carry relevance for understanding how ore deposits form, how elements are distributed within them, and how the deposits can eventually be optimally exploited.
Observable across several orders of magnitude of scale and based on the correlation between chemistry and structural changes in host sulphosalts, we argue that structural-chemical modularity in minerals is a medium supporting the redistribution of minor and trace elements. This may offer predictive potential for finding specific metal concentrations within a given assemblage. As larger and larger volumes of accurate, site-specific trace element data for minerals has been generated, and these data find more and diverse applications in petrology and exploration, the number of questions regarding how, and indeed if, these elements are incorporated into the crystal lattice of the host mineral has also increased rapidly. This critical question goes right to the fundamental nature of solid solutions in minerals. Recent overviews of trace element studies in minerals [
47
] show the need and relevance of applying the kind of approach described here to a variety of other mineral systems. Examples include critical metals in sphalerite, heavy elements (U, Pb, W) in Fe-oxides, and REE, Y, or chalcophile elements (Mo, As) in skarn garnets, most of which cannot be readily predicted in ore deposits.
The Fe-oxides, magnetite and hematite, are excellent repositories for several dozen trace elements. The extensive compositional variation displayed by Fe-oxides opens opportunities for classifying and fingerprinting different types of ore deposits, tracing the provenance of detrital or alluvial oxide resources, as vectors for regional and mine-scale exploration, and in the deportment of potential by-products from Fe-oxide-bearing ores. Moreover, the ability of Fe-oxides to accommodate measureable concentrations of uranium and radiogenic lead opens up the possibility of U-Pb geochronology using minerals that are very common in hydrothermal ores [
36
,
107
]. However, the fundamental mechanisms by which many of these elements are incorporated within the oxides remain poorly constrained. Garnets are a further mineral group that displays extensive ranges of trace and minor element substitution, often complex substitution mechanisms, and they have a tendency, particularly in skarn systems, to host elements of petrogenetic and/or economic interest [
108
,
109
].
Quantifying the distributions of U, Th, and their daughter decay products in ores, concentrates, and tailings is of critical concern in some mining/processing operations. Unequivocal evidence for the key mineral hosts for these elements may, however, be difficult or impossible to obtain via traditional microanalytical techniques given their ultra-low concentrations and occurrence within particles which extend in size down to the nanoscale. Coupled with other methods such as α-particle tracking on the thin-section scale, in-situ sampling of small volumes of mineral material by FIB-SEM, subsequent HR-TEM, and HAADF STEM analysis provides an opportunity to bridge scales of observation from the micron- to nanometre scales, thus reducing the size of the "search area" by several orders of magnitude.
The latest generation of electron microscopes provides researchers in the geosciences and related fields an unparalleled opportunity to measure and characterize the structures and properties of minerals directly at the nanoscale. Moreover, interdisciplinary approaches involving instrumentation that can cover scales of observation from the macroscopic scale down to single atom resolution can deliver innovative solutions to problems of major economic significance. We can observe and interpret natural and man-made processes in minerals at the atomic scale, and in three dimensions—critical ingredients for the development of advanced technological solutions to problems previously considered insurmountable, including the generation of cleaner flotation concentrates, leading in turn to the improvement of production efficiency in the minerals sector.
There are certainly many other potential applications of nanoscale microscopy in ore petrology, and this will undoubtedly be a research field that is likely to expand in the near future as the instrumentation and the necessary research skills become more widely available. The present study shows 'how to approach' and 'what are the opportunities' brought in by advanced electron microscopy when performed on a site of petrogenetic interest.
Acknowledgments
We gratefully acknowledge valuable discussions with colleagues, co-authors, and Ph.D. students over the past decade on both the technical aspects of nanoscale characterisation, and on the problems themselves. Adelaide Microscopy and the Australian Microscopy and Microanalysis Research Facility are gratefully acknowledged for access to instrumentation and the time for Titan Themis sessions. Cristiana L. Ciobanu acknowledges support from the "FOX" project (Trace elements in iron oxides: deportment, distribution, and application in ore genesis, geochronology, exploration, and mineral processing), sponsored by BHP Billiton Olympic Dam and the S.A. Mining and Petroleum Services Centre of Excellence. We gratefully acknowledge insightful comments from the four journal reviewers.
Author Contributions
Cristiana L. Ciobanu conceived of this contribution, collected the data, and wrote the paper with valuable contributions from all co-authors (Nigel J. Cook, Christian Maunders, Benjamin P. Wade, and Kathy Ehrig). Christian Maunders operated the Titan Themis instrument, Benjamin P. Wade assisted with EPMA calibration and also provided feedback on the LA-ICP-MS mapping and processing.
Conflicts of Interest
The authors declare no conflict of interest.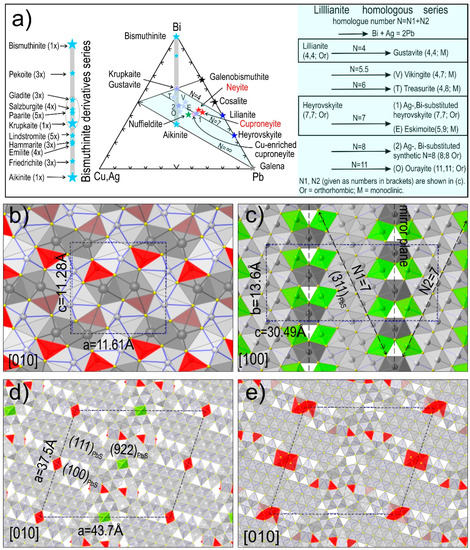 Figure 1.
(
a
) Ternary (Cu, Ag)-Bi-Pb plot showing bismuth sulphosalts of interest in this study. Known species in the bismuthinite derivative series (
left
) and lillianite homologous series (
right
) are located on the plot; (
b
–
e
) Projection (as marked) of crystal structures for selected sulphosalts illustrating the main building blocks. Atoms are shown as balls: dark grey (smaller)—Bi; light grey (larger)—Pb; red—Cu; green—Ag; yellow—S. Coordination polyhedra are shown using the same colour code for each atom type; (
b
) Aikinite crystal structure [
66
] is built by Pb
2
S
6
ribbons (dark grey) with 4 Cu atoms filling adjacent tetrahedral voids and BiS
2+3
in monocapped prismatic polyhedra (light grey); (
c
) Ag-Bi-substituted heyrovskyite [
74
]. The bicapped trigonal prismatic PbS
6+2
position is along the mirror planes (dark grey), the other cations (Ag, Pb, and Bi) are present in the octahedral MeS
6
sites (light grey). The homologue number (N = 7 for heyrovskyite) represents the average of the BiS
6
octahedra along (311)
PbS
directions counted on each side of the mirror planes (N = N1 + N2); (
d
) Neyite [
75
], showing the main building blocks as marked; (
e
) Cuproneyite [
76
], differing from neyite in that three types of Cu sites are present (linear, triangular, and asymmetrically tetrahedral), and the Ag position is occupied by Cu atoms.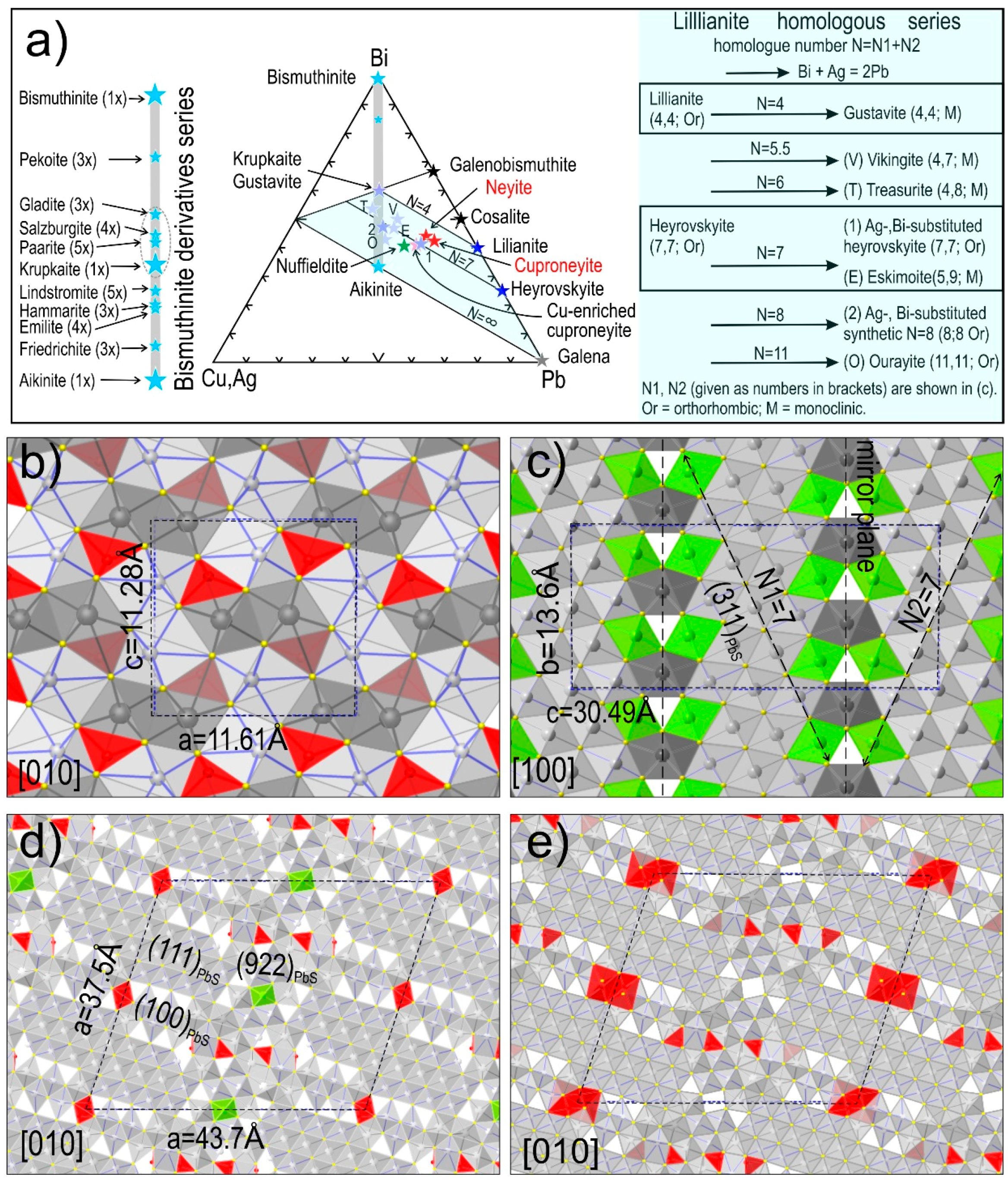 Figure 2.
Back Scatter Electron (BSE) images showing aspects of the Au-rich boundary along the reaction front, in which there is a sharp change from aikinite to Cu-Ag-bearing Pb-Bi-sulphosalts. Galena (Gn) is present in the matrix. (
a
) Gold concentrations (yellow) along the front from laser ablation inductively coupled plasma mass spectrometry (LA-ICP-MS) data [
90
]; (
b
) Detail showing inclusions of native gold along the reaction front correlating with Cu-enrichment (darker shades) in the Pb-Bi-sulphosalts.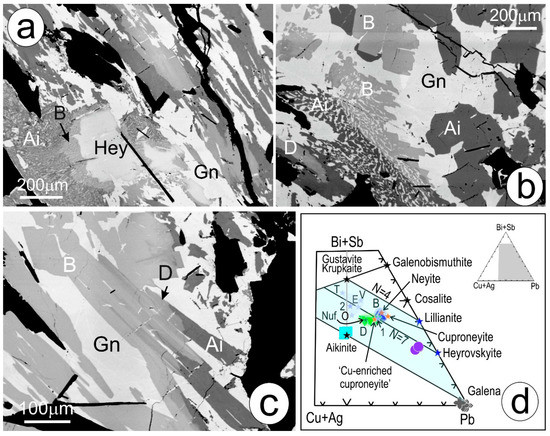 Figure 3.
BSE images (
a
–
c
) showing typical symplectitic and lamellar intergrowths between Bi-ss and galena; (
d
) (Cu, Ag)-(Bi, Sb)-Pb ternary diagram, showing the composition of sulphosalts and sulphides throughout the entire sample (polished block). Star symbols represent ideal phases. Square: aikinite; circles: heyrovskyite; triangles: Pb-Bi-sulphosalts as marked. Abbreviations: Ai—aikinite; B—Pb-Bi sulphosalt (bright); D—Pb-Bi sulphosalt (dark); both B and D are Cu-Ag-bearing; E—eskimoite; Gn—galena; Hey—heyrovskyite; Nuf—nuffieldite; O—ourayite; V—vikingite; T—treasurite; (1)—Ag-Bi-substituted heyrovskyite [
74
]; (2)—Ag-Bi-substituted N = 8 synthetic lillianite homologues [
81
].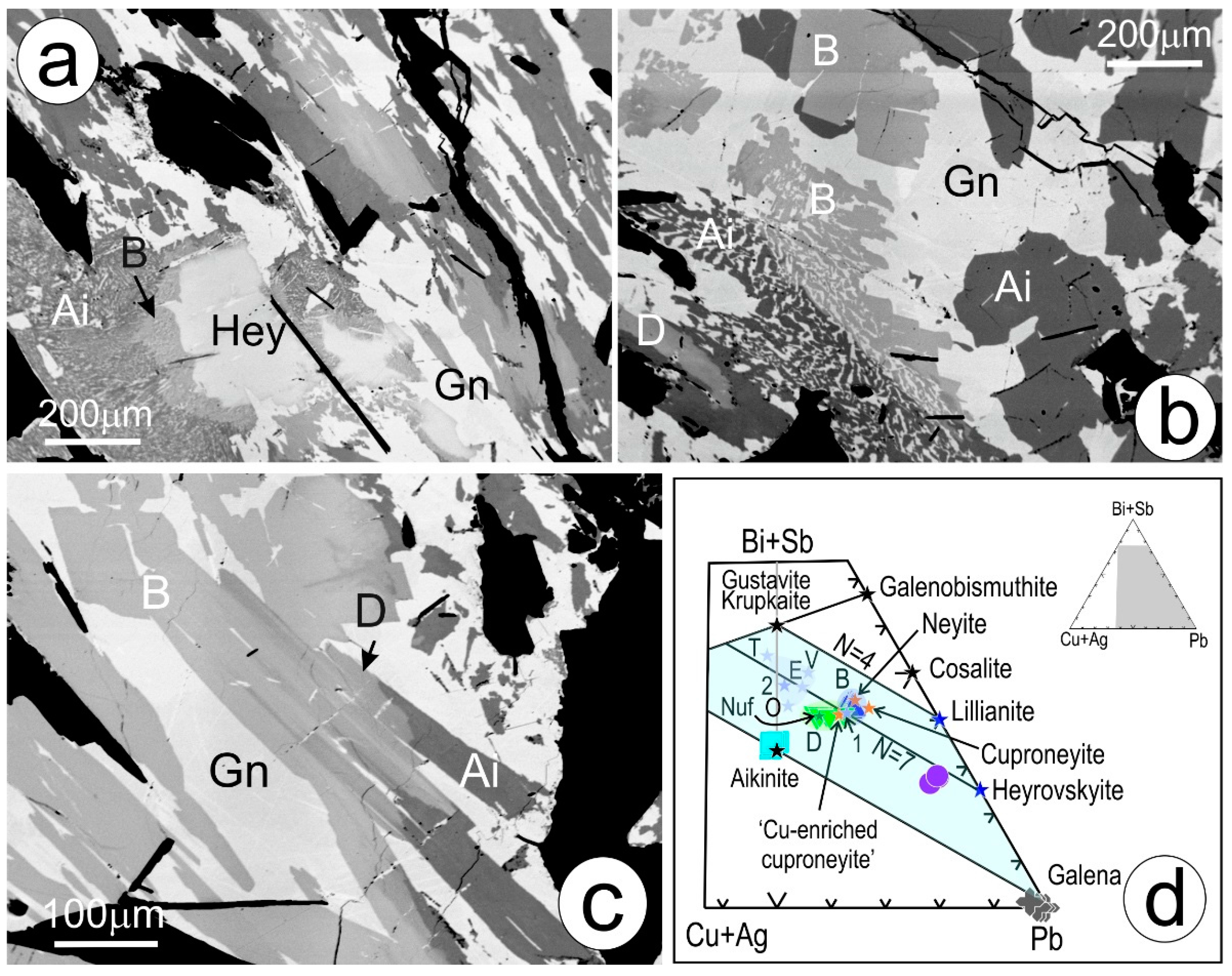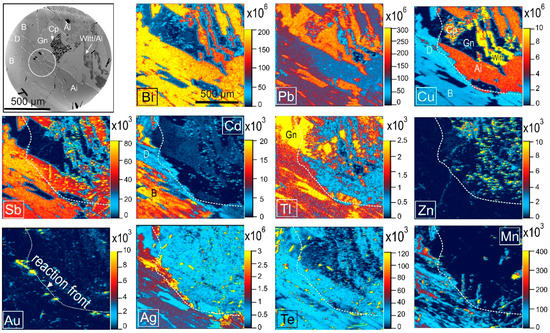 Figure 4.
Secondary Electron (SE) image showing the mapped areas (
top left
). Circle: area of FIB cuts (see
Figure 5
b) and LA-ICP-MS element maps for an area along the 'reaction front' marked on
Figure 2
a. See text for more explanations. Ai–aikinite; B–bright Pb-Bi-sulphosalt; D–dark Pb-Bi-sulphosalt; Cp–chalcopyrite; Gn–galena; Witt–wittichenite.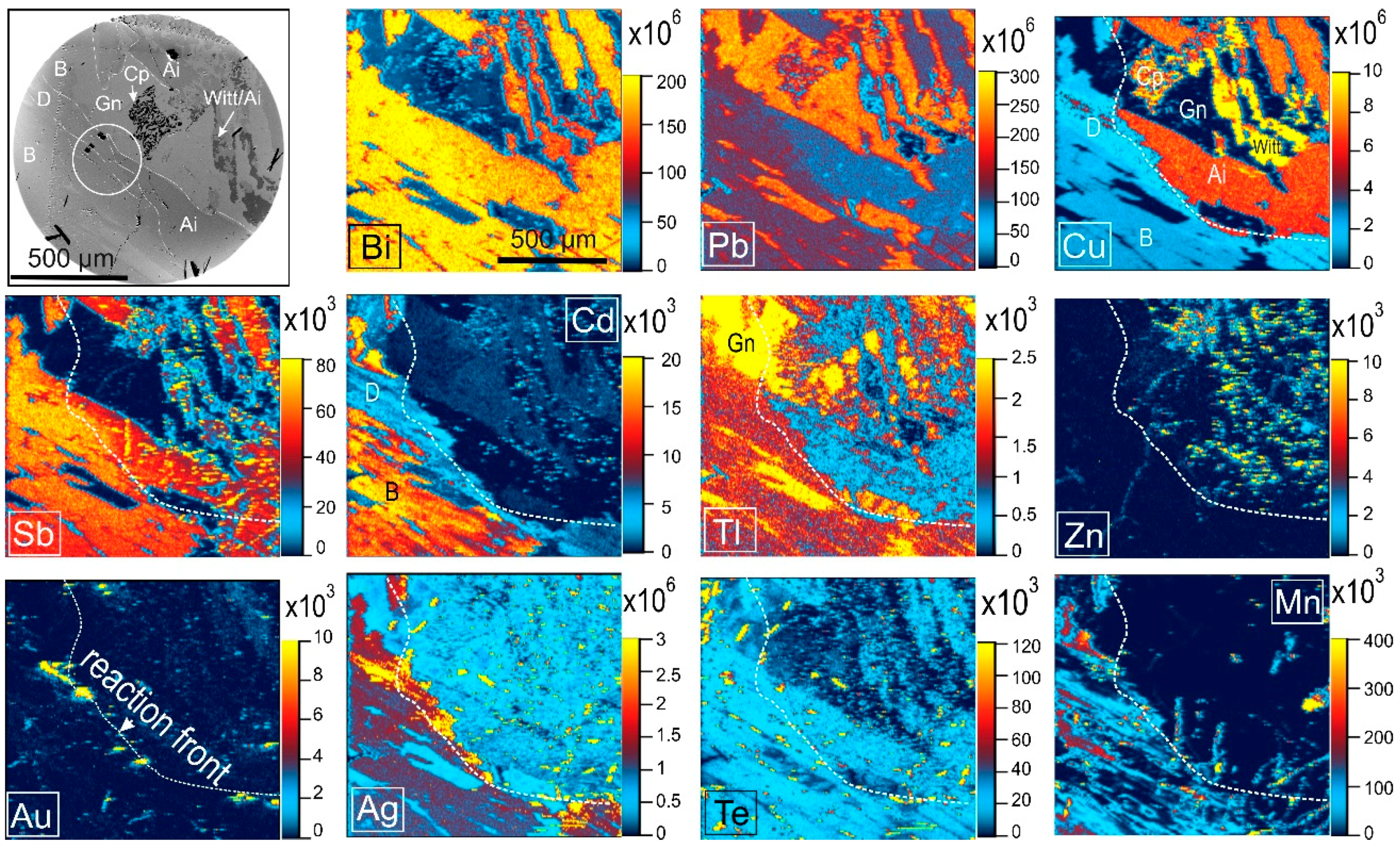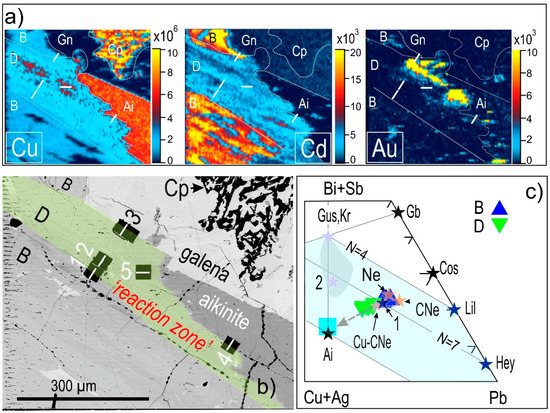 Figure 5.
(
a
) Reduced areas of LA-ICP-MS maps (from
Figure 4
) for elements of interest, showing the reaction zone used for the FIB-SEM study; (
b
) Secondary electron image showing the areas where FIB-cross sectioning and imaging were carried out, and from where the TEM samples were extracted. White lines show the locations of FIB-cuts and their number (foils 1–5); (
c
) Compositional plot showing sulphosalts from the area with the FIB-cuts in (
b
). Stars-ideal compositions; squares - aikinite; triangles–Pb-Bi-sulphosalts. Stars labelled (1) and (2) represent phases as given in
Figure 1
a and
Figure 3
d. Abbreviations: Ai—aikinite; Cp—chalcopyrite; CNe—cuproneyite; Cu-CNE—Cu-enriched cuproneyite; Cos—cosalite; Gb—galenobismuthite; Hey—heyrovskyite; Gus—gustavite; Kr—krupkaite; Lil—lillianite.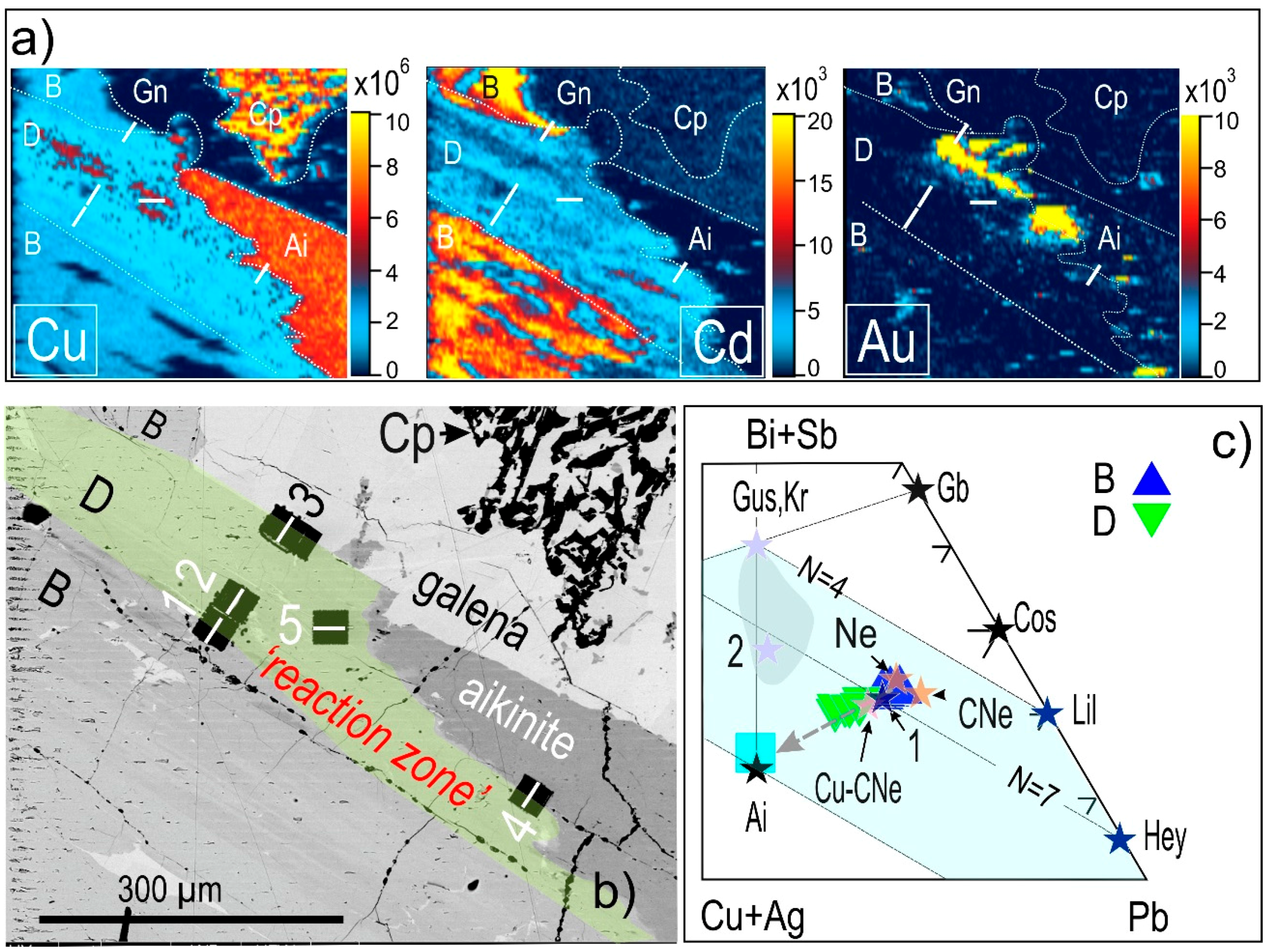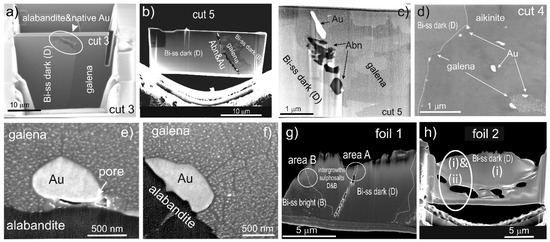 Figure 6. Secondary Electron images showing details of the FIB-cuts lifted and placed on Cu grids (a–f); and TEM images of foils 1 and 2 (g–h); Note the association between alabandite (Abn) and native gold (Au) along fractures (a–b) and trails (c); Abundant, finest grains of native gold in aikinite (d); Note their distribution at the contact between aikinite and dark Bi-ss; (e,f) Details of fine particles of native gold at the contact between galena and alabandite. See the text for additional explanation. Letters A, B in (g) and (i), (ii) in (h) define areas of interest discussed in the text.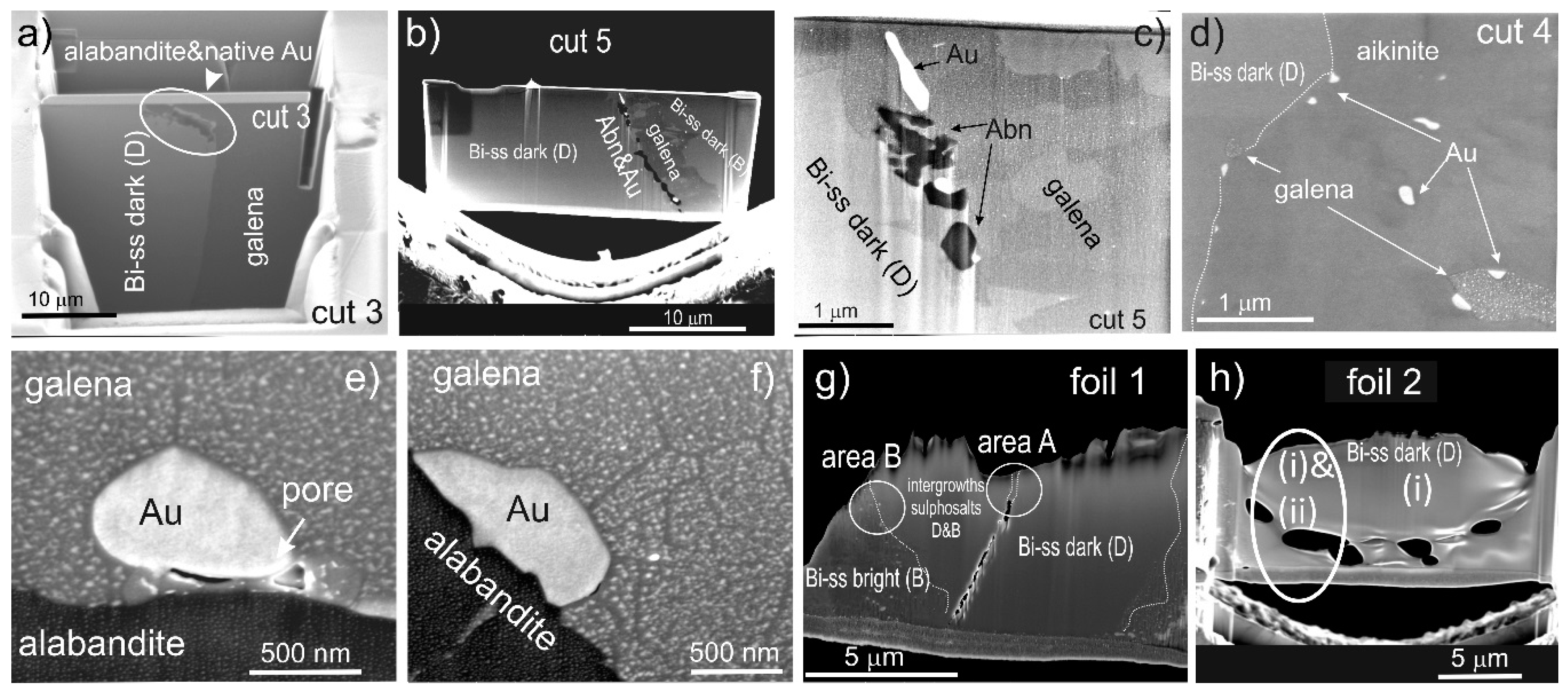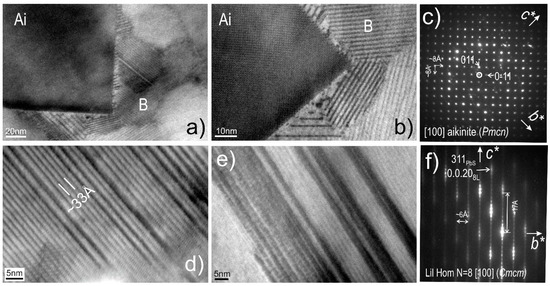 Figure 7.
Bright Field (BF) HR-TEM images and SAEDs (on zone axes as marked) showing associations between aikinite (Ai;
a
–
c
) and the bright Pb-Bi-sulphosalt (phase B) identified as N = 8 lillianite homologue (
8
L;
d
–
f
). Note the fine-grained aggregate of B at the boundary to aikinite (
a
,
b
), and the high contrast between different slabs typical of twinning in lillianite homologues. Note the presence of streaks along
c*
and equivalent directions indicating disorder in
8
L. See text for additional explanation.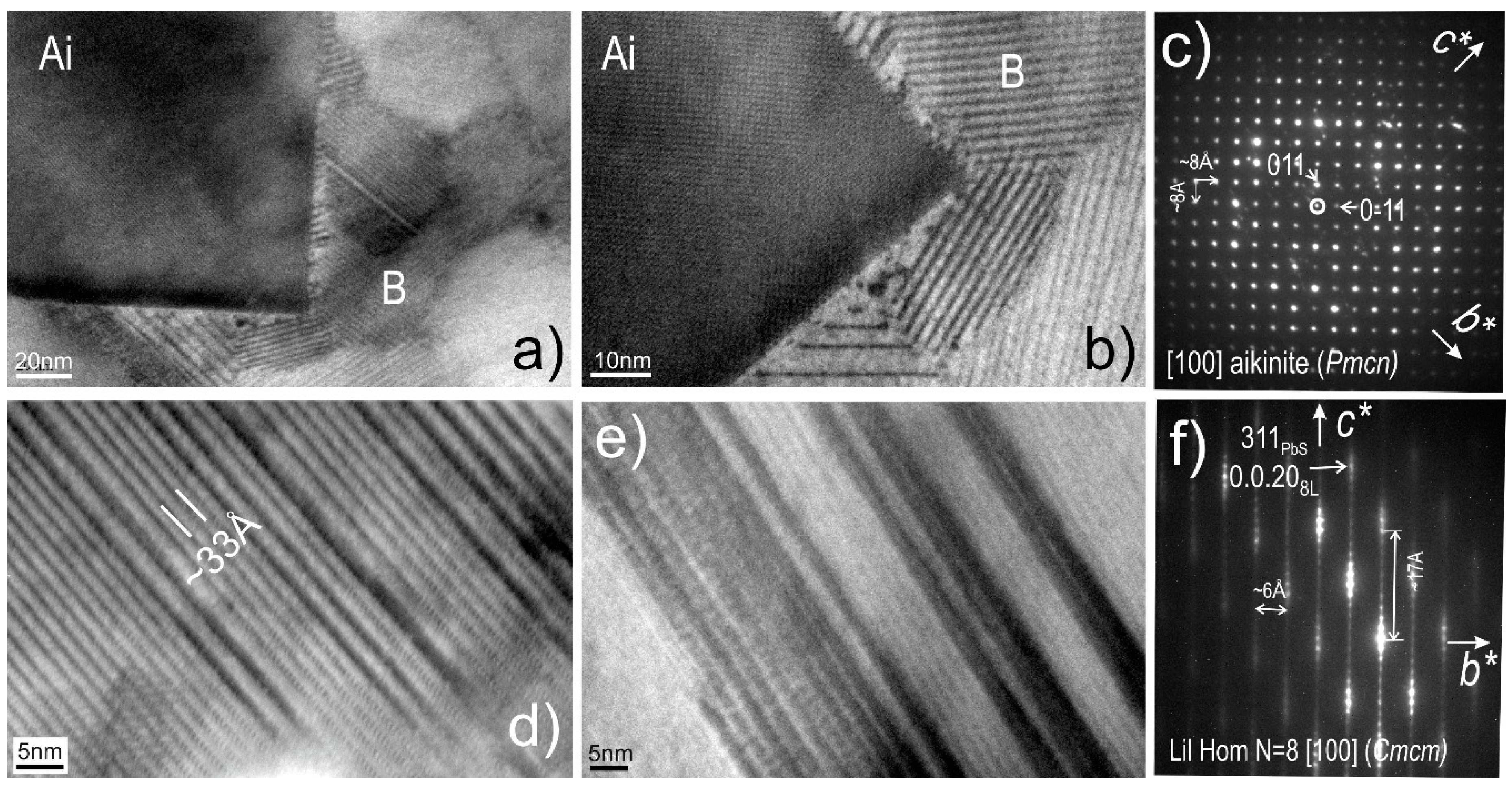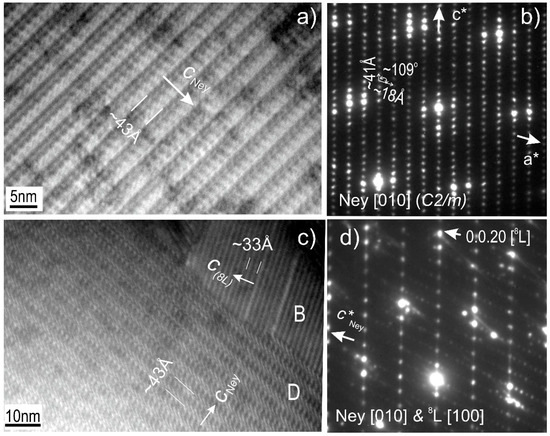 Figure 8. BF HR-TEM images and SAEDs (on zone axes as marked) showing details of Pb-Bi sulphosalt (D) (a,b) indexed as neyite (Ney); and relationships with Pb-Bi-sulphosalt (B) identified as 8L (c,d); Note the step-wise offsets at the contact between the two sulphosalts (c).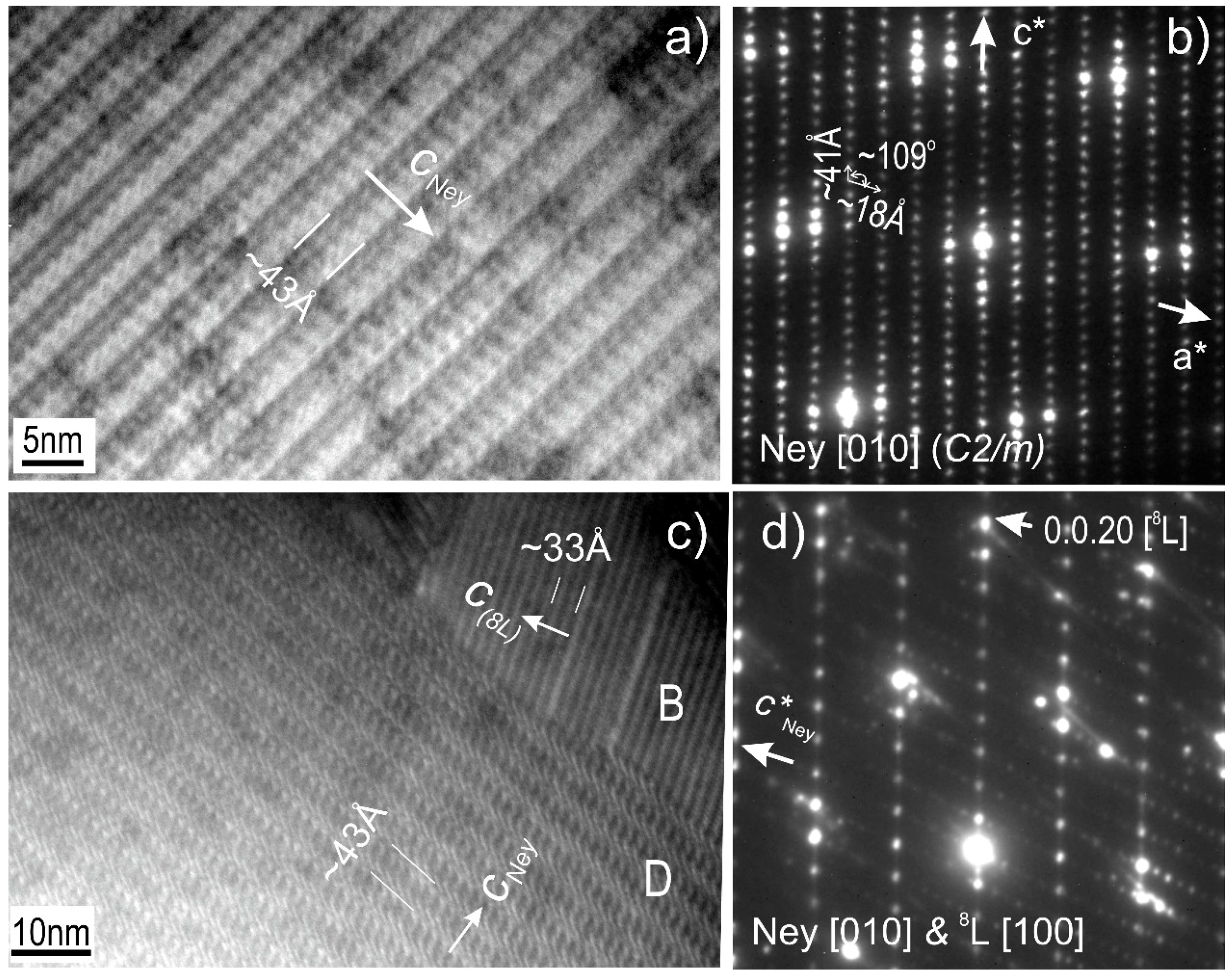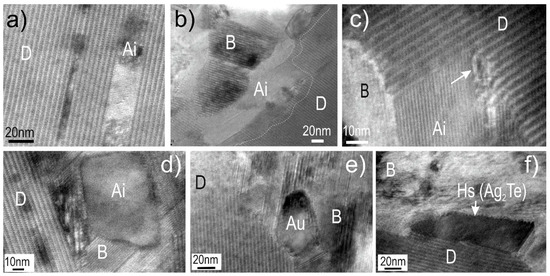 Figure 9. BF HR-TEM images showing replacement relationships between aikinite (Ai) and the two Pb-Bi-sulphosalts (D and B) (a,b,d); defects along phase boundaries (c) and inclusions of native gold (e) and hessite Hs; (f) at grain boundaries. See the text for additional explanation.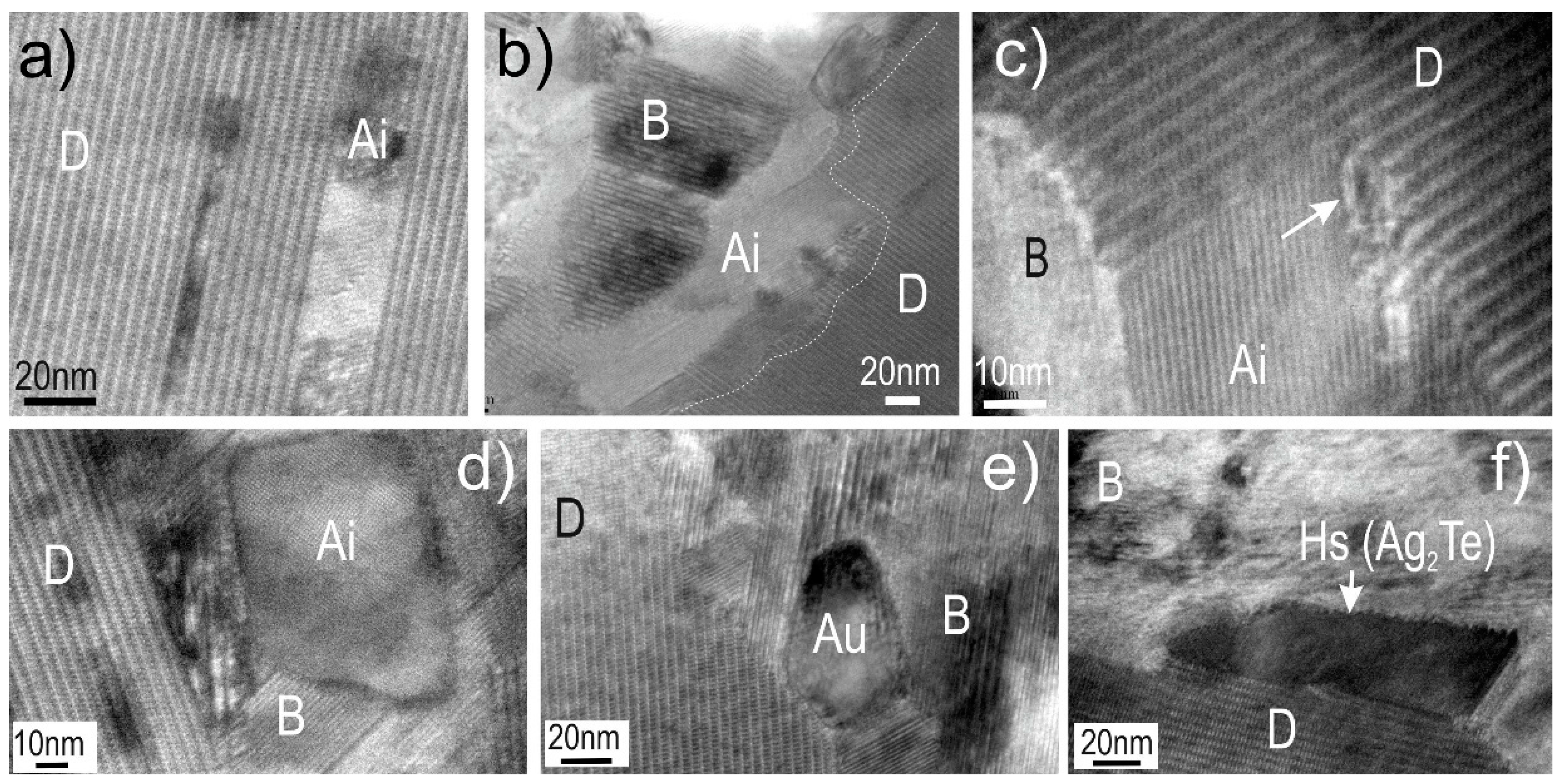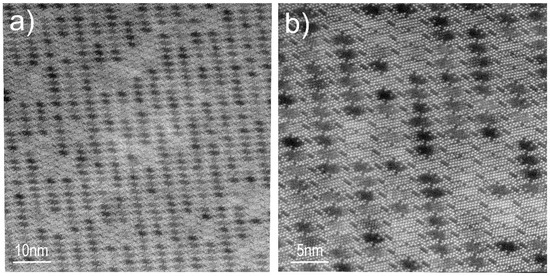 Figure 10.
HAADF STEM images showing patterns realised by building blocks in the crystal structure of neyite down to the [010] zone axis (dark Pb-Bi-sulphosalt (phase D) in area (i) of foil 2;
Figure 6
h). Note the "zig-zag" pattern expressed as contrast variation in the 'rhombic' motifs forming parallel strips in (
a
); In (
b
) the structural motifs are shown by different orientations of the heavy atoms (bright dots; Bi, Pb), and dark contrast for units formed by lighter elements (Ag and Cu). Note the transitional, variable contrast for the rhombic motifs but the preservation of the geometrical outline. See the text for additional explanation.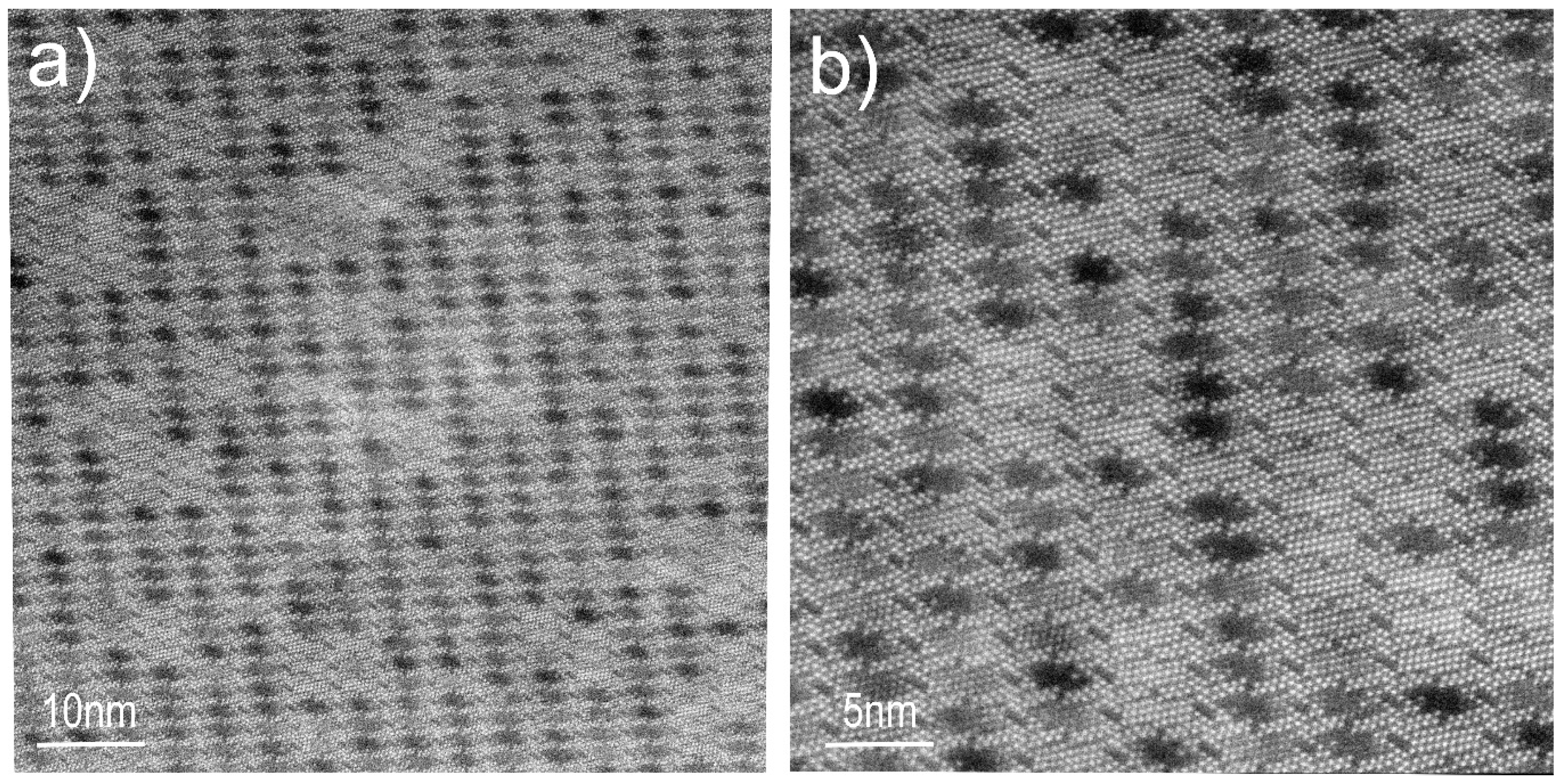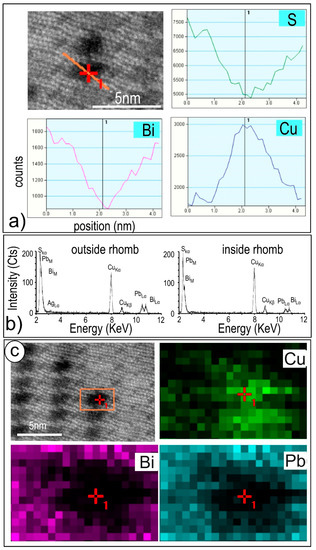 Figure 11. (a) EDS profile across one of the dark 'rhombic' motifs showing that it is richer in Cu; (b) EDS spectra for points along the profile in (a), showing the relative variation in concentrations of the main elements for spots outside and inside the motif. The high Cu peak is due to interference with the Cu grid. Note that the Ag peak is barely visible for neyite (concentration threshold for the detector?); (c) EDS elemental maps for one of rhombic motifs (rectangle on HAADF STEM image corner left), showing that it is Cu-rich, and Bi-Pb-poor relative to the enclosing matrix.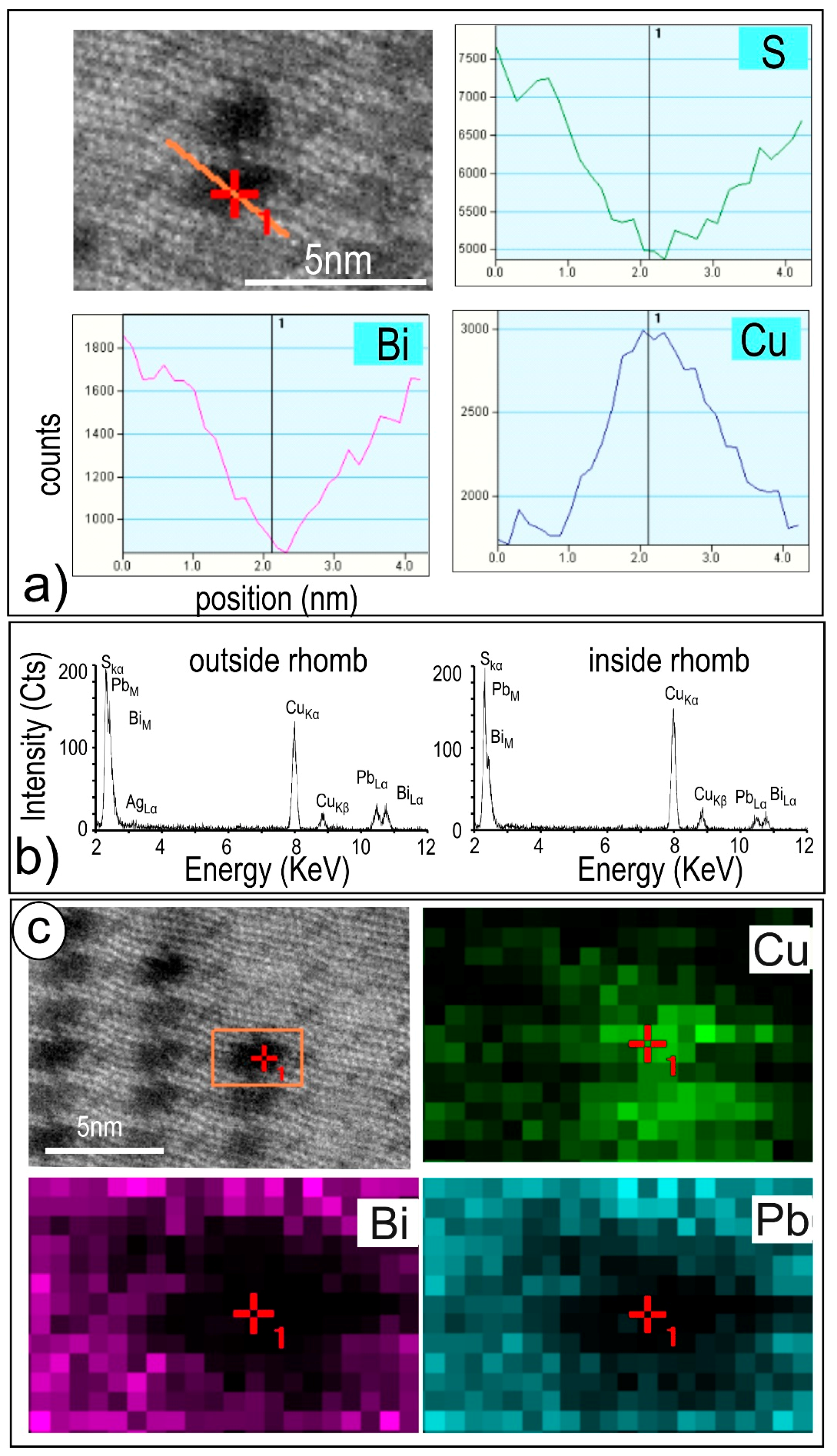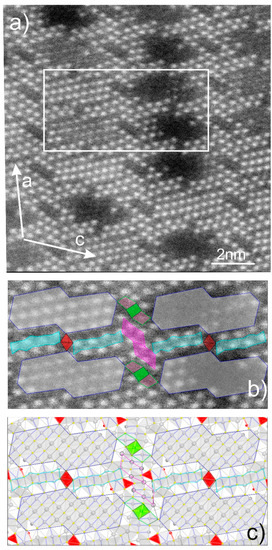 Figure 12.
Crystal structural slabs in the dark Pb-Bi-sulphosalt (D), identified from the HAADF STEM image in (
a
) and, in (
b
); an enlargement of the white rectangle area in (
a
); matching the neyite structure [
75
]; (
c
) down to the [010] zone axis. The slabs are outlined by: (111)
PbS
—dark blue and grey shading; (100)
PbS
—light blue and grey shading. Note the excellent correlation between the number of heavy atoms (Pb, Bi as white dots on the HAADF STEM images and small and larger grey balls on the sketch in (
c
)). The small rhombs in red correspond to Cu whereas the green rectangles show Ag positions. The purple shading in (
b
), and outlines in (
c
), show two small sheared blocks alternating with the Ag-bearing slabs (green outline on (
c
)). Note that these are dark on the HAADF STEM images (
a
,
b
), suggesting that they host atoms lighter than Bi and Pb considered in the structural model. See the text for additional explanation.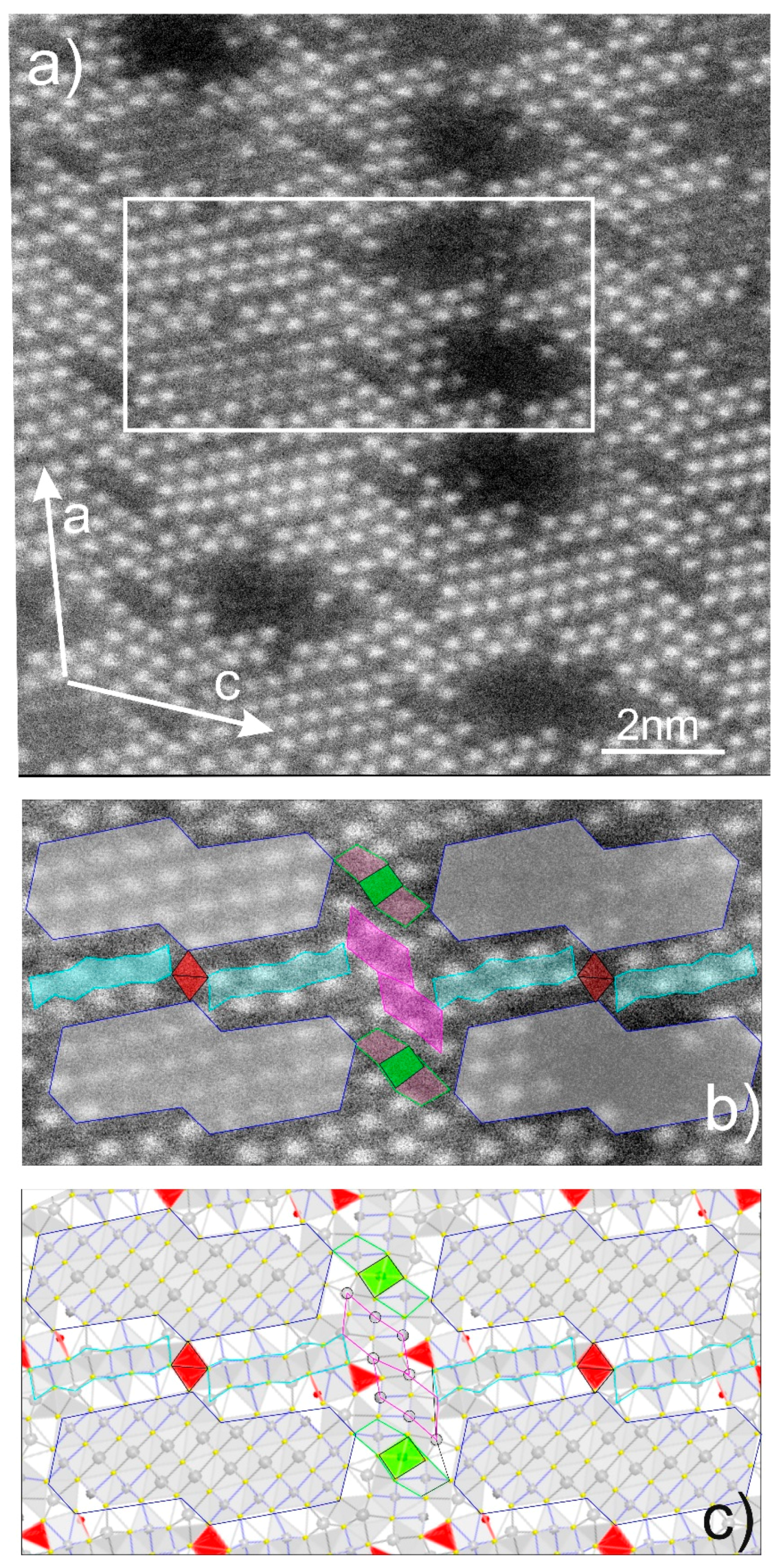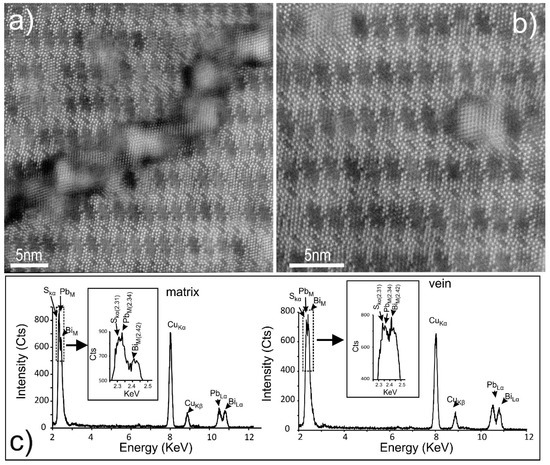 Figure 13.
HAADF STEM images (
a
,
b
) and EDS spectra (
c
) showing the replacement of neyite (Pb-Bi-sulphosalt B) by aikinite in area (ii) of foil 2 (
Figure 6
h). Neyite is tilted down to the [010] zone axis; aikinite shows lattice fringes down to [11-1] zone axis—see
Figure 14
b. (
a
) Nanometre-sized vein of aikinite with a kink-like trajectory. Note the darker margins, as well as the protrusions within neyite; (
b
) Nanoparticles of aikinite (NPs) with typical 1–3 nm size, centred on the (111)
PbS
slabs in the neyite structure. Note that they have round shapes; (
c
) EDS spectra representing the matrix neyite and vein aikinite, showing the relative differences for the peaks of the main elements (Bi and Pb). The high Cu peak is due to interference from the Cu grid. Note that the Ag peak is not visible for neyite (concentration threshold for the detector?).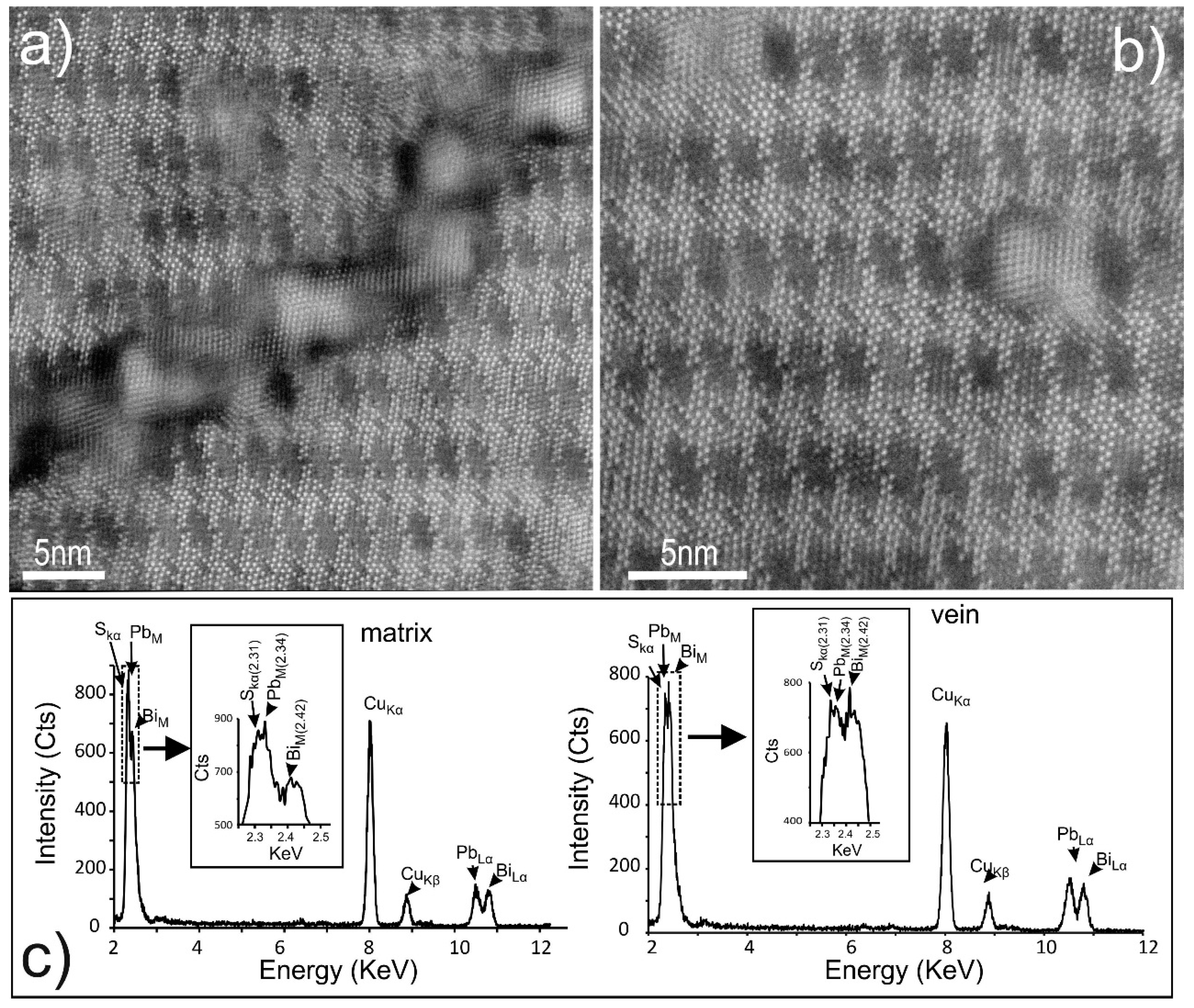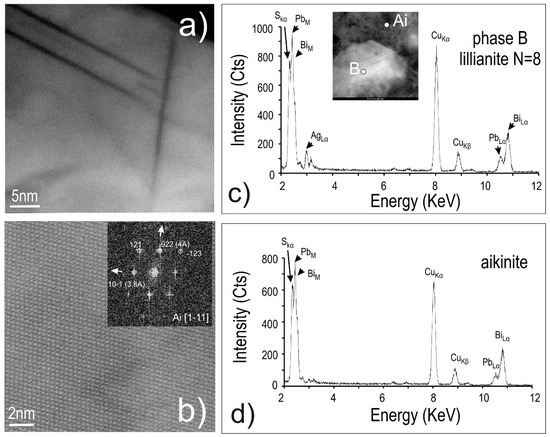 Figure 14.
HAADF STEM images (
a
,
b
) and EDS spectra (
c
,
d
) of N = 8 lillianite homologue and aikinite in foil 1, area A (
Figure 6
). Fast Fourier Transform (FFT) in the inset of (
b
) indicates aikinite on the [11-1] zone axis. Lillianite shows dark contrast lamellae in (
a
). Note the presence of a distinct Ag peak for the lillianite homologue in (
c
) and the absence of such a peak in (
d
). The high Cu peak is due to interference from the Cu grid.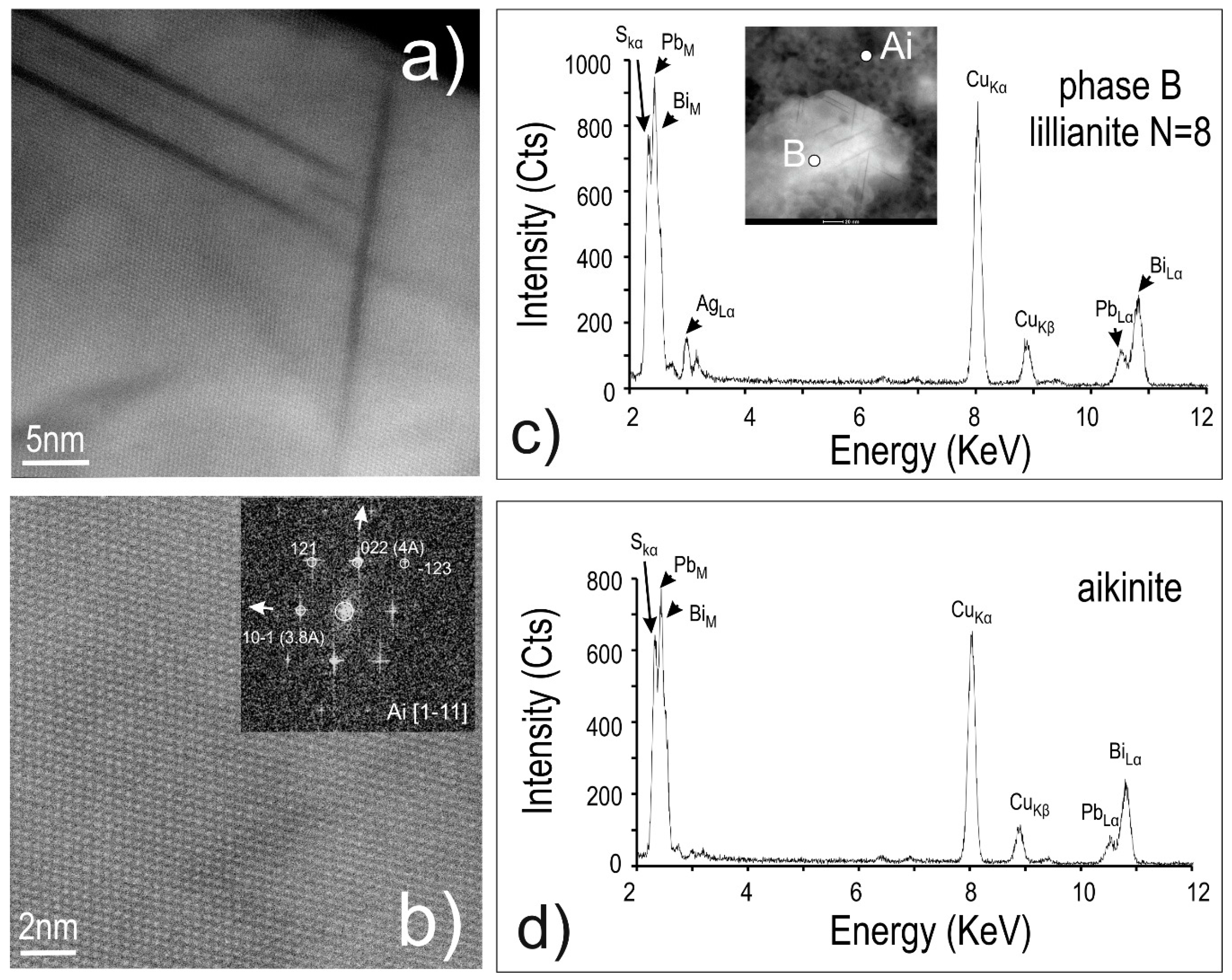 © 2016 by the authors; licensee MDPI, Basel, Switzerland. This article is an open access article distributed under the terms and conditions of the Creative Commons Attribution (CC-BY) license (http://creativecommons.org/licenses/by/4.0/).