Matrix-Matched Iron-Oxide Laser Ablation ICP-MS U–Pb Geochronology Using Mixed Solution Standards
1
School of Chemical Engineering, The University of Adelaide, Adelaide, SA 5005, Australia
2
State Key Laboratory for Mineral Deposits Research, Department of Earth Sciences, Nanjing University, Nanjing 210093, China
3
Adelaide Microscopy, The University of Adelaide, Adelaide, SA 5005, Australia
4
BHP Billiton Olympic Dam, Adelaide, SA 5000, Australia
5
Lagerstätten und Rohstoffe, Technische Universität Clausthal, Adolph‑Roemer‑Str. 2A, Clausthal-Zellerfeld D-38678, Germany
6
John de Laeter Centre, Curtin University of Technology, Bentley, WA 6102, Australia
*
Author to whom correspondence should be addressed.
Academic Editor: Antonio Simonetti
Received: 18 May 2016 / Revised: 11 August 2016 / Accepted: 16 August 2016 / Published: 23 August 2016
Abstract
U–Pb dating of the common iron-oxide hematite (α-Fe
2
O
3
), using laser-ablation inductively-coupled-plasma mass-spectrometry (LA-ICP-MS), provides unparalleled insight into the timing and processes of mineral deposit formation. Until now, the full potential of this method has been negatively impacted by the lack of suitable matrix-matched standards. To achieve matrix-matching, we report an approach in which a U–Pb solution and ablated material from 99.99% synthetic hematite are simultaneously mixed in a nebulizer chamber and introduced to the ICP-MS. The standard solution contains fixed U- and Pb-isotope ratios, calibrated independently, and aspiration of the isotopically homogeneous solution negates the need for a matrix-matched, isotopically homogenous natural iron-oxide standard. An additional advantage of using the solution is that the individual U–Pb concentrations and isotope ratios can be adjusted to approximate that in the unknown, making the method efficient for dating hematite containing low (~10 ppm) to high (>1 wt %) U concentrations. The above-mentioned advantage to this solution method results in reliable datasets, with arguably-better accuracy in measuring U–Pb ratios than using GJ-1 Zircon as the primary standard, which cannot be employed for such low U concentrations. Statistical overlaps between
207
Pb/
206
Pb weighted average ages (using GJ-1 Zircon) and U–Pb upper intercept ages (using the U–Pb mixed solution method) of two samples from iron-oxide copper-gold (IOCG) deposits in South Australia demonstrate that, although fractionation associated with a non-matrix matched standard does occur when using GJ-1 Zircon as the primary standard, it does not impact the
207
Pb/
206
Pb or upper intercept age. Thus, GJ-1 Zircon can be considered reliable for dating hematite using LA-ICP-MS. Downhole fractionation of
206
Pb/
238
U is observed to occur in spot analyses of hematite. The use of rasters in future studies will hopefully minimize this problem, allowing for matrix-matched data. Using the mixed-solution method in this study, we have validated a published hematite Pb–Pb age for Olympic Dam, and provide a new age (1604 ± 11 Ma) for a second deposit in the same province. These ages are further evidence that the IOCG mineralizing event is tied to large igneous province (LIP) magmatism in the region at ~1.6 Ga.
View Full-Text
►

▼

Figures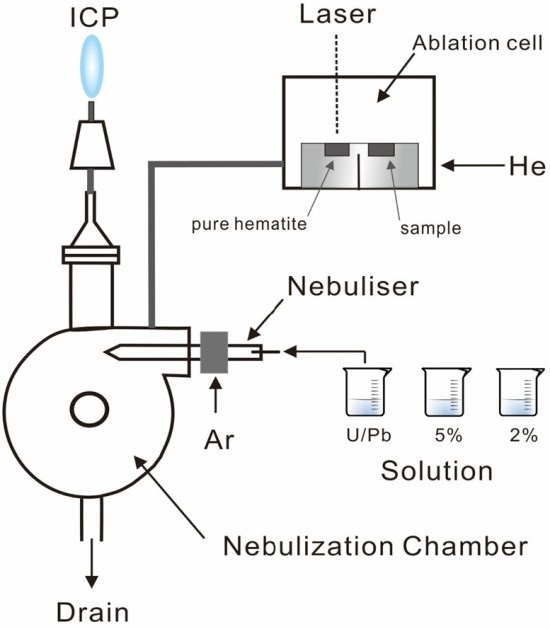 Graphical abstract
This is an open access article distributed under the
Creative Commons Attribution License
which permits unrestricted use, distribution, and reproduction in any medium, provided the original work is properly cited (CC BY 4.0).

Share & Cite This Article
MDPI and ACS Style
Courtney-Davies, L.; Zhu, Z.; Ciobanu, C.L.; Wade, B.P.; Cook, N.J.; Ehrig, K.; Cabral, A.R.; Kennedy, A. Matrix-Matched Iron-Oxide Laser Ablation ICP-MS U–Pb Geochronology Using Mixed Solution Standards. Minerals 2016, 6, 85.
Note that from the first issue of 2016, MDPI journals use article numbers instead of page numbers. See further details here.
Related Articles
Comments
[Return to top]