Evidence of a Biological Control over Origin, Growth and End of the Calcite Prisms in the Shells of
Pinctada margaritifera

(Pelecypod, Pterioidea)

1

Department of Earth Sciences, Paris-Sud University, Bt. 504, 91405 Orsay, France

2

Department of Analytical Chemistry, Gent University, Krijgslaan 281 S12, 9000 Gent, Belgium

3

Institut Fresnel UMR 7249, Aix-Marseille University, Centrale Marseille, 13013 Marseille, France

4

Ecosystèmes insulaires océaniens UMR 241, Institut français de recherche pour l'exploitation de la mer (IFREMER) Centre du Pacifique, 98719 Taravao, Tahiti, French Polynesia

5

Alfred Wegener Institute for Polar and Marine Research, Am Handelshafen 12, 27570 Bremerhaven, Germany

6

Department of Geological Sciences, The University of Alabama, 2018 Bevill Building, Tuscaloosa, AL 35487, USA

*

Author to whom correspondence should be addressed.

Received: 13 October 2014 / Revised: 18 November 2014 / Accepted: 10 December 2014 / Published: 18 December 2014
Abstract
Consistently classified among the references for calcite simple prisms, the microstructural units that form the outer layer of the
Pinctada margaritifera
have been investigated through a series of morphological, crystallographical and biochemical characterizations. It is often said that the polygonal transverse shape of the prisms result from the competition for space between adjacent crystals. In contrast to this classical scheme the
Pinctada
prisms appear to be composed of four successive developmental stages from the concentrically growing disks on the internal side of the periostracum to the morphological, structural and compositional changes in both envelopes and mineral components at the end of the prisms. These latest structural and compositional changes predate nacre deposition, so that the end of prism growth is not caused by occurrence of nacre, but by metabolic changes in the secretory epithelium. This sequence makes obvious the permanent biological control exerted by the outer cell layer of the mantle in both organic envelopes and mineralizing organic phases.
View Full-Text
►

▼

Figures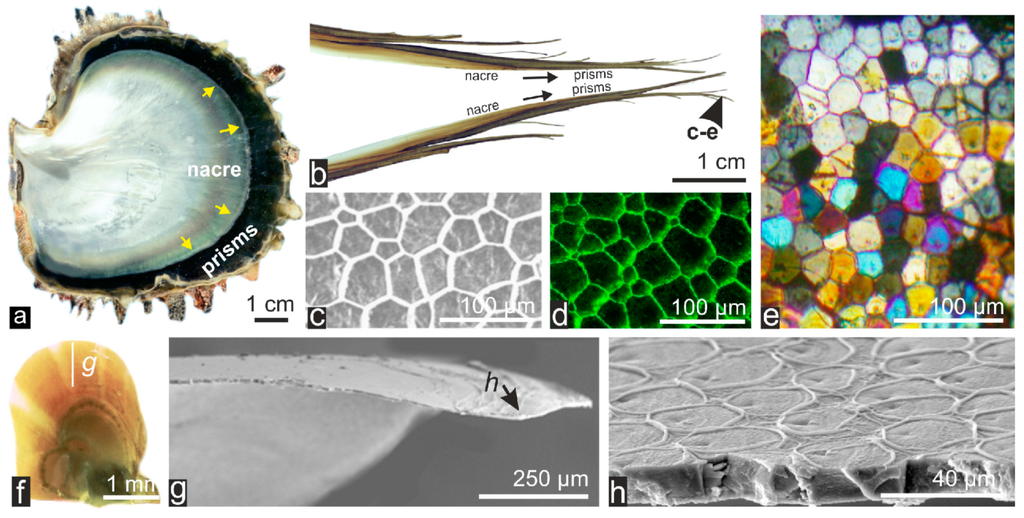 Figure 1
This is an open access article distributed under the
Creative Commons Attribution License
which permits unrestricted use, distribution, and reproduction in any medium, provided the original work is properly cited (CC BY 4.0).

Share & Cite This Article
MDPI and ACS Style
Cuif, J.-P.; Burghammer, M.; Chamard, V.; Dauphin, Y.; Godard, P.; Moullac, G.L.; Nehrke, G.; Perez-Huerta, A. Evidence of a Biological Control over Origin, Growth and End of the Calcite Prisms in the Shells of Pinctada margaritifera (Pelecypod, Pterioidea). Minerals 2014, 4, 815-834.
Related Articles
Comments
[Return to top]