Open Access This article is
freely available
re-usable
Article
Effect of Ordinary Portland Cement and Water Glass on the Properties of Alkali Activated Fly Ash Concrete
Faculty of Civil Engineering and Architecture, Kaunas University of Technology, Studentų g. 48, Kaunas 51367, Lithuania
*
Author to whom correspondence should be addressed.
Received: 11 November 2019 / Accepted: 24 December 2019 / Published: 31 December 2019
Abstract
:
This research presents the influence of ordinary Portland cement (OPC) and/or water glass addition on fly ash alkali-activated mortar and concrete. The results show that fly ash (FA) concrete activated with a NaOH solution and water glass mixture had better resistance to freeze and thaw, carbonation, alkali-silica reaction (ASR) and developed higher compressive strength and static elastic modulus compared with the FA concrete activated only with an NaOH solution. The addition of OPC contributes to the development of a denser microstructure of alkali activated concrete (AAC) samples. In the presence of water glass and OPC, the compressive strength (52.60 MPa) of the samples increased more than two times as compared with the reference sample (21.36 MPa) without OPC and water glass. The combination of OPC and water glass showed the increased strength and enhanced durability of AAC. The samples were more resistant to freeze and thaw, ASR, and carbonation.
Keywords:
alkali-activated concrete; fly ash; durability; compressive strength; ordinary Portland cement; industrial waste
1. Introduction
In recent years, there is more effort to make constructions more sustainable and more eco-friendly. Alkali activated concrete (AAC) is getting more attention because it has potential to reduce the use of ordinary Portland cement (OPC).
There are undoubtedly certain contradictions in the ASR research. In order to make clear conclusions, more investigations should be carried out. The aim of this work is to investigate the effect of OPC or/and water glass addition on the mechanical and durability properties of alkali activated fly ash mortar and concrete.
2. Materials and Methods
2.1. Experimental Techniques
The X-ray diffraction (XRD) analysis was performed on the D8 Advance diffractometer (Bruker AXS, Karlsruhe, Germany) operating at the tube voltage of 40 kV and tube current of 40 mA. The X-ray beam was filtered with a Ni 0.02-mm filter to select the CuKα wavelength. The powder X-ray diffraction patterns were identified with references available in the PDF-2 database.
X-ray fluorescence (XRF) was performed on an X-ray fluorescence spectrometer Bruker X-ray S8 Tiger WD (Bruker, Billerica, MA, USA). The Rh tube, anode voltage Ua up to 60 kV, and current I to 130 mA were used. The loss on ignition was calculated after heating the materials at the temperature of 1000 °C.
The normal consistency of fresh alkali activated fly ash paste, which was determined by Suttard's viscometer. The fineness of OPC and fly ash was evaluated by the Blaine method.
The AAC samples were 70 × 70 × 70 mm cubes and mortar samples were 40 × 40 × 160 mm prisms samples. There were three samples of the same composition for each test. Different sample sizes were required for different tests. These samples were sealed in molds after formation and kept at an ambient temperature for 24 h. The samples were then moved to 60 °C for 24 h. After the curing period, they were demolded, dried, and left at room temperature for 26 days.
The compressive strength test was carried out on the concrete cubes after 7, 14, and 28 days. The hydraulic compression machine Toni Technik 2020 (Toni Technik GmbH, Berlin, Germany) was used for the test.
Elastic modulus was determined, according to standard ISO 1920-10:2010. During the test, the mortar prisms were placed in a frame and loaded by 40% of their destructive load for three times, and strains and deformations were monitored during loading/unload. The static elastic modulus was calculated as follows.
where
E
—elasticity module, MPa;
σa
—Maximum load (40% F
C,Cub.
—previously determined compressive strength), MPa;
σb
—minimum load (≈ 0.5 MPa), MPa;
εa
—relative deformation at maximum load; and
εb
—relative deformation at the lowest load.
Carbonation of AAC was evaluated by measuring the depth of the carbonated layer. The initial carbonation depth was measured in the 28-day-old sample and compared with the depth after keeping samples in a carbonation chamber for 56 days (CO2 concentration 1%, temperature 20 °C). In order to measure the carbonation depth, the samples must be split and sprayed with phenolphthalein solution. Then the uncarbonated layer turns into a purple color.
Porosity was determined by using the water absorption kinetics test. For each type of sample, the experiment was repeated at least three times. In order to calculate the total porosity, open porosity, closed porosity, the dry sample mass, the sample mass after 48 h of drowning, and the sample mass in the water must be measured. The sample density is calculated below.
Here, m48—sample mass after 48 h of drowning, g; md—dry sample mass, g; and mw—sample mass in the water (after 48 h drowning), g.
Water volume absorption (
Wp(t)
) of the sample is equal to open porosity (P
o
).
Here:
Wp
—water mass absorption, %,
ρ
—density, kg/m
3
.
Porosity can be calculated with the following equation.
Here:
ρ
—density, kg/m
3
, and 2690 kg/m
3
is theoretical concrete density, according to standard GOST 12730.4-78.
Then the closed porosity (
Pc
) is equal to:
To measure the danger of ASR, the test was carried out, according to standard RILEM AAR-2. During the test, 40 × 40 × 160 mm prisms are placed in 1 mol/L NaOH in an 80 °C solution, and measured after one, three, seven, and 14 days. Deformations are recalculated into relative deformations. According to the regulations of standard ASTM C1260, concrete is resistant to ASR when relative deformations are under 1 mm/1 m after 14 days.
Resistance to freeze/thaw was evaluated with a testing method regulated by standard SS 137244:2005. According to the regulations, the top surface of the samples is exposed to an NaCl solution (concentration 3%) and cycles of freeze/thaw (from −20 to +20 °C) are applied for 56 days (chamber does one cycle per day). Other surfaces are insulated from the effect. After 56 days, the mass loss from the affected sample is measured. According to the regulations of standard SS 137244:2005, the mass loss must be under 1 kg/m2.
For each test, at least three samples were used.
2.2. Materials and Sample Preparation
As the alkaline activator, the mixture of sodium silicate hydrate (water glass) and sodium hydroxide (NaOH) solution were used. Water glass (Silpur, Poland) with silicate modulus 3.0 and specific gravity of 1.42 g/mL was used in these experiments. Commercial sodium hydroxide NaOH pellets (99% purity, Eurochemicals) were used for the preparation of the alkaline solutions.
NaCl solution (Lach-Ner, Czech Republic) was used for evaluating resistance to freeze/thaw.
As a chemical admixture, the superplasticizer Schomburg Remicrete SP 56 (FM) based on the modified polymers compound was used. The dosage was 0.7% from binder mass (FA mass, FA, and OPC mass) as recommended by the manufacturer.
3. Results and Discussion
3.1. Mechanical Properties
Different compositions resulted in very different compressive strengths (
Figure 3
a). Surprisingly, 0NS0PC samples achieved a higher compressive strength value (21.4 MPa) than the samples with additional OPC (0NS15PC) of 17.51 MPa, despite the fact that the sample density of 0NS15PC was higher at 2084 kg/m
3
, when 0NS0PC was 2043 kg/m
3
. The negative effect of OPC additive contradicts with the previous work carried out using the alkali activated mortar with the OPC additive [
20
]. The contributed factors could be different curing conditions if compared to our previous work [
21
]. The mortar samples were cured at elevated temperatures for the entire duration of the experiment (28 days), while concrete was cured at 60 °C only for 48 h.
Despite the fact that the samples activated with NaOH and water glass (50NS0PC and 50NS15PC) solution samples were less dense, i.e., 1923 kg/m
3
and 1938 kg/m
3
, respectively, the compressive strength after 28 days was much higher at 36.1 MPa (50NS0PC) and 52.6 MPa (50NS15PC) (
Figure 3
a) as compared with the samples without OPC. 50NS0PC samples (without additional OPC) achieved compressive strength after 28 days within the first seven days and it stayed at around 35 MPa. The compressive strength of 50NS15PC samples was growing gradually throughout the curing period. It can be explained by the fact that, during the alkali activation process, the additional amount of C–S–H gel form by hydration of OPC. The elastic modulus of 50NS15PC reached the highest values as well as compared with other compositions of 14 GPa (
Figure 3
b). The presence of water glass had a positive effect on static elastic modulus.
3.2. Porosity
Porosity is one of the main durability defining factors. Smaller open porosity means that a smaller amount of potentially dangerous compounds can penetrate deep into the concrete structure. In this case, OPC and water glass changed the microstructure of the sample and porosity (
Figure 4
). The porosity of 0NS0PC concrete was 28.1%, the closed porosity was 10.9%, the porosity of 0NS15PC was 26.9%, and the closed porosity was 7.7%. It can be concluded that the presence of OPC reduced porosity. The porosity of 50NS0PC was 28.5% and the closed porosity was 11.3, which shows that porosity is slightly higher with the water glass. The porosity of 50NS15PC was 27.95% and closed porosity was 9.6%, which is slightly less than 50NS0PC. This indicates that OPC is balancing the effect of water glass on porosity.
3.3. Durability of Alkali-Activated Materials
4. Conclusions
AAC was activated with NaOH and the water glass mixture had better resistance to freeze and thaw, carbonation, and ASR. In addition, it developed a higher compressive strength. In the presence of water glass, OPC can participate in the development of compressive strength. The compressive strength of the samples with OPC additive but without water glass was 17.51 MPa. At the same time, the compressive strength of the samples with water glass in the activator solution was 52.6 MPa. Furthermore, the mixture starts binding at an ambient temperature. When OPC is used as an additive, a denser structure forms, which compensates for the effect of water glass. Due to these reasons, it is beneficial to use OPC with the water glass.
The expansive deformations are less significant when there are conditions promoting ASR.

Carbonation depth is reduced.

The amount of material detached due to repetitive freeze and thaw is reduced.
Author Contributions
Conceptualization, D.V. and M.D.; Methodology, M.D.; Validation, R.G. and V.B.; Formal Analysis, D.V. and V.B.; Investigation, V.B.; Resources, R.G. and V.B.; Data Curation, V.B.; Writing—Original Draft Preparation, V.B.; Writing—Review & Editing, D.V., M.D., V.B. and R.G.; Visualization, V.B.; Supervision, M.D.; Project Administration, D.V.; All authors have read and agreed to the published version of the manuscript.
Funding
This research received no external funding.
Conflicts of Interest
The authors declare no conflict of interest.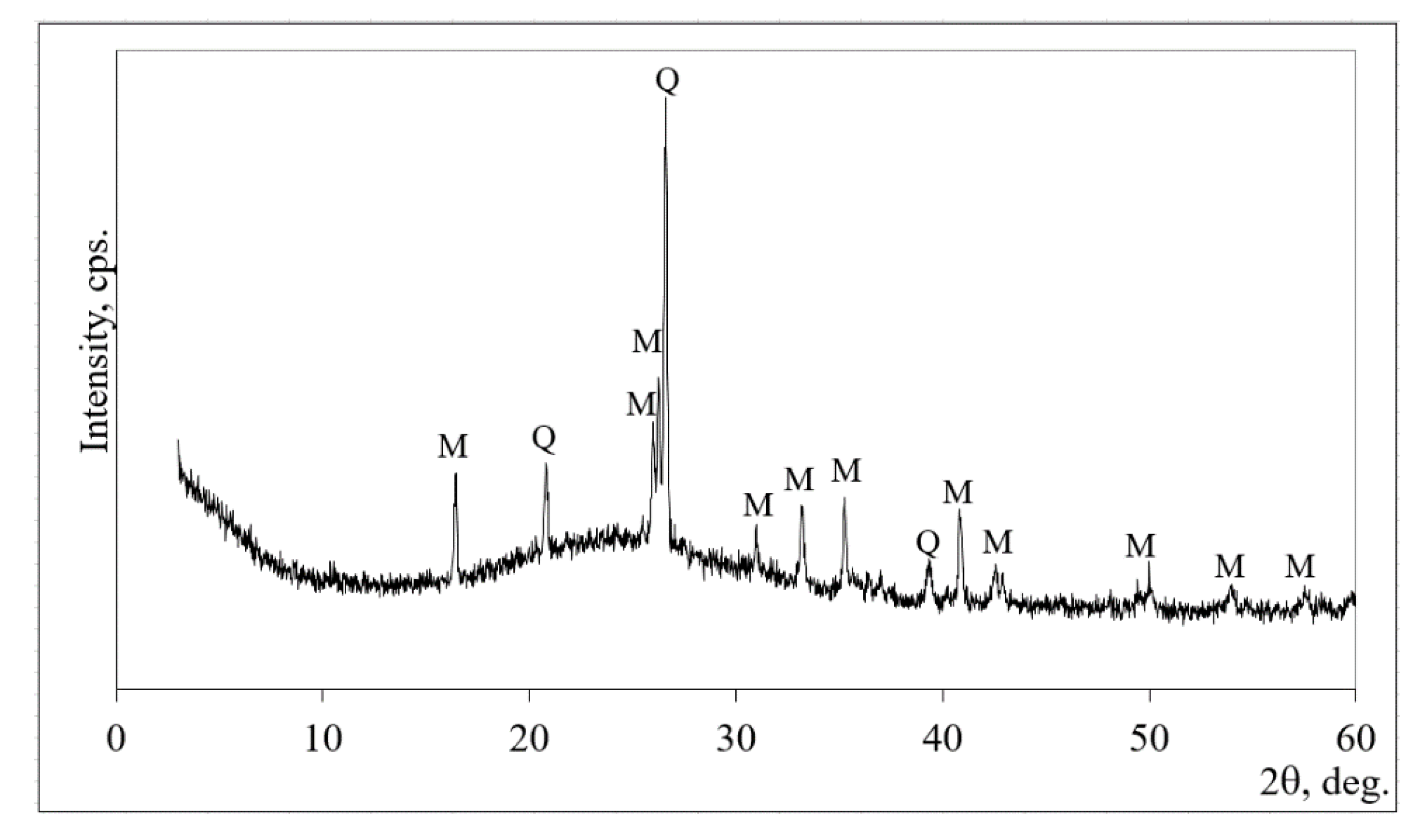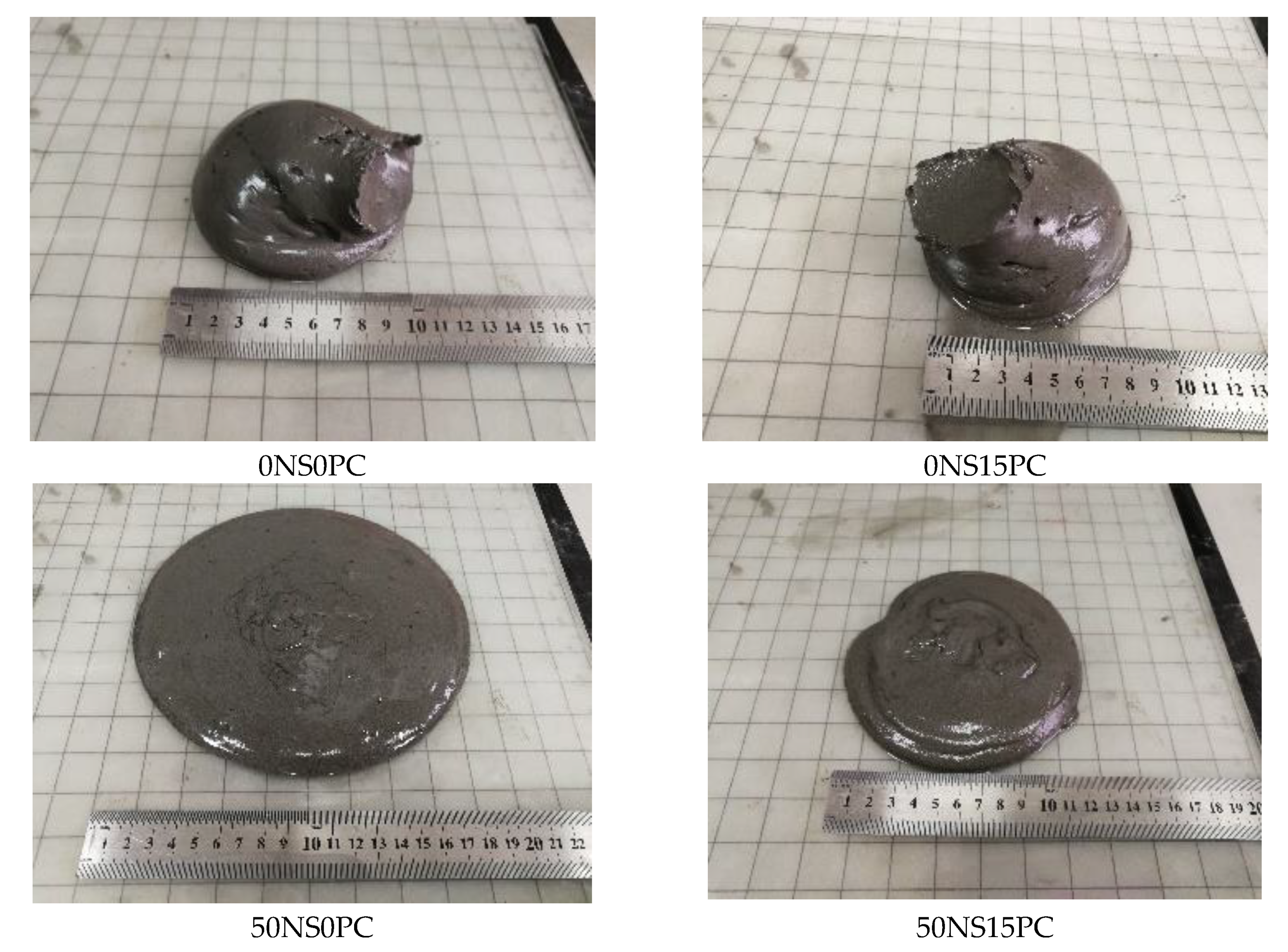 Figure 3. Concrete compressive strength development of concrete samples (a) and static elastic modulus of alkali-activated mortar prisms (b).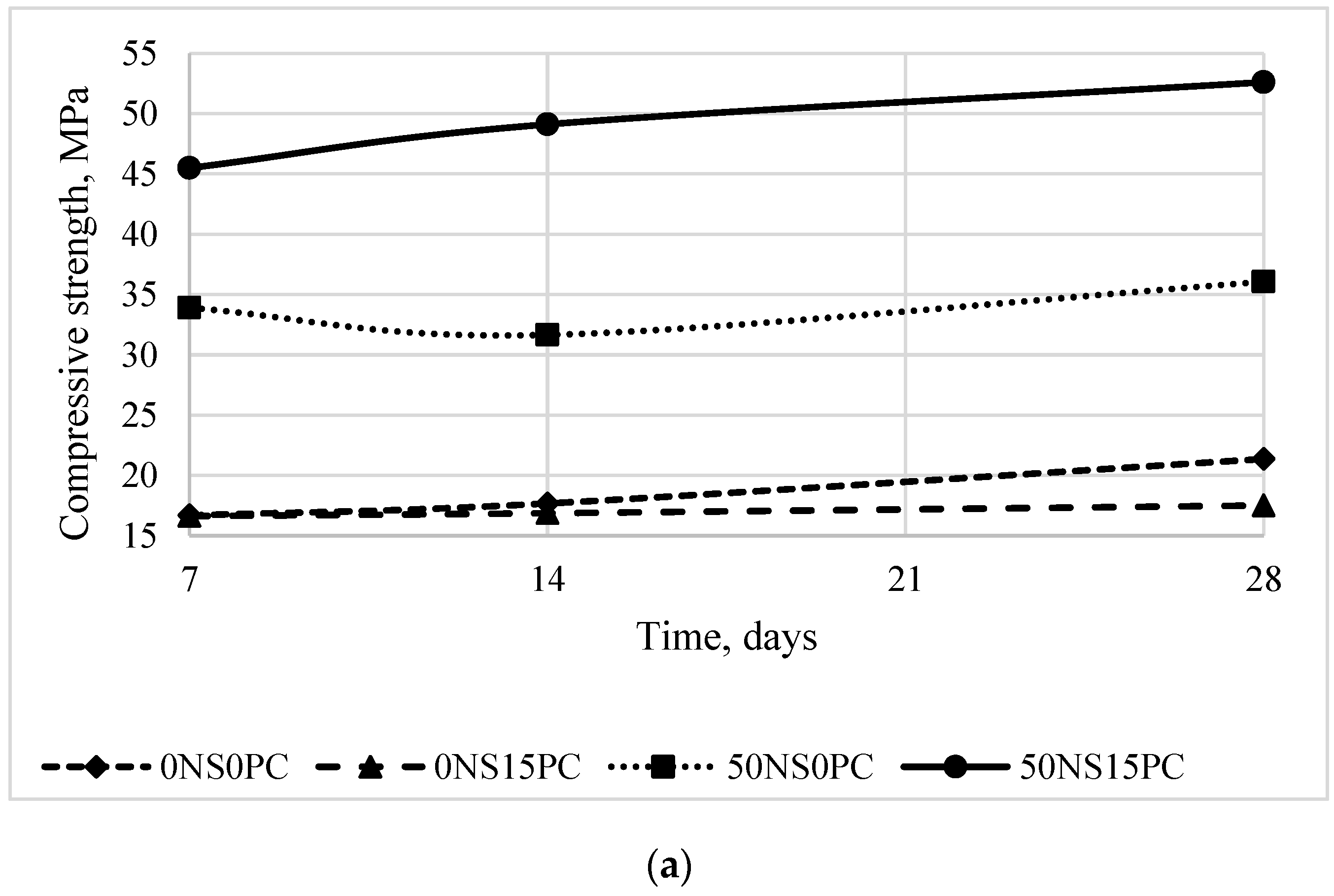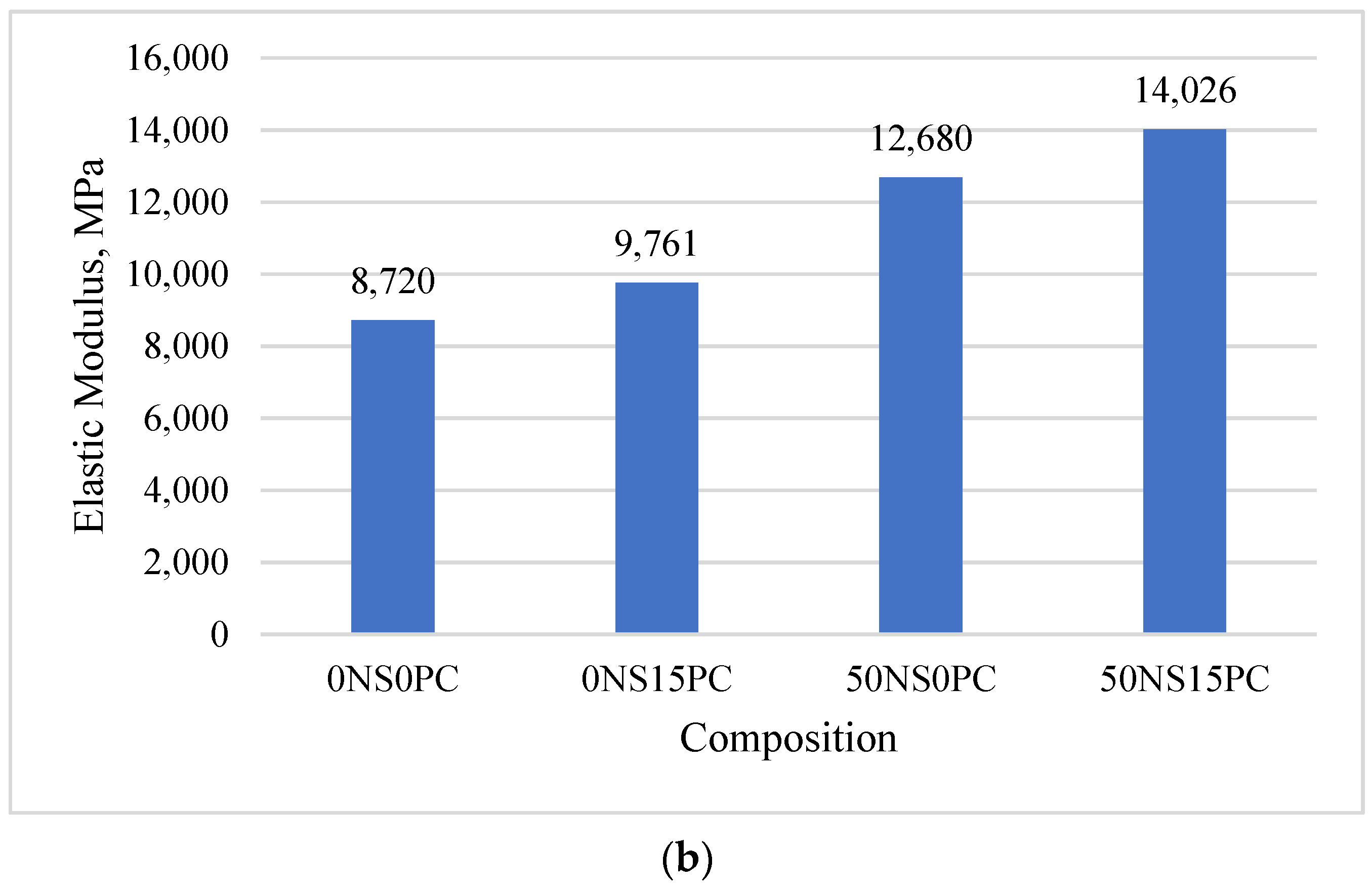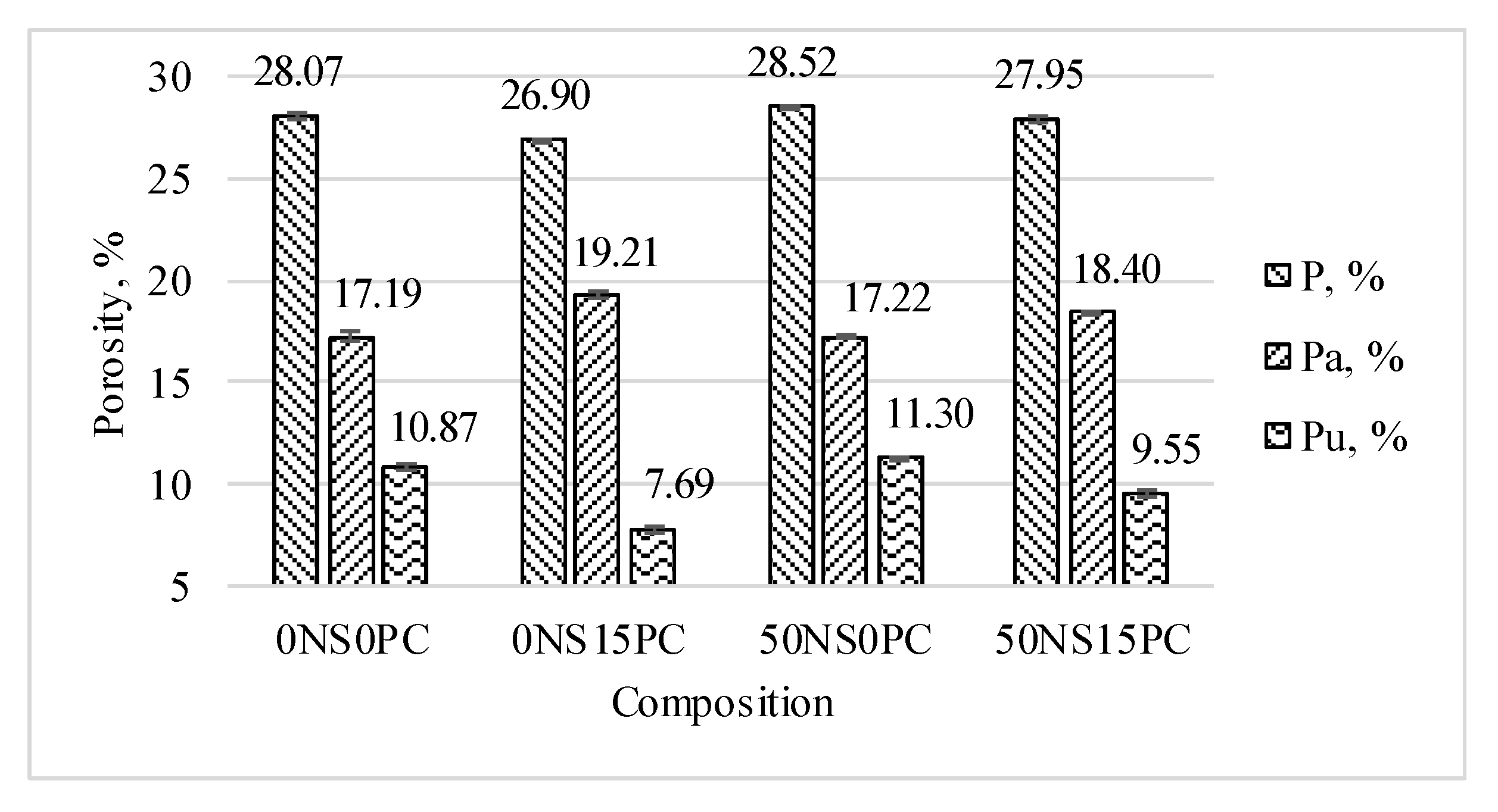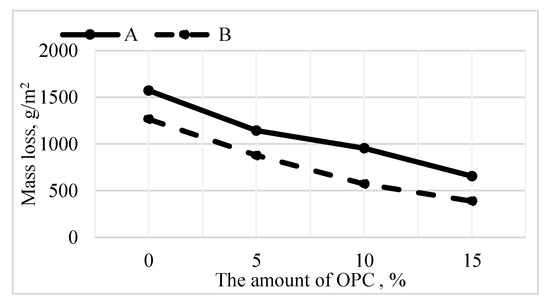 Figure 6. Additional OPC influence on alkali-activated concrete resistance to repetitive freeze/thaw. Notes: A—FA + NaOH; B—NaOH + Na2SiO3.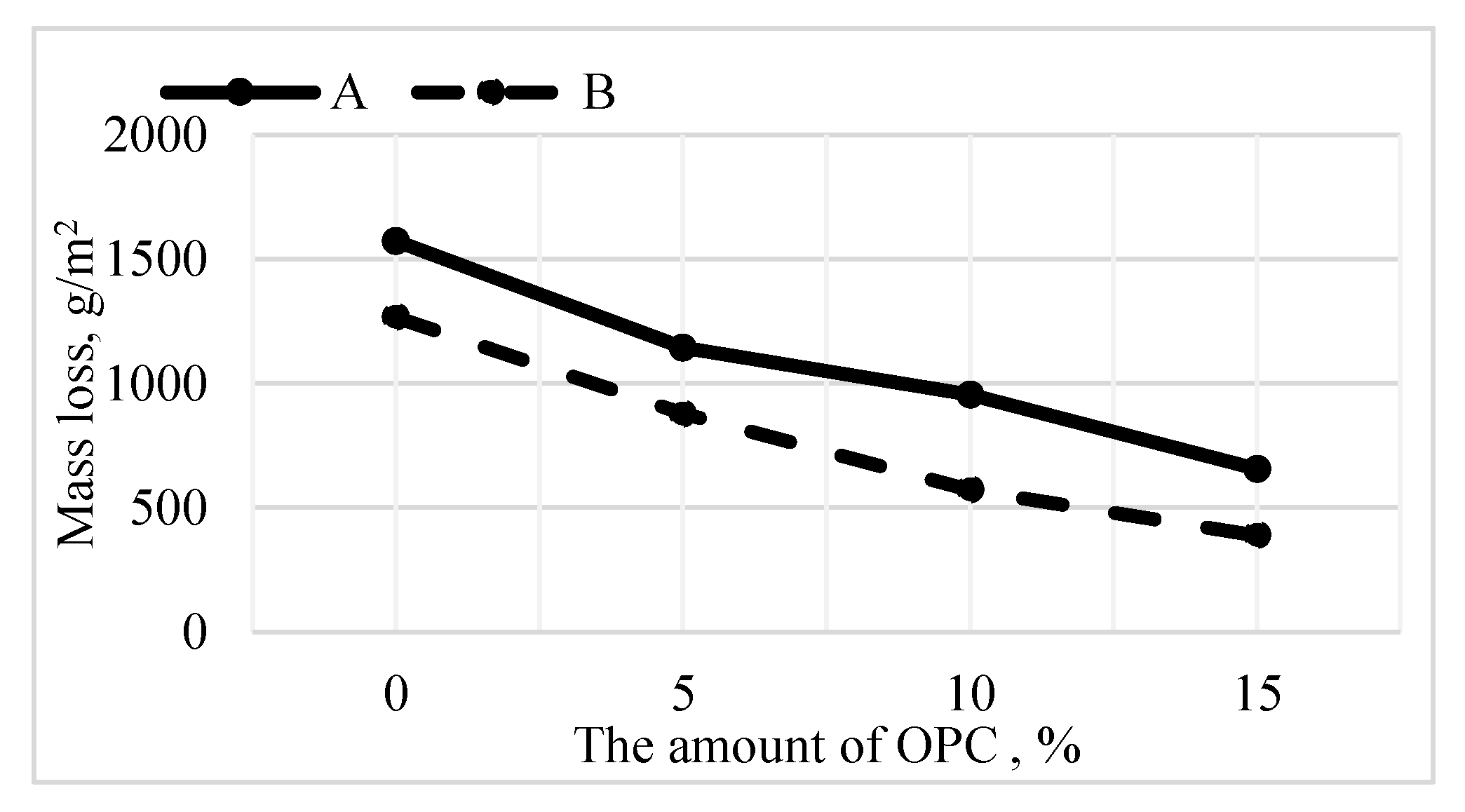 Figure 7. The depth of AAC samples carbonation (a) and the samples after carbonation tests (b). Notes: I—0NS0PC, II—0NS15PC, III—50NS0PC, IV—50NS15PC and the pink zones are uncarbonated parts of the samples. The initial depth was measured after 28 days in room conditions and then samples were treated in a carbonation chamber for 56 days.

| Oxide | CaO | SiO2 | Al2O3 | Fe2O3 | K2O | MgO | SO3 | Na2O | TiO2 | ZrO2 | ZnO | MnO | Others |
| --- | --- | --- | --- | --- | --- | --- | --- | --- | --- | --- | --- | --- | --- |
| FA | 3.68 | 49.47 | 27.45 | 7.38 | 4.54 | 1.70 | 0.92 | 0.95 | 1.66 | 0.147 | 0.05 | 0.063 | 1.99 |
| OPC | 61.32 | 19.51 | 5.25 | 3.36 | 1.01 | 3.84 | 4.30 | 0.94 | 0.13 | 0.016 | - | 0.042 | 0.282 |
Ingredients
NaOH Activation
NaOH + Na2OnSiO2 ∙ mH2O Activation
0NS0PC
0NS15PC
50NS0PC
50NS15PC
Sand 0/4
583 *
583 *
583 *
583 *
Sand 0/4
1312 **
1312 **
1312 **
1312 **
Sand 0/4
1180 ***
1180 ***
1180 ***
1180 ***
Gravel 4/16
729 *
729 *
729 *
729 *
Gravel 4/16
0 **
0 **
0 **
0 **
Gravel 4/16
0 ***
0 ***
0 ***
0 ***
Water
238
238
119
119
FA
719
611
719
611
NaOH
166
166
83
83
Water glass
0
0
202
202
OPC
0
108
0
108
Glass cullet (4/2)
131 ***
131 ***
131 ***
131 ***
Superplasticizer
0
0
0
13
Notes: Superplasticizer is Remicrete SP 56; *: amount for concrete mixture; **: amount for mortar mixture; ***: amount for special mixture for ASR test.

© 2019 by the authors. Licensee MDPI, Basel, Switzerland. This article is an open access article distributed under the terms and conditions of the Creative Commons Attribution (CC BY) license (http://creativecommons.org/licenses/by/4.0/).