Selection and Characterization of a Nanobody Biosensor of GTP-Bound RHO Activities
1
Centre de Recherche en Cancérologie de Toulouse (CRCT), Inserm, Université Paul Sabatier-Toulouse III, CNRS, 31037 Toulouse, France
2
Institut Claudius Regaud (ICR), Institut Universitaire du Cancer de Toulouse-Oncopole (IUCT-O), Laboratoire de Biologie Médicale Oncologique (LBMO), 31059 Toulouse, France
3
Weatherall Institute of Molecular Medicine, MRC Molecular Haematology Unit, University of Oxford, Oxford OX3 9DS, UK
*
Author to whom correspondence should be addressed.
†
These authors contributed equally to this work
Received: 29 November 2018 / Revised: 19 December 2018 / Accepted: 20 December 2018 / Published: 9 January 2019
(This article belongs to the Special Issue
Nanobody
)
Abstract
RHO (Ras HOmologous) GTPases are molecular switches that activate, in their state bound to Guanosine triphosphate (GTP), key signaling pathways, which involve actin cytoskeleton dynamics. Previously, we selected the nanobody RH12, from a synthetic phage display library, which binds the GTP-bound active conformation of RHOA (Ras Homologous family member A). However, when expressed as an intracellular antibody, its blocking effect on RHO signaling led to a loss of actin fibers, which in turn affected cell shape and cell survival. Here, in order to engineer an intracellular biosensor of RHOA-GTP activation, we screened the same phage nanobody library and identified another RHO-GTP selective intracellular nanobody, but with no apparent toxicity. The recombinant RH57 nanobody displays high affinity towards GTP-bound RHOA/B/C subgroup of small GTPases in vitro. Intracellular expression of the RH57 allowed selective co-precipitation with the GTP-bound state of the endogenous RHOA subfamily. When expressed as a fluorescent fusion protein, the chromobody GFP-RH57 was localized to the inner plasma membrane upon stimulation of the activation of endogenous RHO. Finally, the RH57 nanobody was used to establish a BRET-based biosensor (Bioluminescence Resonance Energy Transfer) of RHO activation. The dynamic range of the BRET signal could potentially offer new opportunities to develop cell-based screening of RHOA subfamily activation modulators.
View Full-Text
►

▼

Figures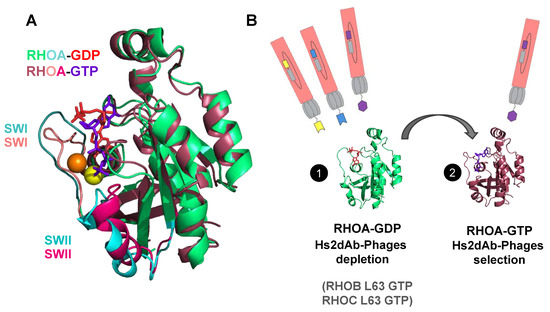 Figure 1
This is an open access article distributed under the
Creative Commons Attribution License
which permits unrestricted use, distribution, and reproduction in any medium, provided the original work is properly cited (CC BY 4.0).

Share & Cite This Article
MDPI and ACS Style
Keller, L.; Bery, N.; Tardy, C.; Ligat, L.; Favre, G.; Rabbitts, T.H.; Olichon, A. Selection and Characterization of a Nanobody Biosensor of GTP-Bound RHO Activities. Antibodies 2019, 8, 8.
Note that from the first issue of 2016, MDPI journals use article numbers instead of page numbers. See further details here.
Related Articles
Comments
[Return to top]