Cross-Reactive and Lineage-Specific Single Domain Antibodies against Influenza B Hemagglutinin
1
Biotherapeutics Division, National Institute for Biological Standards and Control, Blanche Lane, South Mimms, Potters Bar, Hertfordshire EN6 3QG, UK
2
Infectious Diseases and Allergy Group, School of Pharmacy, University of Kent, Kent ME4 4TB, UK
3
Division of Virology, National Institute for Biological Standards and Control, Blanche Lane, South Mimms, Potters Bar, Hertfordshire EN6 3QG, UK
*
Author to whom correspondence should be addressed.
Received: 11 January 2019 / Revised: 30 January 2019 / Accepted: 1 February 2019 / Published: 10 February 2019
(This article belongs to the Special Issue
Nanobody
)
Abstract
Influenza B virus (IBV) circulates in the human population and causes considerable disease burden worldwide, each year. Current IBV vaccines can struggle to mount an effective cross-reactive immune response, as strains become mismatched, due to constant antigenic changes. Additional strategies which use monoclonal antibodies, with broad reactivity, are of considerable interest, both, as diagnostics and as immunotherapeutics. Alternatives to conventional monoclonal antibodies, such as single domain antibodies (Nanobodies
TM
) with well-documented advantages for applications in infectious disease, have been emerging. In this study we have isolated single domain antibodies (sdAbs), specific to IBV, using alpacas immunised with recombinant hemagglutinin (HA) from two representative viruses, B/Florida/04/2006 (B/Yamagata lineage) and B/Brisbane/60/2008 (B/Victoria lineage). Using phage display, we have isolated a panel of single domain antibodies (sdAbs), with both cross-reactive and lineage-specific binding. Several sdAbs recognise whole virus antigens, corresponding to influenza B strains included in vaccines spanning over 20 years, and were capable of neutralising IBV pseudotypes corresponding to prototype strains from both lineages. Lineage-specific sdAbs recognised the head domain, whereas, sdAbs identified as cross-reactive could be classified as either head binding or stem binding. Using yeast display, we were able to correlate lineage specificity with naturally occurring sequence divergence, at residue 122 in the highly variable 120 loop of the HA1 domain. The single domain antibodies described, might have applications in IBV diagnostics, vaccine potency testing and as immunotherapeutics.
View Full-Text
►

▼

Figures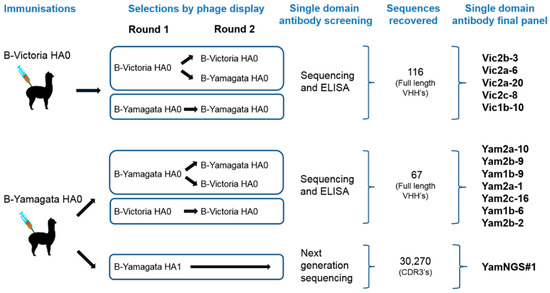 Figure 1
This is an open access article distributed under the
Creative Commons Attribution License
which permits unrestricted use, distribution, and reproduction in any medium, provided the original work is properly cited (CC BY 4.0).

Share & Cite This Article
MDPI and ACS Style
Ramage, W.; Gaiotto, T.; Ball, C.; Risley, P.; Carnell, G.W.; Temperton, N.; Cheung, C.Y.; Engelhardt, O.G.; Hufton, S.E. Cross-Reactive and Lineage-Specific Single Domain Antibodies against Influenza B Hemagglutinin. Antibodies 2019, 8, 14.
Note that from the first issue of 2016, MDPI journals use article numbers instead of page numbers. See further details here.
Related Articles
Comments
[Return to top]