Removal of Arsenic Using Acid/Metal-Tolerant Sulfate Reducing Bacteria: A New Approach for Bioremediation of High-Arsenic Acid Mine Waters
1
Departamento de Química Inorgánica, Facultad de Química, Pontificia Universidad Católica de Chile, Avenida Vicuña Mackenna 4860, Macul, Santiago 7820436, Chile
2
Facultad de Ciencias de la Salud, Universidad Católica Silva Henríquez, General Jofré 462, Santiago 8330225, Chile
3
Departamento de Ingeniería Hidráulica y Ambiental, Pontificia Universidad Católica de Chile, Avenida Vicuña Mackenna 4860, Macul, Santiago 7820436, Chile
4
CEDEUS, Centro de Desarrollo Urbano Sustentable, El Comendador 1916, Providencia, Santiago 7520245, Chile
*
Author to whom correspondence should be addressed.
Received: 3 October 2017 / Revised: 12 December 2017 / Accepted: 15 December 2017 / Published: 19 December 2017
Abstract
Fluvial sediments, soils, and natural waters in northern Chile are characterized by high arsenic (As) content. Mining operations in this area are potential sources of As and other metal contaminants, due to acid mine drainage (AMD) generation. Sulfate Reducing Bacteria (SRB) has been used for the treatment of AMD, as they allow for the reduction of sulfate, the generation of alkalinity, and the removal of dissolved heavy metals and metalloids by precipitation as insoluble metal sulfides. Thus, SRB could be used to remove As and other heavy metals from AMD, however the tolerance of SRB to high metal concentrations and low pH is limited. The present study aimed to quantify the impact of SRB in As removal under acidic and As-Fe-rich conditions. Our results show that SRB tolerate low pH (up to 3.5) and high concentrations of As (~3.6 mg·L
−1
). Batch experiments showed As removal of up to 73%, Iron (Fe) removal higher than 78% and a neutralization of pH from acidic to circum-neutral conditions (pH 6–8). In addition, XRD analysis showed the dominance of amorphous minerals, while Scanning Electron Microscopy/Energy Dispersive X-ray Spectroscopy (SEM-EDX) analysis showed associations between As, Fe, and sulfur, indicating the presence of Fe-S-As compounds or interaction of As species with amorphous and/or nanocrystalline phases by sorption processes. These results indicate that the As removal was mediated by acid/metal-tolerant SRB and open the potential for the application of new strains of acid/metal-tolerant SRB for the remediation of high-As acid mine waters.
View Full-Text
►

▼

Figures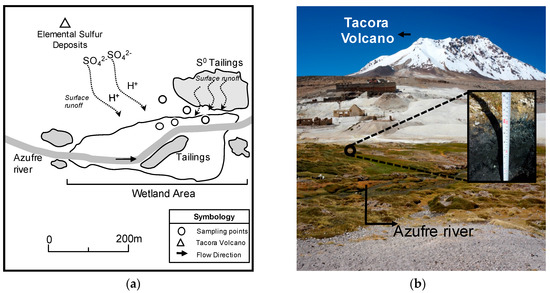 Figure 1
This is an open access article distributed under the
Creative Commons Attribution License
which permits unrestricted use, distribution, and reproduction in any medium, provided the original work is properly cited (CC BY 4.0).

Share & Cite This Article
MDPI and ACS Style
Serrano, J.; Leiva, E. Removal of Arsenic Using Acid/Metal-Tolerant Sulfate Reducing Bacteria: A New Approach for Bioremediation of High-Arsenic Acid Mine Waters. Water 2017, 9, 994.
Note that from the first issue of 2016, MDPI journals use article numbers instead of page numbers. See further details here.
Related Articles
Comments
[Return to top]