The Biomass and Physiological Responses of
Vallisneria natans

(Lour.) Hara to Epiphytic Algae and Different Nitrate-N Concentrations in the Water Column

1

State Key Laboratory of Freshwater Ecology and Biotechnology, Institute of Hydrobiology, Chinese Academy of Sciences, Wuhan 430072, China

2

University of Chinese Academy of Sciences, Beijing 100049, China

3

School of Life Science, Ludong University, Yantai 264025, China

*

Authors to whom correspondence should be addressed.

Received: 4 September 2017 / Revised: 31 October 2017 / Accepted: 2 November 2017 / Published: 22 November 2017
Abstract
Increasing N concentration and the high density of epiphytic algae are both key factors leading to the decline of submerged macrophytes in many eutrophic lakes. In order to investigate the impacts of increased nitrate-N concentration and the growth of epiphytic algae on the decline of submerged vegetation, we conducted a 2 × 4 factorial experiment with the submerged macrophyte
Vallisneria natans
(Lour.) Hara by measuring the biomass of plants and some physiological indexes in leaves of
V. natans
under four nitrate-N concentrations in the water column (0.5, 2.5, 5, and 10 mg/L) and two epiphytic groups (epiphytic algae group and no epiphytic algae group). The results suggested that epiphytic algae could impose adverse effects on the biomass accumulation of
V. natans
, while the increasing nitrate-N concentration (0.5–10 mg/L) could oppositely promote this process and counteract the adverse effect of epiphytic algae. When nitrate-N concentration was 5 mg/L, the total chlorophyll content in leaves of
V. natans
in the epiphytic algae group was prominently lower compared with the no epiphytic algae group, while MDA, free proline, and anti-oxidant enzyme (SOD, POD, CAT) activities were significantly higher. Overhigh nitrate-N concentration in the water column also directly imposed adverse effects on the physiology of
V. natans
. When nitrate-N concentration was over 5 mg/L, the total chlorophyll content and free proline decreased in the no epiphytic algae group, while soluble carbohydrates and soluble proteins decreased when nitrate-N was over 2.5 mg/L. Meanwhile, epiphytic algae and nitrate-N content imposed a synergetic effect on the anti-oxidant enzyme activities of
V. natans
. When nitrate-N concentration was over 5 mg/L, SOD, POD, and CAT activities kept constant or decreased, which indicated that the oxidation resistance of
V. natans
was inhibited by stress. Our results indicate that epiphytic algae and increasing nitrate-N concentration in the water column could severally or synergistically impose adverse effects on the physiology of submerged macrophytes and are both key factors leading to the decline of submerged macrophytes.
View Full-Text
►

▼

Figures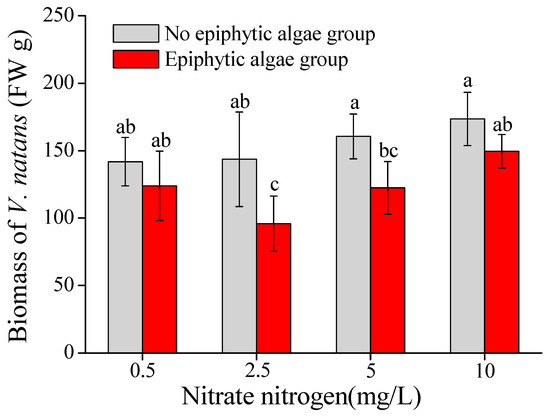 Figure 1
This is an open access article distributed under the
Creative Commons Attribution License
which permits unrestricted use, distribution, and reproduction in any medium, provided the original work is properly cited (CC BY 4.0).

Share & Cite This Article
MDPI and ACS Style
Min, F.; Zuo, J.; Zhang, Y.; Lin, Q.; Liu, B.; Sun, J.; Zeng, L.; He, F.; Wu, Z. The Biomass and Physiological Responses of Vallisneria natans (Lour.) Hara to Epiphytic Algae and Different Nitrate-N Concentrations in the Water Column. Water 2017, 9, 863.
Note that from the first issue of 2016, MDPI journals use article numbers instead of page numbers. See further details here.
Related Articles
Comments
[Return to top]