Tracing the Nitrate Sources of the Yili River in the Taihu Lake Watershed: A Dual Isotope Approach
State Key Laboratory of Lake Science and Environment, Nanjing Institute of Geography and Limnology, Chinese Academy of Sciences, 73 East Beijing Road, Nanjing 210008, China
*
Author to whom correspondence should be addressed.
Academic Editor: Miklas Scholz
Received: 22 September 2014 / Accepted: 24 December 2014 / Published: 31 December 2014
Abstract
As the third largest freshwater lake in China, Taihu Lake has experienced severe cyanobacterial blooms and associated water quality degradation in recent decades, threatening the human health and sustainable development of cities in the watershed. The Yili River is a main river of Taihu Lake, contributing about 30% of the total nitrogen load entering the lake. Tracing the nitrate sources of Yili River can inform the origin of eutrophication in Taihu Lake and provide hints for effective control measures. This paper explored the nitrate sources and cycling of the Yili River based on dual nitrogen (δ
15
N) and oxygen (δ
18
O) isotopic compositions. Water samples collected during both the wet and dry seasons from different parts of the Yili River permitted the analysis of the seasonal and spatial variations of nitrate concentrations and sources. Results indicated that the wet season has higher nitrate concentrations than the dry season despite the stronger dilution effects, suggesting a greater potential of cyanobacterial blooms in summer. The δ
15
N-NO
3
−
values were in the range of 4.0‰–14.0‰ in the wet season and 4.8‰–16.9‰ in dry, while the equivalent values of δ
18
O were 0.5‰–17.8‰ and 3.5‰–15.6‰, respectively. The distribution of δ
15
N-NO
3
−
and δ
18
O-NO
3
−
indicated that sewage and manure as well as fertilizer and soil organic matter were the major nitrate sources of the Yili River. Atmospheric deposition was an important nitrate source in the upper part of Yili River but less so in the middle and lower reaches due to increasing anthropogenic contamination. Moreover, there was a positive relationship between δ
18
O-NO
3
−
and δ
15
N-NO
3
−
in the wet season, indicating a certain extent of denitrification. In contrast, the δ
18
O-δ
15
N relationship in the dry season was significantly negative, suggesting that the δ
15
N and δ
18
O values were determined by a mixing of different nitrate sources.
View Full-Text
►

▼

Figures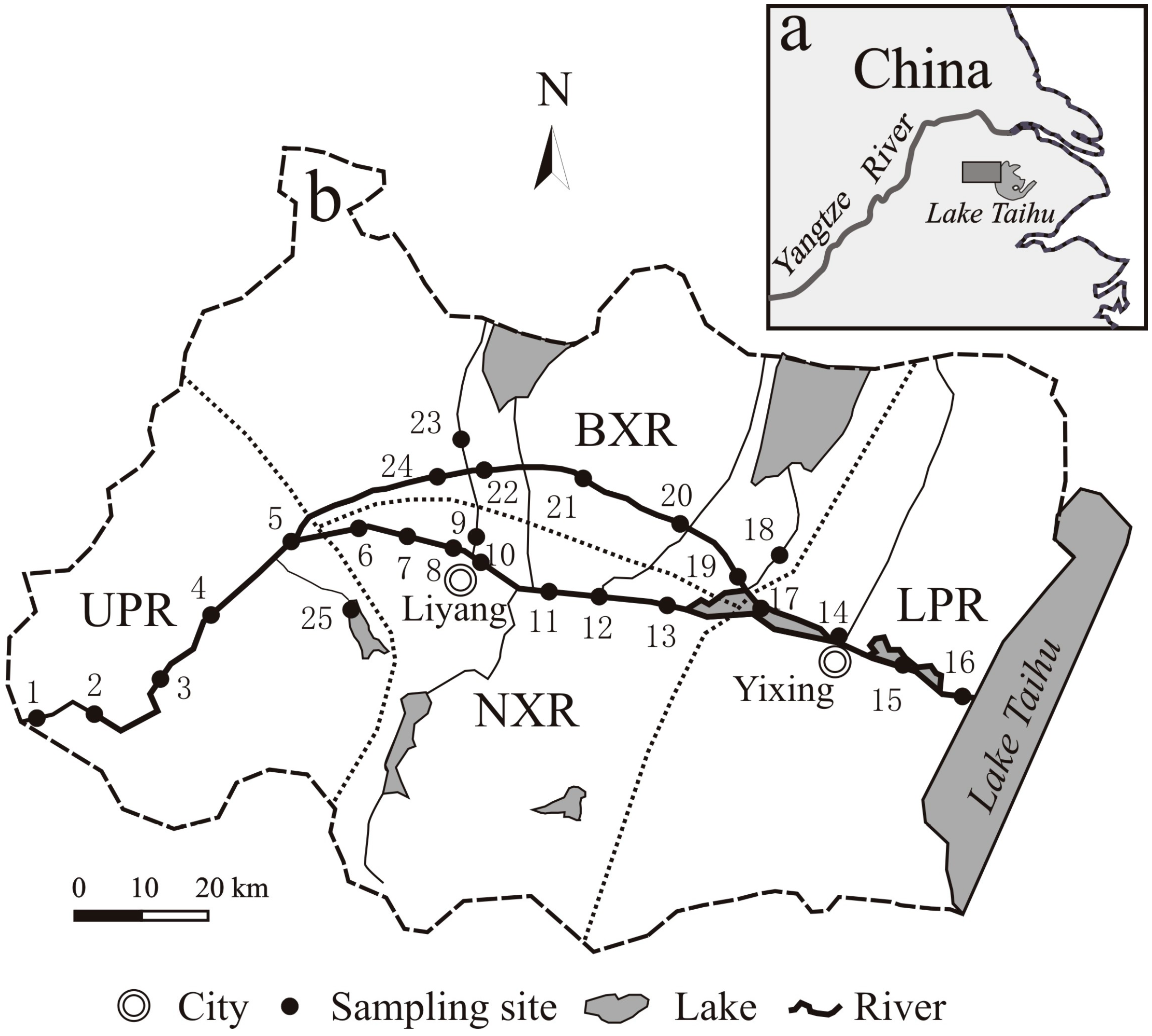 Figure 1
This is an open access article distributed under the
Creative Commons Attribution License
which permits unrestricted use, distribution, and reproduction in any medium, provided the original work is properly cited (CC BY 4.0).

Share & Cite This Article
MDPI and ACS Style
Zeng, H.; Wu, J. Tracing the Nitrate Sources of the Yili River in the Taihu Lake Watershed: A Dual Isotope Approach. Water 2015, 7, 188-201.
Related Articles
Comments
[Return to top]