Open Access This article is
freely available
re-usable
Article
Long-Term Changes in the Zooplankton Community of Lake Maggiore in Response to Multiple Stressors: A Functional Principal Components Analysis
1
Department of Decision Sciences, Bocconi University, 25, 20100 Milan, Italy
2
Department of Economics, Quantitative Methods and Business Strategies, University of Milano-Bicocca, 7, 20126 Milan, Italy
3
Department of Statistics and Quantitative Methods, University of Milano-Bicocca, 20126 Milan, Italy
4
Great Lakes Institute for Environmental Research, University of Windsor, Windsor, ON N9C 1A2, Canada
5
Consiglio Nazionale delle Ricerche, IRSA, 28922 Verbania, Italy
*
Author to whom correspondence should be addressed.
Received: 25 January 2019 / Accepted: 25 April 2019 / Published: 8 May 2019
Abstract
:
We describe the long-term (1981–2008) dynamics of several physico-chemical and biological variables and how their changes may have influenced zooplankton structure in Lake Maggiore (Italy). Data was available for the 1981–1992 and 1995–2008 periods. Standardized time-series for temperature and total phosphorus (TP), chlorophyll-a, phytoplankton density (cel m
−3
), and cell size (µm
3
), as well as zooplankton structure (Copepoda, Cladocera, and Rotifera density, ind m
−3
) were smoothed using penalized B-splines and analyzed using Functional Principal Components (FPCs) to assess their dominant modes of variation. The first four FPCs explained 55% of 1981–1992 and 65% of 1995–2008 overall variation. Results showed that temperature fluctuated during the study period, particularly during 1988–1992 with a general tendency to increase. TP showed a declining trend with some reversions in the pattern observed in the years 1992, 1999, and 2000. Phytoplankton estimators and chlorophyll-a concentration showed a variable trend along the study period. Zooplankton groups also had a variable trend along the study period with a general increase in density of large carnivorous (mainly
Bythotrephes longimanus
) and a decrease of large herbivorous (mainly
Daphnia
), and a similar increase in the ratio of raptorial to microphagous rotifers. Our results suggest that the lake experienced a strong trophic change associated with oligotrophication, followed by pronounced climate-induced changes during the latter period. TP concentration was strongly associated with changes in abundance of some zooplankton taxa.
Keywords:
B-Splines smoothing; Functional Data Analysis; limnology; monitoring ecological dynamics; oligotrophication; zooplankton; phytoplankton
Author Contributions
Authors contributed as follows: conceptualization, M.M., H.J.M., A.Z.; methodology, A.A., A.Z., P.Q., M.M.; software, A.A.; validation, A.A.; formal analysis, A.A., A.Z., P.Q.; resources, M.M.; investigation, A.Z., P.Q., H.J.M.; resources, M.M.; Writing-Original Draft Preparation, A.A., A.Z., P.Q., H.J.M.; Writing-Review & Editing, A.A., A.Z., P.Q., H.J.M., M.M.; visualization, A.A., supervision, A.Z., P.Q., M.M.; project administration, A.Z., A.A.; funding acquisition, M.M.
Funding
This research was funded to M.M. by the "Long-term limnological research in Lago Maggiore of the International Commission for the Protection of Swiss-Italian Waters" (CIPAIS), in the frame of a cooperation agreement between Swiss and Italian Governments. H.J.M. was supported by the CNR Short Term Mobility Program year 2013, by a Canada Research Chair. A.A. was supported by a CNR cooperation contract on "Management of biological time series with advanced statistical methods.
Acknowledgments
We dedicate this paper in memory of Giuseppe Morabito, who studied and loved Lake Maggiore. We are grateful to three anonymous reviewers for very helpful comments.
Conflicts of Interest
The authors have no conflicts of interest to declare.
Appendix A. Technical Details
In FDA, data is assumed to be represented by a collection of smooth curves defined on some interval , possibly obtained by smoothing some time series as described in the main text. These curves are then thought as single points belonging to the Hilbert space of square-integrable functions.
In order to clarify how FPCs provide the best representation of the variation in the data in a least-squares sense, we introduce the following definitions.
First, the inner product and norm in the space are, respectively, defined as
for all functions .
Second, a set of functions is defined to be
orthonormal
if and whenever for all and between 1 and .
Third, the functions in are defined as for each (where ), so that represent the centered data.
In FPCA, we seek orthonormal elements of and scores such that the approximations
yield the lowest possible
Sum-of-Squares Error (SSE)
Chosen any specific orthonormal set , the can be written as
which achieves its minimum when .
With this choice of coefficients and since , the
SSE
becomes
which attains its minimum value when each quantity , corresponding to the variance of the scores , …, , is maximized. Since FPCs are selected in order to maximize these variances, FPCs provide the minimum
SSE
among all possible orthonormal set .
Figure 1. Observed and smoothed time series for all physico-chemical and biological variables. Continuous line = smoothed curve; circles = original data points. Panel (A): Physico-chemical variables. Panel (B): Phytoplankton-related variables. Panel (C): Zooplankton-related variables. Data were not available for 1993-1995. Points are monthly means, lines are the smoothed value.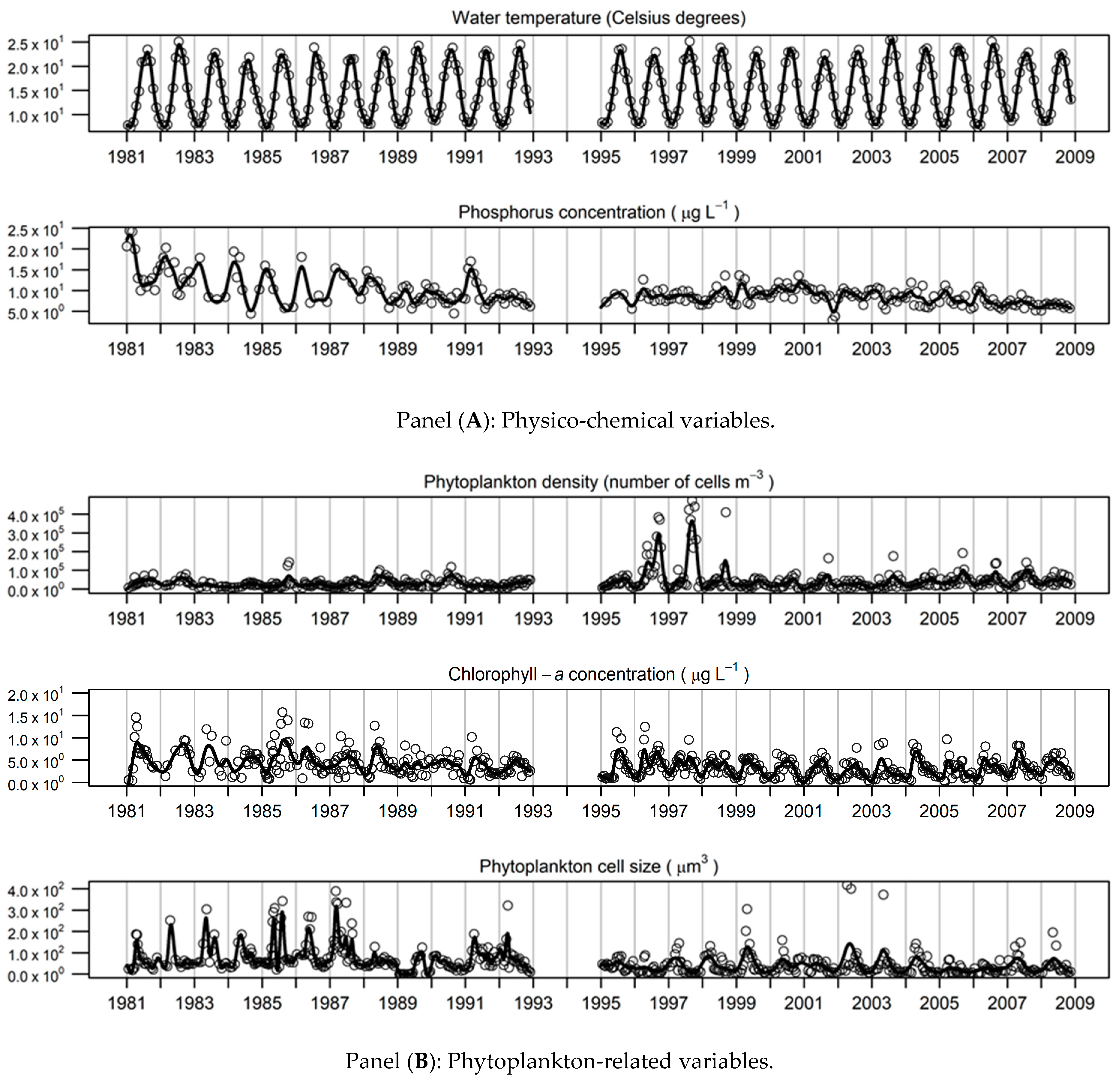 Figure 2. Temporal fluctuations from the mean of all standardized functional variables (solid line) obtained by adding (dashed line) or subtracting (dotted line) the extracted FPCs, each scaled by 1.5 times the square root of its explained variance (panels: a, FPC1; b, FPC2; c, FPC3; and d, FPC4).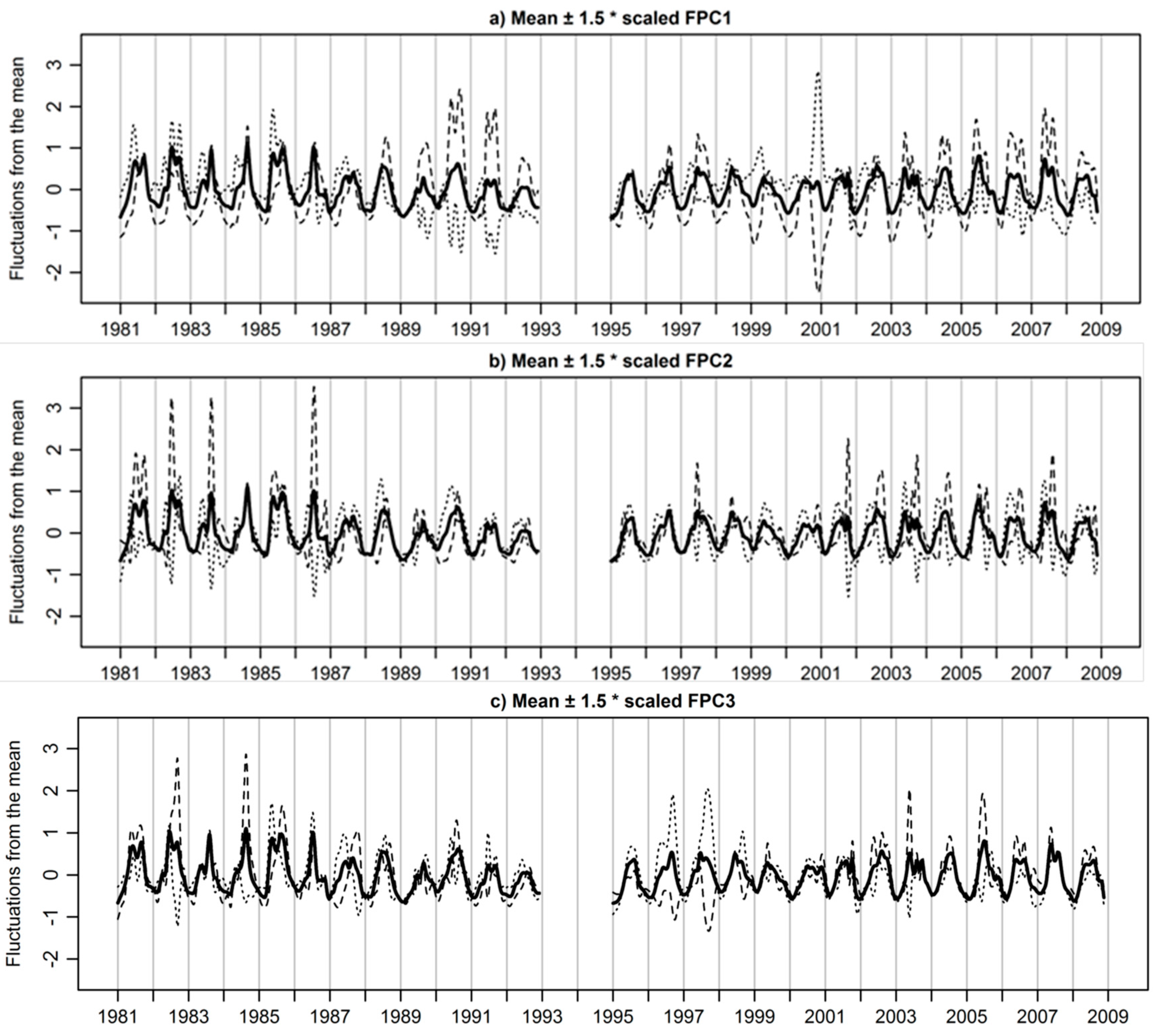 Table 1. Functional Principal Components (FPCs) scores for three different groups (in italics) of considered variables. The most extreme positive and negative scores are highlighted (italics) for each FPC. Pop. dens. = population density.
Functional Principal Components (FPCs) Scores
Calendar period
1981–1992
1995–2008
Variables
FPC1
FPC2
FPC3
FPC4
FPC1
FPC2
FPC3
FPC4

Physico-Chemical

Water temperature
30.5
11.9
16.7
13.1

30.2

10.9
−12.6
−25.7
Phosphorus concentration

−37.8

−16.6

−25.9

−46.9

−45.2

−15.2
−14.2
−2.0

Phytoplankton-related

Phytoplankton pop. dens.
13.7
−10.6
12.6
−3.8
8.6
1.1

−39.6

5.5
Chlorophyll-

a

concentration
−11.2
−9.7
3.8
8.6
12.6

−29.1

−16.5
1.9
Phytoplankton cell size
−20.8
−18.7
−21.0
3.9
−17.0
−19.5
12.1
10.4

Zooplankton-related

Bosmina

pop. dens.
−13.0

37.5

−17.7

26.0

20.6

46.1

1.4
20.0

Bythotrephes

pop. dens.

48.2

−17.2
−14.7
−17.1
19.8
1.0
−1.8
−16.6
Cyclopoid pop. dens.
−16.0
−10.6

41.8

0.1
−38.5
1.4
7.6
15.9

Daphnia

pop. dens.
−14.0
34.6
−4.6
7.9
9.2
−15.0

33.8

17.9

Diaphanosoma

pop. dens.
12.4
−2.1
24.8
−9.7
4.3
34.0
10.2
−32.9
Diaptomid pop. dens.
−1.3
−9.1
2.9
13.8
−28.1
5.4
−3.0

24.7

Leptodora

pop. dens.
13.3
31.8
4.6
−12.2
11.4
0.7
4.7

−33.5

Rotifer pop. dens.
−4.1

−21.1

−23.2
16.3
12.0
−21.8
18.0
14.4

© 2019 by the authors. Licensee MDPI, Basel, Switzerland. This article is an open access article distributed under the terms and conditions of the Creative Commons Attribution (CC BY) license (http://creativecommons.org/licenses/by/4.0/).