Impact of Urban Stormwater Runoff on Cyanobacteria Dynamics in A Tropical Urban Lake
1
Department of Hydraulic Engineering and Water Resources, Universidade Federal de Minas Gerais, 6627 av. Antônio Carlos, Belo Horizonte MG 31270-901, Brazil
2
LEESU, Ecole des Ponts Paris Tech, UPEC, AgroParisTech, F-77455 Marne-la-Vallée, France
3
Prolog Ingénierie, 5-7 rue de Metz, 75010 Paris, France
4
Department of Botany, Institute of Biological Sciences, Universidade Federal de Minas Gerais, 6627 av. Antônio Carlos, Belo Horizonte MG 31270-901, Brazil
*
Author to whom correspondence should be addressed.
Received: 16 March 2019 / Revised: 16 April 2019 / Accepted: 22 April 2019 / Published: 5 May 2019
Abstract
Worldwide, eutrophication and cyanobacteria blooms in lakes and reservoirs are a great concern for water resources management. Coupling a catchment hydrological model and a lake model has been a strategy to assess the impact of land use, agricultural practices and climate change on water quality. However, research has mainly focused on large lakes, while urban reservoirs and their catchments, especially in tropical regions, are still poorly studied despite the wide range of ecosystem services they provide. An integrated modelling approach coupling the hydrological model Storm Water Management Model SWMM and the lake ecological model DYRESM-CAEDYM is proposed for Lake Pampulha (Brazil). Scenarios of increased imperviousness of the catchment and of reduction in the load of nutrients and total suspended solids (TSS) in dry weather inflow were simulated. Runoff water quality simulations presented a fair performance for TSS and ammonium (NH
4
+
) while the dynamics of total phosphorus (TP) and nitrate (NO
3
−
) were poorly captured. Phytoplankton dynamics in the lake were simulated with good accuracy (Normalized Mean Absolute Error, NMAE = 0.24 and r = 0.89 in calibration period; NMAE = 0.55 and r = 0.54 in validation period). The general trends of growth, decline and the magnitude of phytoplankton biomass were well represented most of the time. Scenario simulations suggest that TP reduction will decrease cyanobacteria biomass and delay its peaks as a consequence of orthophosphate (PO
4
3−
) concentration reduction in the lake surface layers. However, even decreasing TP load into Lake Pampulha by half would not be sufficient to achieve the water quality objective of a maximum concentration of 60 µg
chla
L
−1
. Increased imperviousness in the catchment will raise runoff volume, TSS, TP and NO
3
−
loads into Lake Pampulha and promote greater cyanobacteria biomass, mainly in the beginning of the wet season, because of additional nutrient input from catchment runoff. Recovering Lake Pampulha water quality will require the improvement of the sanitation system. The lake water quality improvement will also require more sustainable and nature-based solutions for urban drainage in order to reduce non-point pollution through infiltration and retention of stormwater and to enhance natural processes, such as chemical sorption, biodegradation and phytoremediation. The integrated modelling approach here proposed can be applied for other urban reservoirs taking advantage of existing knowledge on Lake Pampulha.
View Full-Text
►

▼

Figures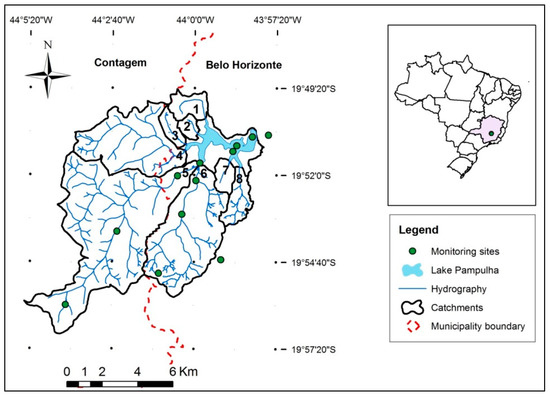 Figure 1
This is an open access article distributed under the
Creative Commons Attribution License
which permits unrestricted use, distribution, and reproduction in any medium, provided the original work is properly cited (CC BY 4.0).

Share & Cite This Article
MDPI and ACS Style
Silva, T.F.G.; Vinçon-Leite, B.; Lemaire, B.J.; Petrucci, G.; Giani, A.; Figueredo, C.C.; Nascimento, N.O. Impact of Urban Stormwater Runoff on Cyanobacteria Dynamics in A Tropical Urban Lake. Water 2019, 11, 946.
Note that from the first issue of 2016, MDPI journals use article numbers instead of page numbers. See further details here.
Related Articles
Comments
[Return to top]