Climate Change Impact on the Evolution of the Saline Lakes of the Soan-Sakaser Valley (Central Salt Range; Pakistan): Evidences from Hydrochemistry and Water (δD, δ18O) and Chlorine (δ37Cl) Stable Isotopes
1
Key Laboratory of Comprehensive and Highly Efficient Utilization of Salt lake Resources, Qinghai Institute of Salt lakes, Chinese Academy of Science, Xining 810008, China
2
Qinghai Provincial Key Laboratory of Geology and Environment of Salt lakes, Xining 810008, China
3
University of Chinese Academy of Science, Beijing 100049, China
4
GFZ German Research Centre for Geosciences, 14473 Potsdam, Germany
5
Geotop-Earth and Atmosphere Sciences Department, UQAM, Case postale 888, Succursale Centre-Ville, Montreal, H3C 3P8, QC, Canada
*
Authors to whom correspondence should be addressed.
Received: 27 February 2019 / Revised: 30 March 2019 / Accepted: 26 April 2019 / Published: 1 May 2019
Abstract
The surfaces of saline lakes are shrinking at a threatening rate worldwide. Likewise, the Uchhali complex (formed by three saltwater lakes located in the Salt Range, Pakistan) that serves as a major regional source of water for humans and as a habitat for water birds must be monitored. With this objective in mind, we conducted a study coupling hydrochemistry and stable isotope compositions (δ
37
Cl, δ
18
O and δD) in order to characterize its hydrochemical properties and the main processes controlling them. Results showed that the Uchhali complex salinity has dramatically increased compared to other similar lakes in the world. While the Uchhali (UL) and Khabbeki (KL) lakes present a sodium-chloride hydrofacies, the Jahlar (JL) is of a sodium-bicarbonate type. Hydrochemistry parameters indicate that the weathering of surrounding rocks is the major vector for the increase of total dissolved solids in the water. On the other hand, the observed enrichment in heavy isotopes of the water stable isotope compositions implies that the different lakes are undergoing a long history of intense evaporation. The study of the corresponding δ
37
Cl isotope compositions supports the conclusion that evaporation, along with weathering, are the main driving processes. Besides climate effects that result in the decrease of annual precipitation and the increase of evaporation, water consumption for domestic purposes (household and agriculture) aggravates the rise of the lakes' salinity.
View Full-Text
►

▼

Figures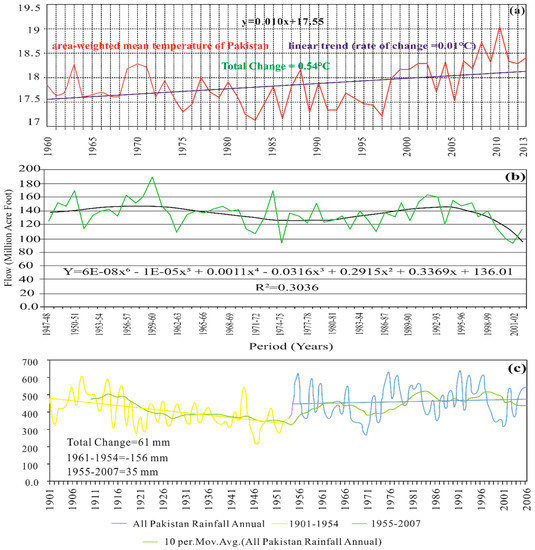 Figure 1
This is an open access article distributed under the
Creative Commons Attribution License
which permits unrestricted use, distribution, and reproduction in any medium, provided the original work is properly cited (CC BY 4.0).

Share & Cite This Article
MDPI and ACS Style
Hussain, S.A.; Han, F.-Q.; Han, W.; Rodríguez, A.; Han, J.-L.; Han, J.; Nian, X.-Q.; Yi, L.; Ma, Z.; Widory, D. Climate Change Impact on the Evolution of the Saline Lakes of the Soan-Sakaser Valley (Central Salt Range; Pakistan): Evidences from Hydrochemistry and Water (δD, δ18O) and Chlorine (δ37Cl) Stable Isotopes. Water 2019, 11, 912.
Note that from the first issue of 2016, MDPI journals use article numbers instead of page numbers. See further details here.
Related Articles
Comments
[Return to top]