Quantifying Impacts of Mean Annual Lake Bottom Temperature on Talik Development and Permafrost Degradation below Expanding Thermokarst Lakes on the Qinghai–Tibet Plateau
1
School of Mathematics and Statistics, Zhaoqing University, Zhaoqing 526061, China
2
Department of Geography and the Environment, University of North Texas, Denton, TX 76203, USA
*
Author to whom correspondence should be addressed.
Received: 17 March 2019 / Revised: 27 March 2019 / Accepted: 29 March 2019 / Published: 5 April 2019
(This article belongs to the Section
Hydrology
)
Abstract
Variations in thermokarst lake area, lake water depth, lake age, air temperature, permafrost condition, and other environmental variables could have important influences on the mean annual lake bottom temperature (MALBT) and thus affect the ground thermal regime and talik development beneath the lakes through their direct impacts on the MALBT. A lake expanding model was employed for examining the impacts of variations in the MALBT on talik development and permafrost degradation beneath expanding thermokarst lakes in the Beiluhe Basin on the Qinghai–Tibetan Plateau (QTP). All required boundary and initial conditions and model parameters were determined based on field measurements. Four simulation cases were conducted with different respective fitting sinusoidal functions of the MALBTs at 3.75 °C, 4.5 °C, 5.25 °C, and 6.0 °C. The simulated results show that for lakes with MALBTs of 3.75 °C, 4.5 °C, 5.25 °C, and 6.0 °C, the maximum thicknesses of bowl-shaped talik below the lakes at year 300 were 27.2 m, 29.6 m, 32.0 m, and 34.4 m; funnel-shaped open taliks formed beneath the lakes at years 451, 411, 382, and 356 after the formation of thermokarst lakes, with mean downward thaw rates of 9.1 m/year, 10.2 m/year, 11.2 m/year, and 12.0 m/year, respectively. Increases in the MALBT from 3.75 °C to 4.52 °C, 4.25 °C to 5.25 °C, and 5.25 °C to 6.0 °C respectively resulted in the permafrost with a horizontal distance to lake centerline less than or equal to 45 m thawing completely 36 years, 32 years, and 24 years in advance, and the maximum ground temperature increases at a depth of 40 m below the lakes at year 600 ranged from 2.16 °C to 2.80 °C, 3.57 °C, and 4.09 °C, depending on the MALBT. The ground temperature increases of more than 0.5 °C at a depth of 40 m in year 600 occurred as far as 74.9 m, 87.2 m, 97.8 m, and 106.6 m from the lake centerlines. The simulation results also show that changes in the MALBT almost have no impact on the open talik lateral progress rate, although the minimum distances from the open talik profile to lake centerlines below the lakes with different MALBTs exhibited substantial differences.
View Full-Text
►

▼

Figures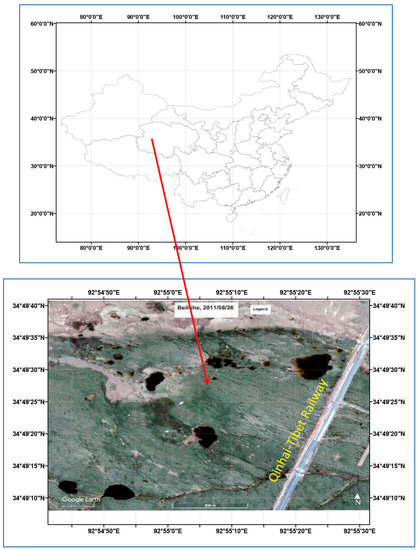 Figure 1
This is an open access article distributed under the
Creative Commons Attribution License
which permits unrestricted use, distribution, and reproduction in any medium, provided the original work is properly cited (CC BY 4.0).

Share & Cite This Article
MDPI and ACS Style
Ling, F.; Pan, F. Quantifying Impacts of Mean Annual Lake Bottom Temperature on Talik Development and Permafrost Degradation below Expanding Thermokarst Lakes on the Qinghai–Tibet Plateau. Water 2019, 11, 706.
Note that from the first issue of 2016, MDPI journals use article numbers instead of page numbers. See further details here.
Related Articles
Comments
[Return to top]